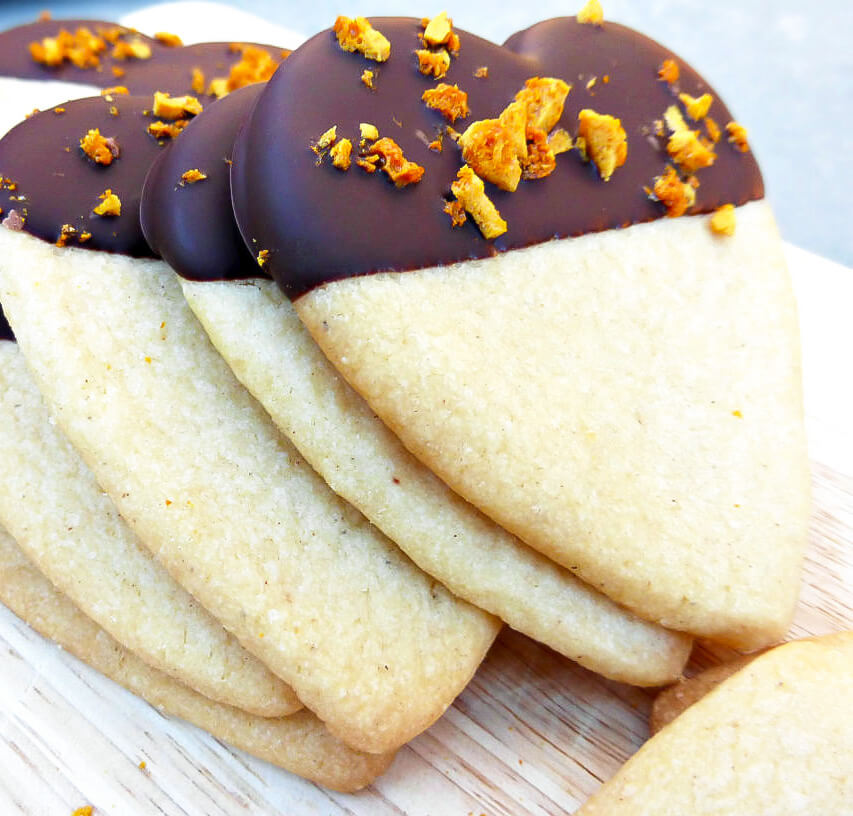 When thinking about making butter cookies (because who ever stops thinking about making cookies?), I found myself once again drawn to ginger and cinnamon. Both spices have featured a lot in my baking and meals recently (I blame the weather). First I made Asian inspired Thai pumpkin & bacon soup and then my gingerbread spiced fudgy brownies.
I made these butter cookies based on my Christmas candy chocolate butter cookies from last year. This time, threw in some cinnamon, ginger and nutmeg. I also rolled out the dough (making it thinner) which resulted in cookies that were deliciously crunchy.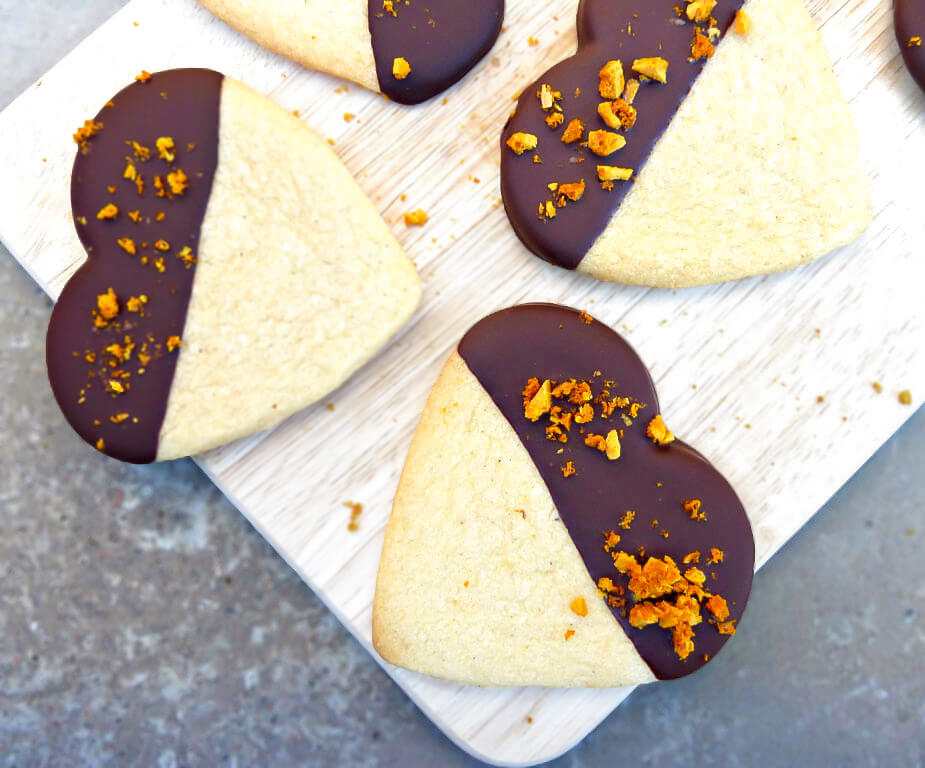 Dark chocolate goes fabulously well with ginger, so decided to finish the cookies off by dipping them in melted chocolate.
Finally, I sprinkled a little of the crumbs leftover from when I made my chocolate honeycomb. You could decorate them with anything you like, or just leave them as they are.
The cookies have a mild spice which becomes more noticeable the longer they are left. If you can last that long, definitely leave them overnight and see what I mean.
Surprisingly, after a couple of days they were just as crisp as when they came out of the oven. I've found that cookies often go a little soft when left for a while, but not these little gems!
The measurements below will make around 20-30 cookies, depending on which cutter you use. They don't have to be hearts – with Christmas rapidly on its way, these would be perfect in a tree shape, for example.
This recipe was originally posted in November 2016. It was updated and republished in November 2018.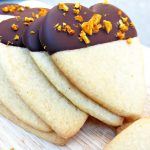 Ginger Spiced Butter Cookies Dipped in Dark Chocolate
Ingredients
1

cup

(100g) icing sugar

1

cup

(230g) butter (softened)

2 & 3/4

cups

(280g) plain (all-purpose) flour

1/4

teaspoon

vanilla sugar

(see notes)

1/2

teaspoon

ginger

1/4

teaspoon

nutmeg

1/4

teaspoon

cinnamon
Decoration:
1

cup

(175g) good quality dark chocolate (chopped into pieces)

Cinder toffee

(see notes)
Instructions
Pre-heat the oven to 175°C. Prepare a large baking tray (you may need two) with grease-proof paper.

Beat the sugar and butter together until light and fluffy.

Sift the flour, vanilla sugar and spices together, then mix into the butter/sugar until a dough forms.

Using your hands, quickly work the dough into a ball, then divide it into two pieces. Take one piece and roll out between two sheets of grease-proof paper, until it is fairly thin. Take your chosen cookie cutter and cut out the dough, using a palette knife to help move the cookie onto the baking tray (keeping space between each on as they do spread a little). Do the same with the other half of dough.

Bake for around 8-12 minutes (dependent on their size), just until the edges are browning. The rest of the cookie will look pale and be fairly soft, but they will harden as they cool. Leave the cookies on the baking tray for ten minutes or so, then transfer to a wire rack to cool completely.

Melt the chocolate in a Bain Marie (double boiler), using a small but deep bowl if possible (it makes it easier to dip the cookies). Dip each cooled cookie in the melted chocolate, shaking off any excess, then place on a tray lined with grease-proof paper. Sprinkle over the cinder toffee (or whatever else you fancy). Allow the chocolate to set before eating. Enjoy!
Recipe Notes
I use vanilla sugar in my recipes. If this is not available where you are, here's some handy advice from Leaf for converting to vanilla extract.
Please note - I measure my ingredients using grams. To help my American readers, I use online resources to convert to cups. However, these conversions have not been verified by me.
The cinder toffee / honeycomb I used came from this recipe.