This super pretty sparkly celebration vanilla cake would make any special occasion that bit better.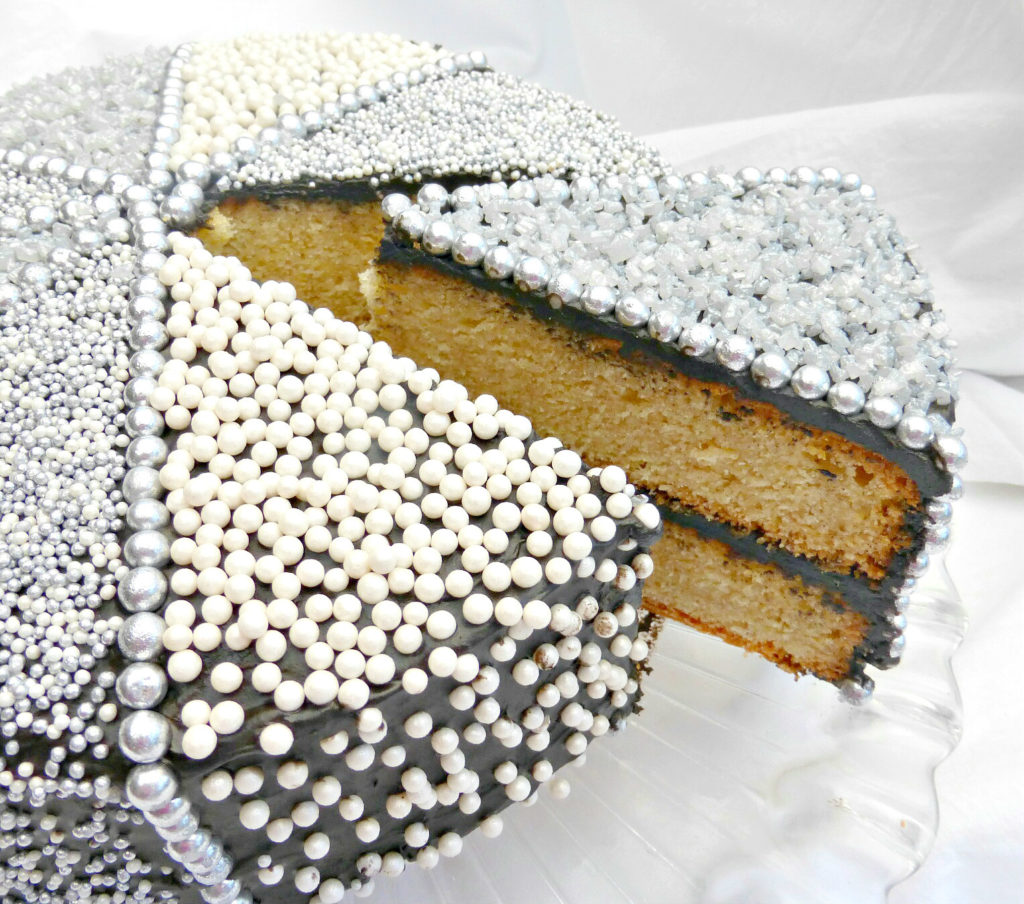 Some of my regular readers and friends will recognise this cake – it was made specifically to enter a competition (didn't win – boo, hiss!) and is extravagant enough for any special occasion.
I think the silver decoration gives it a lovely winter feel, which makes it perfect for Christmas.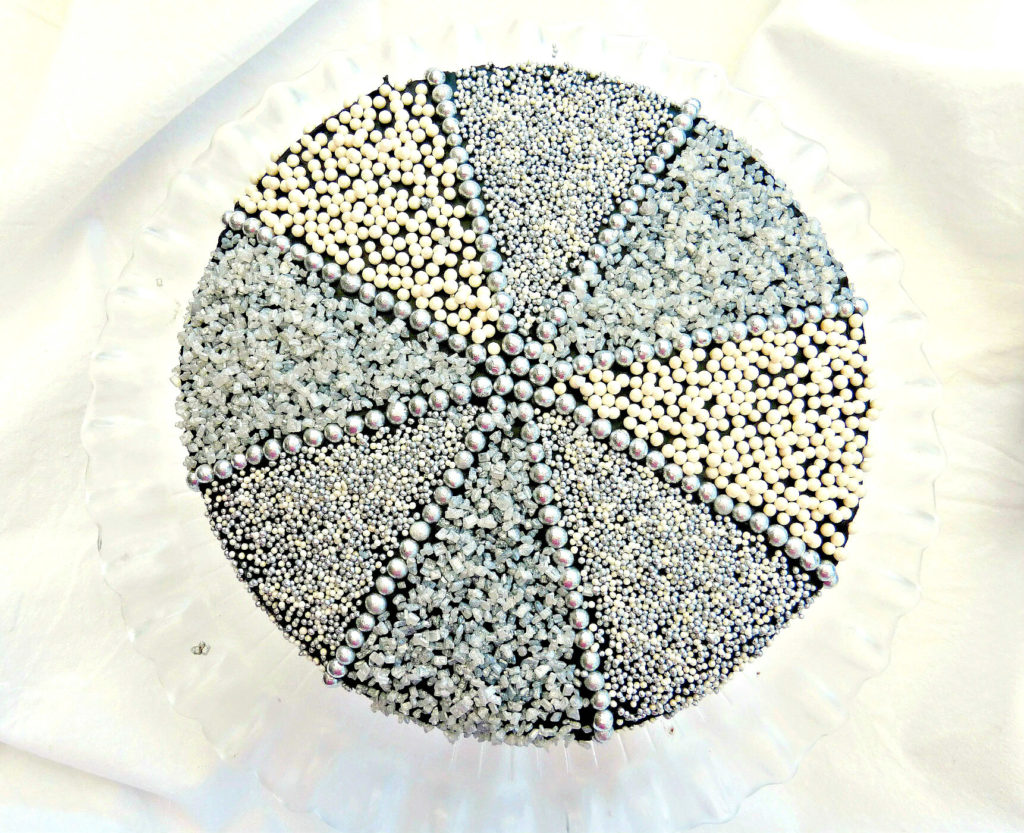 Although it looks pretty spectacular (even if I say so myself), it is really straightforward to make. The cake itself is a simple layered sponge covered in cream cheese butter frosting; the decoration is just strategically placed silver balls!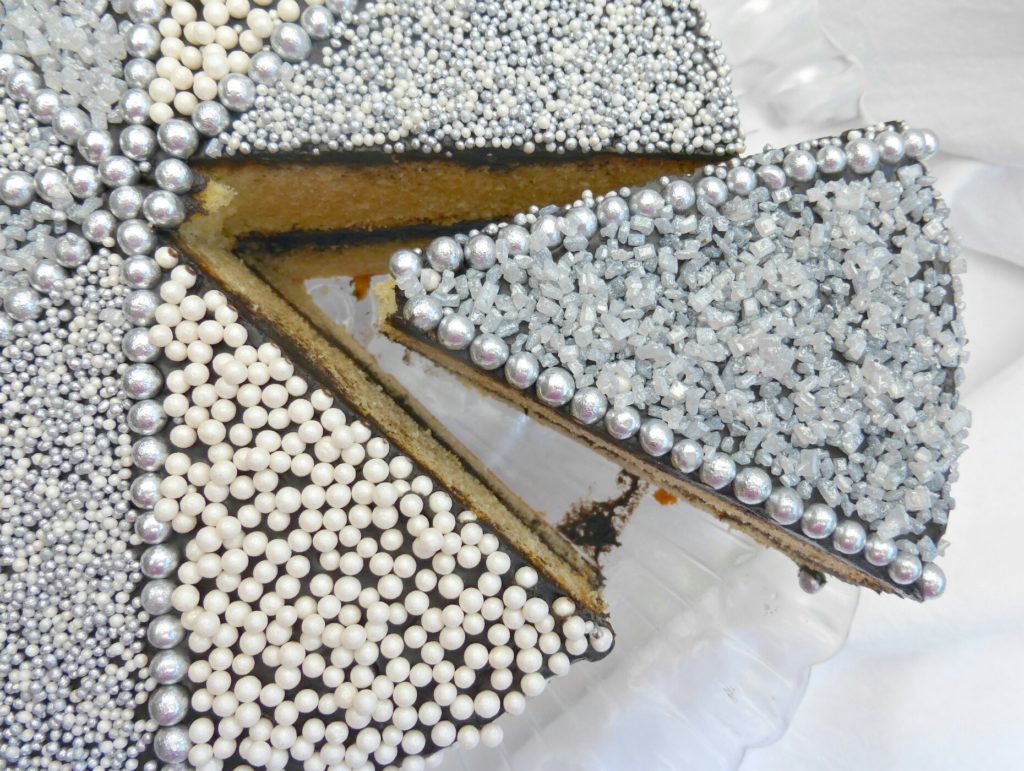 Admittedly, it is a little fiddly, taking time and plenty of concentration to achieve; however, it isn't difficult. I managed to make mine with three kids in the house (they were wise enough to stay clear of mamma). It was also slap, bang in the middle of a very hot summer and I was forced to flee to the cellar as it was the coolest place in the house!
The cake is fairly large and the measurements below will feed at least ten people.
For full, in-depth instructions on how I decorated the cake, please visit Instructables.
Sparkly Celebration Vanilla Layer Cake with a Chocolate Cream Cheese Frosting
---
Ingredients
Cake:

1 cup (225g) sugar
1 cup (225g) butter (softened)
1 + 2/3 cup (200g) plain (all-purpose) flour
2½ teaspoons baking powder
½ teaspoon bicarbonate of soda
1½ teaspoons vanilla sugar (see notes)
4 large eggs
1-2 tablespoons milk

Frosting:

1/2 cup (100g) cream cheese
2/3 cup (150g) butter (softened)
1½ - 2 cups (150g) icing sugar
2 tablespoons (30g) cocoa

Decoration

Larger silver balls
Silver sprinkles, small balls or any other kind of decoration you like

NOTES

I used vanilla sugar in my recipes. For a handy conversion to essence or extract, please read this.
Directions
~ Pre-heat the oven to 180°C and grease/line 2 x 8 inch (20cm) cake tins.
~ Using a food processor, beat the sugar and butter together until nice and light. Add the eggs one at a time and continue to mix.
~ Add the remaining ingredients (apart from the milk) and mix until nice and smooth. Add 1-2 tablespoons of milk a little at a time until a thick, but dropping, consistency is achieved.
~ Divide the mixture equally between the two pans and then bake for around 20-25 minutes. The cakes are ready when they bounce back when gently pressed down (or an inserted skewer comes out clean).
~ Remove from the oven and let cakes cool for about ten minutes, then turn out onto a wire rack (top side down) and leave them until they are completely cool.
~ For the frosting: beat the cream cheese and butter together. Sift the cocoa flour with 1 cup (75g) icing sugar, and add to the butter mixture. Continue to add more icing sugar until a thick, spreadable consistency is achieved.
~ For the assembly: place one cake top side down on a cake stand or plate and cover the flat side with around 1/4 of the frosting (you want to have a nice coverage all over). Place the other cake on top and then using the remaining frosting, cover the whole cake. The frosting doesn't need to be too thick or pretty as it will be covered entirely by decorations. Leave the frosting to set for a while, although not too long to prevent it setting too hard, making it more difficult to attach the silver balls.
~ To decorate: although at first glance, this cake might look difficult, it is really very simple. Firstly, press the thin edge of a ruler down into the frosting to make a straight, horizontal line right across the middle(don't press too hard, you just want to make a small indentation to rest the silver balls). Take the ruler again and this time, make a straight vertical line right down the centre of the cake. This will leave you with a cake divided into 4 quarters. Next, take the ruler again and make a diagonal mark on both sides of the cake, leaving you with 8 clear segments.
~ Start by placing the bigger silver balls all the way along the indentations you've made with the ruler. As you come along a line, carry on placing balls over the edge and down onto the sides of the cake, too (have a look at the pictures to see what I mean). I found adding the balls quite tricky at first but soon got used to it, just remember not to push the balls down too hard as they will disappear into the frosting. Instead, just gently press so they sit in the little indentation you made with the ruler.
~ Next, fill the 8 segments with whatever else you like. I bought three different types of silver sprinkles in varying shapes, and just alternated them. Carefully sprinkle the decorations right up against the silver balls, going right down the sides (again, the pictures above show this fairly clearly).
~ When you've finished, take a deep breath and then leave the cake to set for an hour or so in the fridge, just to make sure all those balls and sprinkles stay where they are supposed to. When ready to serve, remove from the fridge to warm up a little and then slice. Cake easily serves 10-12 people. Enjoy!
7.8.1.2
42
https://www.theculinaryjumble.com/sparkly-celebration-vanilla-layer-cake-with-a-chocolate-cream-cheese-frosting/