This Spanish style potato and red pepper omelette makes an awesome weekend brunch.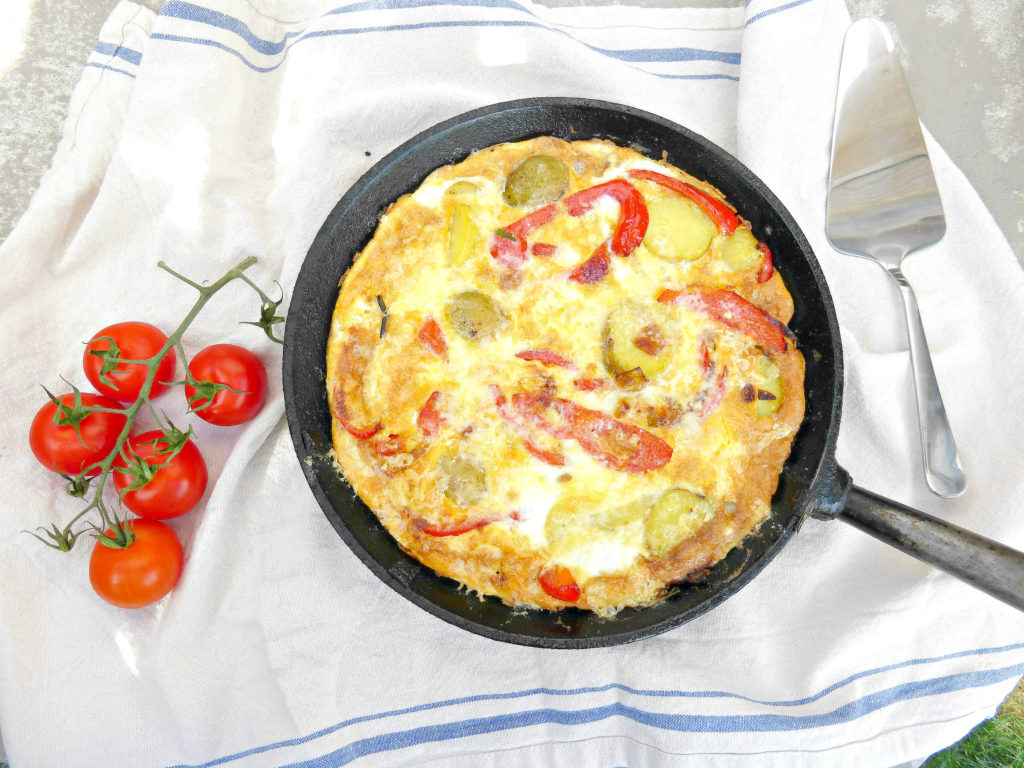 Omelettes are a great way of using up eggs, making a simple, quick and tasty breakfast, lunch or light dinner.
The art of successfully making an omelette is a skill which has come to me fairly late in life. For me, the problem was always trying to flip it over, usually before the bottom was cooked, resulting in scrambled egg. The secret of my success (okay, hardly a secret, but anyway) is finishing the omelette off under the grill. No more disastrous flipping, just fabulous, evenly-cooked omelettes!
Omelettes are so flexible too – you can throw whatever you like in (great for using up leftover vegetables). Spanish omelettes, or tortilla de patatas, are traditionally made with egg and potatoes, and occasionally onion (although this inclusion seems to be highly contentious depending on which part of Spain you hail from). And apparently, red peppers are a no-go when it comes to tradition.
Oh well, I always was a rule breaker. Let's just call this a Spanish-style omelette just to be on the safe side though! This was the perfect for size for 2-4 people (depending on how big and hungry your people are).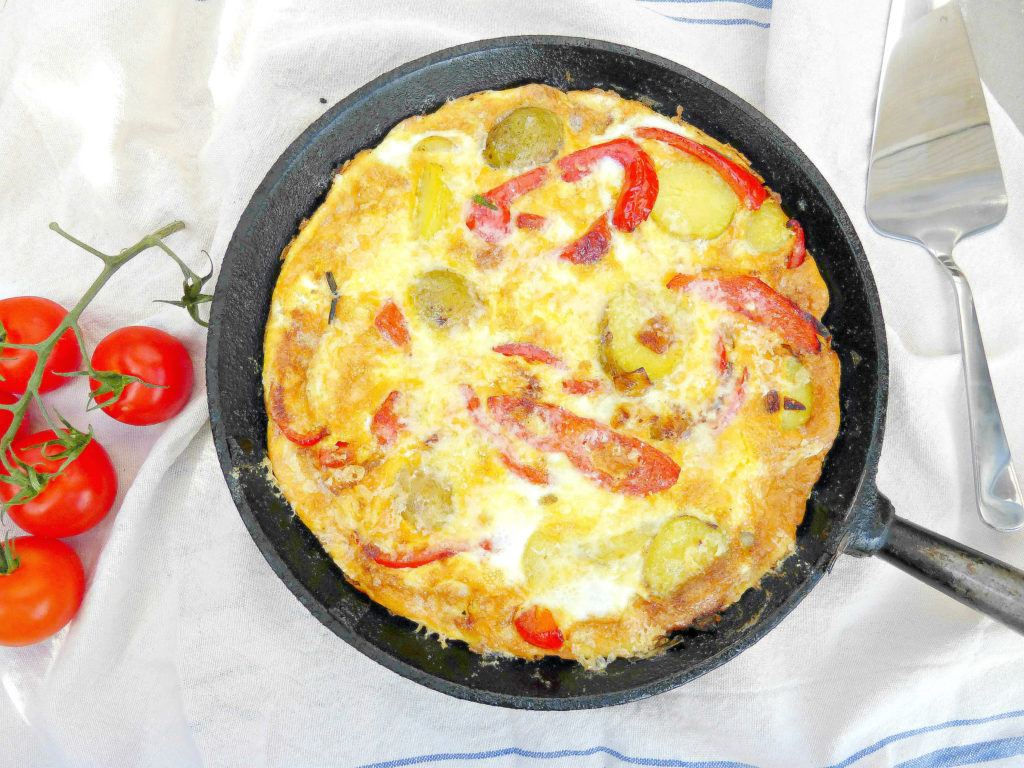 Spanish Style Omelette with Potatoes and Red Pepper
---
Ingredients
1-2 tablespoons olive oil
1 medium onion (chopped)
1 red pepper (chopped)
250g small potatoes
6 eggs
2 teaspoons fresh chives (chopped)
Sea salt and pepper
Cheese for sprinkling
Directions
~ Boil the potatoes in a little salt (keep the skins on if you like), until they are just softening (don't overcook them). Drain and set to one side to cool, then cut into thick slices.
~ Heat the oil in a frying pan or skillet which is suitable to use in the oven. Add the onions and fry for a couple of minutes. Next, add the red pepper and cook until the vegetables are nice and soft. Throw in the potatoes and chives, then continue to cook for a further two minutes or so.
~ Beat the eggs in a bowl and season with salt and pepper. Pour over the vegetables and cook on a medium heat until the sides are firm and starting to pull away from them pan (the middle will still be fairly runny).
~ Heat the grill in the oven to maximum. Cook the omelette for around 10 minutes, then remove, sprinkle with a little cheese, and put back under the grill just until the cheese is bubbling and the omelette is golden brown.
~ Serve either warm or cold with a crunchy salad and some fresh tomatoes. Enjoy!
7.8.1.2
3
https://www.theculinaryjumble.com/spanish-style-omelette-with-potato-and-red-pepper/