Everyone in the family will be happy if you knock up this ground beef, onion and potato casserole.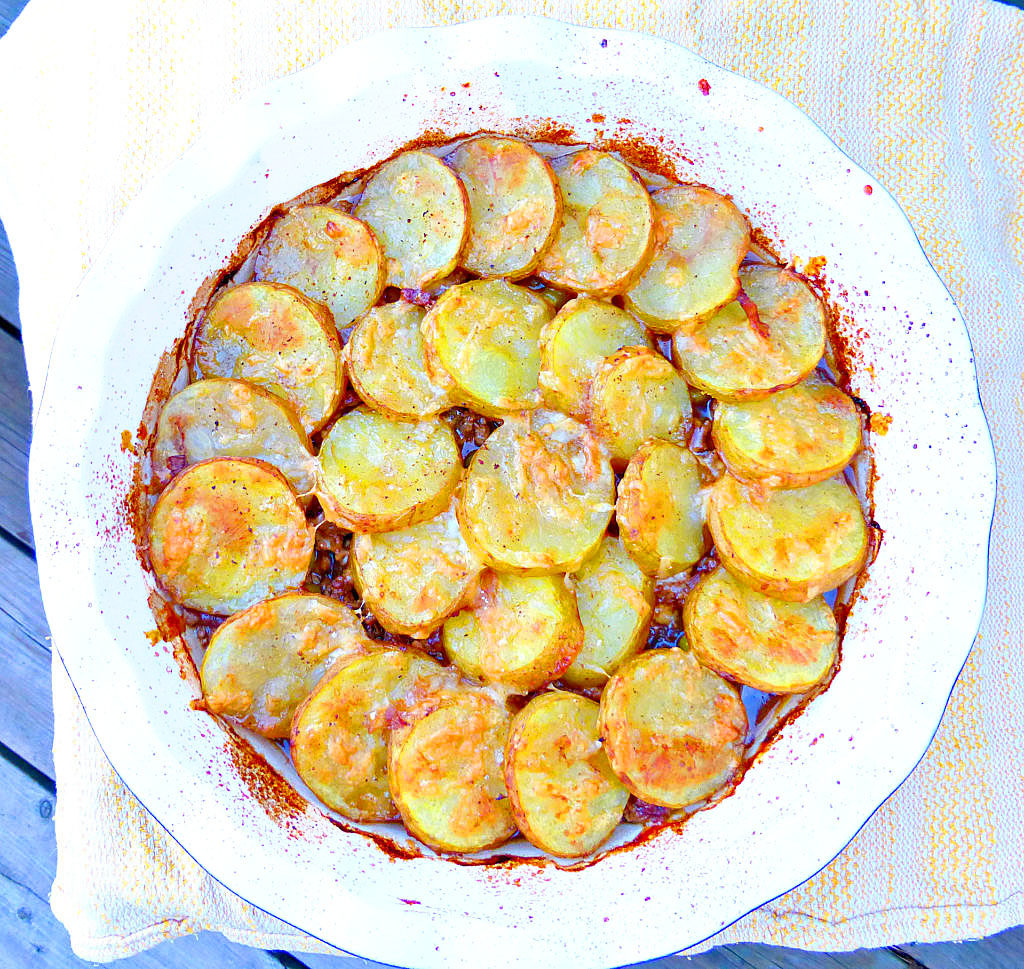 This delicious yet incredibly simple dish is perfect as the summer wanes and the darker nights draw in. Using household staples such as minced (ground) beef and potatoes, it is also gentle on the pocket! If you are like me, and mince features often in your meals, you might want to check out my some of my other recipes, such as Mexican Roast Potato Mince or Gluten Free Fajita Pie.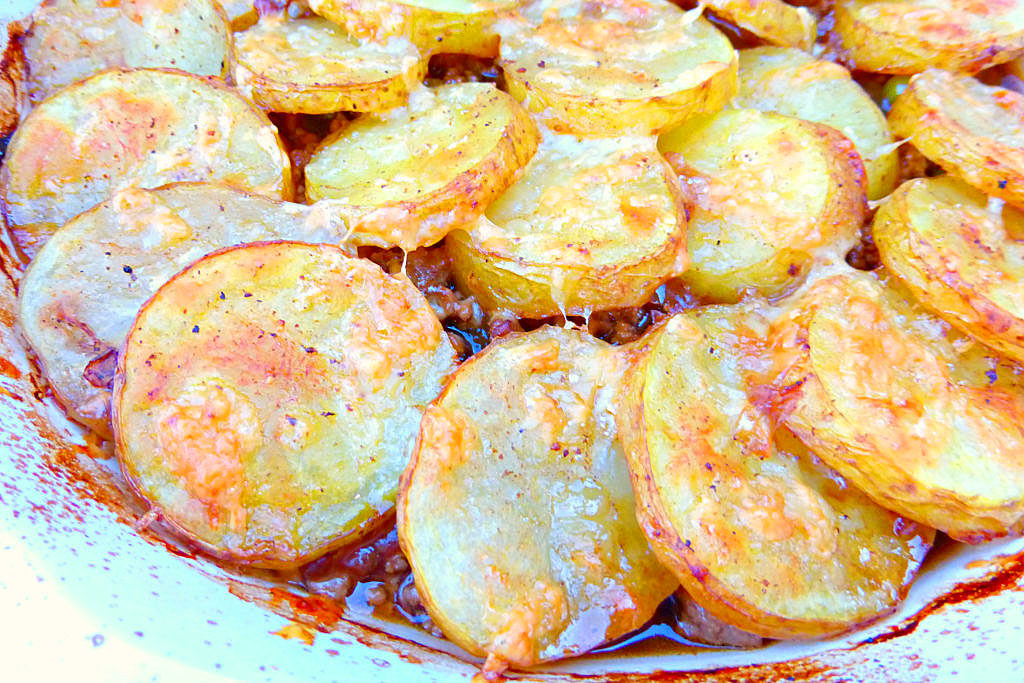 Throw in whatever you fancy – this time I only used peas but you could bulk it out with any vegetable.  Additionally, add other herbs and spices, such as cumin, or even throw in a little garlic if you fancy it.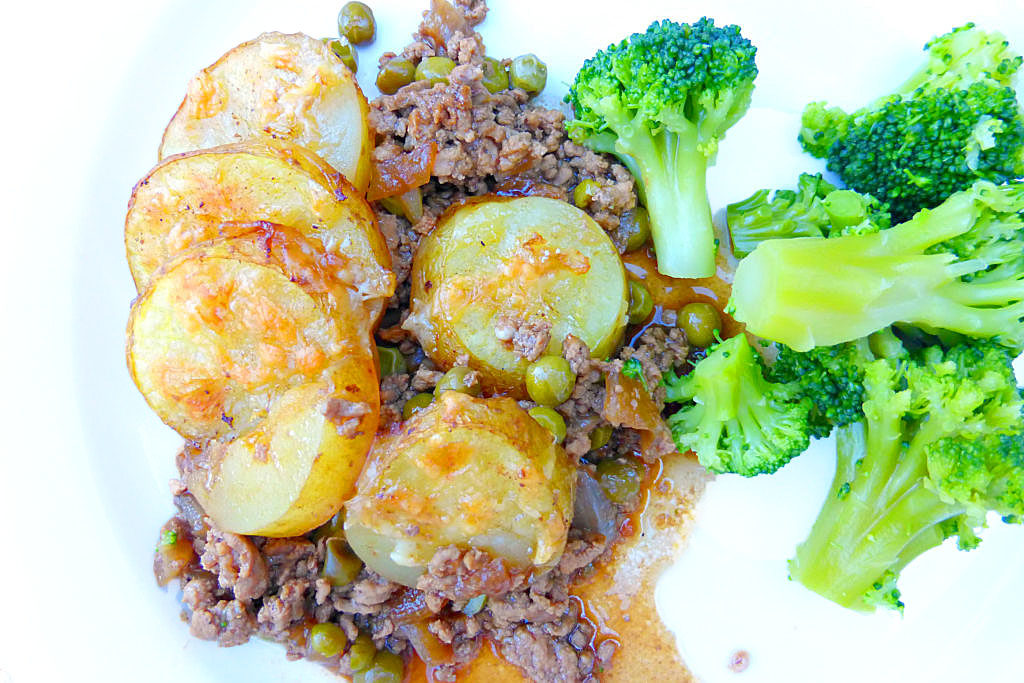 The measurements below were enough for a family of four, but you could always increase the amounts if you have more mouths to feed.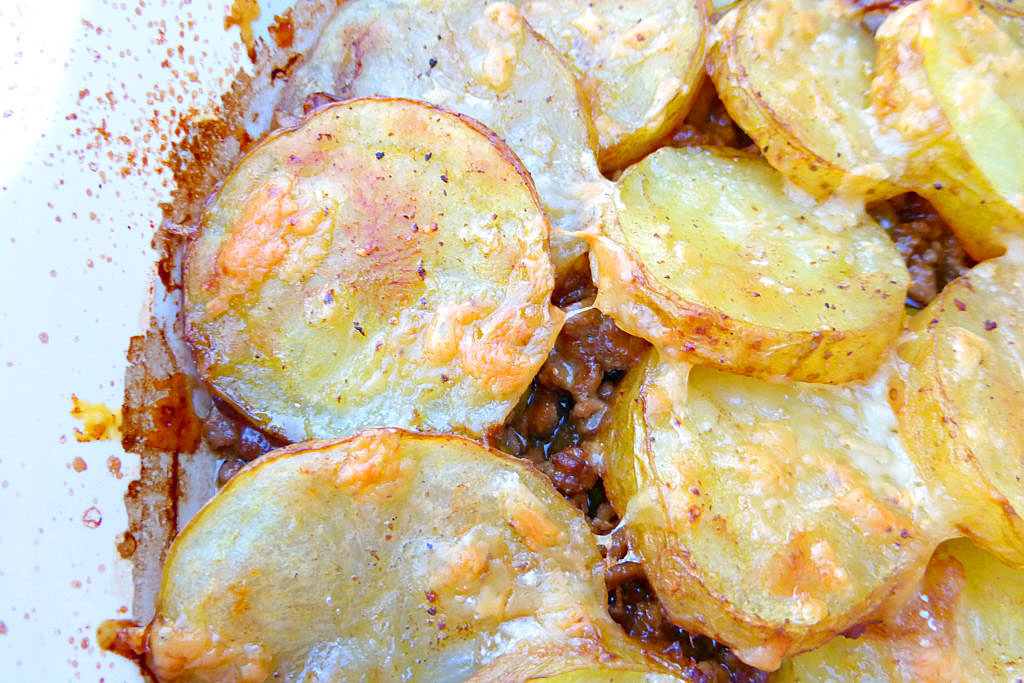 Simple Ground Beef, Onion and Potato Casserole
---
Ingredients
1 tablespoon vegetable oil
300g minced (ground) beef
1 medium-sized onion
1-2 cups beef stock
1 bay leaf
Handful of frozen peas
1 tablespoon HP or Worcestershire sauce
Sea Salt/Pepper (to personal taste)
Around 8-10 potatoes (see notes)
Cheese for sprinkling (as much or as little as you like)

NOTES:

The amount of potatoes you need will depend on the size of your casserole dish and how large your potatoes are. You are looking to have enough potato slices to completely cover the mince.
Directions

~ Pre-heat the oven to 180C (350°F).

~ Heat the oil in a large frying pan and then cook the onion until softened. Add the mince and continue to fry until it starts to brown. Lastly, throw in the beef stock, bay leaf, peas, HP/Worcestershire sauce and seasoning, and cook for around 20 minutes.

~ In the meantime, cut the potatoes into thick slices (I didn't remove the skins but you could if you prefer to), then boil until they are just starting to soften. Drain the water off, and set to one side.

~ Drain the excess liquid from the mince and retain. The juice is thin, so if you prefer your sauce a little thicker, add a touch of flour/corn-flour to achieve the desired consistency.

~ Pour the mince into a medium sized casserole dish and cover it by overlapping the potatoes. Pour the retained liquid over the top, making sure you cover all the potatoes. Sprinkle with a little cheese along with salt and pepper, then bake in the oven until the potatoes are nice and brown. Serve immediately with broccoli or any other veggies. Enjoy!

7.8.1.2

127

https://www.theculinaryjumble.com/simple-ground-beef-onion-and-potato-casserole/

The Culinary Jumble