What's better than caramel thumbprint cookies? Healthy gluten free salted caramel thumbprint cookies; that's what!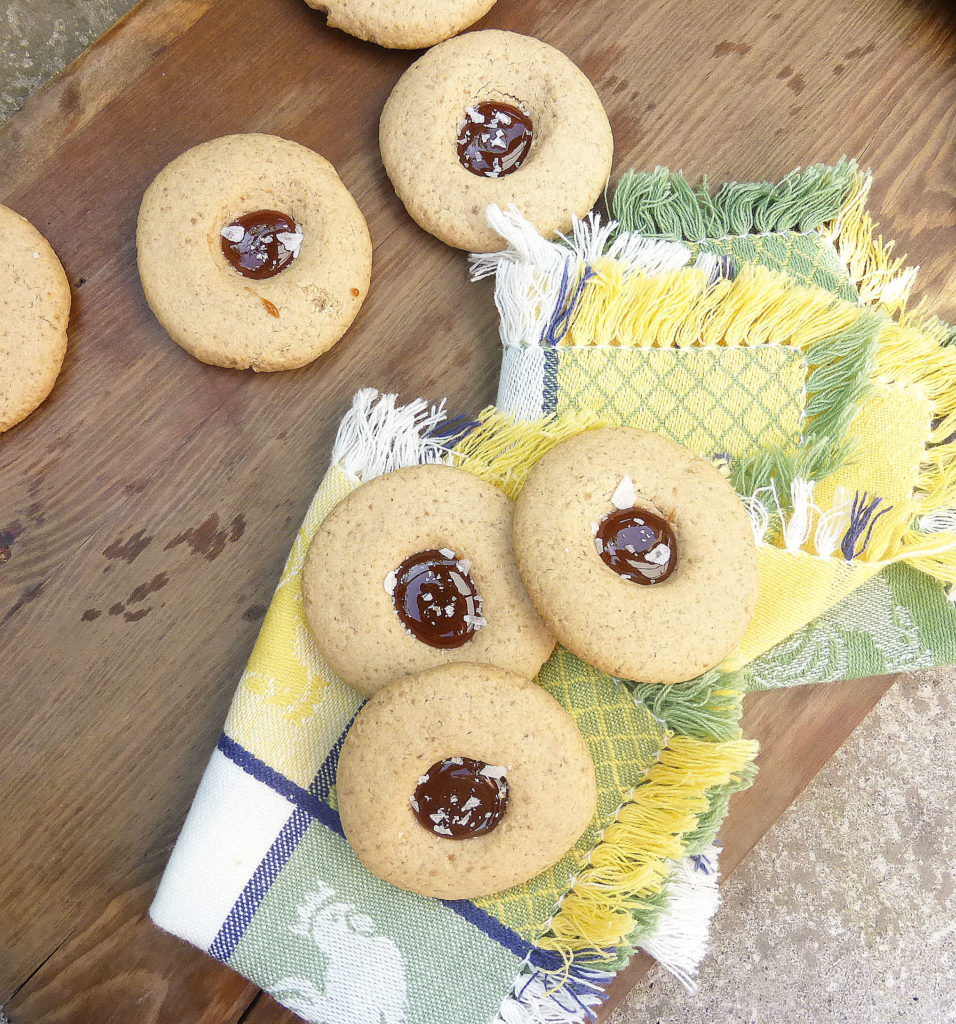 Well, okay, healthier is probably a more accurate description, but with just a touch of sugar and most of the sweetness coming from agave syrup, we are definitely a long way from unhealthy.
These salted caramel thumbprint cookies are made without gluten, using oat flour instead of regular. You could use any kind of gluten free flour you like, or even a store bought ready blend.
Oat flour is one of the more drier of the flours (if that makes sense? All flour is dry, but oat flour tends to soak up more liquid, making a less moist result), but it is so versatile you can use it in pretty much any cookie recipe.
The cookies also have less fat than more traditional varieties. I always do a silly little dance when I make great cookies without a ton of butter and sugar; it's so cathartic. I guess it's like having your cookie and eating it.
The homemade caramel in the centre of the cookies is simple to make and creates a satisfying chewy experience. To finish them off, there's a touch of sea salt sprinkled on top which really gets your taste-buds all-a-tingling.
The ingredients below made seven fairly large salted caramel thumbprint cookies.
Gluten Free Salted Caramel Thumbprint Cookies (low fat & sugar)
---
Ingredients
Cookies:

45g (3 tablespoons) butter (softened)
2 tablespoons agave syrup/honey
1 tablespoon brown cane sugar
100g (1 cup) oat flour
1/2 teaspoon vanilla sugar/extract

Caramel:

2 tablespoons brown sugar
½ tablespoon honey
1 tablespoon milk
½ teaspoon sea salt
Directions
~ Beat the softened butter together with the agave or honey and brown sugar until light and fluffy.
~ Add the flour and vanilla sugar and mix until combined.
~ Take around one heaped teaspoon of dough and roll into a balls. Place on a prepared baking sheet and press down until circular and flattened. Push your thumb into the middle of each to make a small indentation.
~ Bake for around 10-12 minutes until the outsides are browning. Remove from the oven and allow to cool before transferring to a wire rack to cool completely.
~ For the caramel: heat the brown sugar, honey and milk until it boils. Reduce the heat and continue to cook for around 5 minutes. Take off the heat and allow it to cool and thicken for a while then carefully pour (I used a teaspoon) the caramel into the thumbprint holes in the cookies. Sprinkle with a little sea salt and enjoy!
7.8.1.2
205
https://www.theculinaryjumble.com/salted-caramel-thumbprint-cookies-gluten-free-low-fat-and-sugar/
If you like your cookies on the healthier side, why not check out these alternatives:
Chocolate chip and cashew shortbread