This saffron and white chocolate Christmas pull apart bread will make an amazing festive table centre-piece.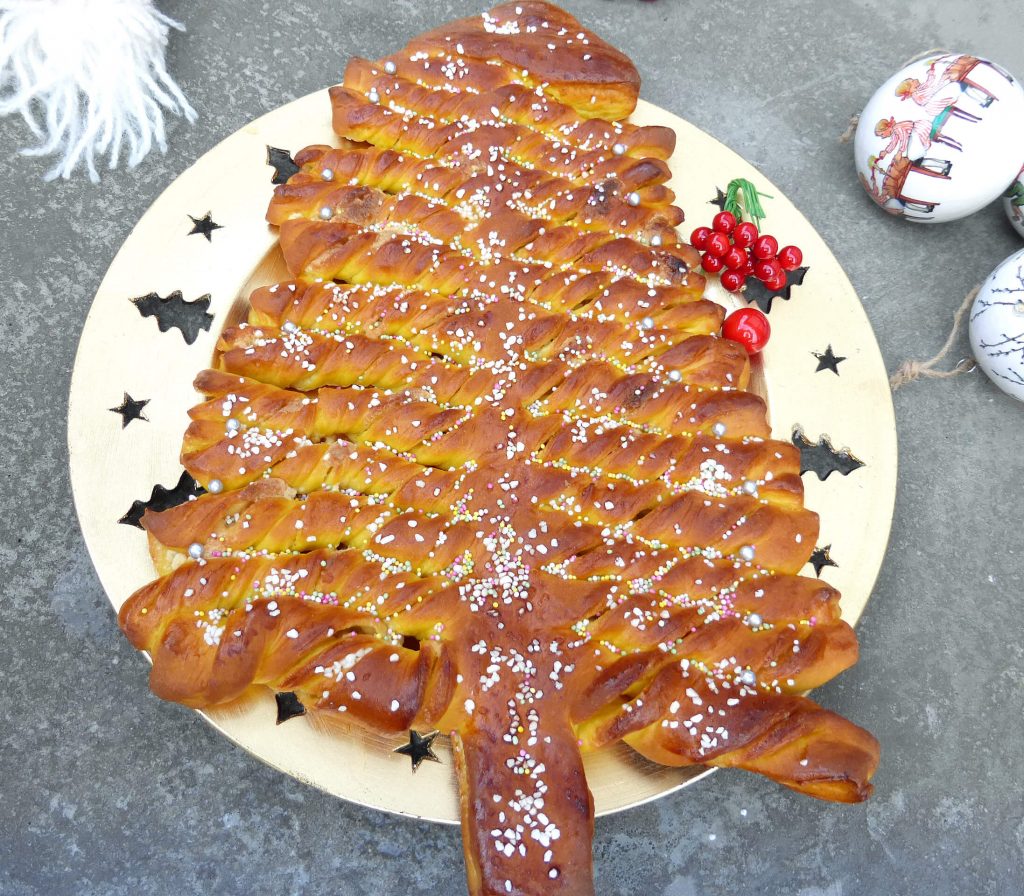 This post has been updated and was originally published in December 2016.
So,  Christmas is almost here and in a couple of days, I am leaving Sweden and heading home to England for the holidays.
To finish off my run of seasonal treats, here is my saffron and white chocolate bread shaped into a Christmas tree.
I've seen Christmas trees around, many made out of pastry or using savoury bread, but I wanted to make another recipe including saffron and had intended to make sweet buns. I love saffron. The colour, the distinctive taste. Every year I go a little saffron do-lally and have made all kinds of creations such as saffron skorpor (biscotti) and saffron & pistachio snap cookies.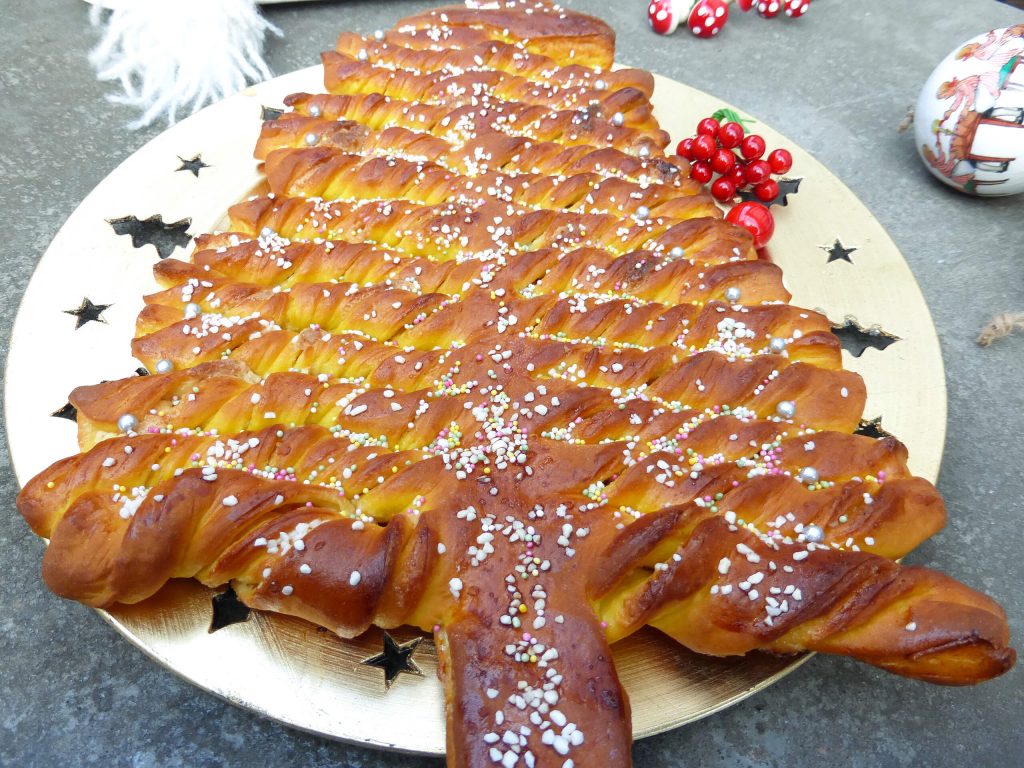 But, at the very last minute, and feeling adventurous (and not entirely sure how it would work out), I attempted this tree. After a few nail-biting minutes and tons of doubt, I was pretty pleased with how it turned out.
I set it out as a festive table centre-piece and my guests did plenty of oohing and aahing. It's definitely worth the effort.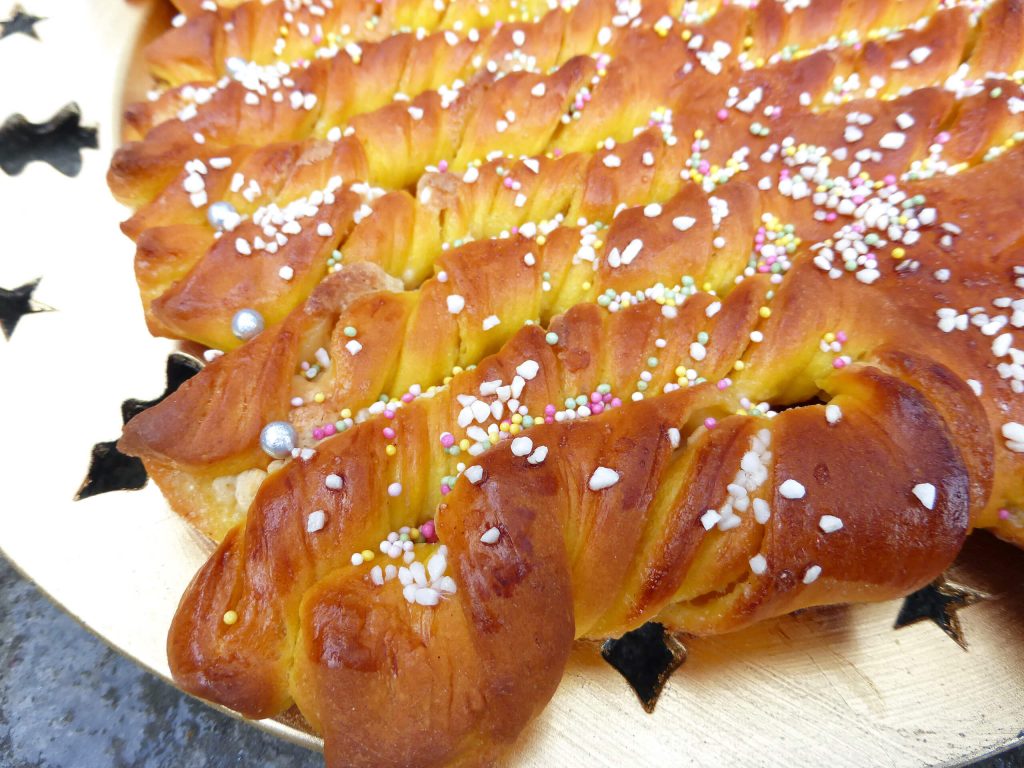 You can decorate the tree however you like – I just added some pearl sugar before baking and tossed a few sprinkles and silver balls on top when it was cooked.
These also freeze really well – I made mine in advance for our Swedish family's Christmas meal and it tasted as good as the day I made it.
It is the perfect afternoon tea accompaniment, or as a dessert (as we had it), and will easily feed six people – just pull it apart with your fingers and get cracking.
The recipe for the saffron dough came from Hemmets Journal.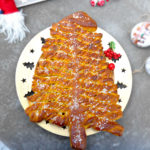 Saffron and White Chocolate Christmas Pull Apart Bread
Ingredients
Dough:
250

ml

(1 cup) milk

50

g

(3 tablespoons) butter

25

g

fresh yeast - see notes

250-350

g

bread flour

45

g

sugar
Filling:
50

g

(3 tablespoons) butter

45

g

(3 tablespoons) sugar

1

teaspoon

vanilla sugar - see notes

75

g

(1/2 cup) white chocolate (chopped into very small pieces)

1

egg

beaten

Pearl sugar or any other decorations
Instructions
Add the butter and milk to a pan along with the saffron and warm until the butter has melted. Remove from the heat and allow the mixture to cool to a lukewarm temperature. Sprinkle in the yeast and then leave it to dissolve. Give it a stir then leave for around 5-10 minutes to activate.

In a large bowl, add 250g of the flour along with the sugar, and mix to evenly distribute. Pour in the liquid ingredients and quickly beat everything together. You will end up with something that bears no resemblance to dough, but by gradually adding a little more flour at a time, it will begin to pull together as a sticky dough. Like an bread dough, adding too much flour will result in heavy, dry bread. Turn the dough out onto a well floured board (remember, it should be sticky) and again, just add more flour a bit at a time until you are able to begin kneading.

Knead for around 8 minutes or so until the dough is elastic and smooth. Place back in the bowl, cover, and leave to rest in a warm place for about 30 minutes.

In the meantime, prepare the filling: Beat the butter, sugar and vanilla sugar together until nice and smooth. Set to one side.

Knock back the dough and divide into two roughly equal-sized bits. Roll out the first into a rectangle shape on a sheet of grease-proof paper. Take the butter mixture and spread over the dough, leaving a gap of around 1/2 inch along the edges. Sprinkle with the chocolate. Set to one side

Roll out the other remaining bit of dough until it is approximately the same size as the first. Place it over the top and press down gently to seal the edges.

Taking a sharp knife, cut a large triangle shape in the dough (remove any extra dough and put to one side. Don't throw it away - you can roll it out and form into bread buns). Going up both sides, cut horizontal strips about an inch thick, and in turn, take each one and gently twist (the dough is very pliable and will stretch). Some of the spirals will try to spring back, so where this happens, gently lean it against its neighbour (you will be able to move it back into place before baking).

Cover with a towel and leave to proof in a warm place for a further 30 minutes. Pre-heat the oven to 220. Egg wash the top of the tree and sprinkle with pearl sugar. Bake in the middle of the oven for about 10-12 minutes.

Leave the tree to cool on the tray then transfer to a wire rack to cool completely. If you are not using the bread right away, cover and store in the freezer, removing a couple of hours before you need it. If eating immediately, sprinkle with whatever decoration you like and serve. Enjoy!

Recipe Notes
I invariably use fresh yeast in my bread, but if that's not available or you'd prefer to use dried, check out Make Bread's handy converter.
If you don't have access to vanilla sugar, see Leaf's tips.
New to bread making? Check out my guide for beginner bread makers.