These fresh rhubarb muffins have a delicious brown sugar sprinkle topping. It may surprise you that they are relatively low in fat and sugar, too. Always a bonus.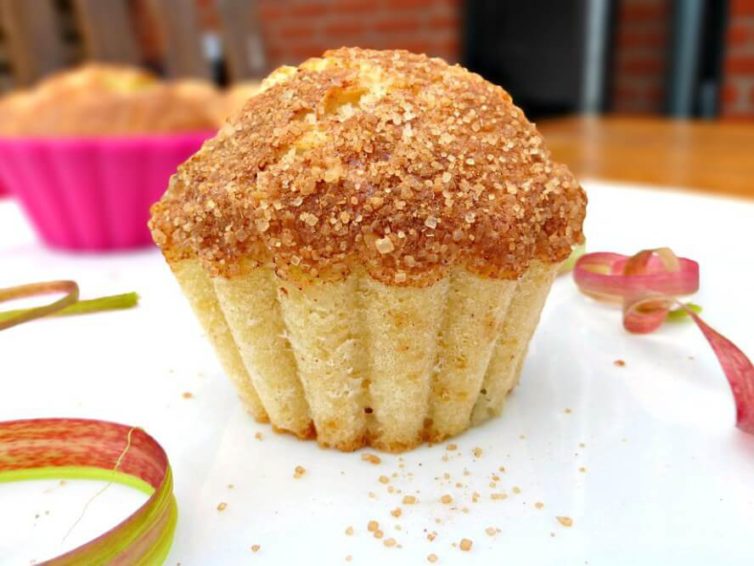 The rhubarb in our garden grows really well, but I often struggle to think of ways to use it up. It certainly isn't a fruit I have a million and one recipes lined up for, that's for sure. It looks like I am not the only one who has got rhubarb all wrong.
However, despite my lack of ingenuity where the stalky ones are concerned, these fresh rhubarb muffins are always a family favourite – they are quick and easy to make, yielding really soft, delicious cakes every time!
The ingredients below are enough for eight really good sized muffins!
Rhubarb Muffins with a Brown Sugar Sprinkle
---
Ingredients
150g plain (all-purpose) flour
2 teaspoons baking powder
1 teaspoon vanilla sugar/extract
Pinch of salt
50g sugar
1/2 teaspoon cinnamon
1/2 cup of milk
50g butter (melted and cooled)
1 egg
100g fresh rhubarb (chopped into small pieces)
Topping:
2 tablespoons brown cane sugar
1/2 tablespoon cinnamon
Directions
~ Pre-heat the oven to 200°C (400ºF).
~ Melt the butter and leave to cool slightly. Then add the beaten egg and milk, and stir until combined.
~ In a separate bowl, sift the flour, baking powder, cinnamon, and vanilla sugar and then add in the sugar, mixing well.
~ Add the dry ingredients to the wet and stir until just combined. Gently stir in the rhubarb and pour into a prepared muffin tin or cake cases.
~ Mix the cinnamon and sugar for the topping and sprinkle over the top of each muffin.
~ Bake for around 17 minutes (until an inserted skewer comes out clean). Eat warm! Enjoy!
7.8.1.2
255
https://www.theculinaryjumble.com/rhubarb-muffins/
If you like muffins, you'll love these recipes:
Gluten Free Vanilla Muffins with a Dark Chocolate and Hazelnut Topping
Gluten Free Brown Sugar Blueberry Muffins with a Greek Yoghurt Drizzle
Triple Chocolate Nutella Kladdkaka Muffins