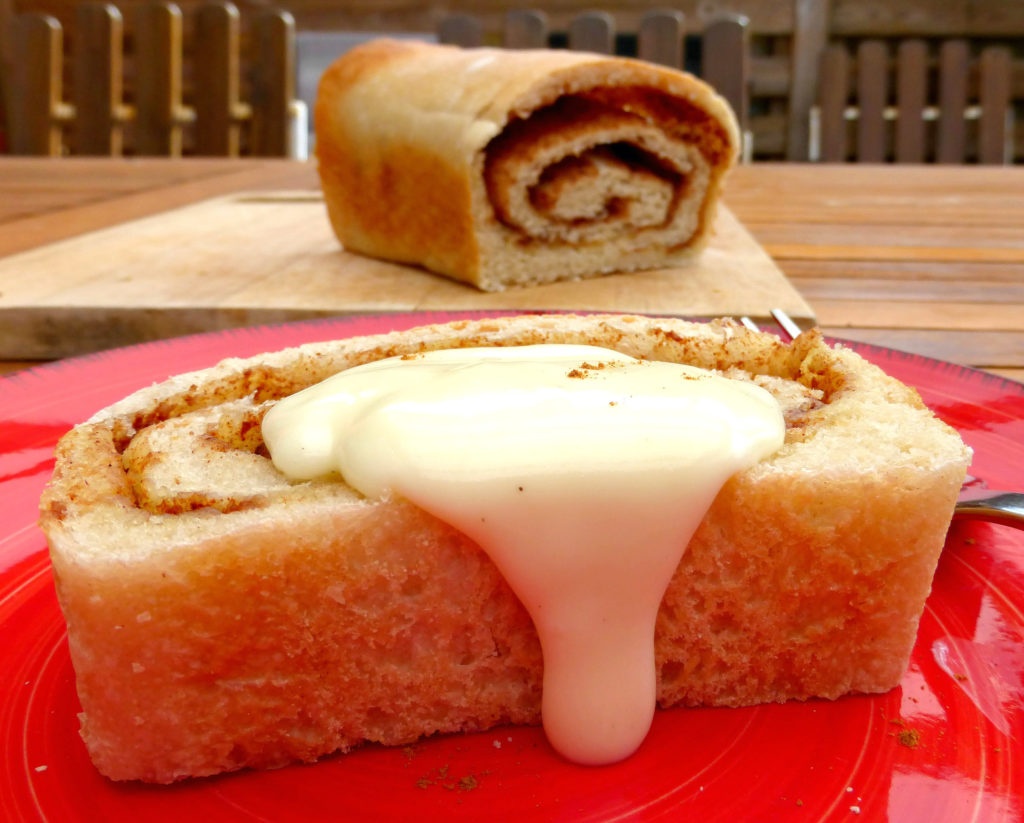 As always, my overnight buns and bread are based on the fantastic recipe from Handle the Heat, such as my favourite Low Fat Cinnamon Buns with a Coffee Drizzle.
This time, rather than cut into rolls, I decided to use the dough to make a cinnamon swirl loaf, topped with a more decadent cream cheese frosting.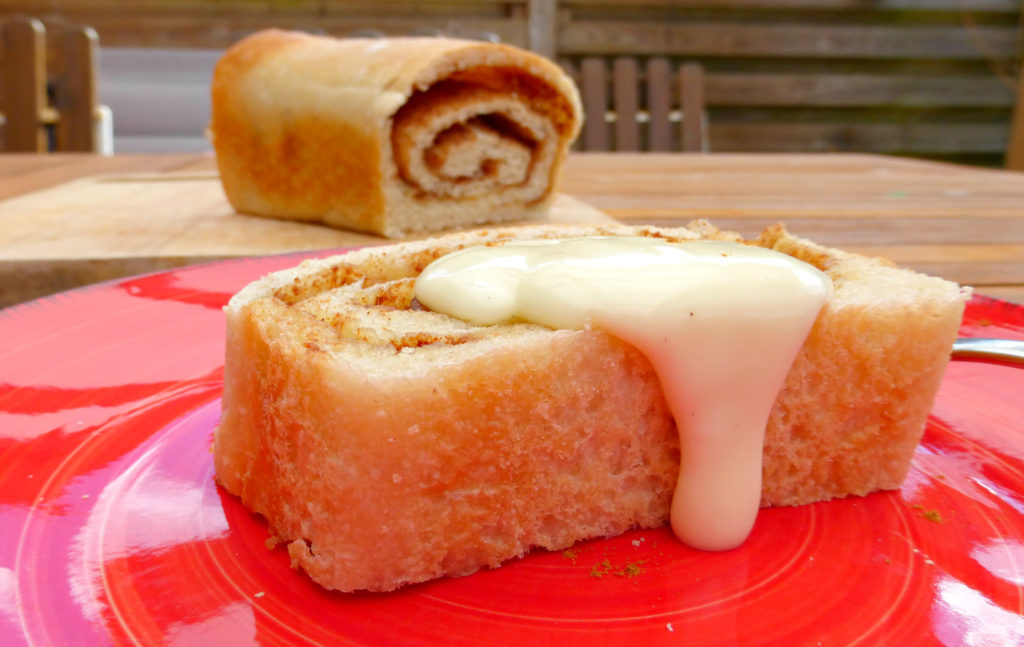 INGREDIENTS
Dough:
1/3 cup water (lukewarm)
25g fresh yeast
1 cup of milk (lukewarm)
2 tablespoons brown sugar
450-500g white bread flour
1 teaspoon fine salt
Filling:
60g brown sugar
 1-2 tablespoons ground cinnamon (depending on personal taste)
 50g butter
Frosting:
140g cream cheese
50g butter
200g icing sugar
2 teaspoons vanilla sugar
1-2 tablespoons milk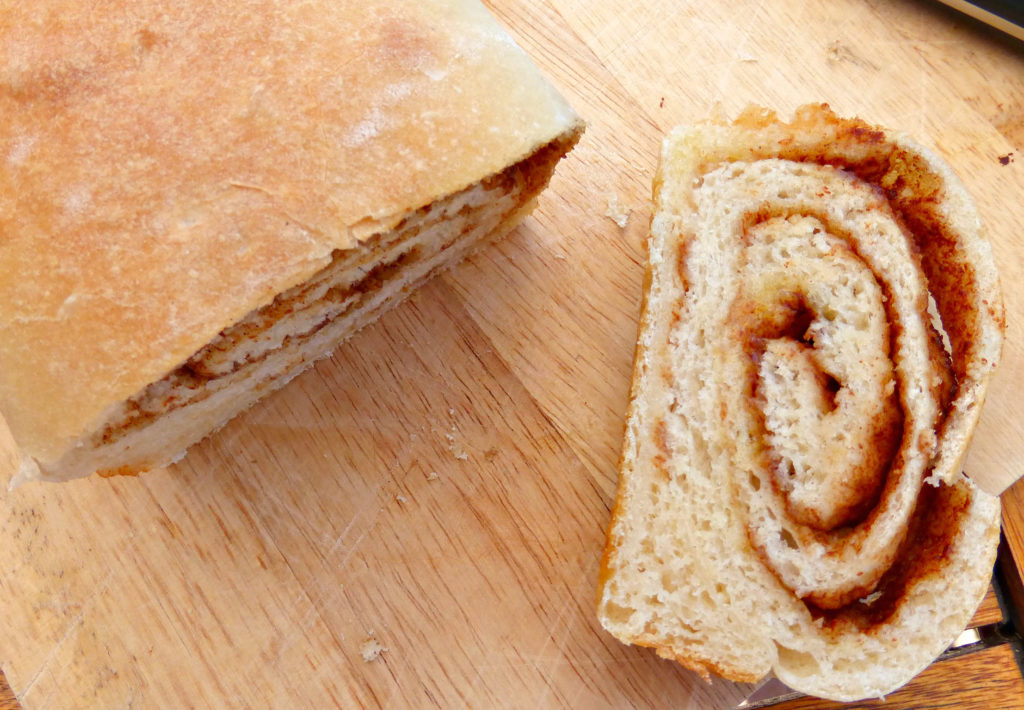 DIRECTIONS
~ Crumble the yeast into the warm water and allow to dissolve. Gently warm the milk until it is also lukewarm, and add to the yeast liquid.
~ Place 450g of the flour, sugar and salt in a large bowl, and stir until combined.
~ Pour the liquid into the dry ingredients and mix, adding more flour if required.
~ Turn out onto a floured surface and knead for about five minutes. Roll out into a rough square and leave to rest while you make the filling.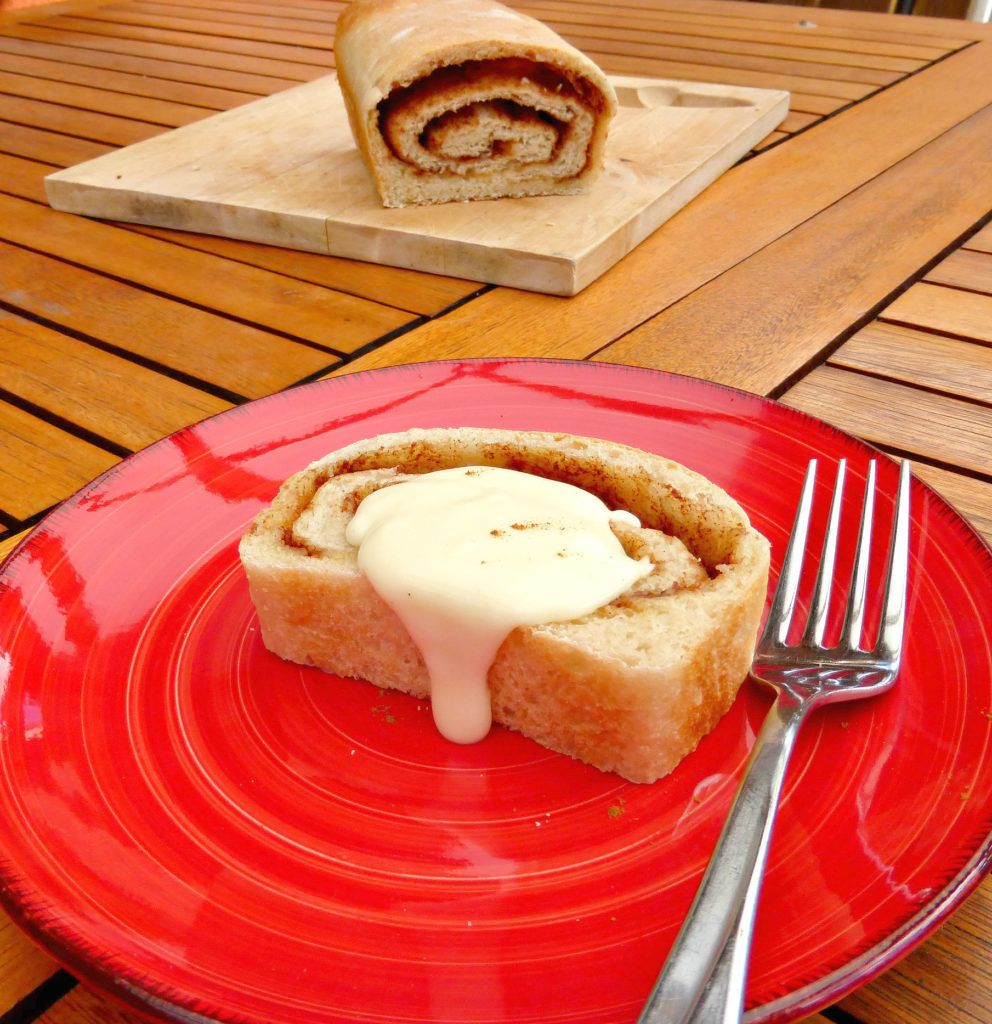 ~ For the filling: beat the butter, sugar and cinnamon together until smooth and creamy.
~ Roll the dough out again (it will have shrunk back a little) until it is a rectangular shape (longer edge facing you) and gently smooth over the butter mixture, stopping at about half an inch all around the edges.
~ Gently roll the dough up keeping it as tight as possible, positioning the seam down when you've finished. Grease one large, long loaf tin (or two smaller tins) and place the roll(s) inside. Cover with cling-film and leave in the fridge overnight.
~ The next morning, put the loaf(ves) in a warm place for around one hour to rest and come up to room temperature. Heat the oven to 175°C and bake for around 15-20 minutes until the buns are nicely browned on top. Remove from the loaf tins and leave to cool for a while.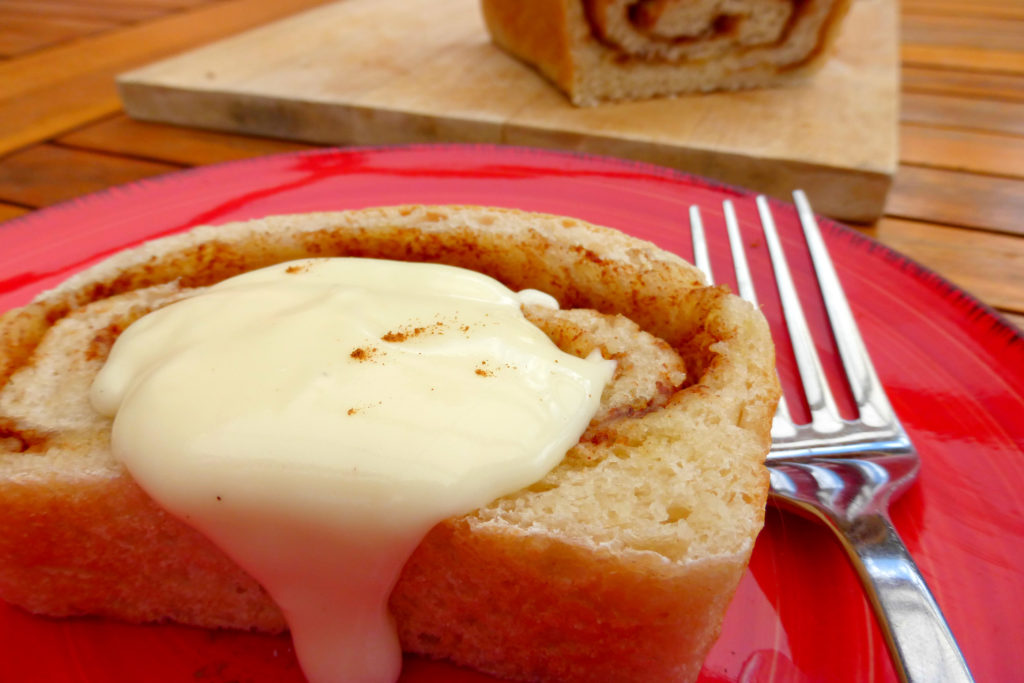 ~ For the frosting: beat the butter and cream cheese together (I used an electric whisk). Add the icing sugar and vanilla sugar and beat again until smooth and light. Stir in a touch of milk until you get the right pouring/drizzling consistency you prefer. Drizzle over the entire loaf or cut into slices and dollop it on top. If you fancy it, sprinkle with a little cinnamon, too. Enjoy!