These almond oat chocolate thumbprint cookies are gluten free along with low in fat and sugar.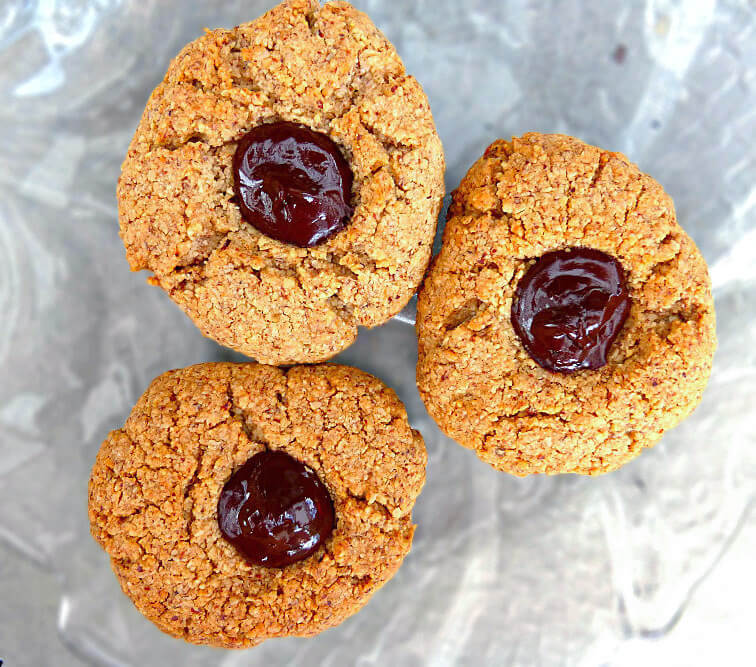 I mentioned in the post for my raspberry spelt cookies how much I enjoy making thumbprint cookies. So much fun (not just when your kids make them, but for us adults, too).
For these almond oat chocolate thumbprint cookies, I used almond meal but you could use shop bought almond flour (here is the difference between almond meal and flour explained).
Almond flour is ridiculously expensive to buy here in Sweden and so where a recipe can handle the larger grained meal (such as cookies), I blitz my almonds in a food process and make my own.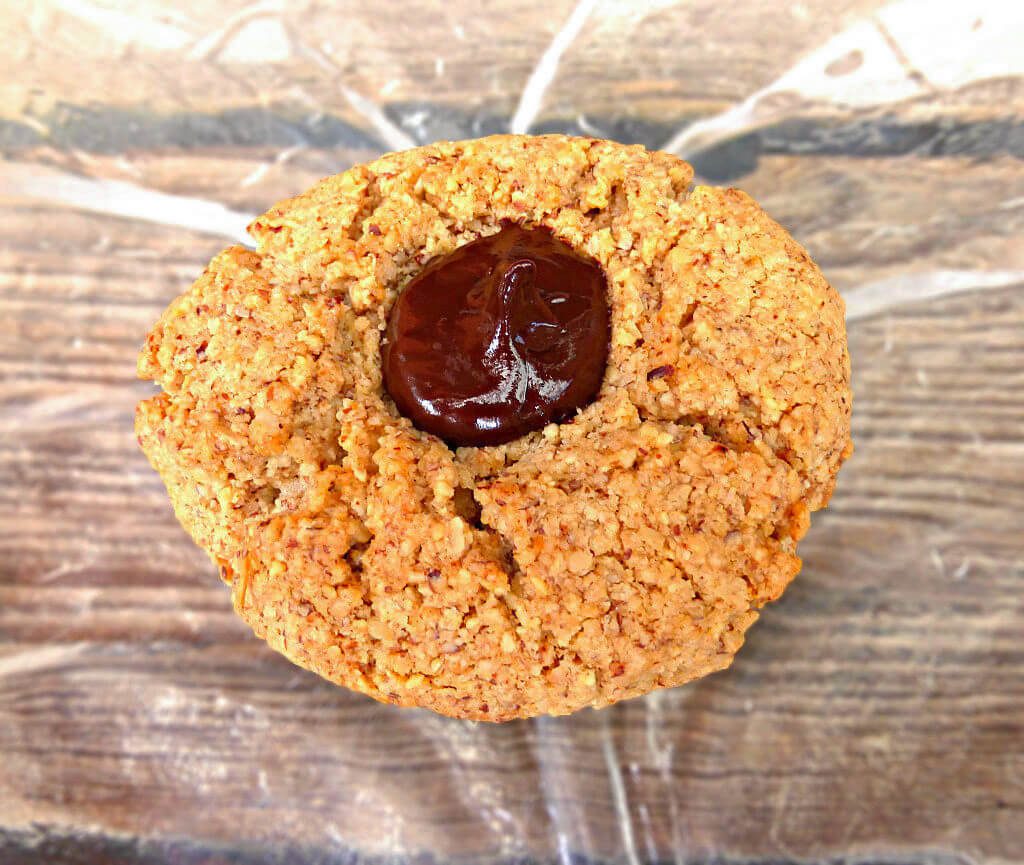 These cookies also have oat flour but thankfully, the ever-versatile oat flour is dirt cheap here. However, when I don't have any in the house, I also use a food processor to grind up oats to thick flour/meal.
These made six good-sized cookies – if you'd like more (and who can blame you?) double the ingredients or make yours a little daintier.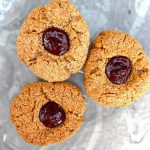 Almond Oat Chocolate Thumbprint Cookies (Gluten Free)
Ingredients
Dough
80g

almond flour/meal

60g

oat flour/meal

45g

tablespoons butter

softened

2

tablespoons

icing sugar

pinch

of salt

½

teaspoon

vanilla sugar/extract
Filling
20g

good quality dark chocolate

1

teaspoon

honey
Instructions
Pre-heat the oven to 175°C and line a baking tray with grease-proof paper.

Mix all of the dough ingredients in a bowl until a dough starts to pull together.

Scoop balls of roughly equal amounts (around a tablespoon each) and work them in your hand for a couple of seconds (I find this makes them easier to manipulate), then place them on the baking tray. Gently flatten with your palm or a fork and gently use your thumb to make an indentation in each one (go steady as the dough is crumbly), then carefully mould the cookies into rough circle shape with your fingers.

Bake for around 11-13 minutes until they are a light, golden colour. Remove from the oven and allow to cool slightly on the tray. You may find that some of the thumb indentations have become smaller as they've baked - if this is the case, gently push down either with your thumb (be careful - they're hot!) or the back of a small spoon. Do this carefully because they are a little fragile when hot, but don't wait until they have cooled, as the cookies will no longer be pliable.

Heat the chocolate and honey in a Bain Marie until just melted (skip the honey if you like the bitterness of dark chocolate). Very carefully, spoon a little of the chocolate mixture into each hole in the cookies - don't overfill because it will just run down the sides! Allow to cool completely and the chocolate to set. Enjoy!