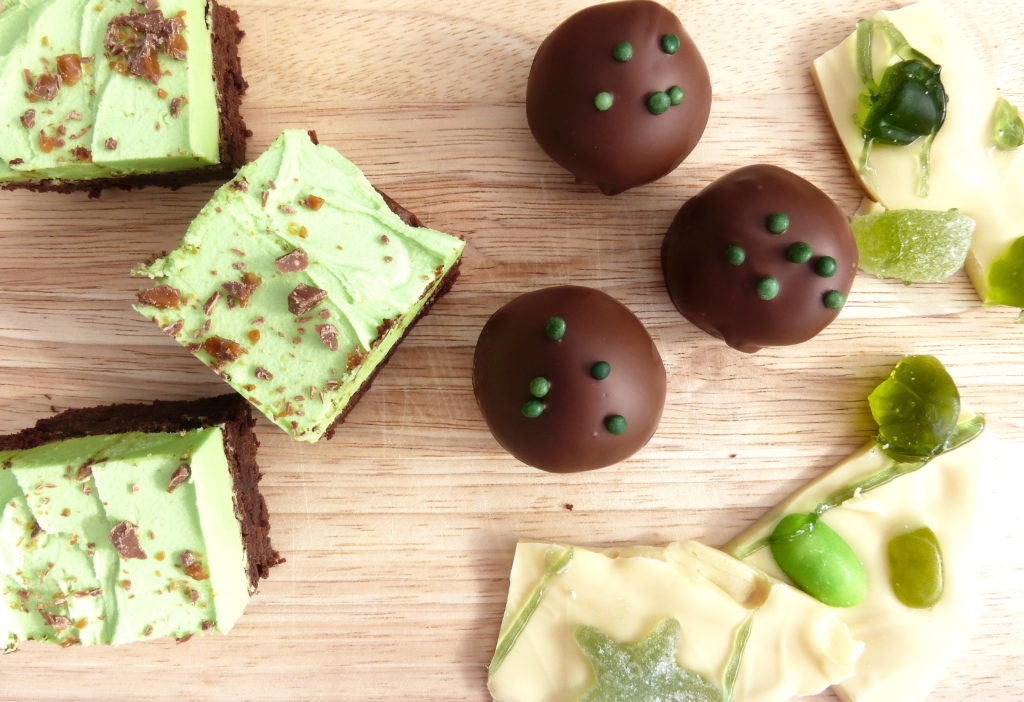 If you are looking for inspiration for all things green to celebrate St Patrick's Day, then look no further! I've got three amazing leprechaun treats to put a gleam in your kids' eyes or put a smile on your work colleagues' faces! You can whip these up in no time!
I made all three for the kids I teach and there is nothing better than guilt free baking (as in not eating anything yourself) – my poor kids didn't get a look in, either!
CHOCOLATE BROWNIES WITH A MINT BUTTERCREAM FROSTING
 
EMERALD ISLE BARK
NO-BAKE COOKIE DOUGH TRUFFLES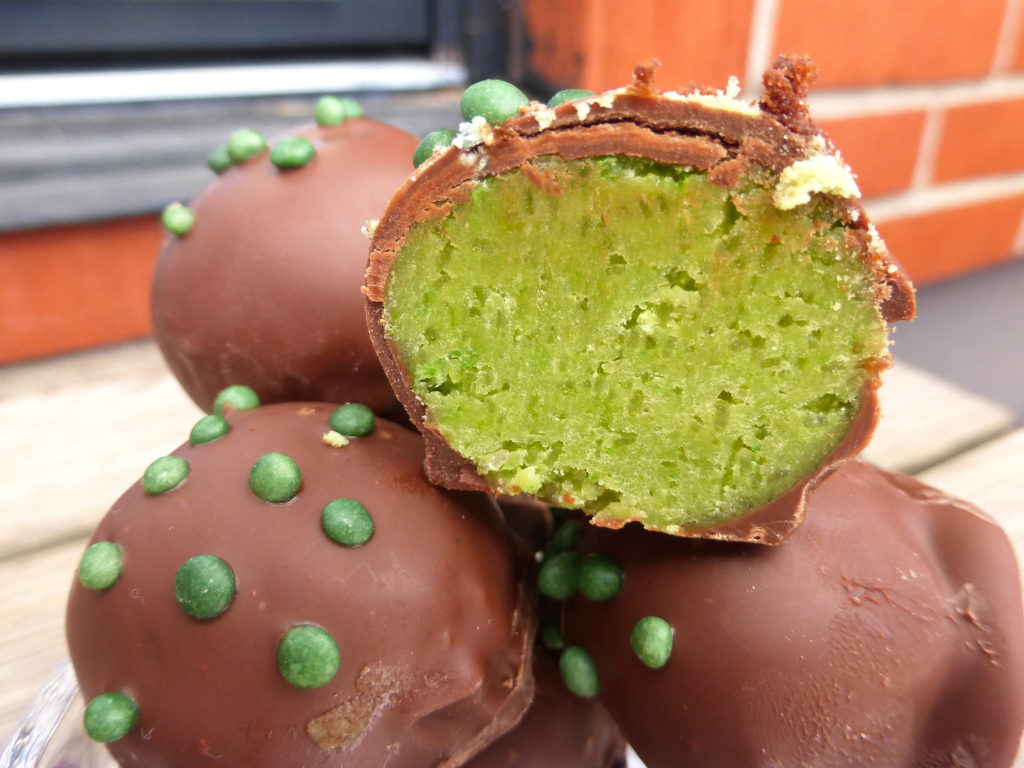 Leprechaun Treats! 3 Ways to Celebrate St Patrick's Day!
---
Ingredients
BROWNIES

100g (1/2 cup) dark (plain) chocolate
100g (7 tablespoons) butter
2 tablespoons strong brewed coffee
125g (2/3 cup) brown sugar
2 small eggs
1/2 teaspoon vanilla sugar (see notes)
40g (1/3 cup) plain (all purpose) flour
12g (1 tablespoon) cocoa

Mint Frosting:

150g (2/3 cup) butter (softened)
Around 200g (2 cups) icing sugar (you may need more)
1-2 tablespoons milk
1/2 teaspoon peppermint extract/essence
2 teaspoons green food colouring
Mint chocolate for sprinkling (optional)

EMERALD ISLE BARK

300g (2½ cups) white chocolate
Any green coloured candy/sweets

NO BAKE COOKIE DOUGH TRUFFLES

100g (7 tablespoons) butter (softened)
110g (2/3 cup) brown sugar
50ml (around 1/4 cup) milk
1 teaspoon vanilla sugar
175g (1½ cups) plain (all-purpose) flour
1 teaspoon green food colouring
200g (1½ cups) chocolate
Directions
BROWNIES
~ Pre-heat the oven to 170°C (325°F) and prepare an 8x8? tin by lining it with grease-proof paper or by greasing.
~ Slowly heat the chocolate and butter in a pan until just melted, then add the coffee. Leave to cool for about 10 minutes.
~ In a large bowl, whisk the sugar with the eggs, then add in the cooled chocolate mixture.
~ Sift the vanilla sugar, flour and cocoa and stir into the wet ingredients until well combined.
~ Pour into the tin and bake for around 20-25 minutes (until an inserted skewer comes out clean). Remove from the oven and allow to cool completely. If you have the time, let the brownie sit in the fridge over night.
~ For the frosting: beat the butter and icing sugar together and add just enough milk to give the frosting a thick, spreadable consistency. Add the food colouring and peppermint extract and beat in. Lather over the brownie and then sprinkle with finely sliced mint chocolate. Cut into squares and then serve.
EMERALD ISLE BARK
~ Melt the chocolate slowly in a Bain Marie and then pour onto a large baking tray lined with grease-proof paper. 
~ Sprinkle with your goodies and then leave to set in the fridge. When ready to serve, break into shards and enjoy!
NO BAKE COOKIE DOUGH TRUFFLES
~ Place all ingredients apart from the chocolate in a food processor and process until everything comes together as a smooth dough. 
~ Roll into balls and place on a tray. Pop into the freezer for around 15 minutes to harden up. 
~ In the meantime, melt the chocolate in a Bain Marie and dip each truffle in. Place back on the tray and sprinkle with something sweet and green (use your imagination!). Put in the fridge until the chocolate has set.
7.8.1.2
90
https://www.theculinaryjumble.com/leprechaun-treats-3-ways-to-celebrate-st-patricks-day/