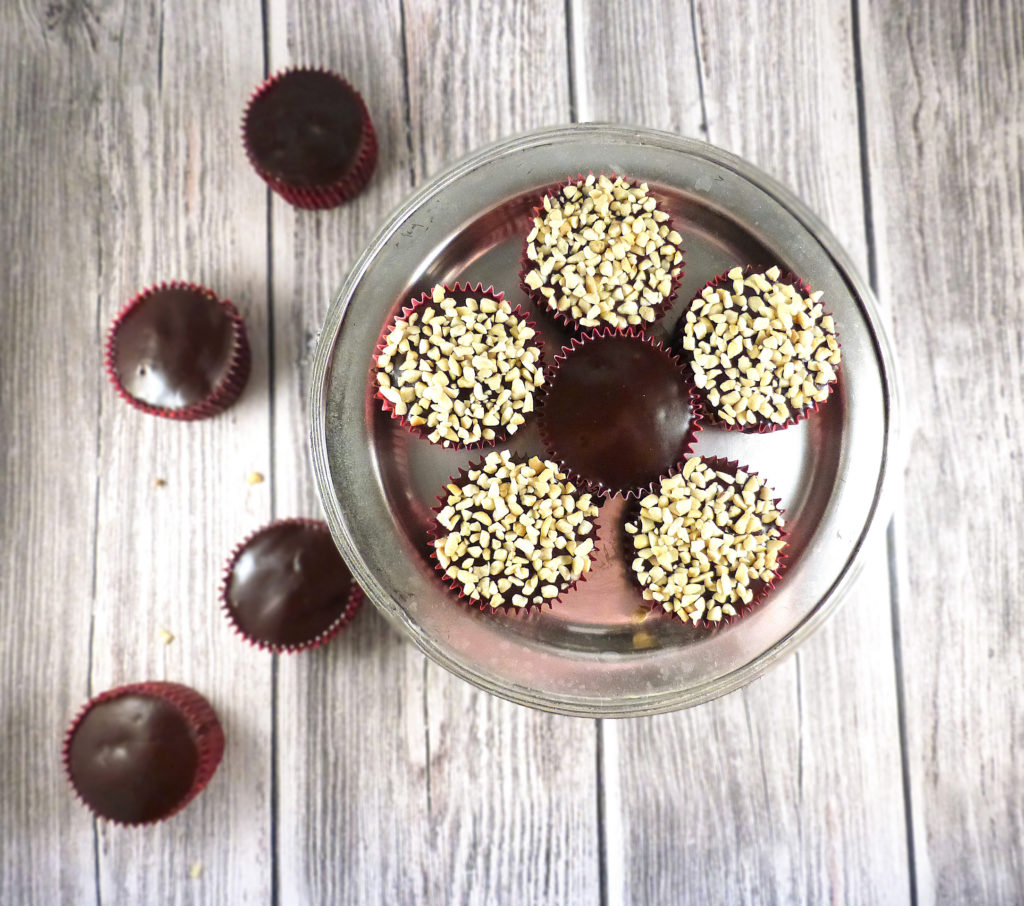 Swedish kladdkaka is not a rarity in our house but kladdkaka cupcakes are something new.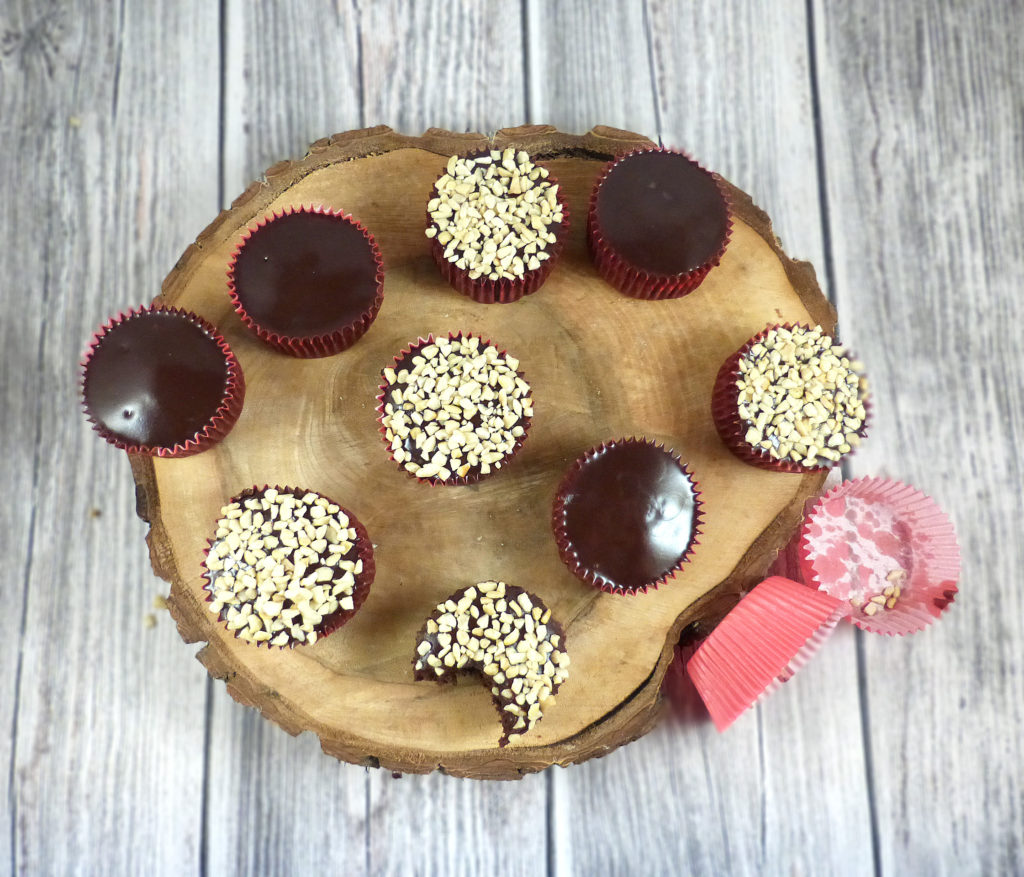 Kladdkaka, or "sticky cake", is one of Sweden's finest desserts.
The stickiness comes from deliberately undercooking the cake so that the edges are baked but the middle is soft. The cake rises as you would expect (even without baking powder) but collapses in on itself when removed from the oven.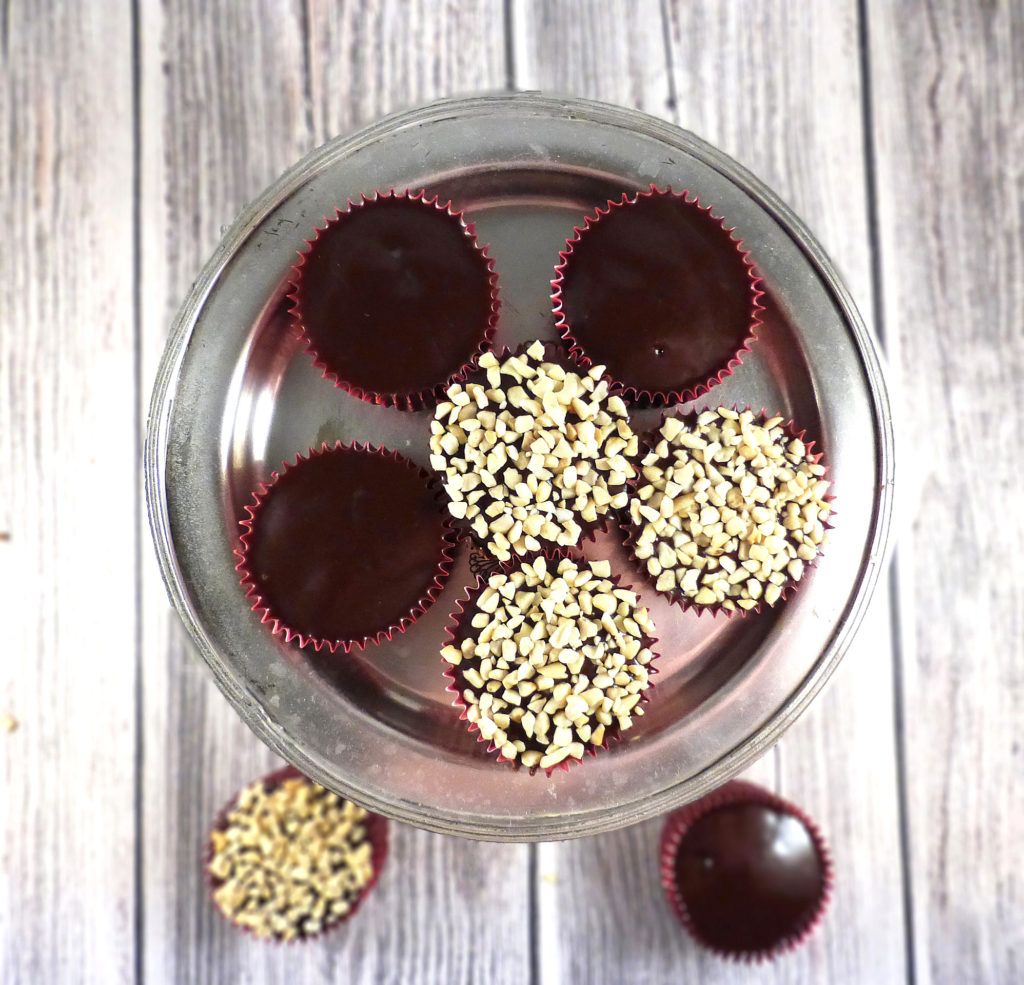 Kladdkakor (plural form) are very similar to brownies. Very.
There are several theories in circulation about how Sweden came upon one of their favourite desserts. One states a Swedish lady used an American recipe for brownies but had no baking powder, so baked it without. This sounds reasonable given the likeness to brownies.
Another theory claims kladdkakor originate from a French chocolate cake. Who knows? Who cares? It's sublime, wherever it came from.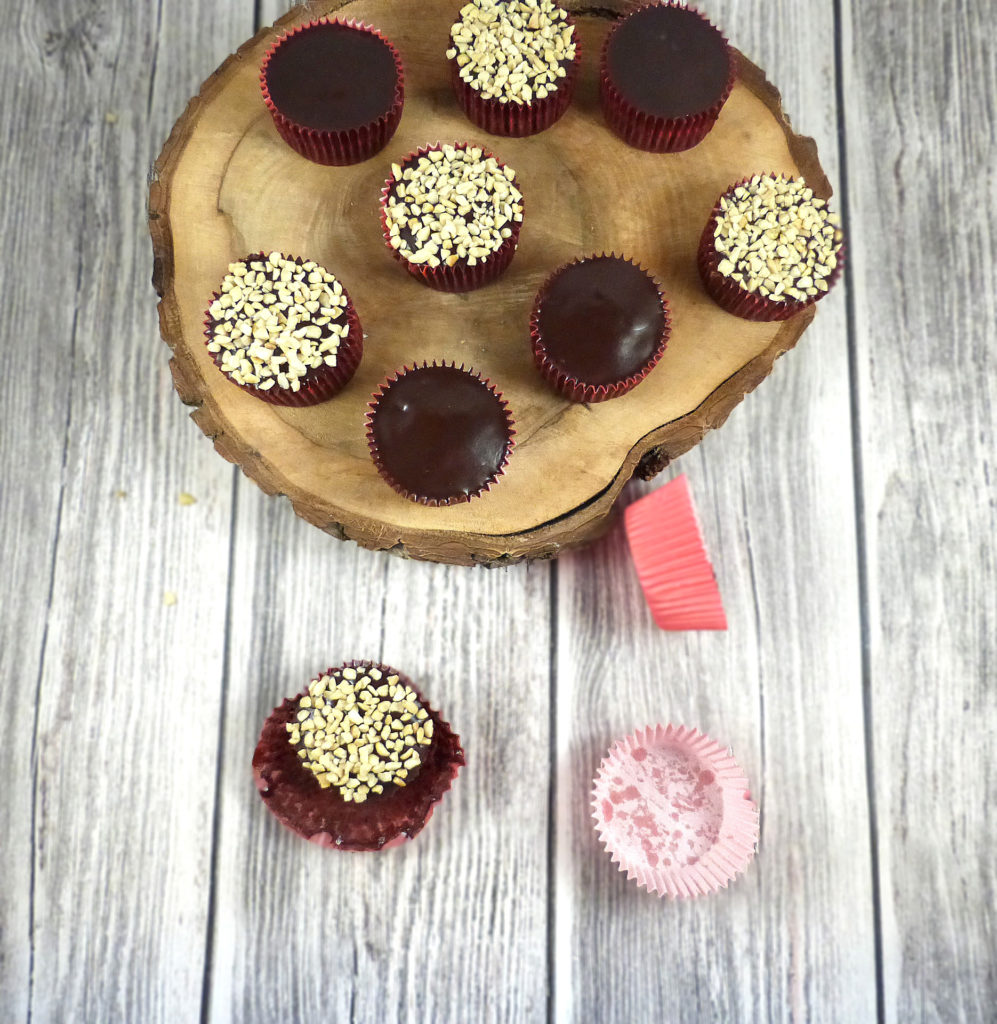 And like brownies, kladdkakor can range from totally molten in the middle to fairly firm, depending on personal preference and how long they are baked for. We like ours gooey. The gooier the better.
However, there's quite an art to getting it just how you like it. Achieving a molten cake as opposed to one that's just a little sticky involves taking the cake out of the oven before you feel comfortable doing so. When you think it is not ready. Going against all your baking instincts. I know. Don't chicken out like I did for years and bake it for that one or two minutes more than is really necessary. Be brave.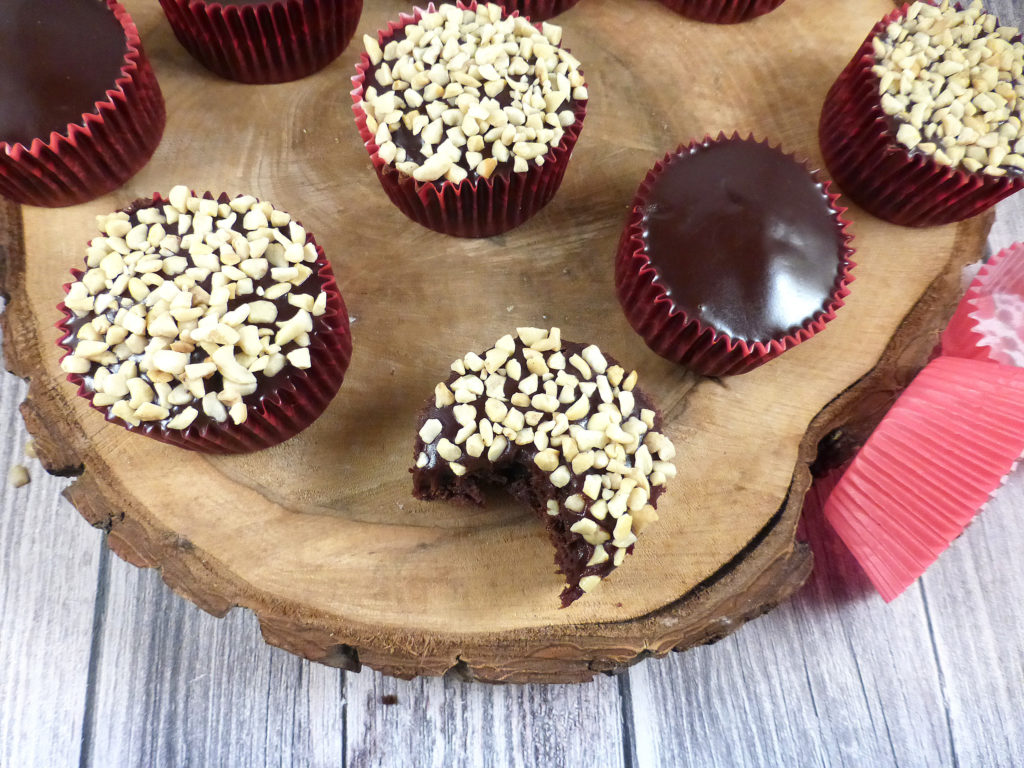 That said, there are times when you need your cake a little more on the firm side and more like a traditional brownie. Like with these kladdkaka cupcakes: I wanted the to be sturdy enough to hold the topping and not implode.
To decorate, I decided to sprinkle some with chopped cashews which were bought for Christmas baking. They shouted "use me" every time I opened my cupboard and thought these kladdkaka cupcakes were the perfect vehicle.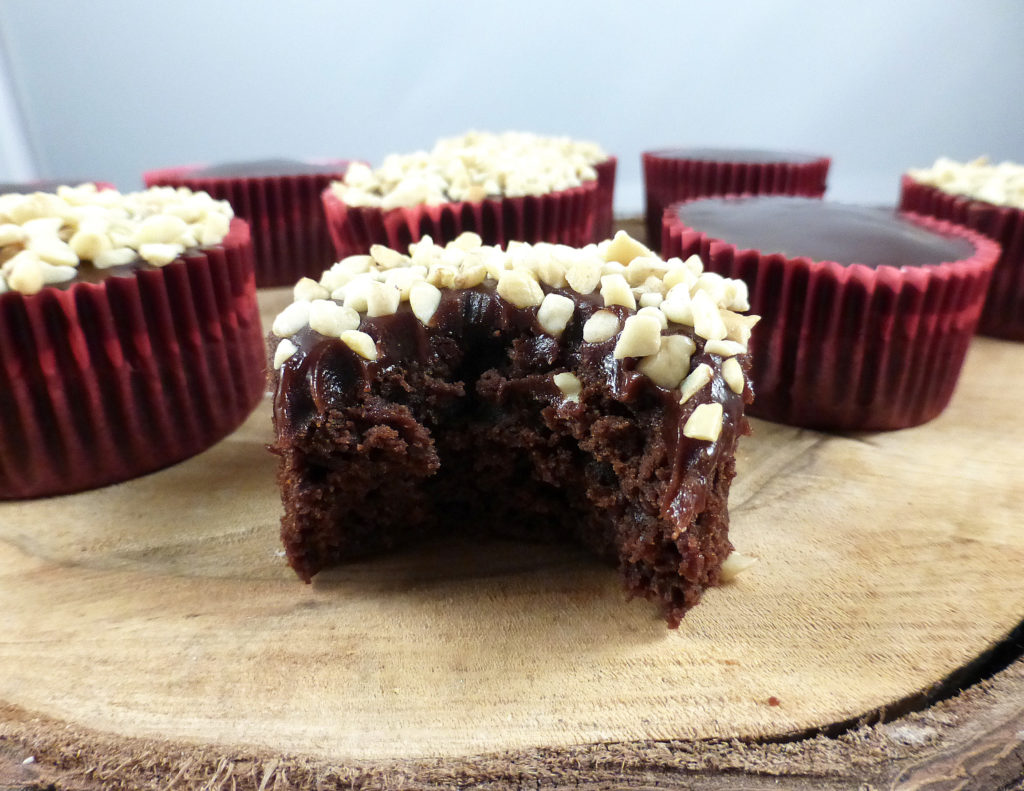 The cupcakes are a mash up of my evergreen recipe (used for Cherry Brownies among many others) and the frosting comes from Sandras Blogg (in Swedish) and was originally used on my Decadent Kladdkaka. I also decided to make the kladdkaka cupcakes gluten free but you could use regular flour if you preferred.
The ingredients below made 12 cupcakes.
Kladdkaka Cupcakes with a Chocolate Fudge Topping (gluten free)
---
Ingredients
Cupcakes:

100g (3/4 cup) dark chocolate
100g (1/3 cup + 1 tablespoon) butter
50ml (3 tablespoons) milk or brewed coffee
60g (1/3 cup) brown sugar
60g (1/3 cup) white sugar
2 eggs
40g (1/3 cup) gluten free flour blend (I used https://semperglutenfritt.se/produkter/fin-mix )
1 tablespoon cocoa

Fudgy topping:

50ml (1/4 cup) whipping cream
20g (2 tablespoons) sugar
1 tablespoon dark syrup
25g dark chocolate
25g (2 tablespoons) butter

PLEASE NOTE - my conversions to cups may not be entirely accurate. Weighing ingredients is always the best method of ensuring a successful bake!
Directions
~ Pre-heat the oven to 170ºC (350ºF). Line a muffin tin with cupcake cases.
~ For the cakes: gently heat the chocolate and butter together in a pan (or use a Bain Marie if you prefer). When the ingredients have almost melted, remove from the heat, stir, and add the milk or coffee. Leave until mixture cools a little.
~ In a bowl, beat the eggs and sugar together. Stir in the chocolate mixture. Combine the flour and cocoa, then add to the other ingredients. Stir until well mixed.
~ Pour into the cupcake cases (it's a fairly thin batter) until they are about half way full. Bake for 12-14 minutes. The top should be fairly spongy when pressed. Remove from the oven and set to one side while you make the topping.
~ For the chocolate fudge: combine all the topping ingredients in a pan apart from the butter. Allow to cook for around 15 minutes, just until the mixture starts to thicken. Remove from the heat and beat in the butter. Spoon on top of each cupcake. Don't overfill or you will end up with a runny mess! Sprinkle with whatever you fancy (I used cashews on some) and enjoy!
7.8.1.2
292
https://www.theculinaryjumble.com/kladdkaka-cupcakes/