Individual Victoria Sponge cakes: one of Britain's finest cakes, only in cupcake sizes.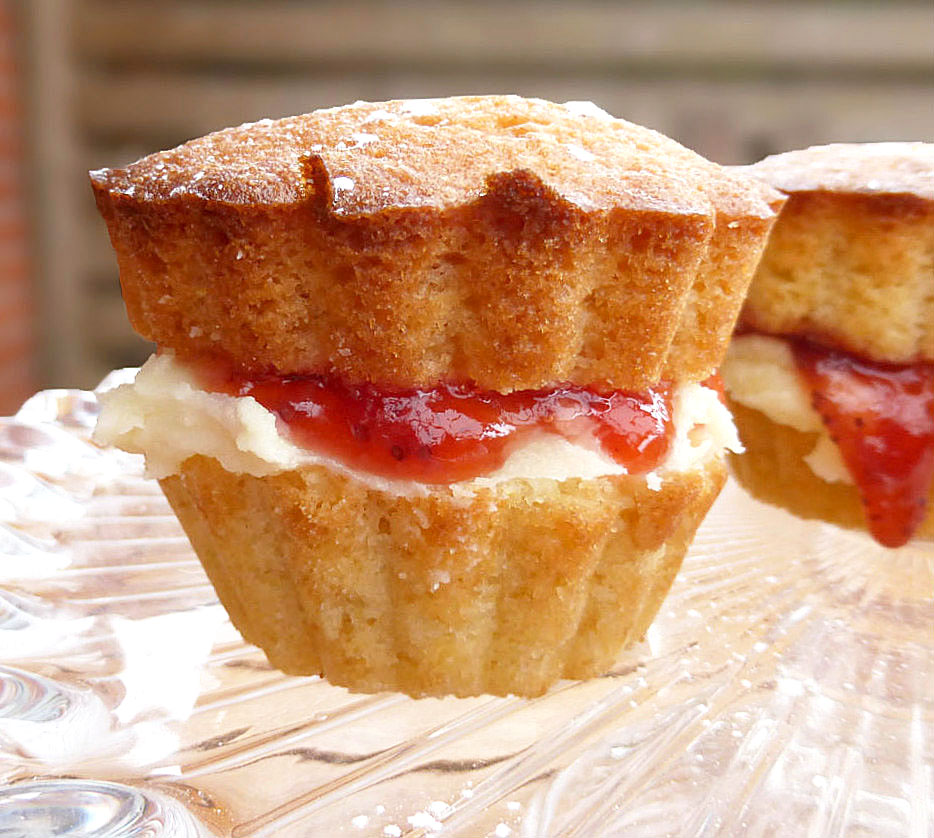 I am not sure whether it is because I am British or just love a good cake, but Victoria Sponge is one of my favourites. There is something about the simplicity of the cake which appeals to me, along with the gorgeous combination of copious amounts of butter and sugar which I find utterly hard to resist.
A classic Victoria sponge is so simple to make. If you are quite new to baking or worry about a long list of ingredients, this is the perfect recipe because it is so straight-forward and easy to follow – the butter, sugar and flour are in equal measurements. I've used plain (all purpose) flour in this particular recipe, but if you have self-raising at home, you could use that instead and omit the baking powder.
The ingredients below make a large batch of cakes (between 12-18 depending on the size of your cases) but you could easily halve the ingredients to make fewer. Alternatively, you could divide the batter in to two fairly smallish cake pans (around 7″) and make a large layer cake (cooking times will need to be adjusted from those given below).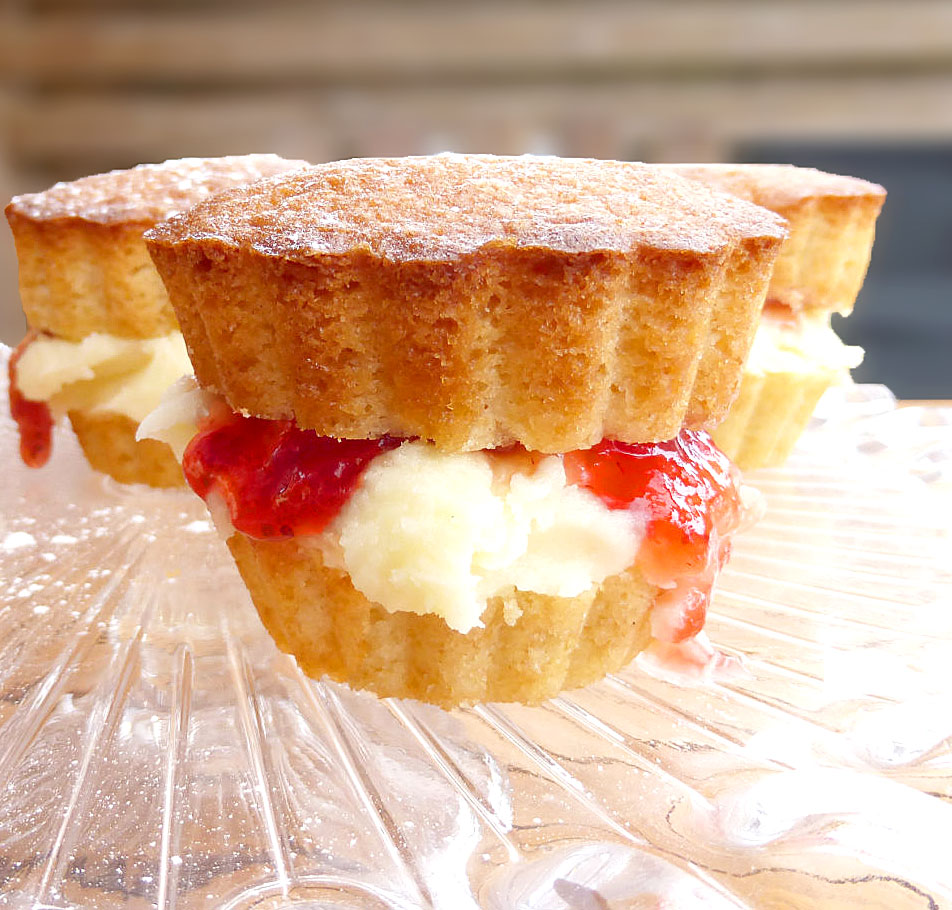 Britain's Finest: Individual Victoria Sponge Cakes
---
Ingredients
Cakes:

200g (7/8 cup) unsalted butter (softened)
200g (1 cup) sugar
1 teaspoon vanilla sugar
4 medium eggs
200g (1 + 2/3 cup) plain (all-purpose) flour
2 + 1/4 teaspoons baking powder

Filling:

50g (1/4 cup) butter
50g (1/4 cup) cream cheese
180g (1 + 3/4 cups) icing (confectioners') sugar
1/4 teaspoon vanilla sugar
Jam (strawberry or raspberry works well)
Directions

~ Pre-heat the oven to 190°C (375°F) and prepare a muffin tin with cupcake cases.

~ Cream the butter and sugar together until nice and light and then add the eggs one at a time.

~ In a separate bowl, combine the flour, baking powder and vanilla sugar and then fold into the wet ingredients and mix well.

~ Bake for around 16-20 minutes, just until the tops spring back when gently pushed. Remove from the oven and leave them for a while then remove from the tin and allow them to cool completely.

~ For the filling: beat the cream cheese and butter together until light and fluffy. Sift the icing sugar and vanilla sugar together and then mix into the butter/cream cheese until thoroughly combined. If the mixture is too thick, add a little milk, but just a touch at a time. If it is too runny, add more icing sugar.

~ Carefully cut the cakes in half the best you can (mine are far from even and perfect, so don't worry) and slather on a good dollop of frosting on the flat side of the bottom bit. Next, top the frosting with around one teaspoon of jam and then place the top half back on, squeezing down gently (the filling is supposed to splodge out a little, so run with it). Lastly, sprinkle liberally with icing sugar to top them off. Enjoy!

7.8.1.2

140

https://www.theculinaryjumble.com/individual-victoria-sponge-cakes/

The Culinary Jumble