Need your kids to eat more veggies? Try this hidden vegetable garlic chilli chicken curry dish.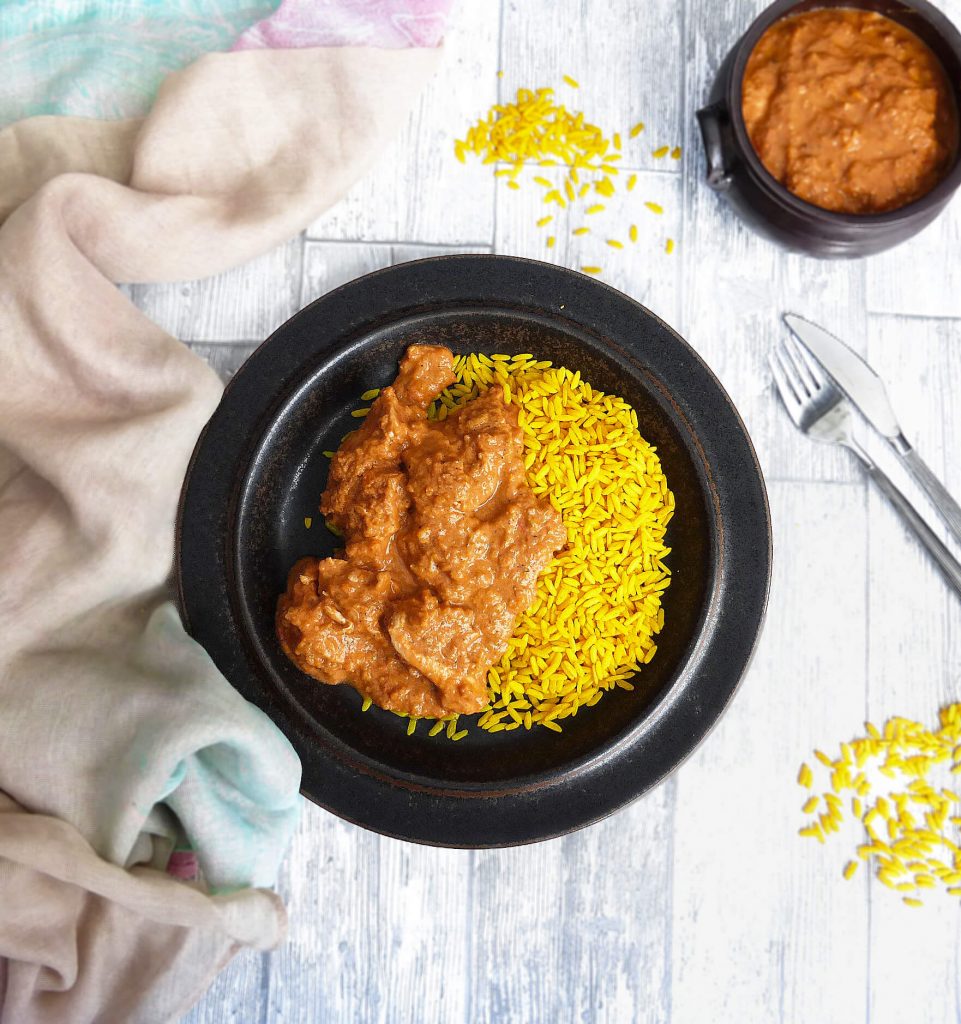 It's been a while since I've shared a main meal recipe. That's not because I don't make them. Goodness, I wish. No, it's because they somehow seem a lot less appealing than say, a chocolate overload cupcake. Let's not kid ourselves, here.
But one dish I love cooking and eating is curry. What's not to like? Thick sauce, moist, flavoursome chicken (in this case), fragrant rice and even a naan bread or three?
I am lucky in that my kids share my love of Indian cuisine-inspired dishes but that's only when the veggies are in disguise. Just like they are in this hidden vegetable garlic chilli chicken curry.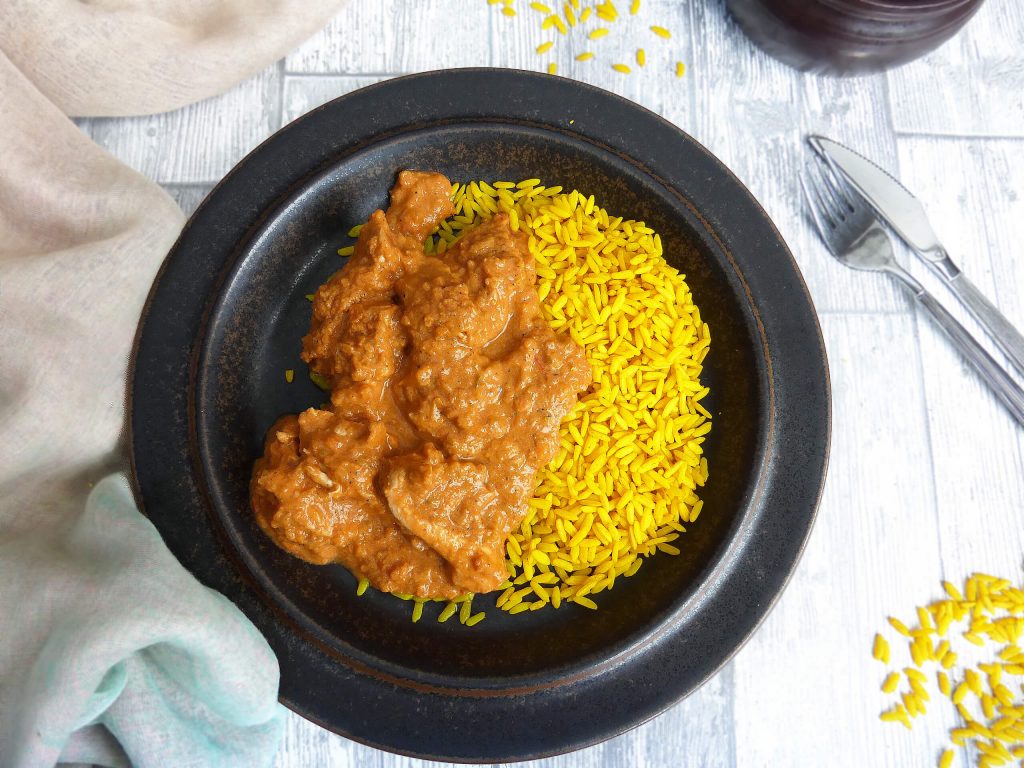 Blitzing the sauce in a blender or food processor not only hides the foods your kids may turn their noses up at, but also creates a wonderfully thick sauce. You can use any vegetables you like. This garlic chilli curry has carrots, tomatoes, onions and peppers along with the chillies and garlic, but over the years I've also added broccoli, cauliflower and courgette (zucchini).
The curry dish is finished off with a simple, fragrant, beautifully coloured turmeric rice. But there's so much more to the ancient spice than just its pretty colour. Turmeric's health benefits, including improved brain function and an ability to reduce inflammation, have been widely researched.
Just a touch of turmeric is needed to produce this vivid, eye-catching rice side dish, making this whole meal healthier by the second. Plus, how many kids do you know who don't enjoy eating yellow food?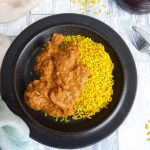 Hidden Vegetable Garlic Chilli Chicken Curry with Turmeric Rice
Ingredients
Curry
1

tablespoon

butter

1

tablespoon

vegetable oil

3

onions

1

bell pepper

(any colour)

1

large carrot

4-5

garlic cloves

2

tablespoons

Garam Masala

1/4

teaspoon

cinnamon

½-1

teaspoon

chilli powder

(dependant on how spicy you like it)

400g

(2 cups) tinned tomatoes

425ml

(1 + ¾ cups) coconut milk

500g

(1lb) chicken
Yellow rice
Rice

(as much as you need)

1

tablespoon

turmeric
Instructions
Melt the butter and oil in a large frying pan. Chop the onions, bell peppers, carrot and garlic (if doesn't need to be fine as they are going to be blitzed in a food processor) and cook slowly for about 20 minutes until they are soft. Don't skimp on this phase as the slowly cooked vegetables (especially the onions) really make the taste of this curry.

Mix the spices together and add to the vegetables, cooking for around a minute or so. Add the tinned tomatoes and then fill the empty tin with the same amount of water and add that in, too. Allow the mixture to bubble and then lastly, pour in the tin of coconut milk. Stir until combined and then allow the mixture to come to the boil once more.

Remove from the heat and pour into a food processor. Blitz until you have a thick sauce (it doesn't matter if there are some larger pieces). TAKE CARE! The sauce is hot and may spurt over the top if you add too much. Do it in batches if you need to. Pour back into the pan you were using before.

Chop the chicken in fairly small pieces and place in the curry sauce. I like to prepare my curry in advance and leave it at this point for an hour or two, to allow the hot sauce to soak into the chicken, but you can just carry on with the next stage immediately if you prefer.

Cook the chicken for around 20 minutes (don't overcook but make sure it has been cooked right through).

For the yellow rice: use as much as you need. In a large pan, heat the amount of water specified on the rice packet along with one tablespoon of turmeric. Add the rice and cook as per instructions. Serve immediately with the curry. Enjoy!