I had some cooked beetroot left over from when I made my Sri Lankan feast and decided to whip up this beetroot and black pepper puff pastry.
The pastry is store bought and ready made. Now, you regular readers will know (mainly because I bang on and on about it) that this blog is all about homemade food from scratch. And 99% of the time, it is just that.
However, I am also rather fond of simple, easy to prepare food. Aren't you? Meals and dishes you can whip up in minutes without too much fuss.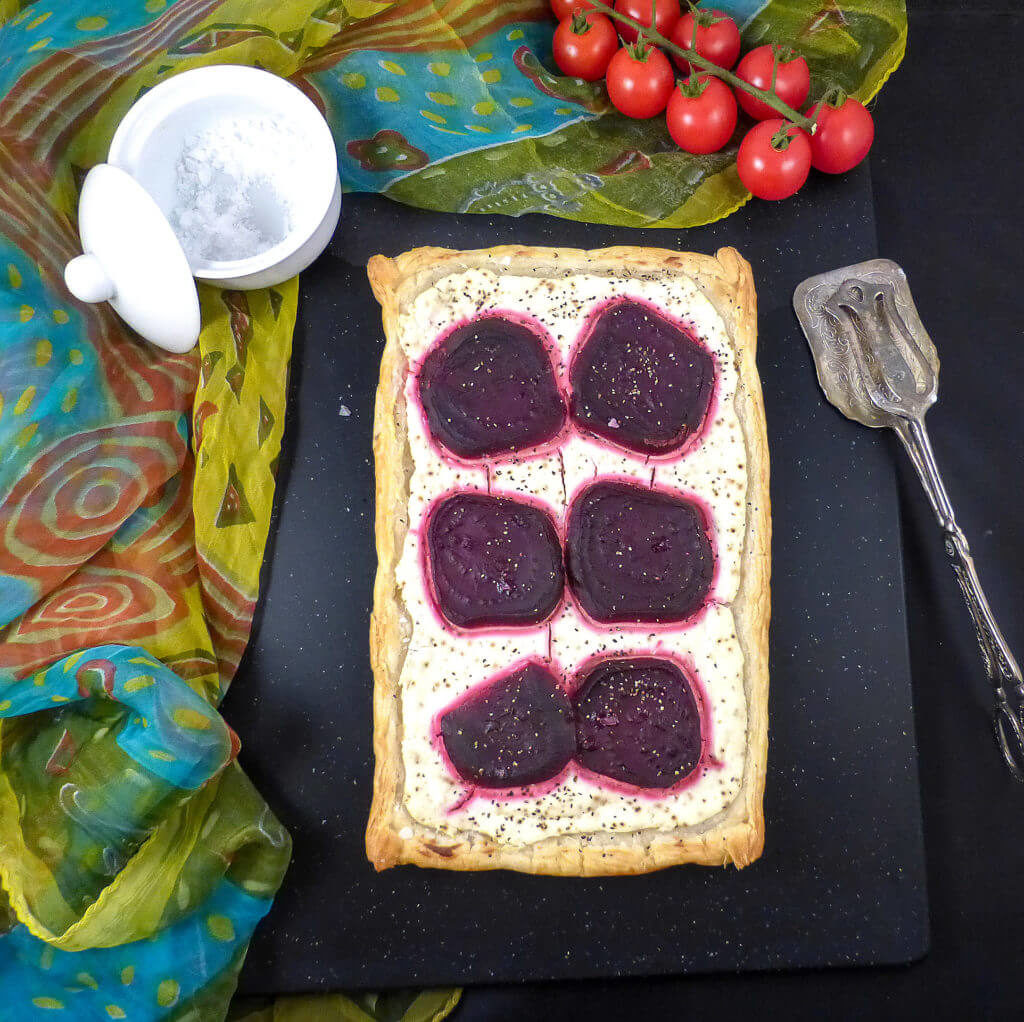 I did have a pang of guilt when I bought it. Another when I made the savoury puff pastry. There was a final one when I took pictures and started to write this.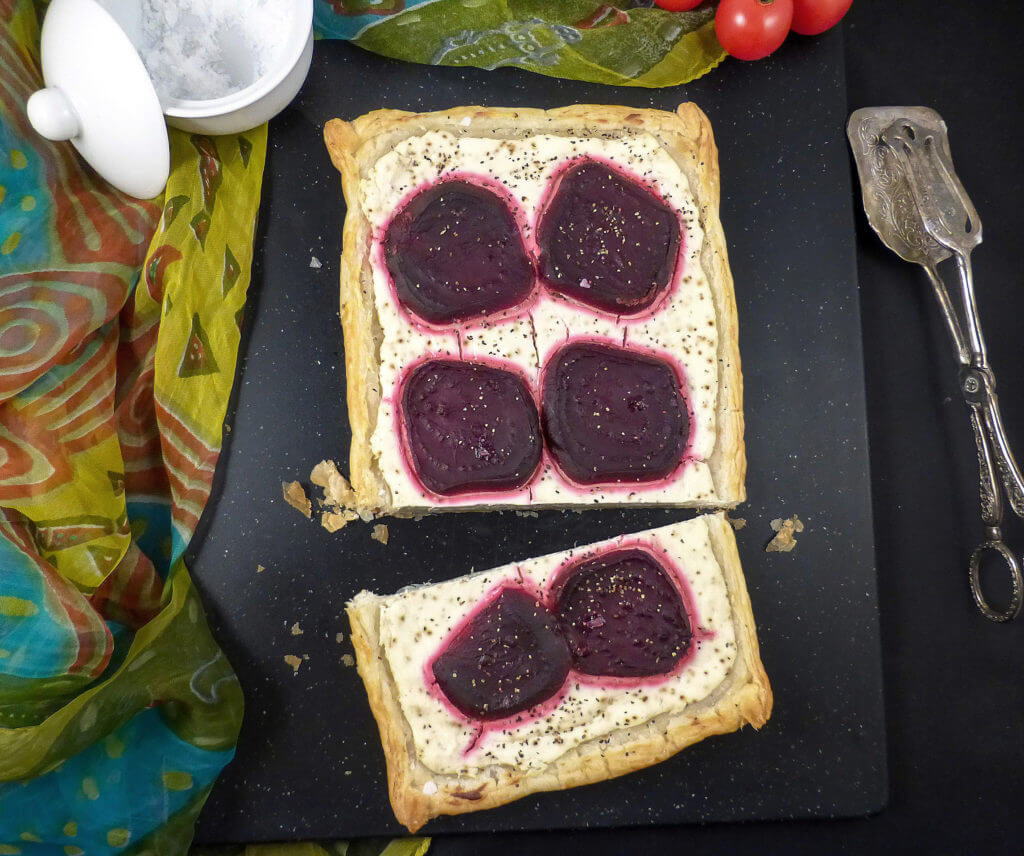 But you know what, we all need a cheat every now and again, or a way to make our stressed lives just that bit easier. And, if Jamie Oliver himself says it is an absolute waste of time to make your own puff pastry, well, that's good enough for me.
You won't find anything at all difficult about this savoury puff pastry. The cream cheese and Greek Yoghurt were beat together, the pastry rolled out, the cooked beetroot thinly sliced. A generous sprinkling of black pepper then in the oven to bake for a short while.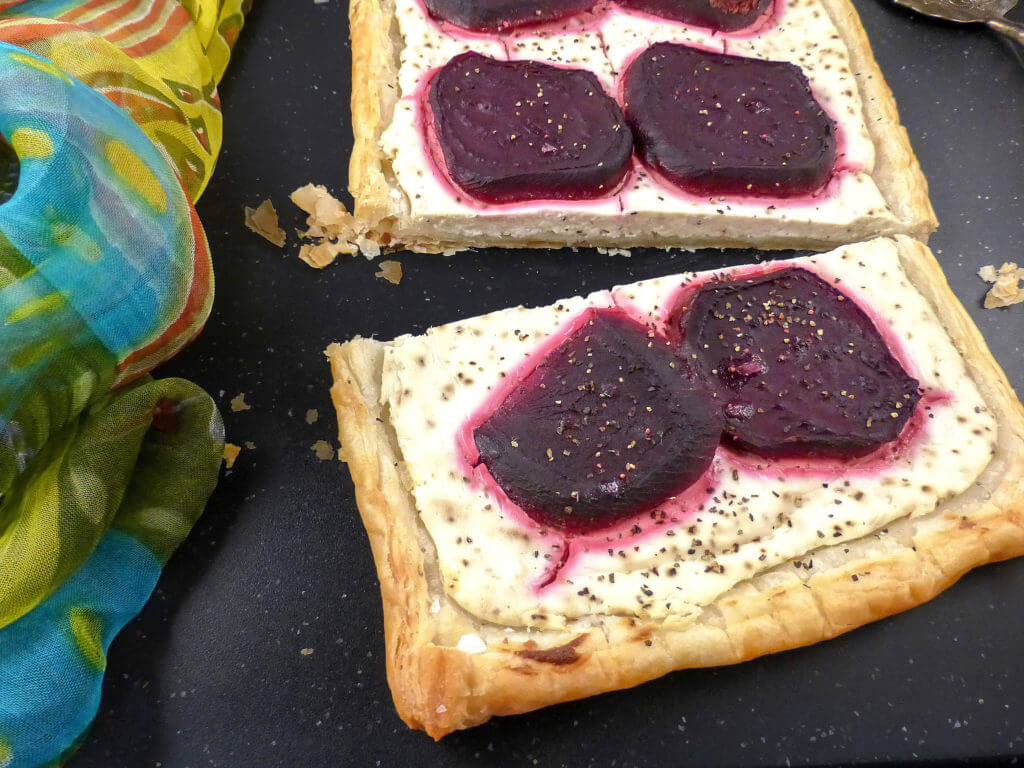 I only used half of the pastry and made one (the other half made some Danish pastries). It was snaffled in minutes (yes. You know who you are).
It really was delicious. The rich creaminess of the filling complemented the beetroot and slight kick of the black pepper really well.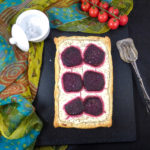 Beetroot and Black Pepper Savoury Puff Pastry with Greek Yoghurt and Cream Cheese
Ingredients
1/2

roll of ready made puff pastry sheet

100g

cream cheese

100g

Greek yoghurt

1

small cooked beetroot

1

tablespoon

black pepper

Sea Salt

(to taste)
Instructions
Pre-heat the oven to 200°C (400°F).

Take the puff pastry out of the packing and roll it out flat. Cut it in two equal parts and place one half on a lined flat baking tray.

Whisk together the cream cheese and yoghurt. Add half the pepper along with the salt.

Spread over the uncooked pastry. Slice the beetroot and place on top of the cream cheese mixture.

Bake for 16-18 minutes until golden. Sprinkle with the remaining pepper. Allow to cool a little and slice. Enjoy with a lovely crisp salad!
Recipe Notes
I only made one using half a puff pastry sheet. Just double the topping ingredients to make two.