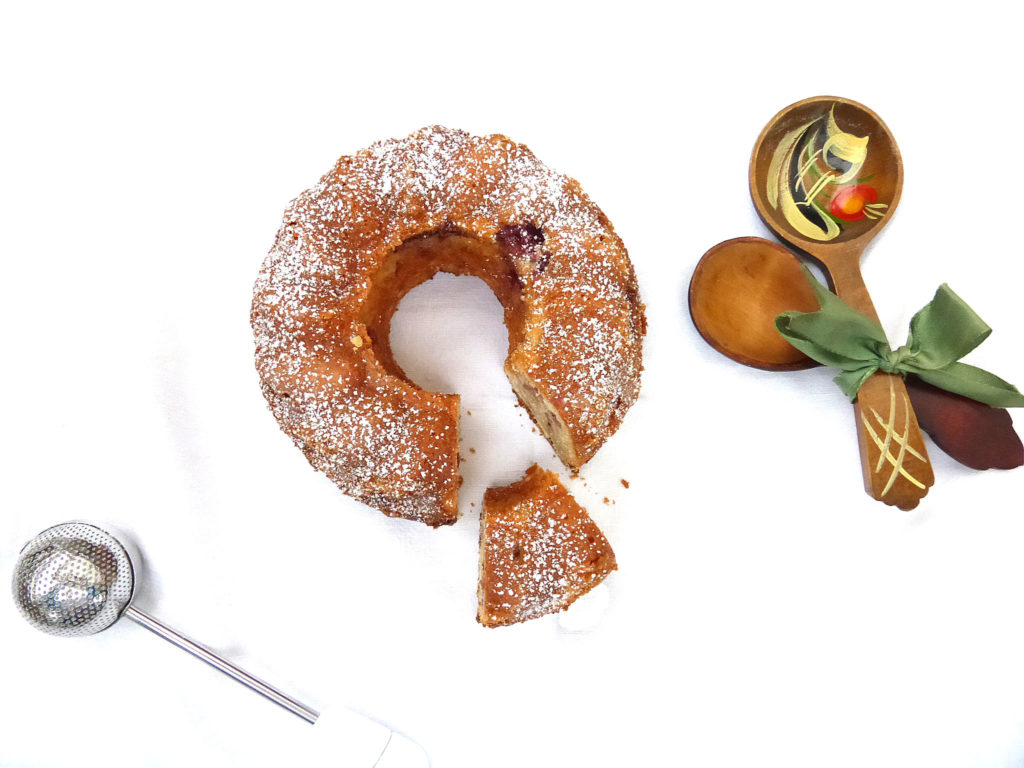 I bought a gorgeous shocking pink bundt pan when I was in the UK over Christmas and had been looking for an excuse to try it out.
I think bundt cakes are some of the prettiest out there, and those razor sharp contours are breath-taking. I like looking at them, sure; but making them is a whole different ballgame. This is the gal who gets all flustered taking a normal cake out of a pan (even when I've made the recipe a zillion times), but a bundt? Quaking in my boots, I tell you.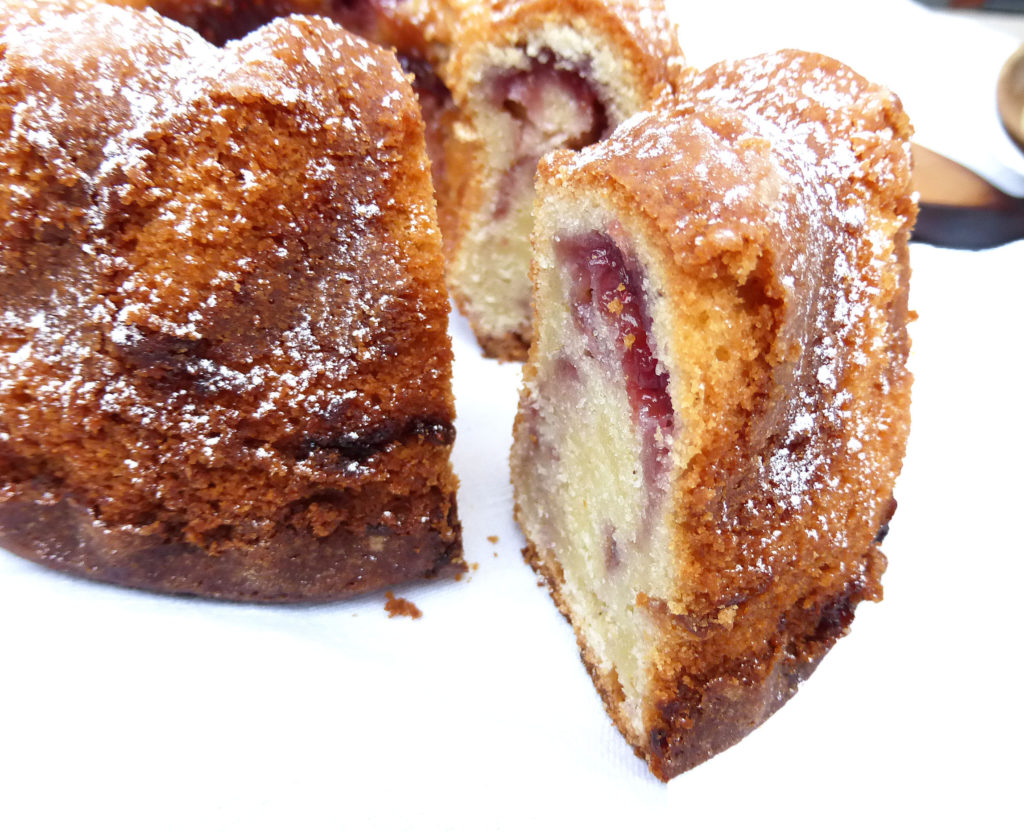 Thing is, bundts don't really allow for error, and if you are not careful, you could end up with uneven edges or even worse, missing chunks of cake, which just looks wrong.
I was fairly satisfied with this cake (and for a perfectionist like me, that's pretty good going). The only real recommendation I can give when making a bundt cake is to grease and flour the pan within an inch of its life – use a pastry brush to get the butter or oil you into every crevice.
And then? Well, just pray because even after doing all that, it seems to come down to luck more than anything else.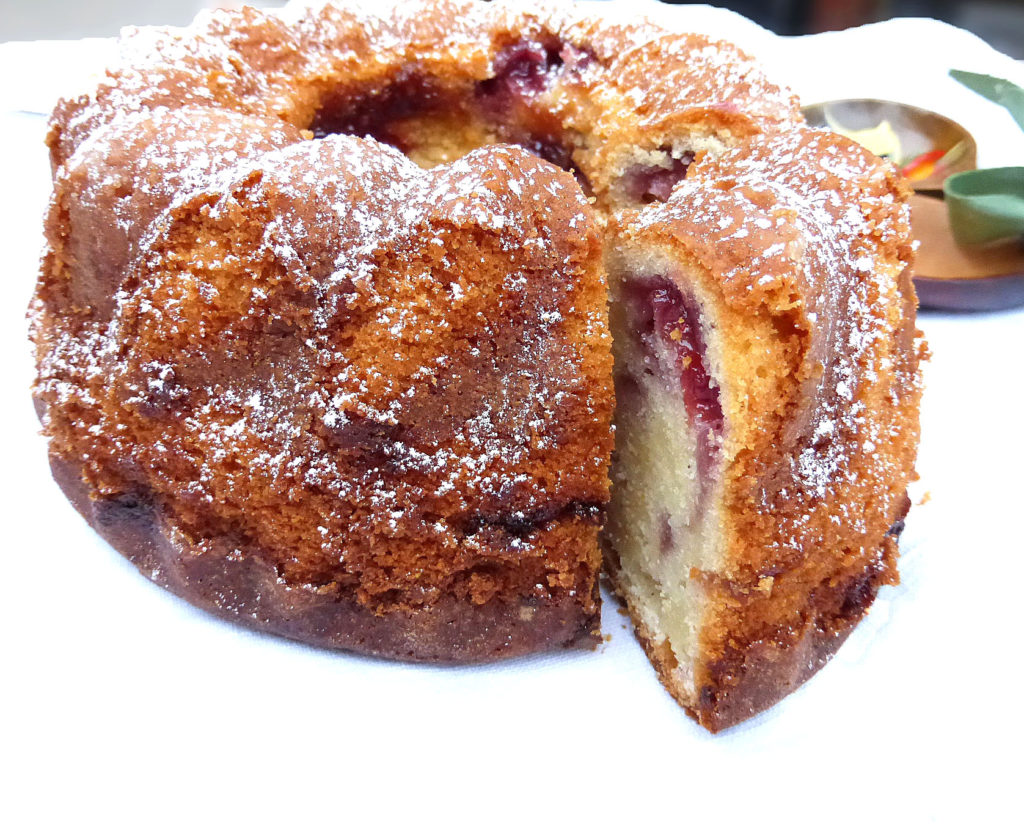 This bundt has Greek yoghurt, which I love in cakes. As you can see from the pictures, it yields a denser, less crumb-like texture which I find divine. The homemade swirl adds a fruity hit which complements the cake perfectly.
I decided to leave the cake unadorned, other than a sprinkling of icing sugar. I didn't think it needed more. That said, I think a light fruit glaze would also work really well.
I used four-cup bundt pan, so the cake was fairly small, and was enough for 6-8 portions, depending on the size of the slice.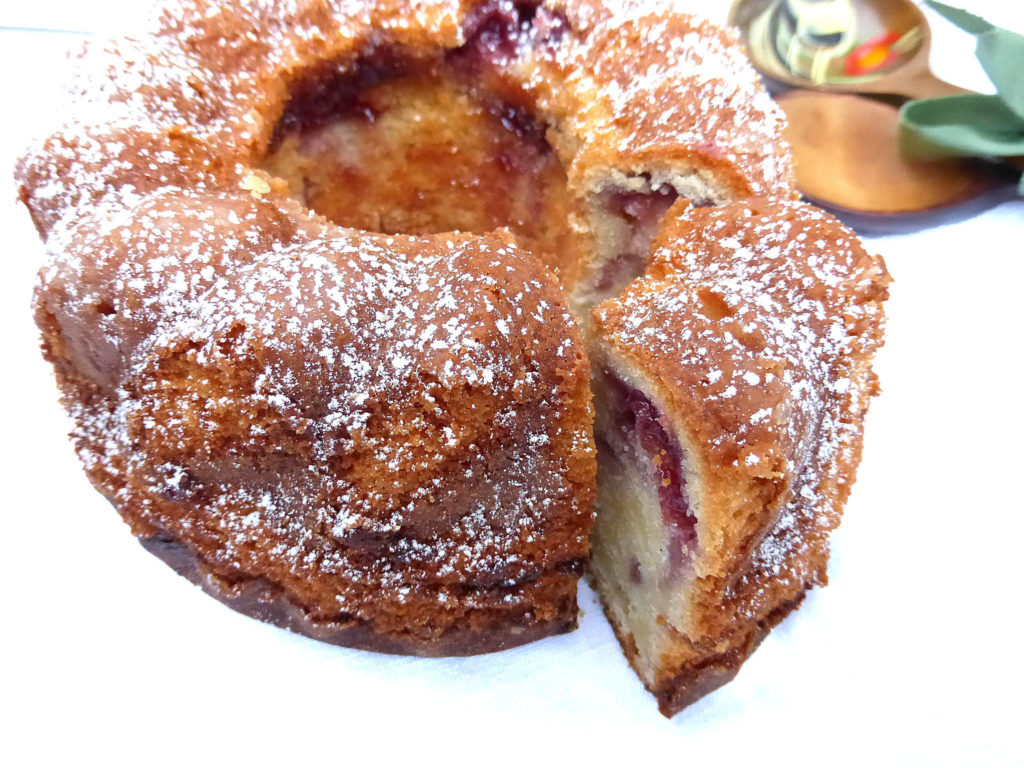 Greek Yoghurt and Berry Swirl Bundt Cake
---
Ingredients
120g (1/2 cup) butter (softened)
170g (3/4 cup) sugar
2 eggs
120g (1 cup) flour
1/4 teaspoon baking soda
1 teaspoon vanilla sugar (see notes)
80ml (1/3 cup) yoghurt
1 tablespoon vegetable oil

Fruit swirl:

100g (1 cup) frozen berries
2 tablespoons water
Around 50g (1/2 cup) icing sugar

NOTES:

I use vanilla sugar in my recipes. Here is a handy converter to extract/essence.
Directions
~ Pre-heat the oven on 160°C (320°F) and grease/flour your bundt tin really well.
~ To prepare the fruit swirl: add the berries, water and icing sugar to a medium-sized pan and cook until the berries soften and the mixture thickens (around 15 minutes). Taste test and if you require more sugar, add it now. Set the fruit swirl to one side and allow to cool.
~ For the cake: cream the butter and sugar together (I used a food processor) until it is light and fluffy. Add one egg at a time, making sure each one is incorporated before adding the next.
~ Mix the flour, baking soda and vanilla sugar together then on a low setting, slowly add to the wet ingredients, just until everything is only just combined.
~ Lastly, add the yoghurt and oil and again, don't overwork, just mix until everything is incorporated.
~ Pour half of the batter into the bundt pan and then top with half of the fruit, swirling it into the batter with a knife. Repeat with the remaining batter and fruit.
~ Bake for 60-75 mins, just until the cake is golden, fairly firm to the touch and an inserted skewer comes out clean. Leave for around 15 minutes, then turn out onto a wire rack and allow to cool completely before sprinkling with icing sugar. Enjoy!
7.8.1.2
72
https://www.theculinaryjumble.com/greek-yoghurt-and-berry-swirl-bundt-cake/