These delicious gluten free mini chocolate doughnut cakes are very low in fat and sugar making them an awesome, guilt free treat.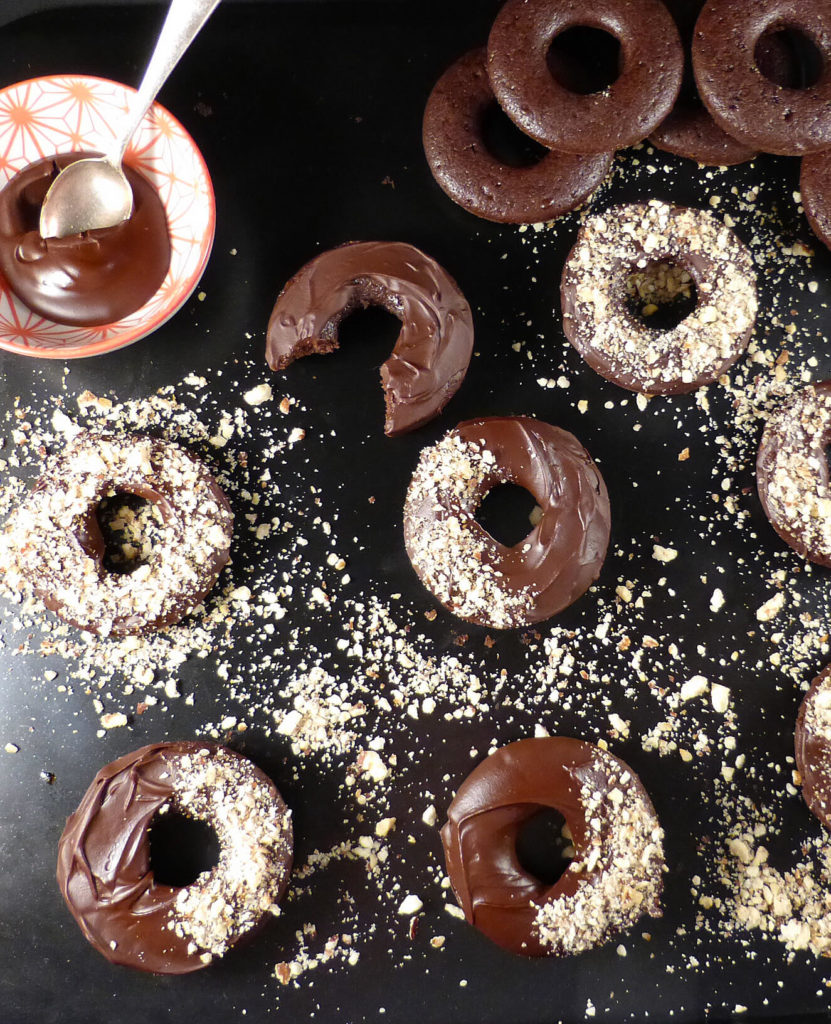 Obviously these are cakes. They aren't doughnuts at all. They're gorgeous though, so let's not worry our heads about labels.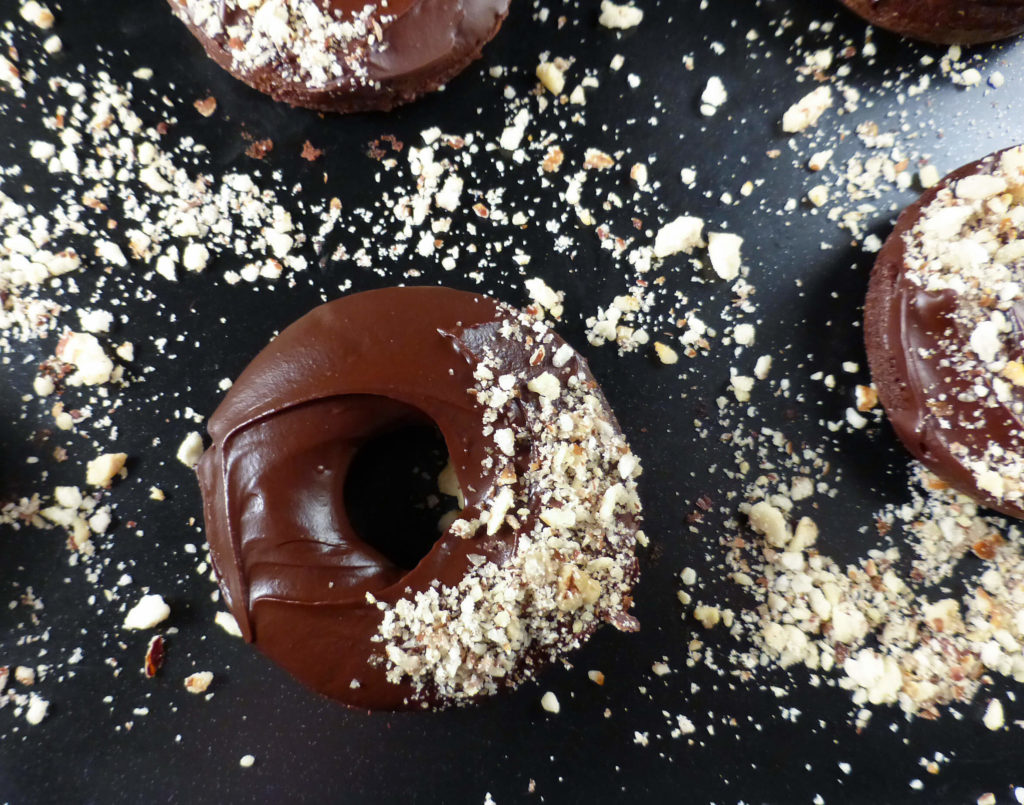 Look at that slathered dark chocolate ganache and those crushed up hazelnuts. And you wouldn't think that the cakes themselves have only 20g butter and 50g sugar, would you?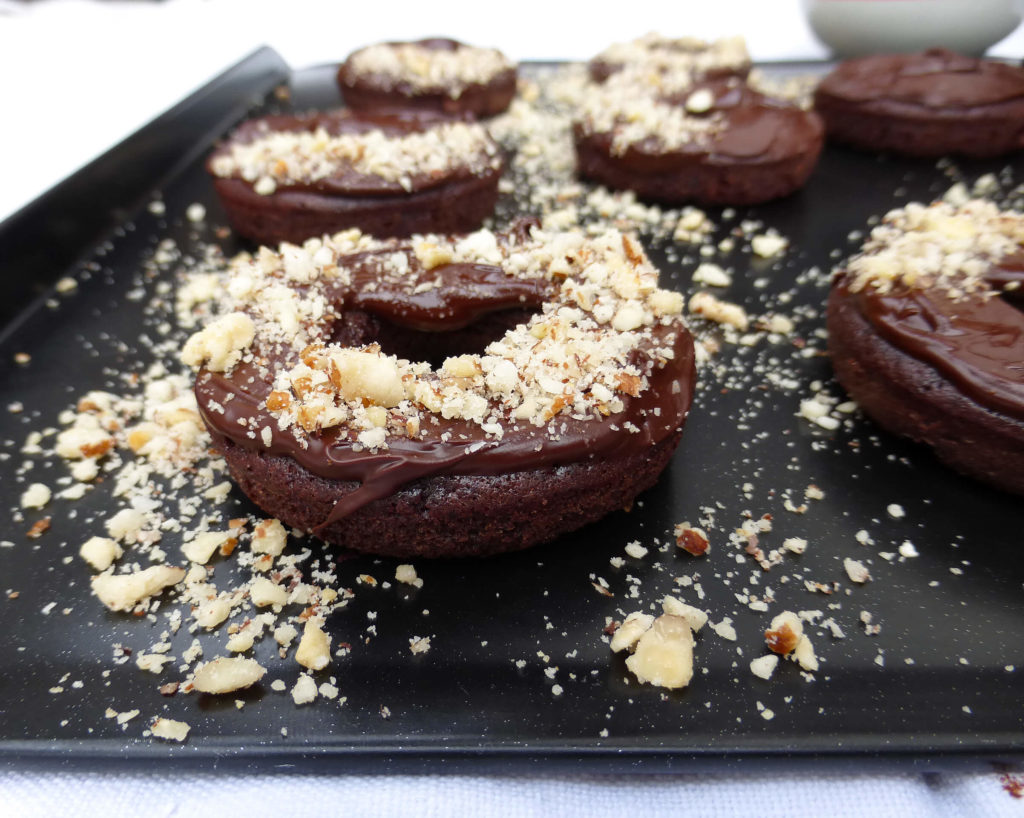 I'd wanted to make baked doughnut cakes for ages but could never find a pan for them.
When I did get my hands on a silicone mould, I was unsure how they would turn out. In my first attempt, I overfilled the pan and although the end result was tasty, it wasn't pretty. Think ugly, uneven hump with a pinprick for a hole.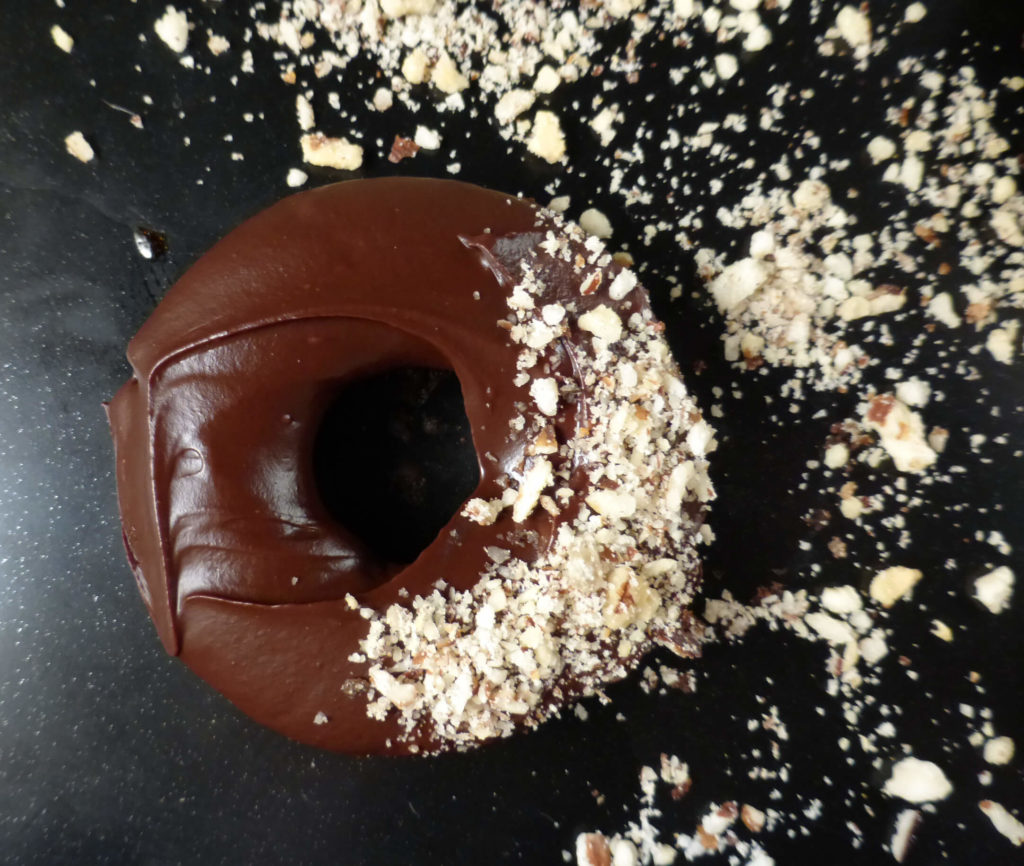 Second time around I was less generous with the batter and they turned out beautifully.
The doughnuts are mini and fairly thin, and snaffled in two bites. But as this recipe makes 16, you can help yourself to one or two more. Go on, your secret's safe with me.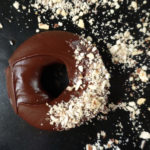 Gluten Free Baked Mini Chocolate Doughnut Cakes with Dark Chocolate Ganache
Ingredients
Doughnuts:
20

g

butter

1

small egg

50

g

brown sugar

1

teaspoon

vanilla sugar

50

ml

(2/3 cup) milk

30

g

Greek yoghurt

45

g

gluten free flour

15

g

cocoa

1/4

teaspoon

baking soda
Frosting:
50

g

dark chocolate

1

tablespoon

light syrup

20

g

hazelnuts

(finely chopped)
Instructions
For the doughnuts: pre-heat the oven to 175ºC (350ºF) and grease an 16-hole mini doughnut pan (I used a silicon one, so didn't do this).

Melt the butter and then whisk together with the egg, sugars and milk (I used a food processor but you could do it by hand). Add the remaining dry ingredients and work just until everything is combined. The batter will be thick.

Spoon or pipe into the prepared tin, to around 3/4 full. Bake for around 8-10 minutes. The doughnuts are ready when they are a little springy to the touch. Remove from the oven and allow to cool before removing from the pan.

For the ganache: using a Bain Marie (double boiler) heat the chocolate and syrup together until melted. Either dip the doughnuts in or slather it over with a knife. Sprinkle with hazelnuts and enjoy while the ganache is still soft.
If you like gluten free baking, check out these recipes:
Gluten Free Galette with Pears in Caramel Sauce