This gluten free lemon cookie pizza is a fun treat for the whole family.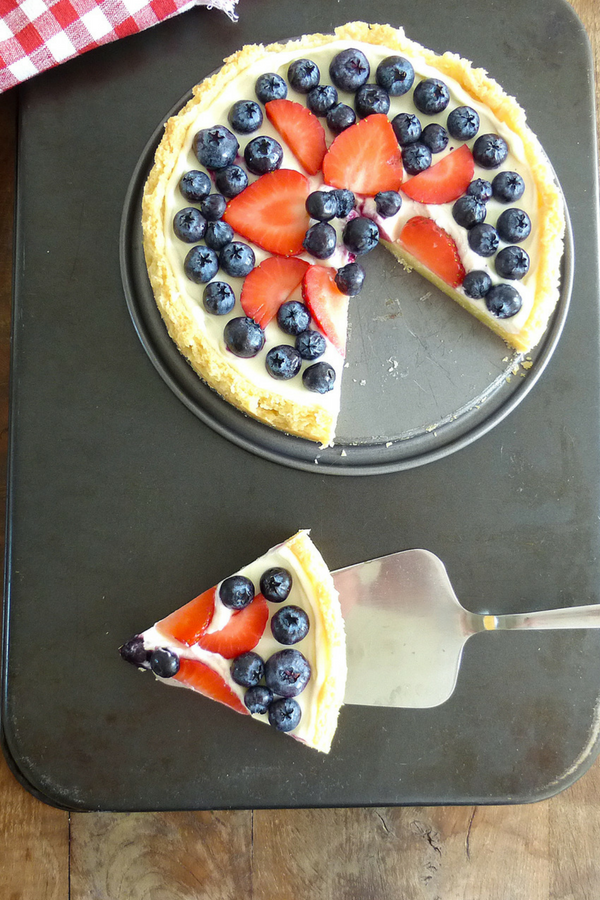 Cookie "pizzas" are all the rage right now and I've made them in the past with less than nutritious ingredients as a treat for my kids. However, I had some strawberries that needing using up and decided that this time, I would make a gluten free lemon cookie pizza and lighten it up a little.
Of course there is still butter and sugar. It's a cookie. However, the fruit totally balances them out. Hah! Can't blame a lady for trying. I also decided to use gluten free flour but this would work just as well with regular flour.
The cookie crust doesn't have any eggs or dairy either (bear in mind that the topping does have cream cheese but you could easily swap this out for a dairy free alternative like jam or dairy free chocolate).
This was so simple and was prepared in minutes. The topping is just cream cheese beaten together with icing sugar (along with a touch of vanilla sugar) and the fruit was quickly sliced and arranged on top. Go with whatever fruit you have – I used fresh only because I wanted the fruit to stay firm, but other than that, it would work with pretty much anything.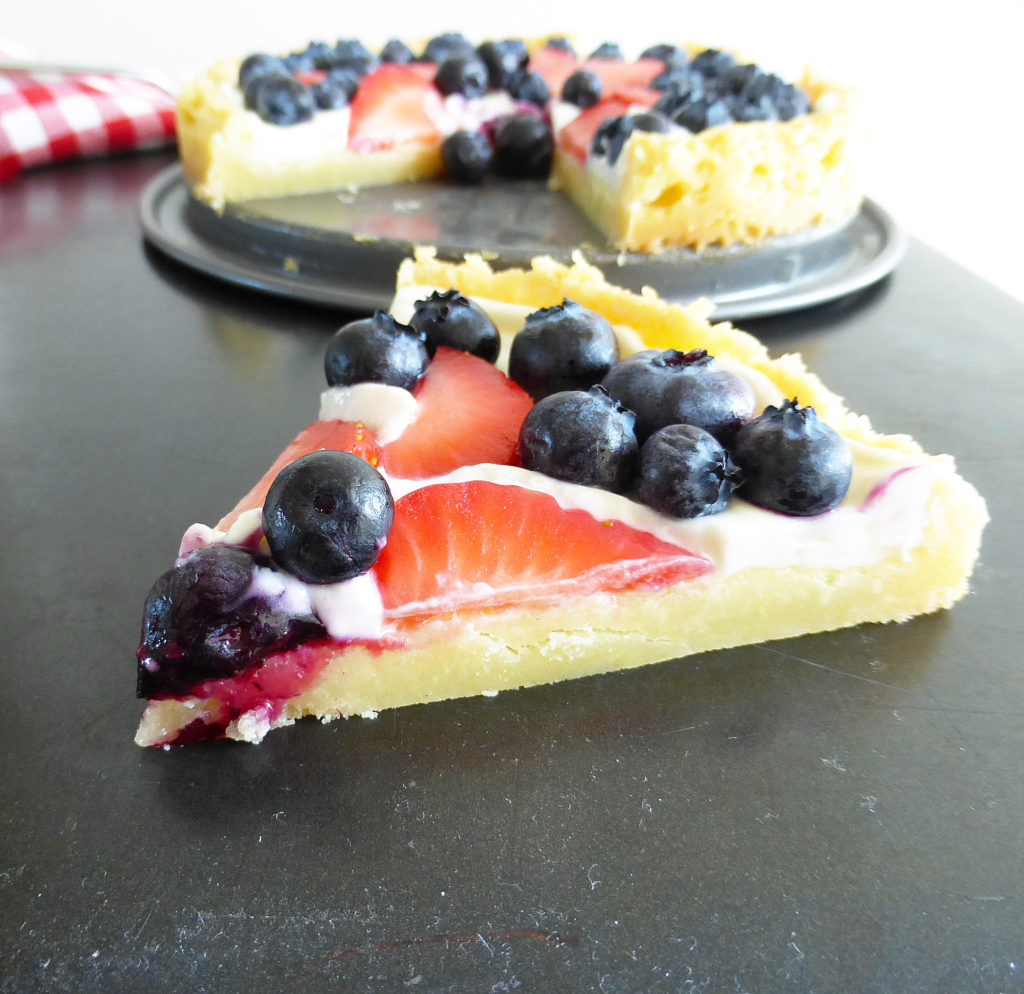 The gluten free lemon cookie pizza is small – my spring-form is only 6". However, I think I've mentioned before that my kids are not overly keen on cream cheese so it was more than enough for the adults, easily achieving six nice slices.
Gluten Free Buttery Lemon Cookie Pizza with Strawberries & Blueberries
---
Ingredients
Cookie Crust:

60g sugar
100g butter (softened)
1 tablespoon fresh lemon juice
125g gluten free flour blend
1 teaspoon vanilla sugar
½ teaspoon of baking powder

Cream Cheese Topping:

100g cream cheese
25g icing sugar
Strawberries & blueberries

Please note - I have not included imperial (cup) measurements mainly because I worry about accuracy and also because the information to convert is readily available these days.

Cook it Simply

is my go-to converter.
Directions
~ Pre-heat the oven to 150ºC (300ºF). Grease a small spring-form pan (mine is 6 inches across).
~ Cream the butter and sugar together until light and fluffy. Add the lemon juice and continue to mix until everything is evenly combined.
~ In a separate bowl, mix the flour, vanilla sugar and baking powder and then sift into the wet ingredients. Stir until everything is combined.
~ Pour the batter into the prepared pan and cook for around 20 minutes. The cookie will appear underdone but it is ready. When you remove it from the oven it will rapidly deflate but that's what you want to happen. Leave to cool completely.
~ For the topping: beat the cream cheese, icing sugar and vanilla sugar together. When the crust has cooled, pour over the topping and spread it evenly with a knife. Arrange whatever fruit you are using, slice and enjoy!
7.8.1.2
318
https://www.theculinaryjumble.com/gluten-free-lemon-cookie-pizza-with-strawberries-blueberries/
If you love lemon in your baking, check out these delicious recipes:
Lemon & Blueberry Loaf Cake (gluten free)
Ginger Cookies with a Lemon Cream Cheese