Pears in caramel sauce is not something I've ever made before. Apples, yes, tons of times, but pears we rarely have in our house.
However, as I am so fond of saying, I hate waste. I'd bought a large box of pears but after one or two, my kids just weren't that interested. So spying them rapidly decaying in the fruit basket, I thought I'd put them to good use.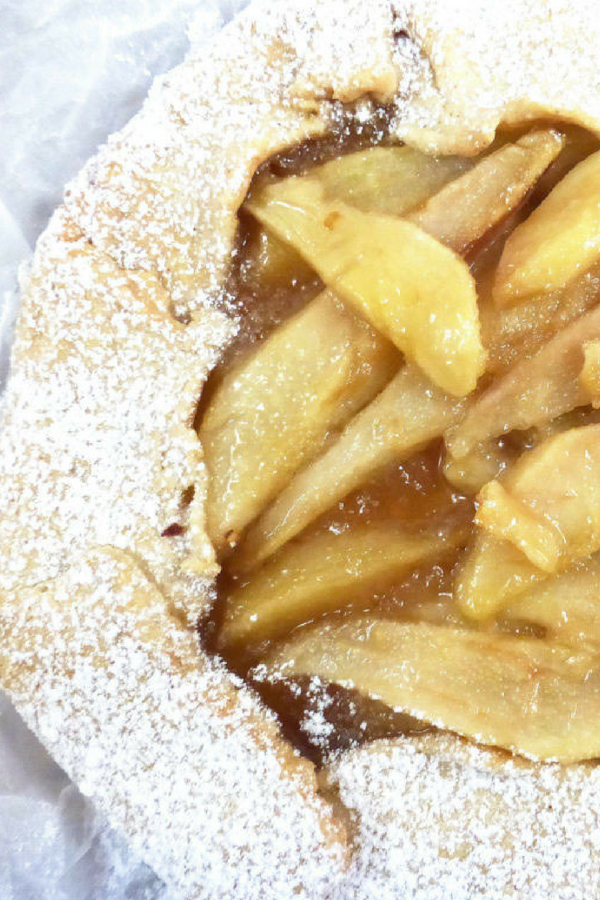 I fancied some kind of pie but didn't want to bother with a traditional pie crust. So I decided on a galette filled with pears in caramel sauce.
I've talked before how gluten free flour works really well in pastry. All you need to do is swap out the regular flour with a gluten free alternative, and that's it.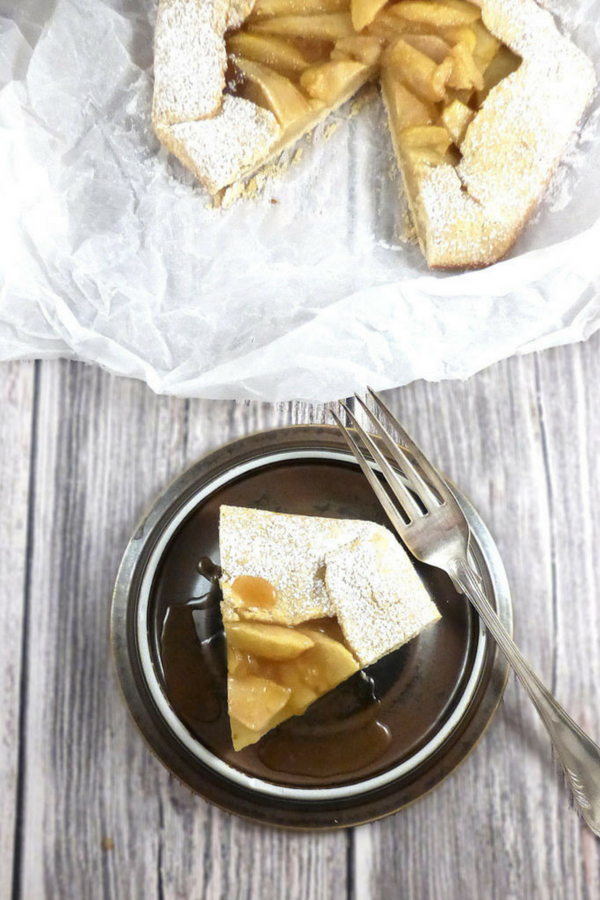 In the past, as with my individual strawberry galettes, I have used my own blends of gluten free flour. However, for convenience, this time I went for my favourite shop-bought blend.  The crust was perfect and you would never know it had less butter than regular pastry, either.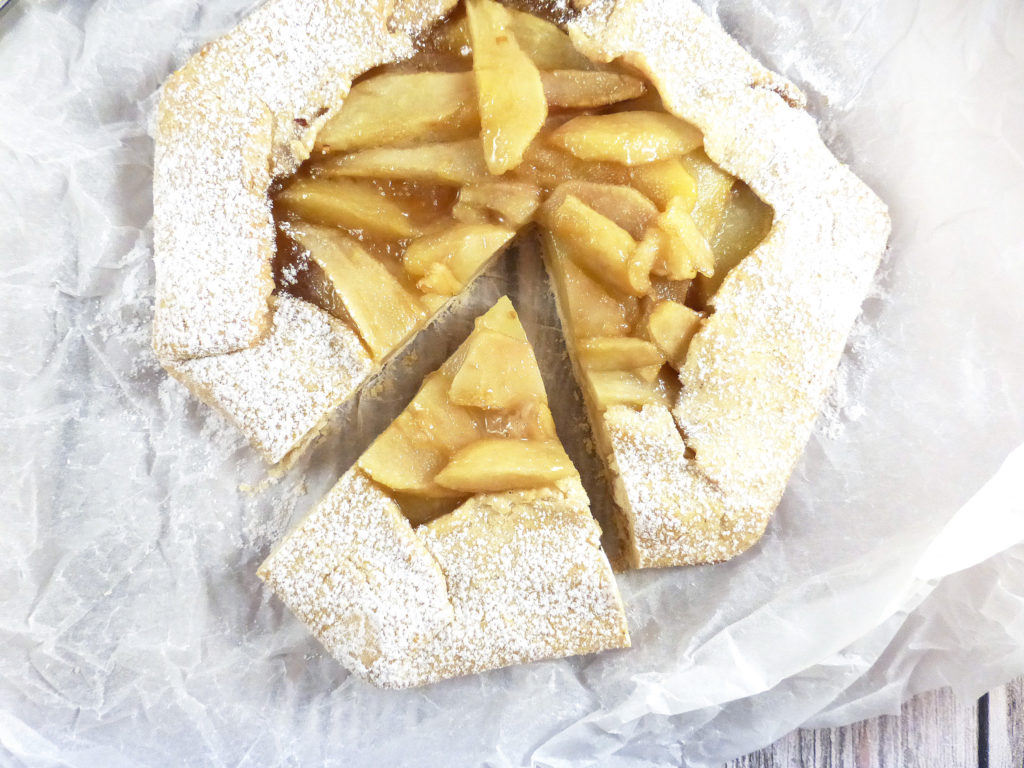 Because the pears I used were very ripe and soft, I didn't pre-cook them. I simply whipped up the batch of easy to make caramel and tossed the fruit in.
The end result was a delightful crust with crispy edges and soft centre, and the deliciously sweet pears in caramel sauce made an amazing filling.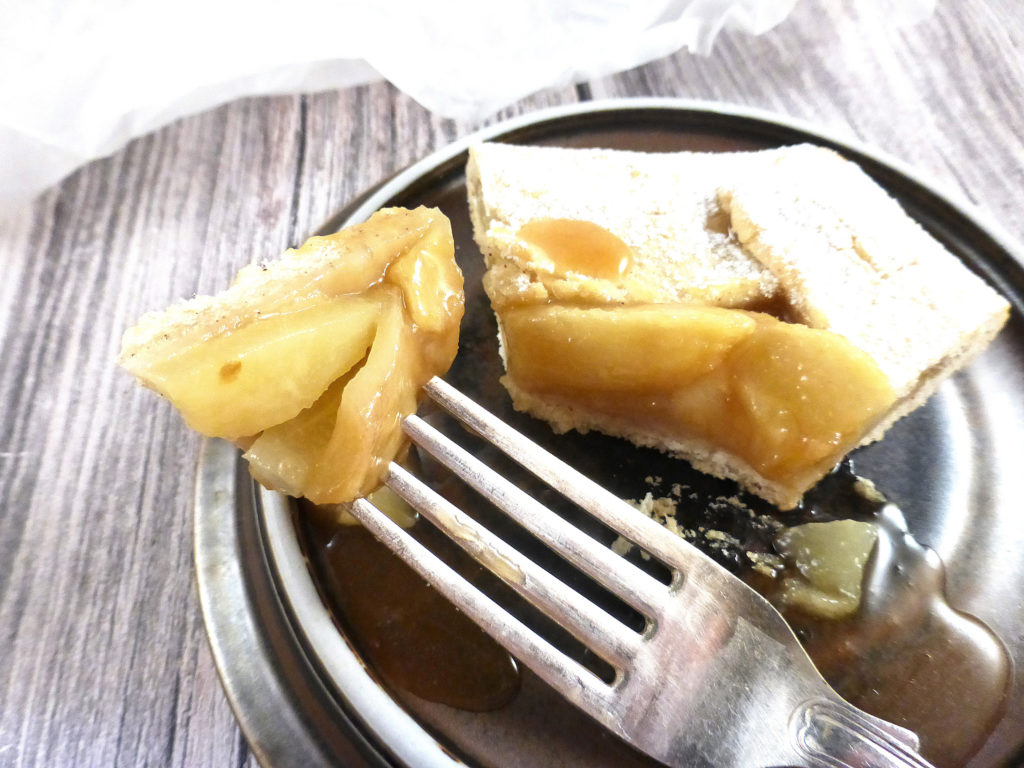 The ingredients below made a fairly small galette but it was more than enough for three people (or even four, if some of the quartet are little!).
Gluten Free Galette with Pears in Caramel Sauce
---
Ingredients
Caramel:

60g (1/3 cup) brown sugar
2 tablespoons cream
1 tablespoon maple syrup
2 small very ripe pears (peeled and sliced)

Pastry:

120g (1 cup) gluten free flour blend (I used Semper's Finmix )
1/2 teaspoon cinnamon
1 teaspoon vanilla sugar
40g (3 tablespoons) cold butter
1 egg
Icing sugar for decorating

PLEASE NOTE - my conversions to cups may not be entirely accurate. Weighing ingredients is always the best method of ensuring a successful bake!
Directions
~ Pre-heat the oven to 180ºC (350ºF).
~ Make the caramel first: add the brown sugar, cream and maple syrup to a pan. Heat gently for about five minutes until the mixture thickens. Remove from the heat and allow to cool for around 5-10 minutes.
~ Peel and slice the pears fairly thin and then add to the caramel. Gently stir the pears until the are fairly evenly coated in caramel. Set to one side while you make the pastry.
~ In a large bowl, mix the flour, cinnamon and vanilla sugar and then rub in the butter until you are left with large "breadcrumbs". Beat the egg and then mix into the dry ingredients until it comes together as a dough.
~ Place the dough between two sheets of baking paper and roll out as thin as you can. Try to aim for a circular shape but it doesn't matter if it is uneven (you are going to turn the edges over so it won't make a lot of difference).
~ Spoon the pears into the middle of the pastry, leaving the majority of the caramel behind (too much liquid and you run the risk of soggy pastry making it difficult to work with)
~ Gently turn over the edges of the pastry to cover the fruit. Press down a little, squeezing together any gaps or small tears that may appear.
~ Leave on the baking paper and place on a baking tray. Bake for around 25 minutes, just until the pastry is a golden colour. The caramel sauce will most likely seep out of the pastry as it is cooking, but it's nothing to worry about.
~ Remove from the oven and allow to cool. Sprinkle the pastry with icing sugar. Slice and eat warm or serve when cold. Enjoy!
7.8.1.2
294
https://www.theculinaryjumble.com/gluten-free-galette-pears-caramel-sauce/