This gluten free fajita pie is a great weekday meal for the whole family.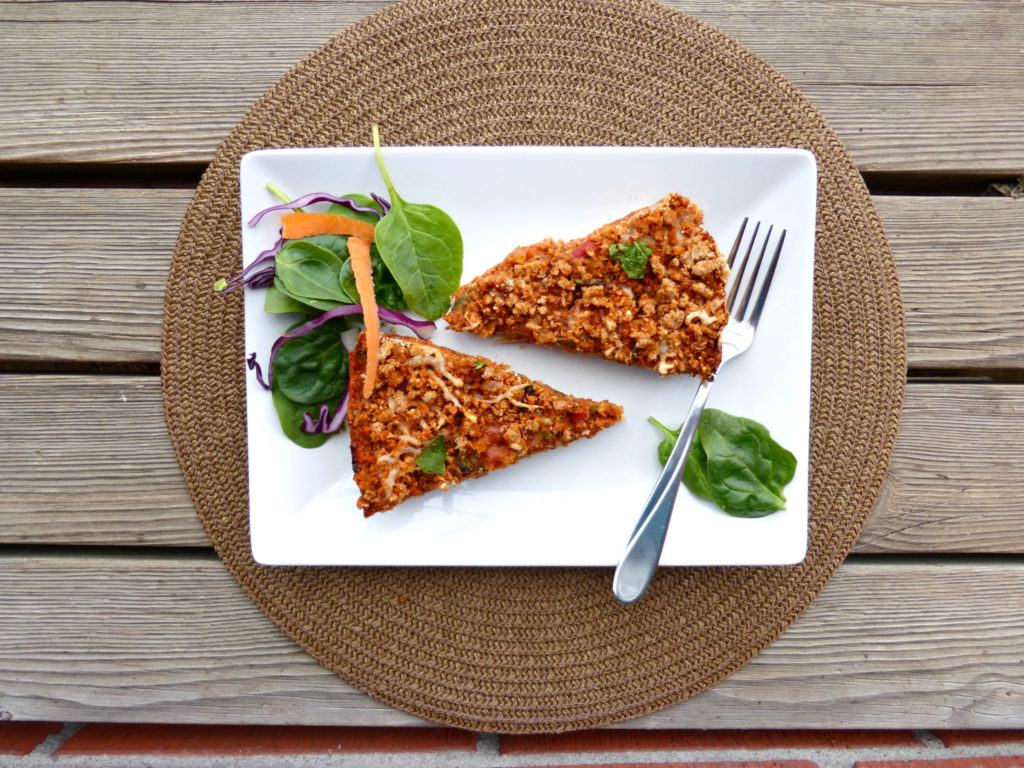 This fajita pie is a great way to give your kids something they will love but at the same time making sure they get a balanced, healthy meal. It's gluten free (but you would never know it), is completely made from scratch (the crust is so simple) and is the perfect midweek meal which can even be prepared in advance.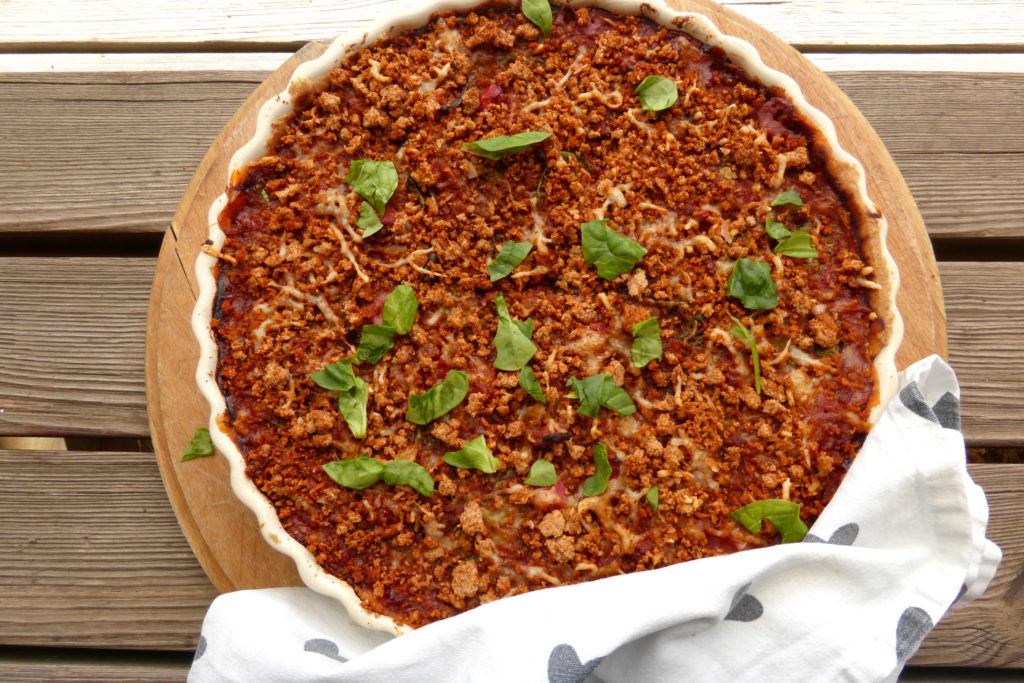 At first glance, the long list of ingredients and stages may seem a little daunting, but this really is a simple recipe. The great thing about this pie is its flexibility – add whatever you want to make the filling (I sometimes use leftover bolognaise or chilli, which makes an even simpler dish to prepare). The pie is basically a meal in itself, so just add a nice, fresh salad to accompany it and you're ready to go!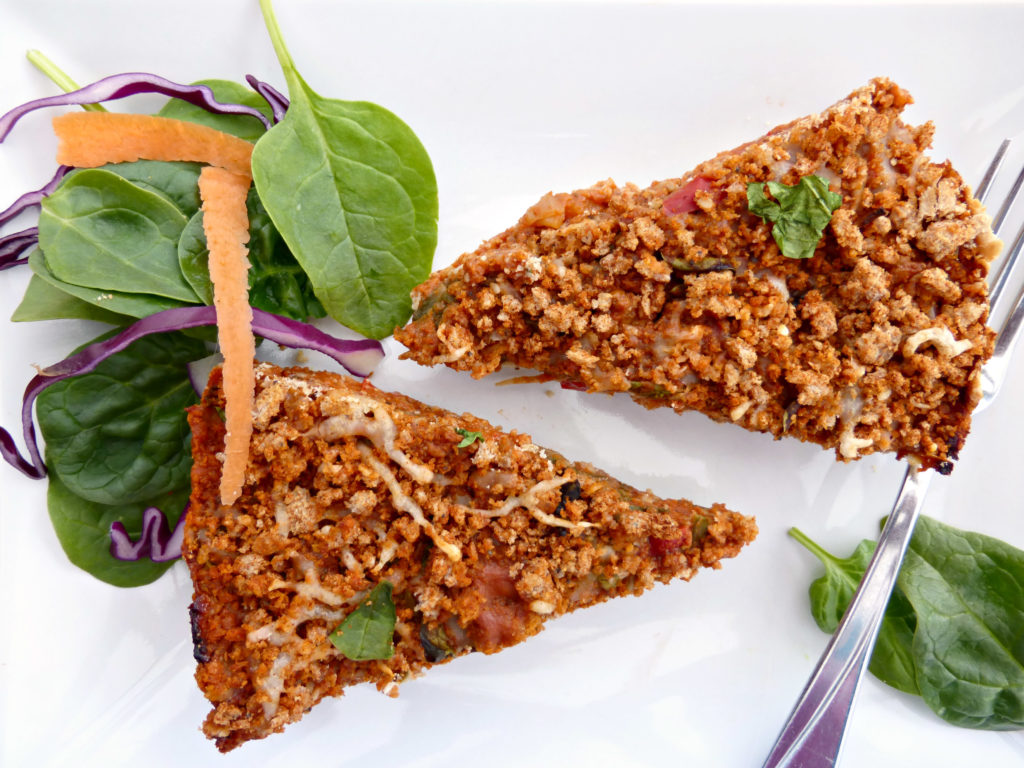 INGREDIENTS
Pie Crust:
100g sorghum flour
50g starch (corn, potato, arrowroot or tapioca – or combination of any)
50g rice flour
1 teaspoon sea salt
80g butter (cold and chopped into small pieces)
2 eggs
Cold water (if needed)
Filling:
2 tablespoons oil
1 large onion
1 bell pepper
500g mince (I used chicken)
I packet fajita seasoning (I usually add my own spices but this time I used an amazing ecological brand without additives)
1 teaspoon sea salt
500g passata (or tinned tomatoes)
300ml water
100g spinach
Crumble:
50g mozzarella
85g fresh breadcrumbs (I used homemade wholemeal bread)
1 teaspoon chilli powder
1 teaspoon paprika
Pinch of cumin
1 teaspoon sea salt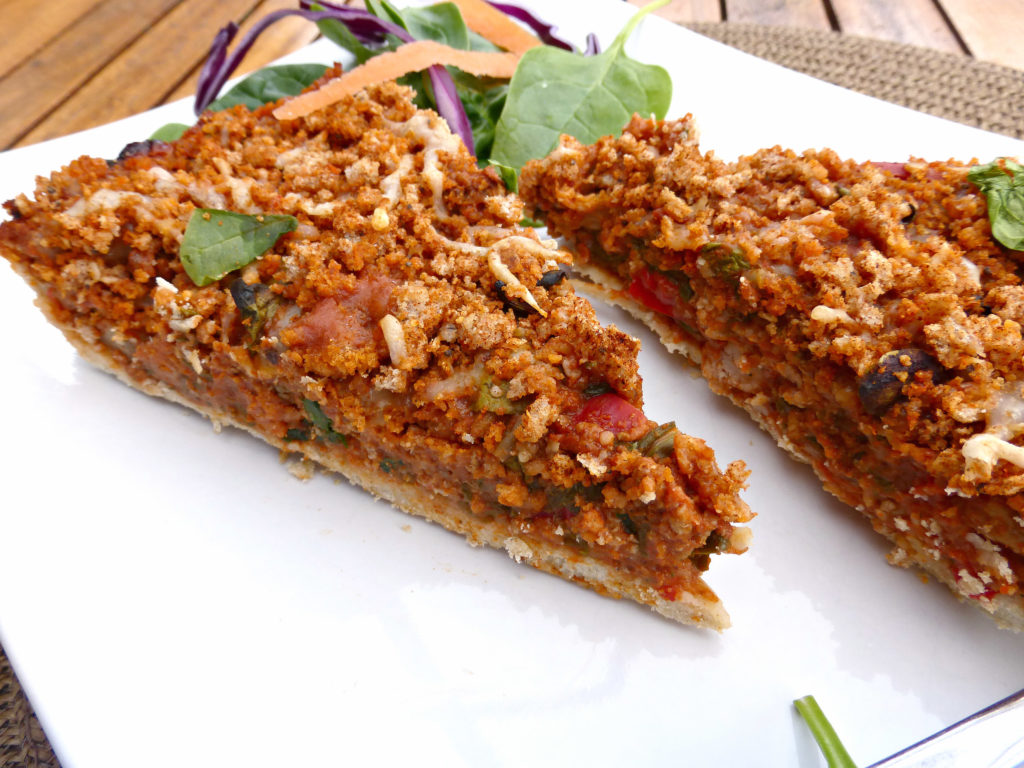 DIRECTIONS
~ Grease a 28cm pie dish.
~ For the pie crust: mix all of the flours, salt and starch in a large bowl. Add the butter and rub it in to the flour until it resembles crumbs.
~ Beat the eggs and add to the flour mixture – it should be a sticky dough. If it isn't, add a teaspoon of cold water one at a time, until the mixture comes together as a dough. Using your hands, scrape up the dough and form into a rough ball. Cover with cling-film and then leave to rest in the fridge for 30 minutes. Heat the oven to 190°C.
~  You could roll the dough out but you might find that although it has been chilled, it isn't amazingly co-operative! I usually just push the dough into place in the pie dish. Although its stickiness might make it a little tricky to roll out, it actually means that it is very pliable and can easily be smoothed into place. When ready, prick all over with a fork, and put back in the fridge for another ten minutes to firm up a little.
~ Bake for around 13 minutes and then remove from the oven (keep the oven on). Don't panic if it looks bubbly and greasy – I nearly had a heart attack the first time – but it settles itself beautiful when it is allowed to cool. Let it rest for about 15 minutes or so (you could even make this in advance and leave it for several hours) before adding the filling.
~ For the filling: fry the onions and pepper until softened. Add the mince and cook until it starts to brown slightly. Sprinkle over the fajita mix (or your own spices) and cook for one minute. Add the tomatoes and then around 300ml water. Allow to bubble for around 30 minutes until the liquid has reduced and the sauce thickened. Stir in the spinach. Pour into the pie crust and bake for 30 minutes.
~ For the crumble topping: crumble the breadcrumbs and then add the mozzarella and spices. Stir to combine. Sprinkle over the top of the pie and return it to the oven for a further 15 minutes, until the topping is nice and golden. Remove, sprinkle with a little torn spinach, and either serve immediately or allow to cool and enjoy it cold!