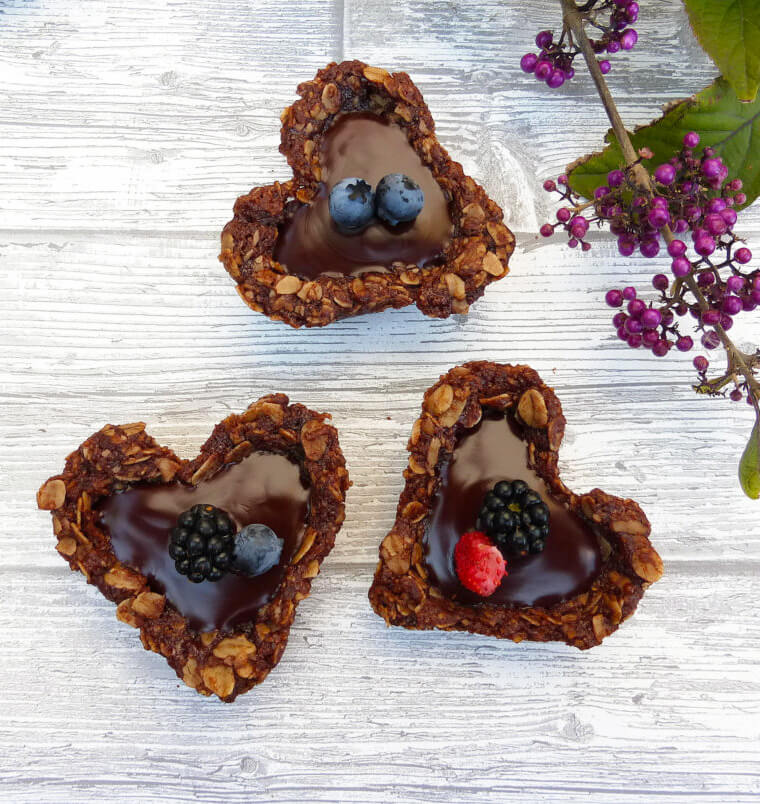 Regular readers will know I don't like fuss – not in my life and certainly not surrounding the food I make.
I like things easy. E-a-s-y. Easy like Sunday morrrr-ning. When I find a recipe I like, the first thing I do is skip to the list of ingredients. If there are too many, or includes ridiculous, mysterious items, you'll find me hitting that exit button faster than a cream bun disappears down my neck.
Same for the directions – if I need a translator or dictionary to get through them, the recipe is not for me.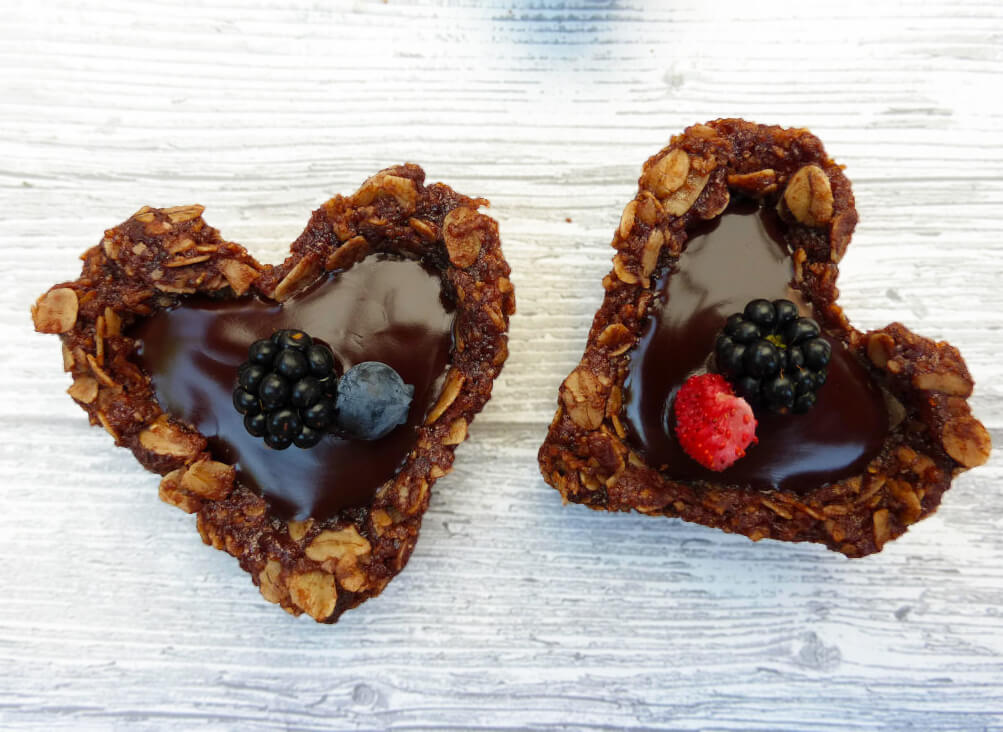 That said, I am not adverse to making something that looks impressive. Nope. Like these chocolate oat cookie cups. Pretty fancy-schmancy, even if I do say so myself.
And because I totally love them, there's a ton of photos. Tons. Another pet hate of mine is having to scroll through reams of shots of the same food, at every angle imaginable, just to get to the dang recipe. I know I am a hypocrite. I know. Forgive me?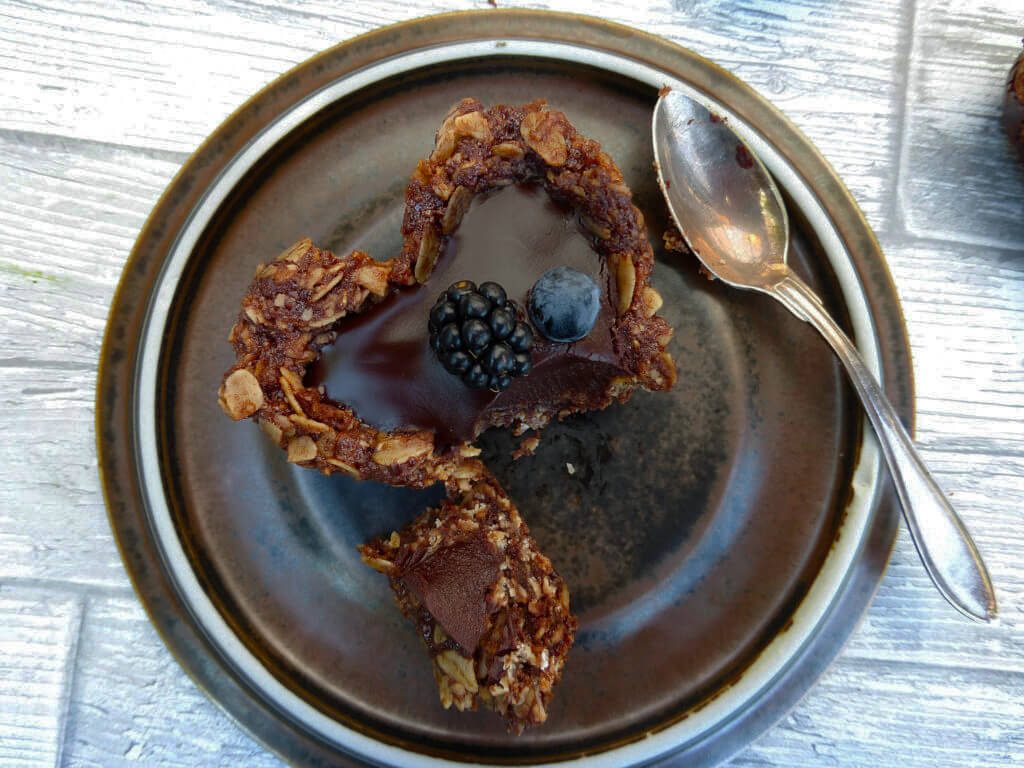 I first made this cookie crust in my Silk Pie with a Granola Topping. It's such a versatile recipe and easy to adapt. When making these Cornflake Cups I swapped out the oats for cornflakes and made them individual-sized.
I was so pleased with how these turned out. The dark sheen of the ganache is so pretty and I love how some of the oats are lighter, creating a gorgeous contrast.
The cookie crust making the cups are a delightful mix of crunchy and chewy and the ganache is truffle-y, smooth and rich.
I topped my cookie cups with a little fresh fruit, which added a lovely dimension to the taste and texture of the dessert.
The ingredients below made 8 cookie cups.
This post was originally published in January 2018. It was updated and re-published on 14th December 2018.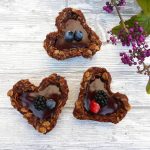 Gluten Free Chocolate Oat Cookie Cups with Chocolate Ganache Filling
Ingredients
Cookie cups:
4

tablespoons

(60g) butter

1/2

cup

(80g) brown sugar

1

cup + 2 tablespoons

(100g) oats

1

tablespoon

cocoa

1/3

cup

(45g) plain (all-purpose) gluten free flour

1

teaspoon

vanilla sugar

2

tablespoons

honey
Ganache:
50

g

(just under ½ cup) chopped chocolate

50

g

(3 tablespoons) butter

1

tablespoon

honey
Instructions
For the cookie cups: Pre-heat the oven to 150°C. Grease a cupcake/muffin tin (I used one with 8 heart-shaped moulds, but you can use any regular muffin tin).

Melt the butter and set to one side. Then stir in the honey.

Mix all dry ingredients together in a bowl and then add in butter and honey. Stir to ensure everything is well combined, until you end up with a fairly sticky dough.

Divide between the 8 muffin tin holes and fill almost to the tops. Push down in the middle with the back of a spoon, which will cause the mixture to move up the sides, forming a crater.

Bake for 14 minutes and remove from the oven. The tops will be bubbling a little and appear wet. Do not cook for longer - they are ready. The crater will be smaller due to baking, so once more gently push down in the middle to enlarge it.

Leave the cookie cups to cool for about ten minutes, then once more push down with the back of the spoon. Leave to cool completely before attempting to remove them from the tin (they should come out fairly easily, but take it steady!).

For the ganache, slowly melt the butter, chocolate and honey together. Pour into the cooled cookie cup cases (make sure they have been removed from the pan).

Pop them into the fridge for a while (the hot liquid can make the cookie cups temporarily soften a little) and then decorate with a little fruit, if you like. Enjoy!
Recipe Notes
Disclaimer: I use metric measurements (grams and millilitres) in my recipes. However, to help out my American readers, I have used online sources to convert to cups. As these have not been personally verified by me, I cannot guarantee 100% accuracy.