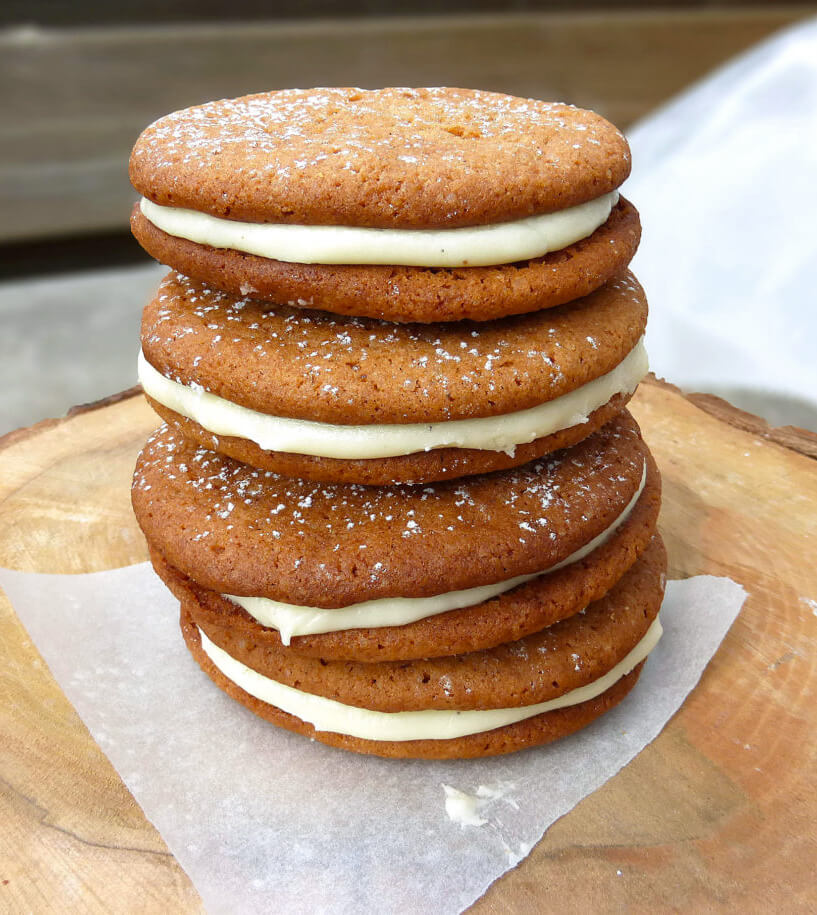 In some countries, Sweden for example, it seems that ginger cookies are reserved for specific times of the year, namely Christmas. However, in the UK, we enjoy them absolutely any day we like. What would our cuppas be like without a Gingernut dunked in 'em?
Although these ginger cookies are not quite the same as Gingernuts, in terms of texture (these are crunchy but nowhere near break your teeth time as with our British biscuit), the flavour is all there.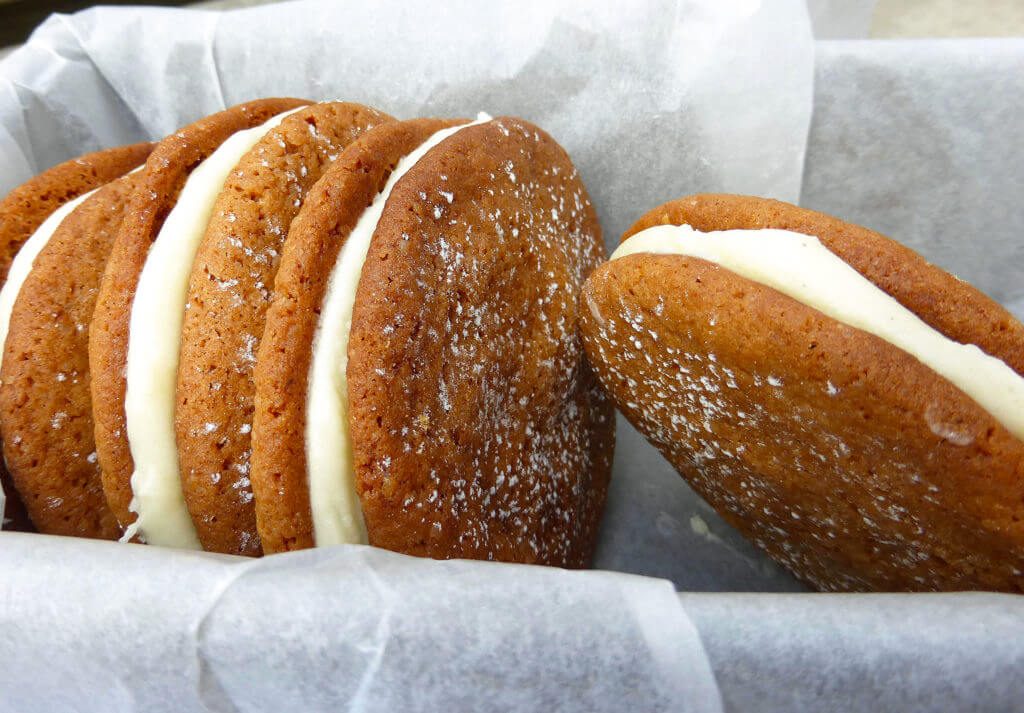 They are filled with lemon cream cheese frosting left over from my Easter cake (am I the only one who always has leftover frosting?). Oh, but they were put  to good use in between these ginger cookies. The hint of lemon along with the sweetness of the frosting tasted sublime up against the ginger.
The measurements below made four huge, and eight more normal sized (the huge were too big, really) ginger cookies, which was 24 in total. You can make them any size you like but you may need to adjust baking times accordingly.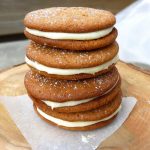 Ginger Cookies with a Lemon Cream Cheese Filling
Ingredients
Cookies
1/2

cup

(120g) white sugar

1/4

cup

(65g) brown sugar

3/4

cup

(180g) butter (softened)

1

egg

1/4

cup

dark syrup (see note 1)

2

cups

(240g) all purpose (plain) flour

1

teaspoon

baking soda

1/2

teaspoon

ground ginger

1

teaspoon

cinnamon

1/2

teaspoon

ground cloves
Filling (see note 2)
55

g

(1/4 cup) cream cheese

55

g

(1/4 cup) butter

2

tablespoons

fresh lemon juice

1

teaspoon

vanilla sugar

100-200g

(1-2 cups) icing sugar
Instructions
Pre-heat the oven to 190°C (375°F). Line two large trays with baking paper.

Beat the butter and sugars together until light and fluffy. Add the egg, mix, and then the syrup (molasses).

In a separate bowl mix the remaining dry ingredients together. Add to the wet ingredients and work until everything is combined and a very sticky dough is formed.

Using either a spoon or your hands, scoop up balls of dough (remember, the dough is supposed to be sticky, so if using your hands, you won't be able to form a perfect ball). I made both large (1.5 tablespoons) and smaller cookies to experiment, so how big you would like them is up to you (baking times will need to be adjusted accordingly though).

Drop the cookie mixture on to the prepared trays with tons of space in between (they are prolific spreaders). Bake from between 10-13 minutes depending on their size. The cookies puff up a little, but drop back down to make fairly flat cookies and I noticed that the larger cookies became flatter than the smaller.

Allow cookies to cool for a while before transferring to a wire rack. Let them cool completely before filling.

For the filling, follow the instructions for my Easter cake.


To assemble: take two cookies of similar size and turn one upside down so the flattest part is facing you. Pipe or spread the frosting over and then place the other cookie on top. Sprinkle with a little icing sugar and enjoy!
Recipe Notes
Disclaimer: I use metric measurements for my ingredients. To help out American readers, I have used online sources to convert to cups. However, as these have not been verified by me, I am unable to guarantee complete accuracy. 
You can use molasses, treacle or dark syrup.
These are appropriate measurements - the filling I used was leftover from my Easter Cake and so how much I used is just an estimate.