It sounds crazy to think about now, but I never really used Pinterest a great deal when I first started blogging. In fact, it took about two years to realise just how much Pinterest's emphasis on the visual is really geared up to help us food bloggers, and how useful it can be to drive traffic to our blogs.
So why write Food Bloggers: how to make Pinterest work for you? Well, mainly to help prevent other food bloggers from failing to realise Pinterest's potential (like silly old me) by offering a three part guide on how to make Pinterest work for you. The emphasis is on the you for a reason: everyone's experience and success on Pinterest is unique. Pick through the things you feel may work for you and your blog, and good luck!

This first instalment of Food Bloggers: how to make Pinterest work for you is going to look at Pinterest "gurus", how to organise your boards, how to create board covers, the importance of Rich Pins and a whole lot more.
Firstly, if you are completely new to Pinterest or if it is confusing the pants off you, have a read of this simple and basic beginner's guide from Pinterest or for a little more in-depth help, check out this article from Let's Get Jobless before you read further.
So, as we've established, my fellow food bloggers, the aim of this post is to find ways to help make Pinterest work for you. However, you don't necessarily need to be a food blogger for these tips to apply – that's just my thing. The same principles apply whether you are a crafter, lifestyle or tech blogger. However, because I am a food blogger, the information will naturally lean towards all things foodie.
Throughout the three parts, we will look at ways to help maximise your Pinterest feed and what you need to do to ensure your blog (and most importantly, its images) are Pinterest (and pinner) friendly. I'll offer you some tips about how I do things myself and if I don't know all the answers (who does?), suggest places to look for inspiration and guidance.  Most of all, I will relay my own personal experience of Pinterest and give my honest opinion. And really, it's just that: my opinion. I am not an expert. I haven't studied analytics or SEO under a microscope and I am certain there is plenty I don't understand (or get completely wrong). It's a learning curve. A constant learning curve.
However, what I do have is around one million unique viewers a month (it was two million until last month when Pinterest suddenly changed things around) as shown below. The screenshot isn't to show off – it's evidence: I just don't know what Pinterest is going to do next and if it drops any further, I don't want people to think I am fabricating the figures for effect. As if I would!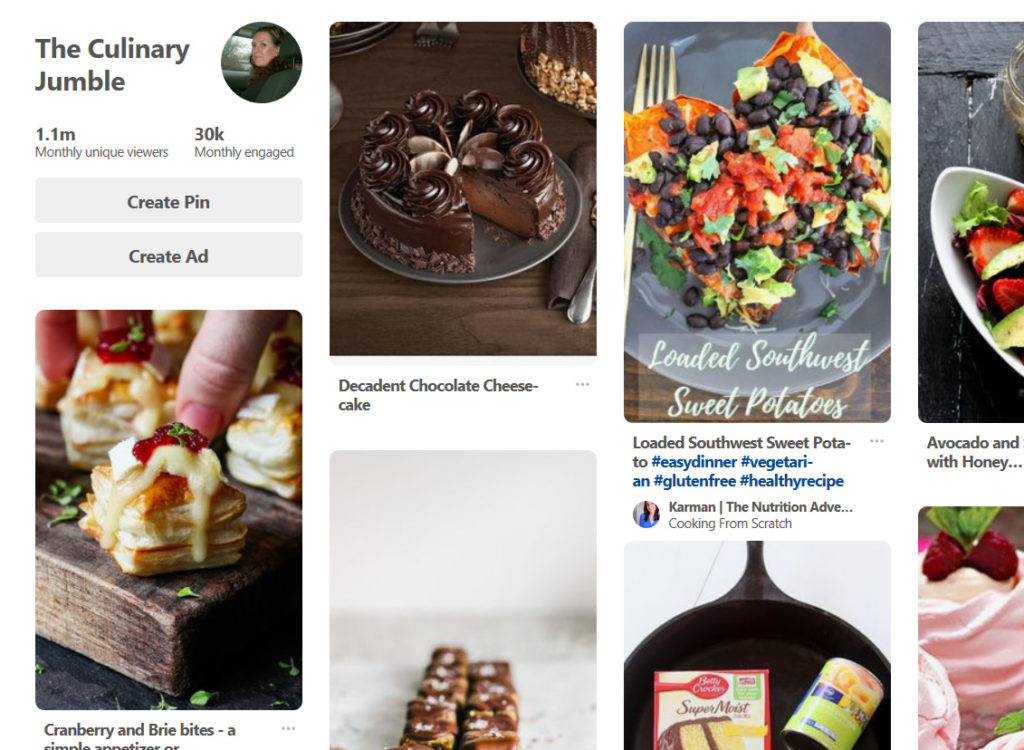 In addition to this, my most popular pins have been re-pinned over 40k times, and Pinterest is my blog's biggest referrer by far. I currently receive around 12k visitors a month via Pinterest, which isn't huge compared to some bloggers. However, the same time last year Pinterest was only bringing me around 1k, so that's quite a substantial difference (so I must be doing something right?). Oh, and I am a signed up, lifelong member of Pinterest Anonymous. Yes. I am hooked.

When I did start to have an inkling of Pinterest's potential, I was still clueless about the role meta descriptions (coming up in part two), Rich Pins, strategic planning, group boards and image size (and shape) play in determining whether a pin is successful or not.
PINTEREST GURUS
Things have changed a lot in the three plus years I've been blogging and although there is a lot more information available these days, some of it does come with a price tag. Popping up everywhere are bloggers blogging about blogging but some of their biggest secrets are often held very close to their chests. Unless you want to pay for it, that is.
I am not knocking a blogger who is making money. Absolutely not. I think it's great. Nor am I trying to infer their advice is not worth hearing. I am absolutely certain they have achieved huge success with their methods. However, my belief is that you really don't need to pay someone to teach you how to make Pinterest work for you. First off, it's very personal: no two people are pinning identical content to the same boards. In my opinion, most of what happens on Pinterest is trial and error and the remainder is luck: your pin being in the right place, at the right time, and seen by the right people.
Yes, absolutely you can do things to maximise the chances of this happening but in my very humble opinion (remember: I'm not an expert) nobody knows all the answers. Not even said experts. We can experiment and pay attention to patterns we see forming, which gives us insight into what's happening with our own Pinterest, but that doesn't necessarily mean we can determine what will work for any given individual.
If you read any tutorial or online advice you will soon notice that nobody really commits to anything. It's probably because they can't. There are no hard and fast rules to guarantee Pinterest success. Pinterest plays its cards very close to its chest (like every other social media set-up) and very little relevant information is released to the general blogging public. Make sure you keep abreast of new developments by reading Pinterest's Newsroom and seek advice and information from wherever you can gather it from, even if it isn't free. Do whatever works for you and if you aren't sure yet what that is, keep an open mind and experiment.
PINTEREST IS A SLOW BURNER
One thing I can say with certainty though is that Pinterest is a slow burner. In some cases, very slow. Think turtle competing in a marathon. It takes months, even years, to build up a presence on Pinterest but a pin can go viral at any time, even long after it was originally pinned. A pin's popularity can die down but reignite a year later or it can be a constant bubbler sending traffic to your blog every day. However, there's a huge likelihood that your favourite pins, those from your best recipes, will remain undiscovered and unloved. Pinterest can be a little sucky like that.
Try not to get caught up in the hype and don't listen to bloggers who tell you they had instant success on Pinterest. They didn't. The only way to maximise your chances of this happening is to write great, engaging content, take the best pictures you can (you don't need to have professional quality photos – some of my most popular pins have images I hate), and lastly, pin your content all over the place. Do that, and you will reap the dividends (even if it takes a little longer than anticipated).
HASHTAGS
As you read on, you may notice on the screenshots that I used hashtags. This is a new thing for me. Up until recently, using hashtags on Pinterest was heavily scorned. It's not Instagram people would snort with derision. However, Pinterest now recommends using hashtags. And people wonder why us bloggers are confused? Although Pinterest hasn't come up with a specific number of hashtags you should include, they do recommend not using more than 20.
RICH PINS
If you haven't already, you need to make sure all your pins are the rich variety. Rich pins provide additional information for content saved to Pinterest, kind of like the premium (although still free) version of a regular pin.
There are four different types of rich pins and for us food bloggers, we need to be concentrating on the recipe rich pins as these allow us to include relevant information alongside our images, such as ingredients. The exact information pulled through depends on the recipe plugin (and specific options within it) you use. I choose not to add cooking times and other information and therefore for my own pins, only the list of ingredients is displayed.
Rich pins prepopulate the title of your recipe to your pin, which as the screenshot shows is under the image. Then come the hashtags which I manually added when saving the pin.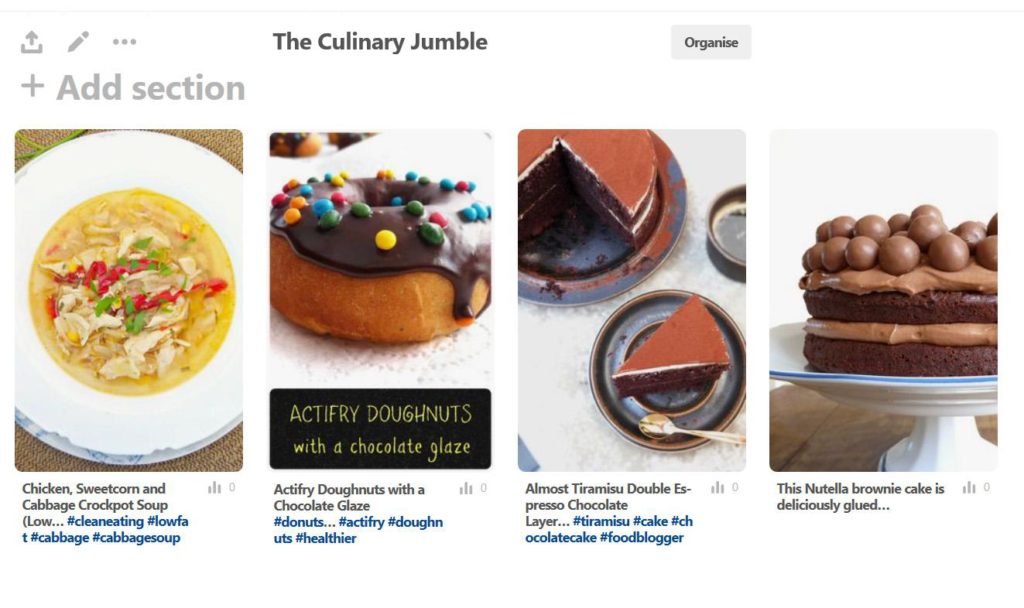 Each of the four pins above show the name of the recipe (if it is over a certain number of characters, it is cut off). If you click on a pin (in this case, the last one of the four above) it looks like this: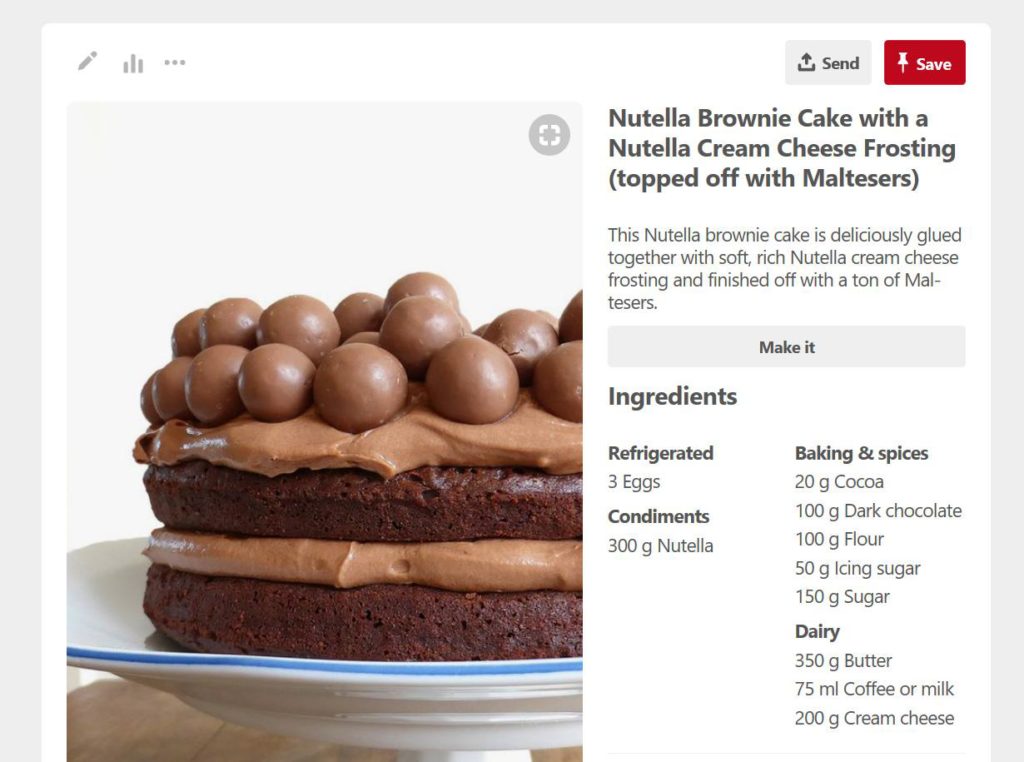 As you can see, the list of ingredients has been pulled through from my blog. In addition, it shows the name of the recipe in bold and its meta description (these will be discussed more thoroughly in part two).
For a food blogger, displaying the information such as ingredients is invaluable. Not only that but this information stays with the pin wherever it is subsequently re-pinned to. Even if it has been pinned a thousand times, the original information can still be viewed when the pin is clicked.

So your Pinterest is up and running, you've figured out how rich pins work, and understand a little more as to why Pinterest is so valuable to us food bloggers. Now you need to be thinking about how to organise it. Some food bloggers only have one board while others (like me) have several. It's always a good idea to start off with one board (where you save the pins from your own blog) and build as you go.
MAIN BOARD (your blog pins only)
Most bloggers have a board specifically for the pins from their own blog. Some of them refer to it along the lines of "the best of….." while others simply call it the same name as their blog (like I do). This is for your content only, kind of like a snapshot of your own blog and all it has to offer.
When creating your main board, pay attention to your description. You want people to be able to find you so cleverly use keywords that encompass what your board is about. In mine, I've added keywords like cake, cookies and pies along with simple recipes and made from scratch which pretty much describes my blog in a nutshell. I've seen other people use hashtags in the descriptions but I think it looks too spammy.
SECONDARY BOARDS (your own)
Once established, you should also be creating secondary boards. These are still your boards (you have control over the administration) but unlike the board just for the pins from your blog, you will also save other people's pins to these.
I have 13 boards relating to all kinds of food and have added them gradually over time. Although you are adding other people's pins to these, they are not open to contributors: as with your main blog board, only you are saving pins to them.
When creating your specified niche boards think about naming them something similar or at least closely related. That way they are easier to find and will appear next to each other in your Pinterest profile feed. All of my food boards start with food:
For example food: dessert recipes and food: healthy recipes.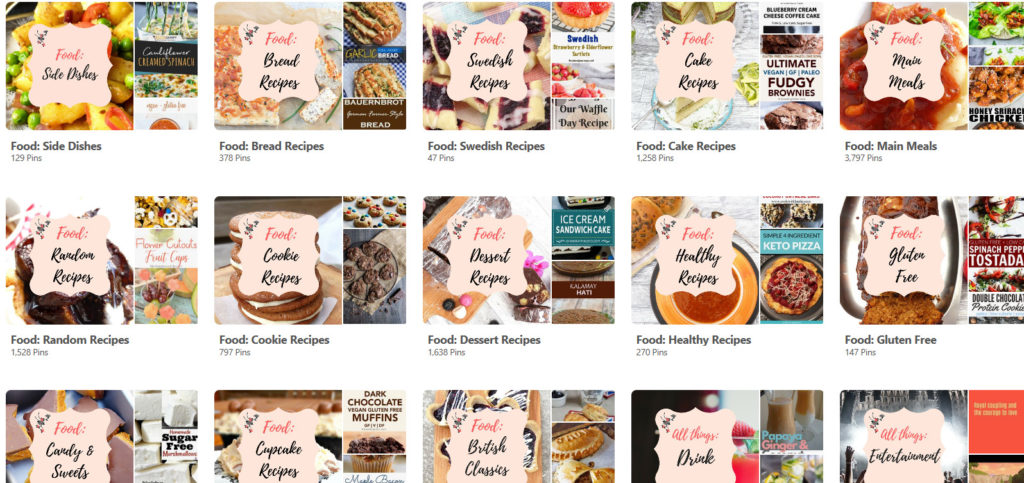 Although the names may seem pretty basic, don't be tempted to complicate things and be too clever when naming your boards. You can't resist me might sound a cute, funny name for a board about decadent desserts but it's unlikely people will find you (or if they do, they might be looking for something else entirely).
I also have 11 other boards that are non-food related. I created these when I was heavily involved in sharing other people's content (via engagement groups on Facebook). I am considering removing these boards as I feel that pinning outside of your own niche is pretty much useless (who really cares about hedgehogs if you are not a wildlife enthusiast?). I would even go so far as to say that being involved in any kind of grand scale reciprocation of content outside of your niche in Facebook engagement groups, is actually detrimental to the success of your blog (and Pinterest).
As with your own blog Pinterest board, pay close attention to your descriptions. I was in such a hurry to set up my boards that I paid too little attention to the blurb that went with them. I've since had to go back and freshen them up. Try to think of natural ways to use keywords in a description that encompasses what your board is all about, using a couple of sentences.
GROUP BOARDS
There are two types of group boards: those that you own and have allowed contributors to add to and those that are owned by someone else that you pin to. All boards, regardless of whether you own them, will show up in your list of boards (if you look at the screenshot below, my boards are on top with other people's boards are underneath).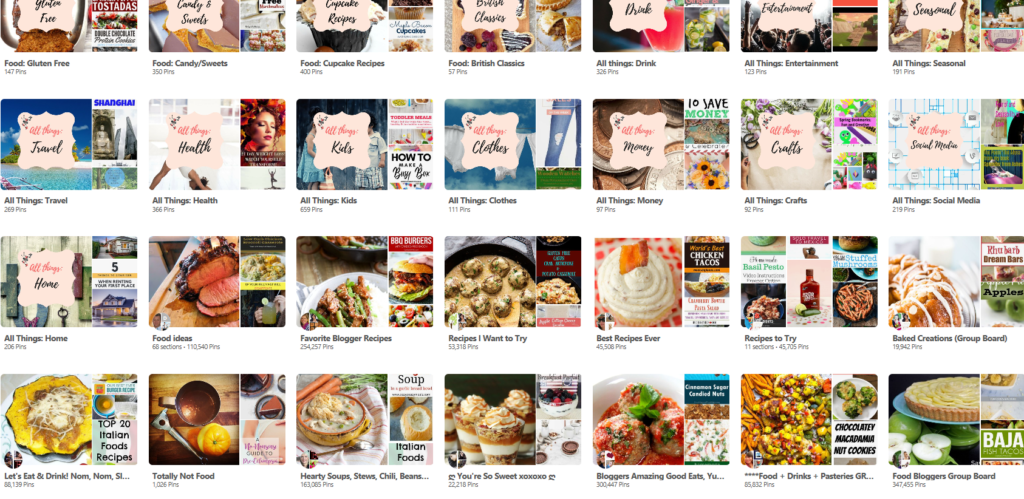 We will talk more about group boards and contributors in my next post, part two.

As you start adding more boards to your portfolio and contributing to other group boards, things can get messy, fast. Not only that but having a hundred boards under your Pinterest umbrella can make it difficult to distinguish between them.
The best way to give your Pinterest a clear, uniform look is to create covers for your own boards (you can clearly see which boards are mine by their covers in the screenshot above).
PINTEREST BOARD COVERS
Pinterest will allow you to make any pin the board cover (as long as it has already been saved to that particular board). This is all fine and dandy but just regular images can leave things looking a little inconsistent and messy. To step around this, I created my own matching cover images giving an overall more pleasant viewing experience for anyone looking at your boards.
I use Canva to create most of my graphics mainly because it is free and simple to navigate. Below I will lay out how I make my Pinterest board covers using Canva, but there are loads of other alternative sites to create graphics.
So, go to Canva's main screen and select use custom dimensions in the right hand corner (in my screenshot  below it says don't use custom dimensions because I've already clicked on it). Type in 800 (width) and 1000 (height) and then click on design.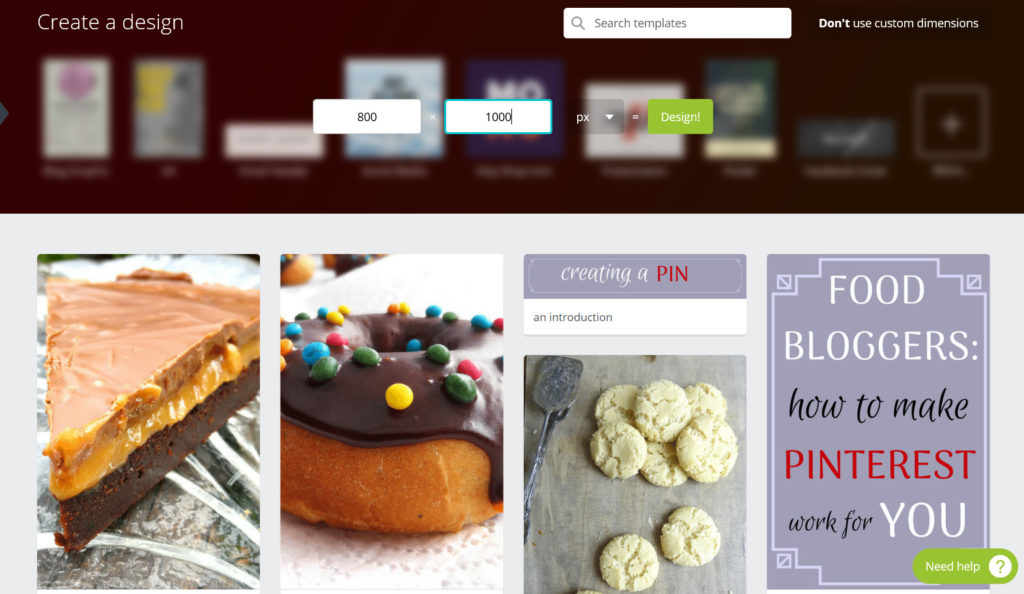 This will give you a screen that looks like the one below. Click on layouts (top left hand corner) and then click on the first image (it is the same shape as the empty white rectangle you will have in your main window) and it will jump into the main image.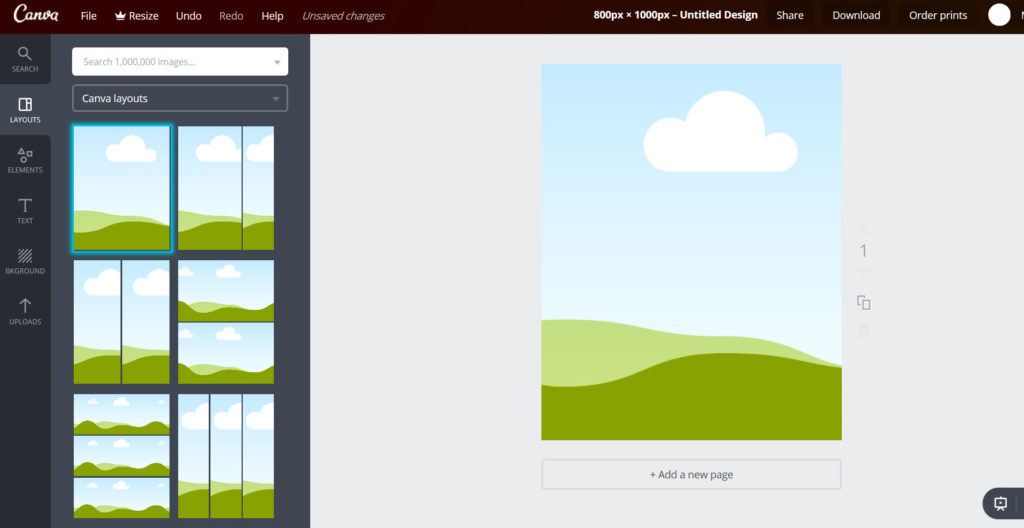 Click uploads and it will give you the option to upload your own images.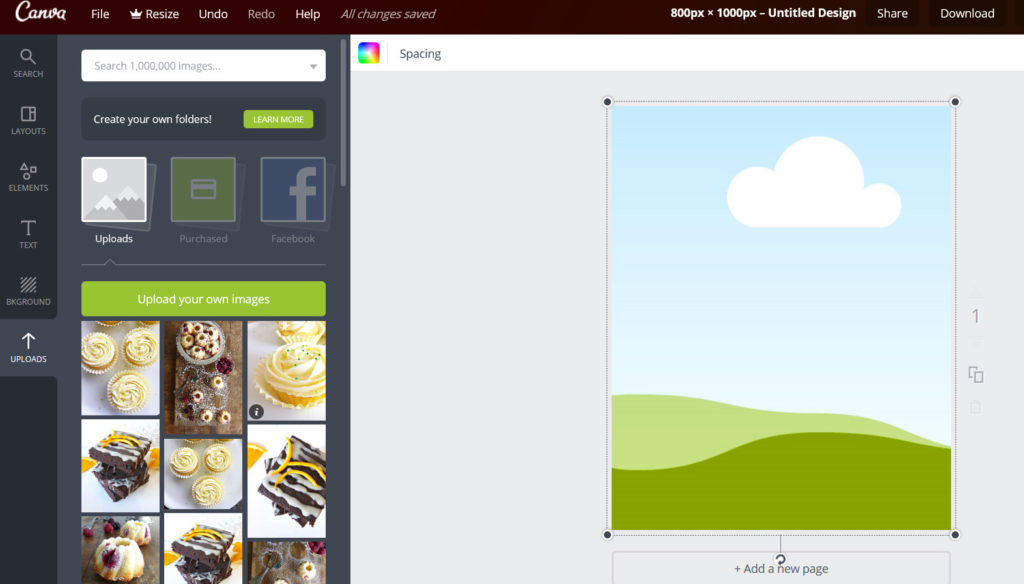 Select the image you want for your cover pin, click once and it will move across into the box (as shown below). To get the image to stretch to fit the box, do a little flicking motion with your mouse (with your cursor on the image) and it will automatically fill the space.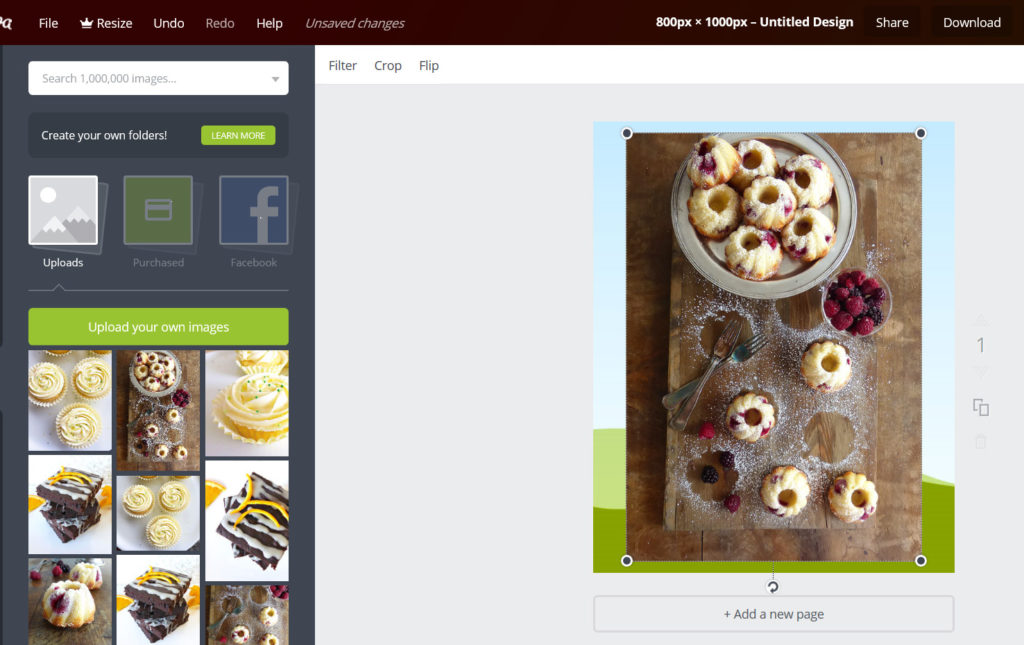 To make the actual cover, choose elements and then shapes.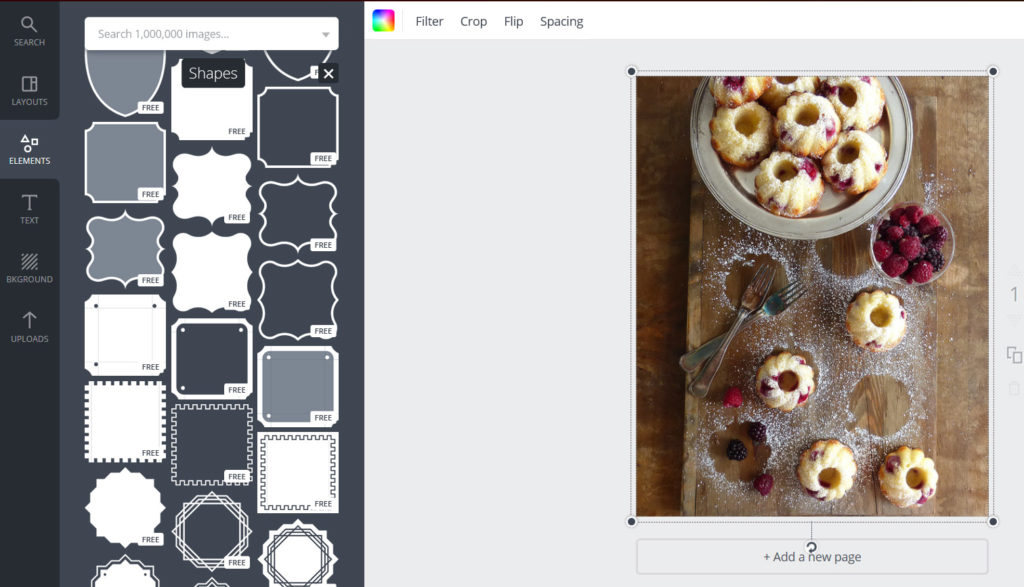 Click on whatever shape you like and it will appear on your chosen image. You then have the option to change it to whatever colour you like (I've used bright yellow so that you can see the element properly) and amend the size.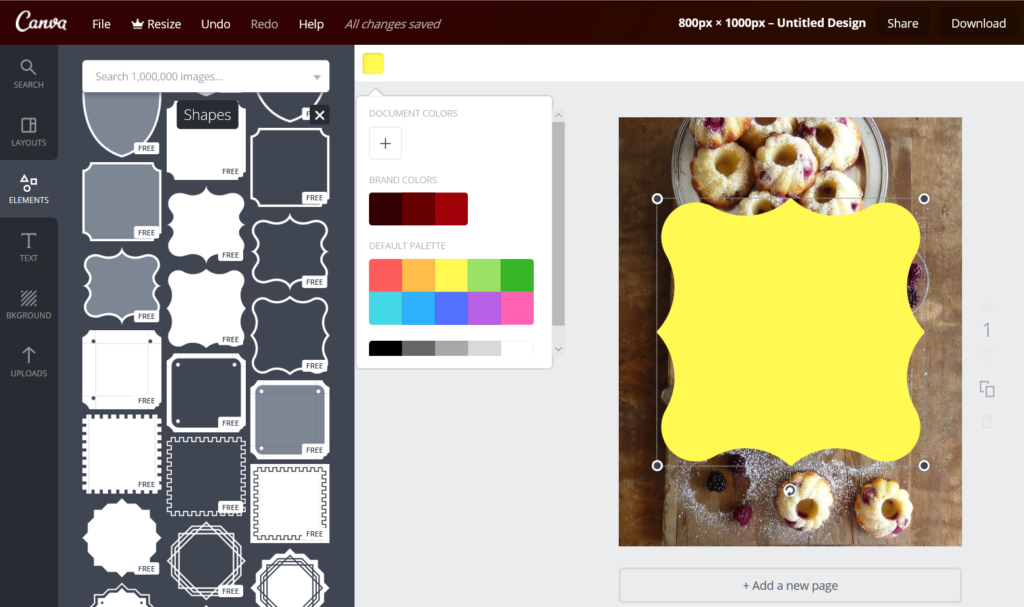 Next, click on text, select add heading and choose the fonts and sizes you want (top left hand corner of the main screen – it's currently showing Abril Fatface with a font size of 42).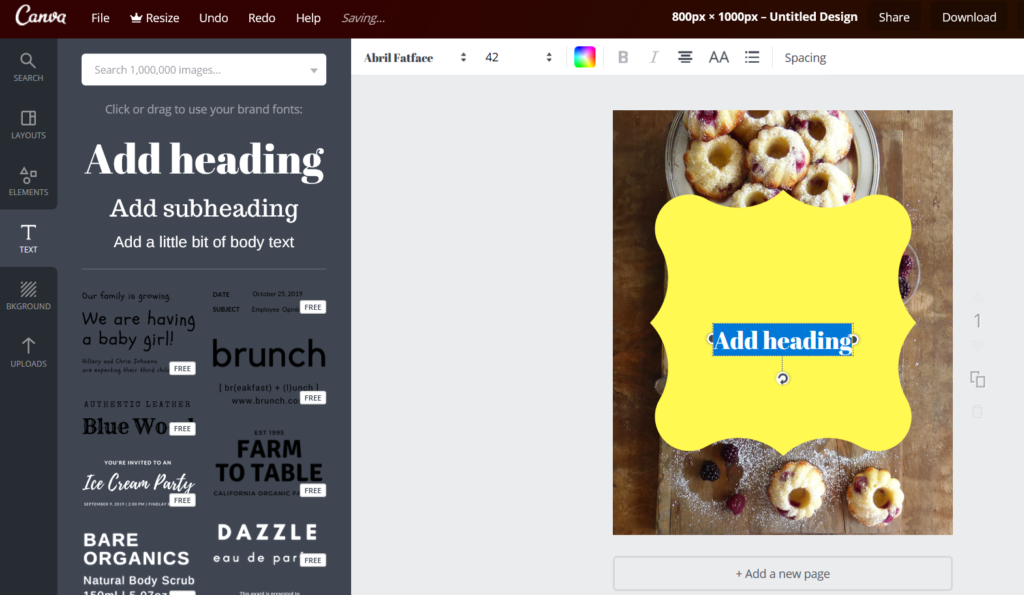 When completely happy (if you are anything like me this can be a long time coming), click download (top right hand corner) and then save it to your computer. Done!
ADDING THE COVERS 
Go the board you want to add a cover to and click on create pin and upload your cover image. Where it says website, add the URL of the Pinterest board itself and not your blog. For the description, just copy the one you've already given the actual board. Click done and then save it to the board.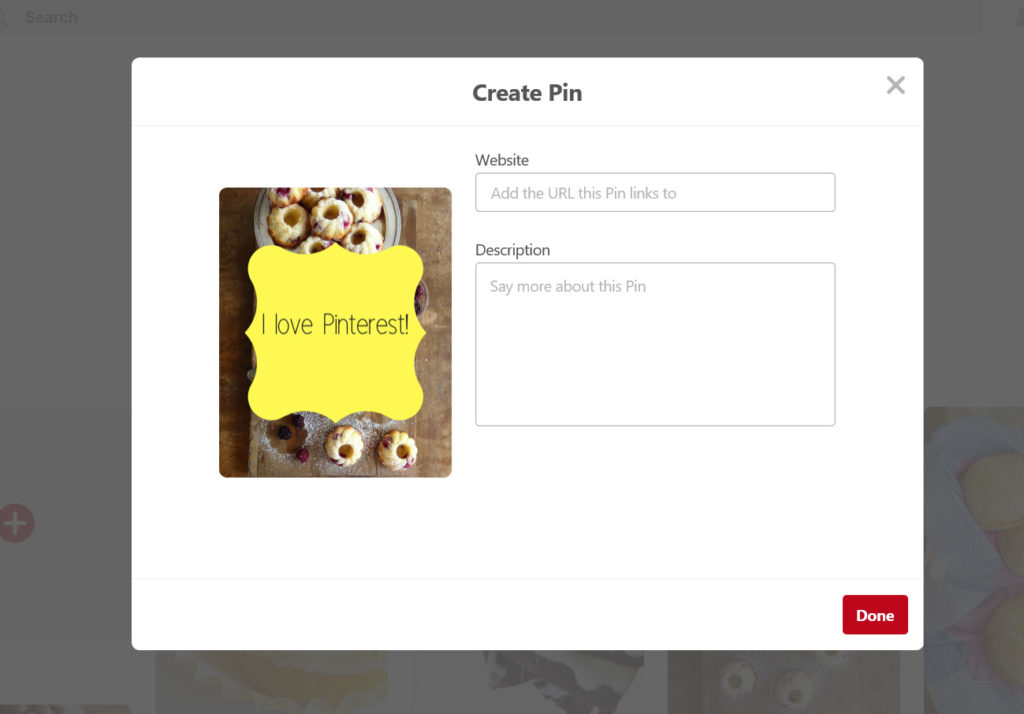 Next, click on edit your board, then change cover. Now refresh your page otherwise the new pin will not show up. Choose the image you've just uploaded.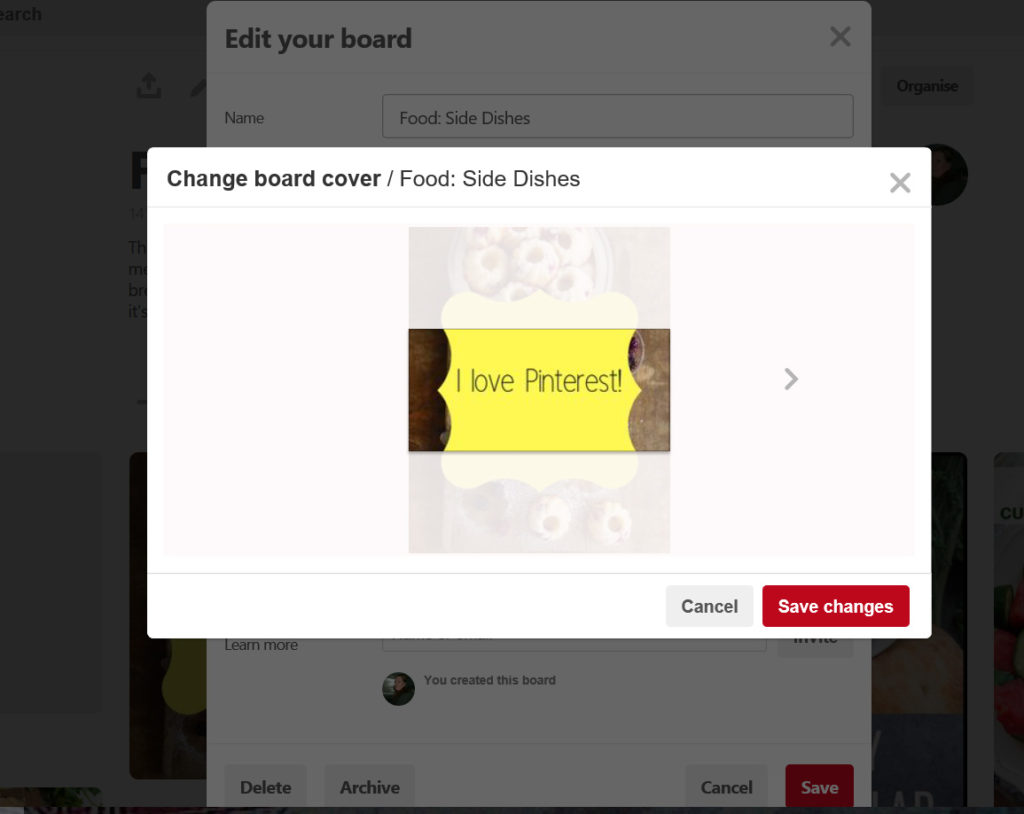 As you can see above, you can adjust which part of the image will show in the cover. When happy, click save changes. You may need to play around with it to get it right at first – this is what mine looks like leaving it as it was, and you can see that compared to my other covers, it is a little off centre: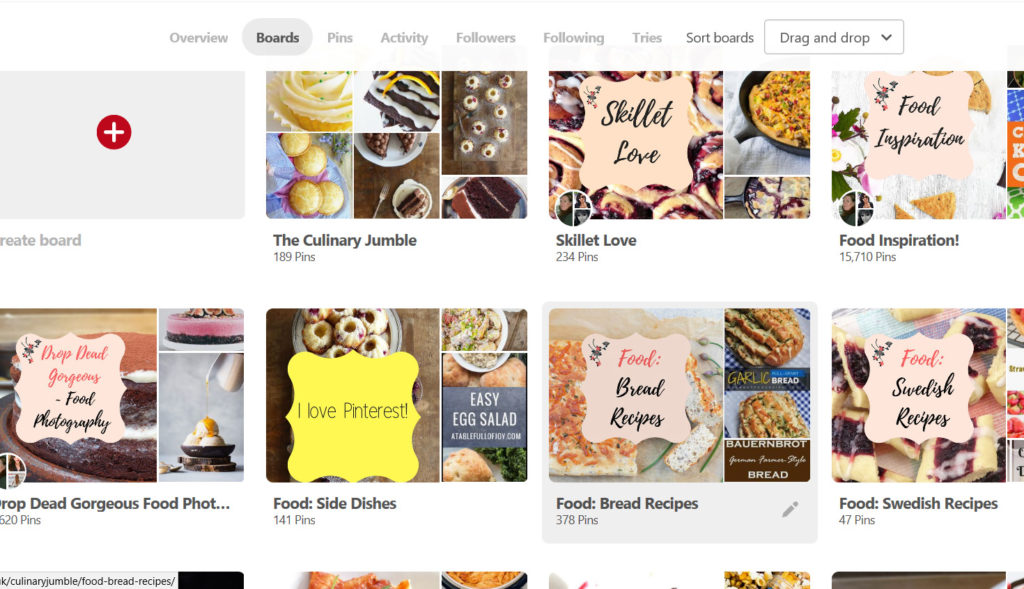 So, there you go. Now your boards look aligned, uniform and pretty. Remember, you can only add covers to the boards you own.
And here's where we will leave it for today. Check back soon for part two of Food Bloggers: how to make Pinterest work for you where I will be talking about how to find group boards, adding contributors, how to create a pin and pinning etiquette (plus loads more).
Hope you've enjoyed reading today! If you have any queries or I can help in any way, just drop me a comment!