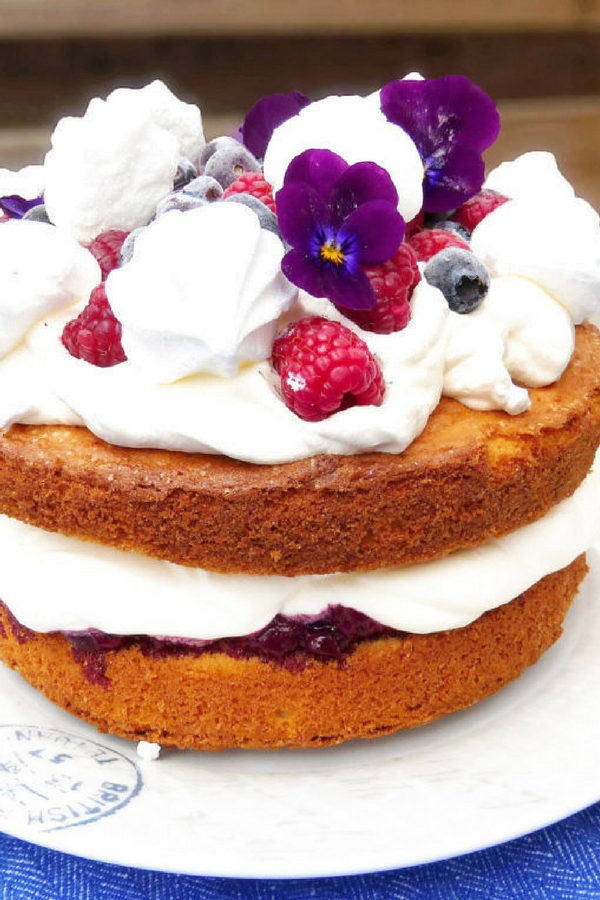 It's been a busy time on the blog this week, not only have I made this shockingly good dessert, but I've also started a new board on Pinterest called Food Inspiration! If you like ogling beautiful food as much as me, come on over!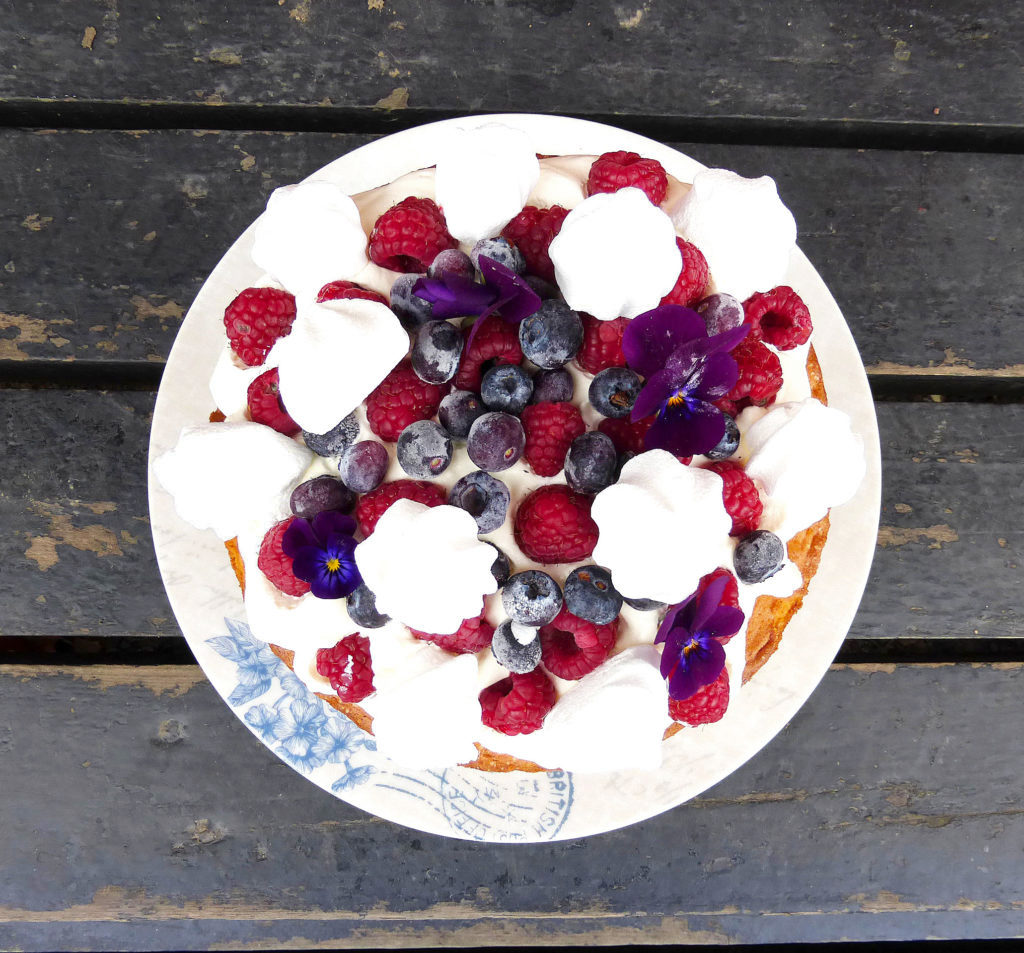 Anyway, back to the recipe. What's not to love about a cream cake? I like a good cream bun, but I am talking about stuffing your face with an over-the-top, sugary, buttery extravaganza.
There's just something so irresistible about soft cream up against a sweet, dense cake, don't you think?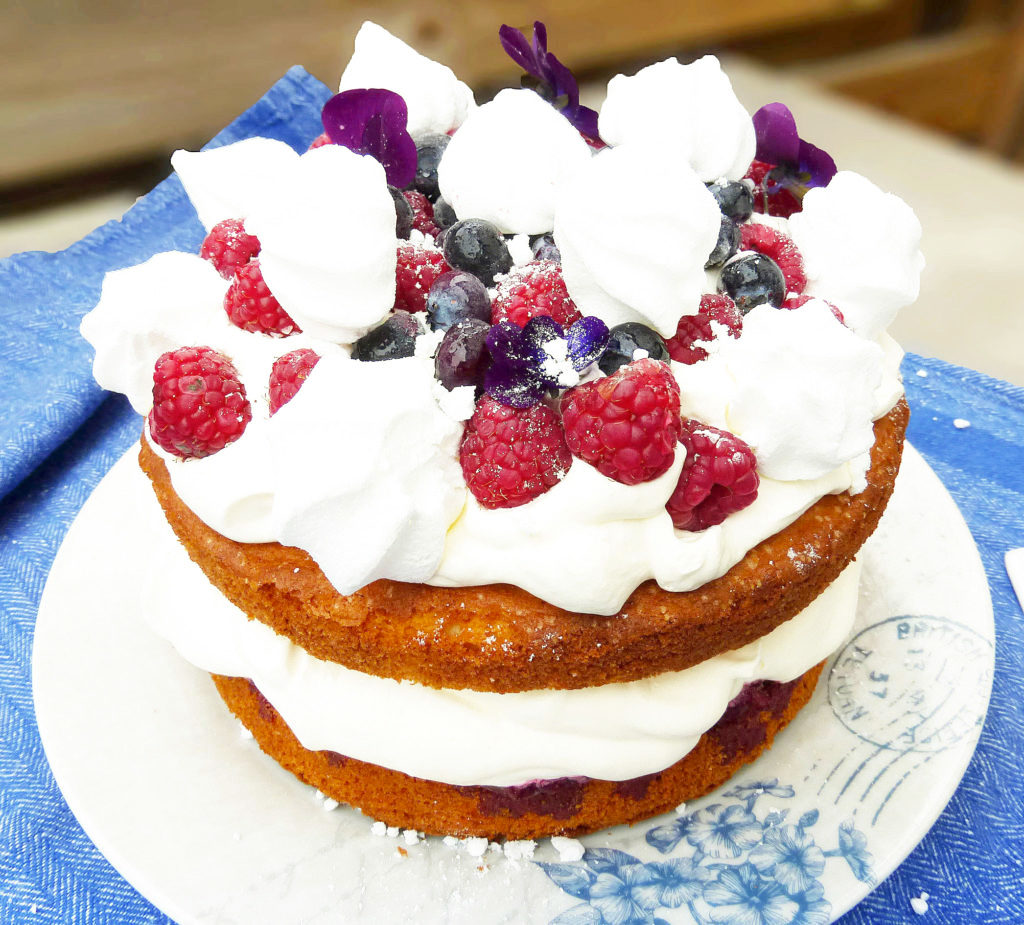 Victoria sponge cake is one of my favourites and most certainly one of Britain's.
It follows a very simple formula which involves using the same measurements for the flour, butter and sugar. The particular amounts can vary, depending on how large the cake is.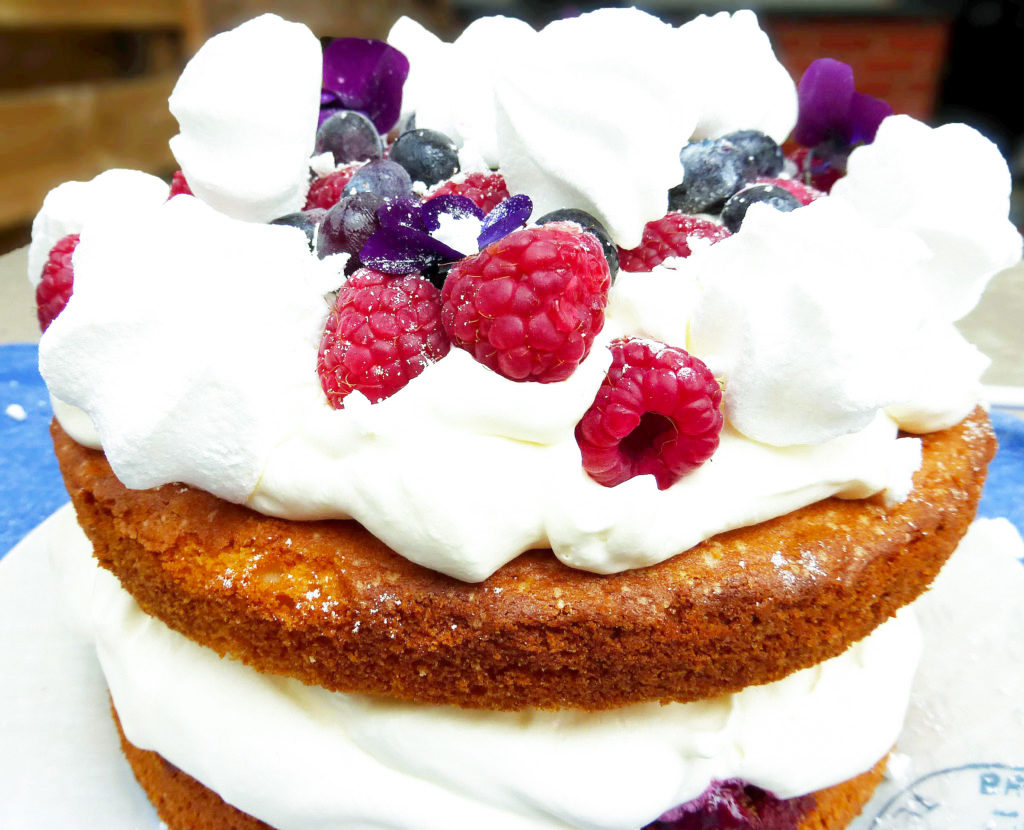 In some recipes (and the traditional way, apparently), the eggs are weighed in their shells and the other three main ingredients are measured out in equal quantities to the weight of the eggs.
That said, a traditional Victoria sandwich is very plain with only a touch of raspberry jam and a sprinkling of icing sugar to spruce it up, and certainly not overflowing with cream. So, as I am not exactly a stickler for tradition, I don't always feel the need to be so precise with my egg ratio measurements.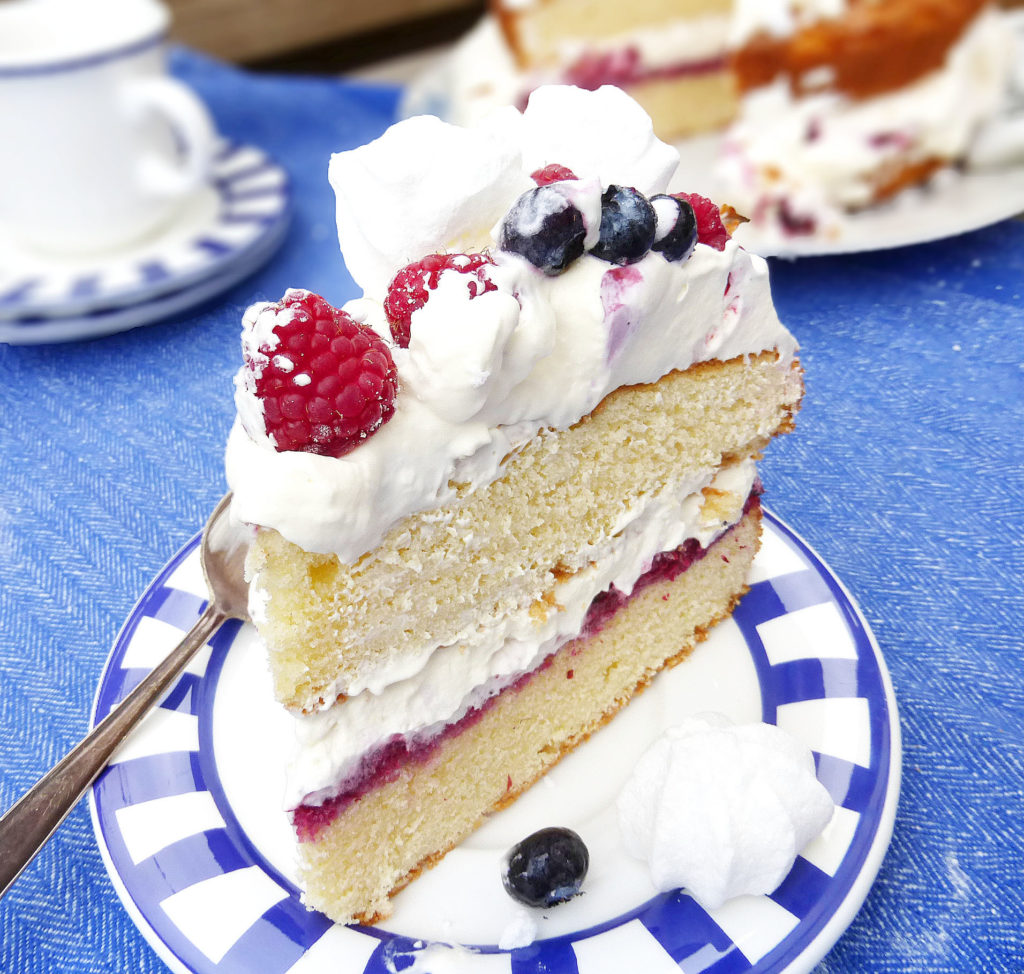 This particular creation is a mash up of two of my favourite British desserts. Along with the sponge, there's an Eton Mess kind of thing going on, too.
Eton Mess is the simplest dessert to make ever, and to die for. The Eton Mess components in this cake are the meringue, homemade jam  and fresh fruit.
If you're like me and think a cream/cake combo rocks it, just wait until you add the crunchy meringue and tart fruit. Sub-lime.
Of course this is not an every day baking event. Perhaps it should be law that you only get to eat cream cakes on special occasions (hah. In that case, get the handcuffs out).
This one was made for a garden party event I had planned to attend but couldn't make. And I tell you, it was tough to eat it all on my own, rather than share it around. The sacrifices I make for my blog, eh?
If I haven't wooed you with this OTT dessert, but you like the sound of a Victoria sponge, you could always try my individual cakes instead.
Eton Mess Victoria Sandwich Cake
---
Ingredients
Cake:

225g (1 tablespoon shy of 1 cup) butter
225g (1 cup + 2 tablespoons) sugar
4 eggs
225g (1 + 3/4 cups plus 2 tablespoons) plain (all-purpose) flour
2 teaspoons baking powder

Homemade jam:

300g (3 cups) frozen berries/fruit
1 tablespoon sugar or honey
1 tablespoon water

Toppings:

500ml (2 cups) cream (whipped) - see notes
Assorted fresh berries or fruit (I used raspberries and blueberries)
Mini Meringues

NOTES:

You don't need so much cream. Mine was a bit of a statement cake and you could easily get by on just 250ml (1 cup) of cream if you don't want to be so extravagant!
Directions
~ Pre-heat the oven to 180°C (350°F). Grease and line two 8 inch round cake tins.
~ Beat the butter and sugar together until light and fluffy (I used a food processor).
~ Add the eggs, one at a time, beating each one in before adding the next.
~ Sift the flour and baking powder together and then gradually add to the wet ingredients (I keep the processor running). Stop working when the flour is just incorporated.
~ Split the batter evenly between the two pans and then bake for around 20-25 minutes, until the tops feel "bouncy" to the touch and an inserted skewer comes out clean. Leave the cakes to cool in their pans for around ten minutes before turning out onto a wire rack.
~ While the cakes are baking, prepare the jam: heat the fruit, sugar/honey and water together in a pan until the mixture is bubbling. Lower the heat and continue to cook until the water has evaporated and you are left with a thick, spreadable consistency (it will thicken up more as it cools). Set to one side to cool completely.
~ To assemble: turn one of the cakes over so that the top is underneath and then spread the jam over the flat surface. Top with half of the whipped cream. Place the other cake on top and slather on the remaining cream. Top with fruit and mini meringues, sprinkling a little broken meringue over the top. Add any other decorations you like (I put a couple of flowers on for the prettiness factor).
~ Keep in the fridge until ready to serve. The cake will feed 8-10 and last for several days in an airtight container in the fridge. Enjoy!
7.8.1.2
151
https://www.theculinaryjumble.com/eton-mess-victoria-sandwich-cake/