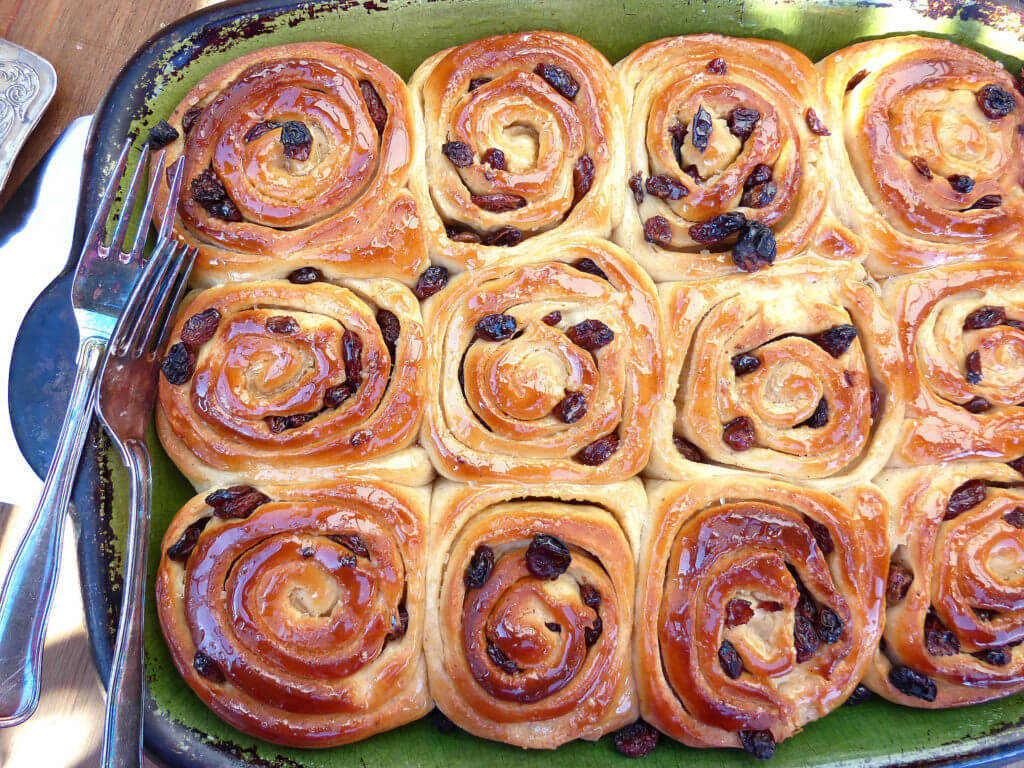 What do you call a cross between a cinnamon roll and a hot cross bun?
Well, that's a very good question. One that had me pondering a fair while. What do you call a delightful combo of these two amazing breads?
Well, Easter Hot Cross Bun Rolls. Yep. That's them. I know, I know. It's not very inspiring. In fact, it's a little boring. However, sometimes when you're a food blogger, you need to say things just how they are. That way, people know exactly what they are getting.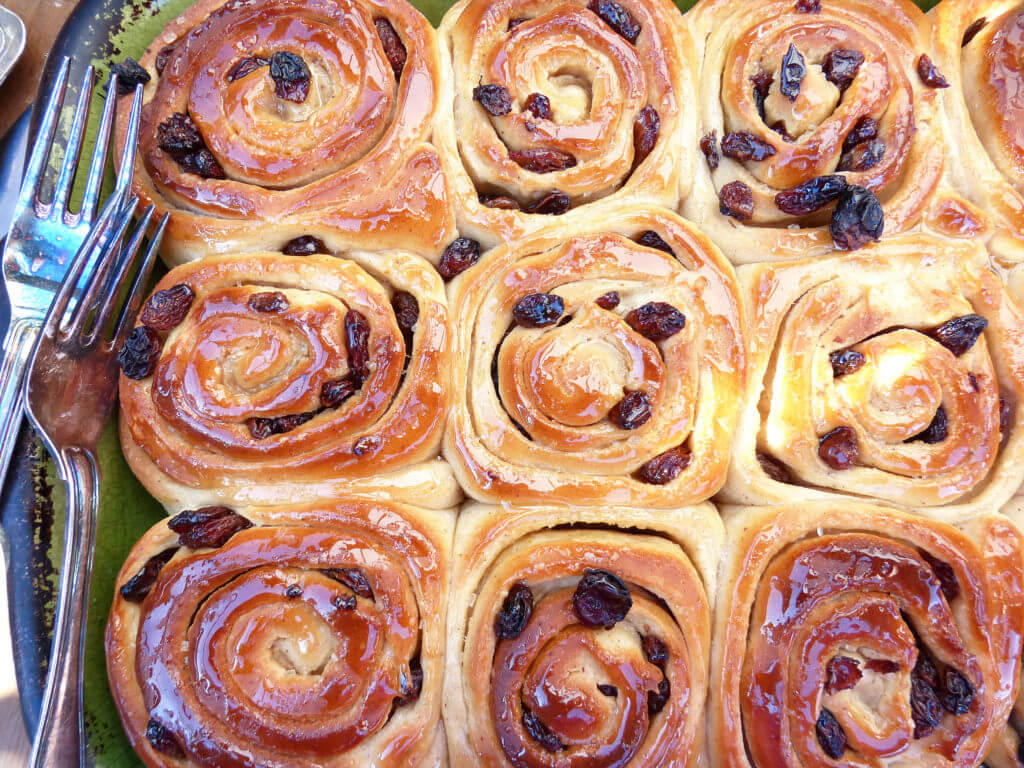 So why the mishmash? Why not just old-fashioned hot cross buns, Mary Berry style? Because I didn't want to. That's why.
Well, actually, let's be honest here. As much as I like the coiffeured one, she does have this stiff, formal approach to baking. I guess that's part of her charm. She's traditional with a capital T. However, me? I am lazy with a capital L (and then some) and personally, couldn't be bothered to fanny about putting a cross on them.
And you can't have hot cross buns without a cross, now can you? Although naming them would have been fun: Hot and buns but no cross? Don't get cross with these hot buns?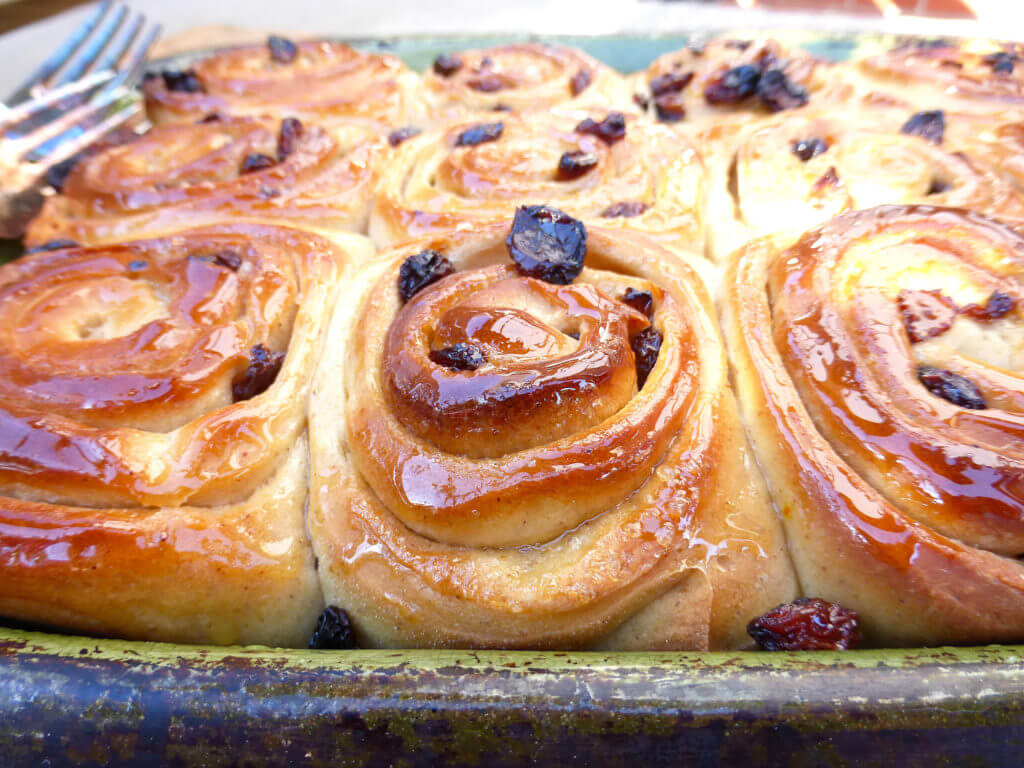 Alongside of not wanting crosses, I also really fancied a filling as with these Hot Cross Cinnamon Buns from one of my favourite food bloggers, Supergolden Bakes. However, I didn't want cinnamon buns either. I wanted all the flavour of a hot cross bun but just in roll form.
So, here's the end result. Rolls made pretty much following Mary Berry's recipe (with added saffron and a couple of tweeks) but with my own filling. And they were good.
Super soft buns with a lemon butter filling and a slather of syrup on top. Oh, and again, Tracy style and not MB's – she heats up her syrup before brushing it over. Now to me, that's one extra pan to wash and nothing more.
The ingredients below made around 18 buns but you could easily halve the ingredients and make fewer, it you preferred.
Easter Hot Cross Bun Rolls (when Cinnamon Rolls meet Hot Cross Buns)
---
Ingredients
Dough:

40g (3 tablespoons) butter
300ml (1 + 1/4 cups) milk
Pinch of saffron (around 0.25g)
1 egg
1 lemon (the zest and two tablespoons of juice)
500g (3½ cups) bread flour
1 teaspoon salt
14g dried yeast
75g (1/4 cup + 2 tablespoons) sugar
½ teaspoon cinnamon
2 teaspoons mixed spice

Filling:

50g (3 tablespoons) butter
1 tablespoon lemon juice
2 tablespoons brown sugar
100g sultanas

Topping:

2 tablespoons golden or medium light syrup
Directions
Please note - the following instructions are for a bread machine. If you are making yours by hand, follow
Mary Berry's
method (bearing in mind she adds her ingredients in a different ratio/order to mine).
~ Gently heat the butter, milk and saffron, just until the butter melts. Let the mixture sit until it is lukewarm.
~ When ready, add to your bread machine tin along with the egg, lemon juice and zest. Add the remaining, dry ingredients (keeping the yeast away from the salt as much as possible). Set your baking machine to make the dough.
~ When the dough is ready, roll out into a large rectangle shape. Melt the butter and stir in the lemon juice. Brush onto the dough, leaving a slight gap right around the entire edge of the dough. Sprinkle with the brown sugar and sultanas.
~ Carefully, roll the dough up until you are left with a long sausage shape. Cut into slices about 1½cm thick and place on a baking tray (lined with grease proof paper) or a greased pie dish. You may need two trays (you should end up with about 18 buns).
~ Cover with a towel and leave to rise for about 30-45 minutes (you want to be aiming for a doubling in size). Pre-heat the oven to 200°C (400°F).
~ When ready, bake the buns for around 15-18 minutes. They should be a nice golden colour. Remove from the oven and allow to cool for a bit.
~ While still warm, drizzle over some golden/light syrup and using a brush, sweep it out to the edges of the buns. Enjoy!
7.8.1.2
304
https://www.theculinaryjumble.com/easter-hot-cross-bun-rolls-when-cinnamon-rolls-meet-hot-cross-buns/
If you like sweet bread, why not try one of my other recipes? Blackberry Swirl Skillet Buns, Saffron and White Chocolate, or Sweet Lime Fikabröd