These soft, fluffy marshmallow dark chocolate brownies make a great birthday party treat.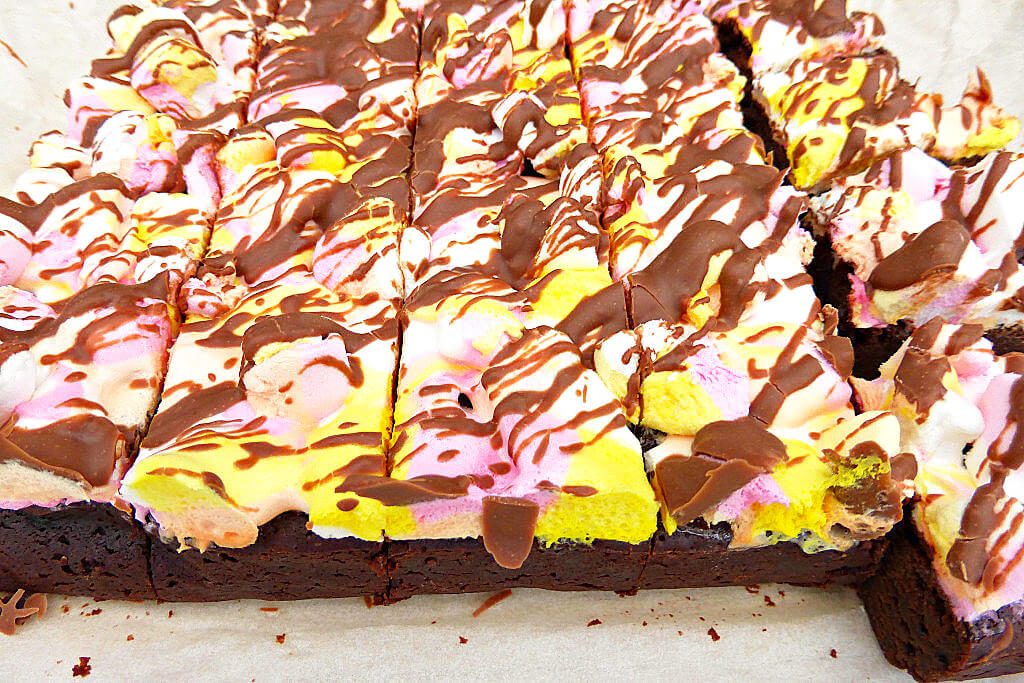 I made these yesterday following a week-long detox and two weeks without chocolate or any processed food. It's fair to admit then, that making these was a teensy, weensy bit torturous.
The good news they were for a little tea party I was attending and so I knew it wouldn't be me scoffing them all. But you know, this woman does not have super human strength. Hello? Brownies. Brownies with marshmallows slathered all over and then baked until gooey. And plus, I needed to try one. That was my civic duty: couldn't be serving up under par brownies to innocent children. Right?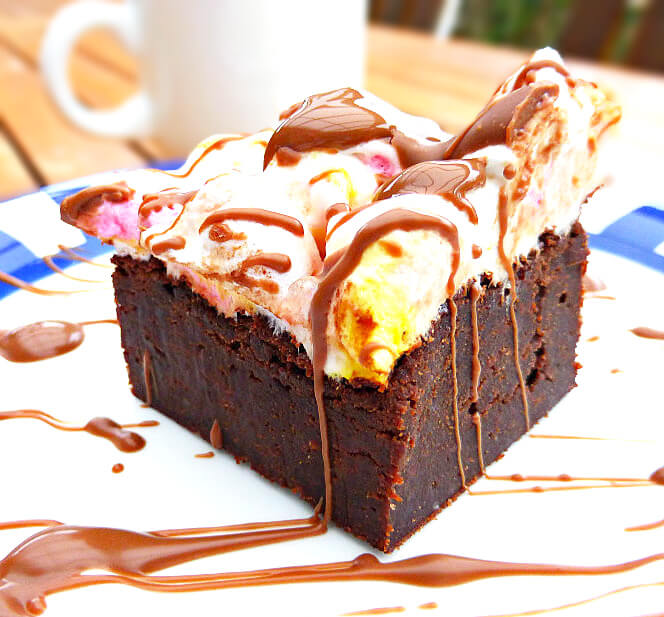 Seriously though, I did eat one and it was as sublime as they look. Yep.
Anyone who reads this blog regularly knows how much I like my brownies. From the sublime, cherry brownies to the more sedate and wholesome gluten free, low fat mocha brownies.
These particular brownies are made with melted dark chocolate which gives them a rich, luscious flavour without being sickly. This prevents the marshmallows from overpowering the brownies with sweetness. The oo-berlicious marshmallows complemented the firmer brownie in a way that was divine. The chocolate drizzle is optional, but in for a penny, in for a pound, right? Get it drizzled all over.
The measurements below made 16 perfectly-sized brownies, but if you like a large chunk of brownie, cut them into 12!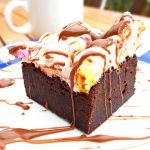 Fluffy Marshmallow Dark Chocolate Brownies
Ingredients
200g

(1 + 1/4 cups) chopped dark (plain) chocolate

200g

(7/8 cup) butter

50ml

(3 tablespoons) strong brewed coffee

250g

(1 + 1/4 cups) brown sugar

3

eggs

1

teaspoon

vanilla sugar

80g

(2/3 cup) plain (all-purpose) flour

25g

(1 tablespoon + 1 teaspoon) cocoa

150g

(1 cup) marshmallows

20g

(2 tablespoons) chopped dark chocolate (for drizzling)
Instructions
Pre-heat the oven to 170°C (325°F) and prepare a square/rectangle baking tin (mine was 10" x 7") by lining it with grease-proof paper or by greasing.

Slowly heat the chocolate and butter in a pan until just melted. Add the strong coffee and leave to cool for around 5-10 minutes.

In a large bowl, whisk the sugar with the eggs, then add in the cooled chocolate/butter mixture.

Sift the vanilla sugar, flour and cocoa and stir into the wet ingredients until well combined.

Pour into the tin and bake for around 27 minutes. Take the brownies out of the oven and sprinkle with the marshmallows and return to the oven to bake for a further 3 minutes. Remove and allow to cool.

Drizzle with melted chocolate and then allow the chocolate to set. I left mine in the fridge overnight - if you do this, just take out of the fridge an hour before serving and cut into squares while it is still quite cold. Drizzle a little extra chocolate over for decoration (completely optional and certainly not necessary). Enjoy!
Recipe Notes
I use grams in my recipes and these measurements have been converted to help readers who use cups. However, as I have used online resources and not converted the amounts in my own kitchen, the figures may not be accurate. If in doubt, use your own methods to convert to cups.