The eagle-eyed among us will have already noticed some changes around these parts as of late, and because transparency about The Culinary Jumble, and where I am going with it, is really important, I wanted to notify regular readers of recent developments.
My blog has been up and running for almost three years (where has that time gone?) and although I'd previously considered advert placement on the blog, I wasn't sure whether it was the right fit for me. We've all seen blogs where you can't scroll through a post without seeing ads in every nook and cranny and while that probably feels okay for them (and I am not criticising or judging, promise), it didn't sit right with me. People come to look at my pictures or read my recipes. They don't need to know which latest new-fangled gadget is the best (well, they might want that info, just not here).
However, I've since relented a little on my stance and decided that as long as the ads placed were appropriate and related to my blog, and most importantly, were things I would buy myself, then I would give it a go (note that I also have AdSense advertisements and these are randomly generated and I have less control over what is shown). If you'd like to find out more, or how these advertisements affect you as a reader, have a look at The Culinary Jumble's disclosure and privacy policies.
For those of you not very clear on how ads or affiliates work, I will receive a commission or payment either when people click on a link/image, or in some cases, when a person signs up or buys the product advertised. While I would never, ever badger a reader into clicking on links, there are some pretty amazing items over there on the right, so why not take a look?
Right. Back to why you are here. A recipe. This recipe.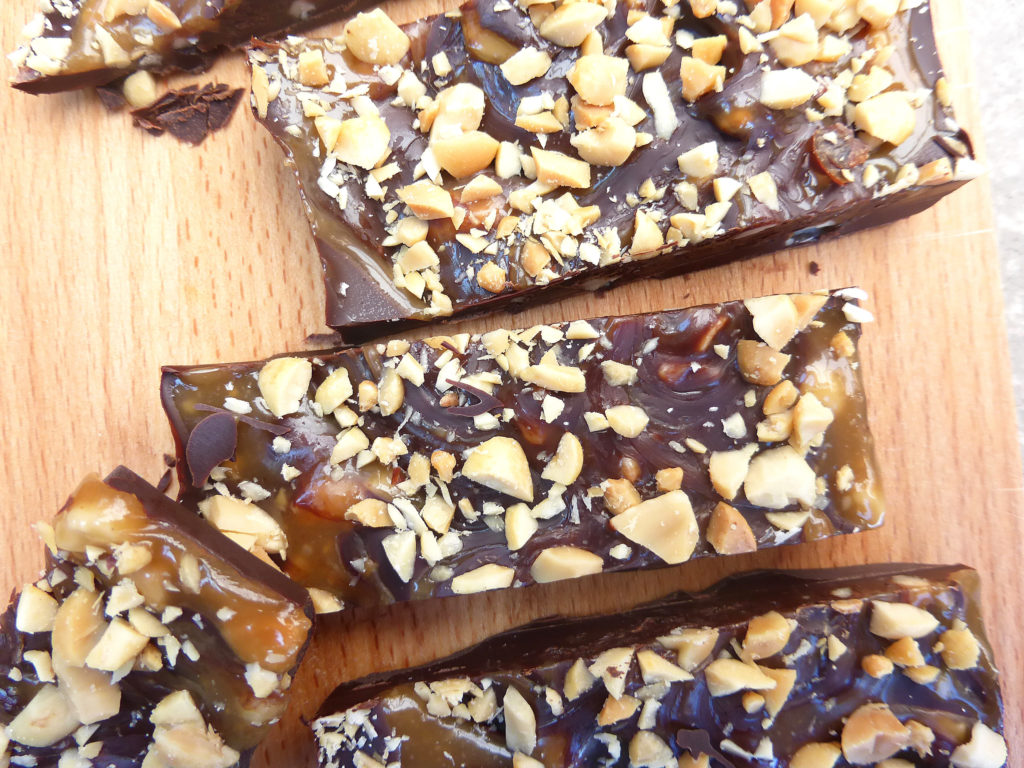 Anyone who knows me will already know how much I love bark. Unbelievably simple to make and with whatever you have in the house.
Because of the utter deliciousness and simplicity of bark, it doesn't surprise me that my recipe for Chocolate, Caramel and Shortbread bark has been shared on social media over 25,000 times!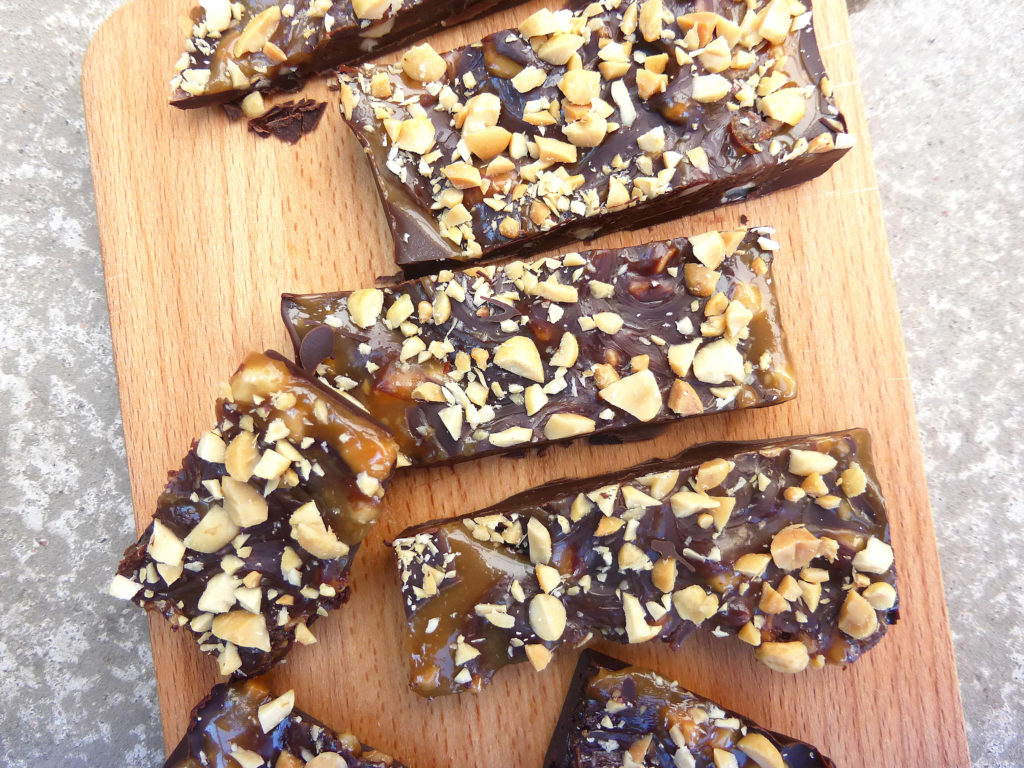 This new one follows closely in its famous predecessor's footsteps.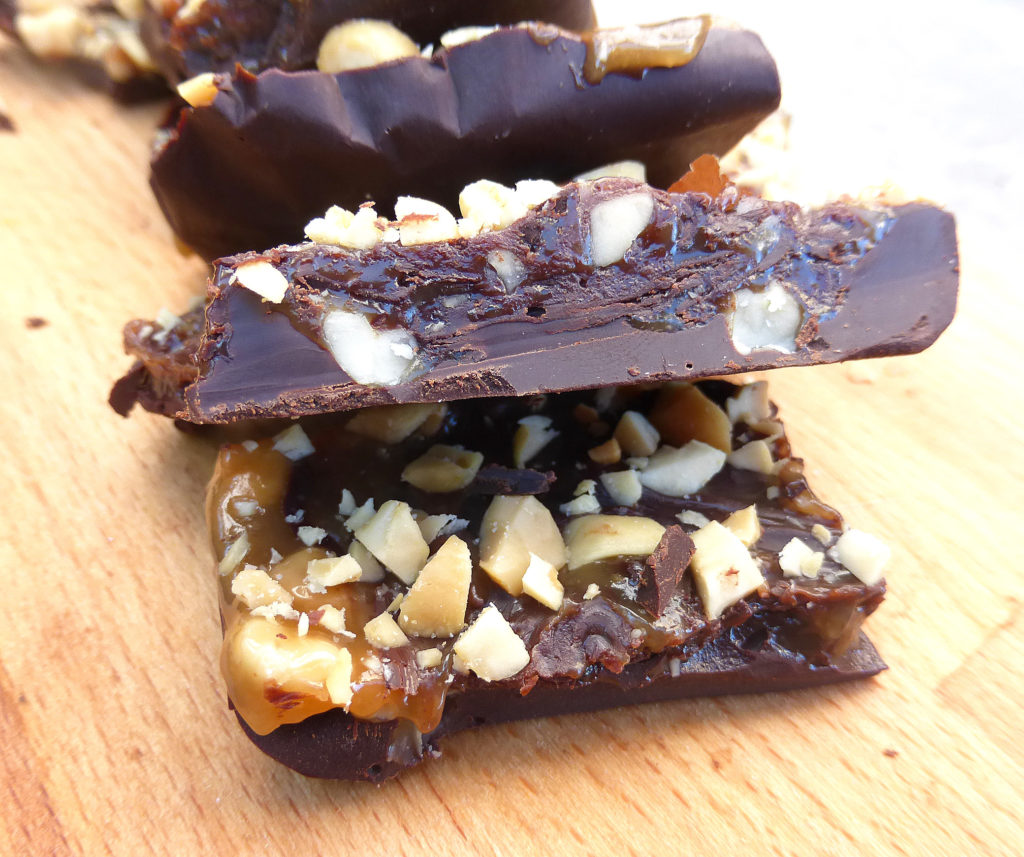 However, this time it is made with dark chocolate and a simple, homemade peanut butter caramel. Have I convinced you yet that this needs to be in your kitchen (and mouth) real soon? No? In that case, go find your glasses and look a little closer! x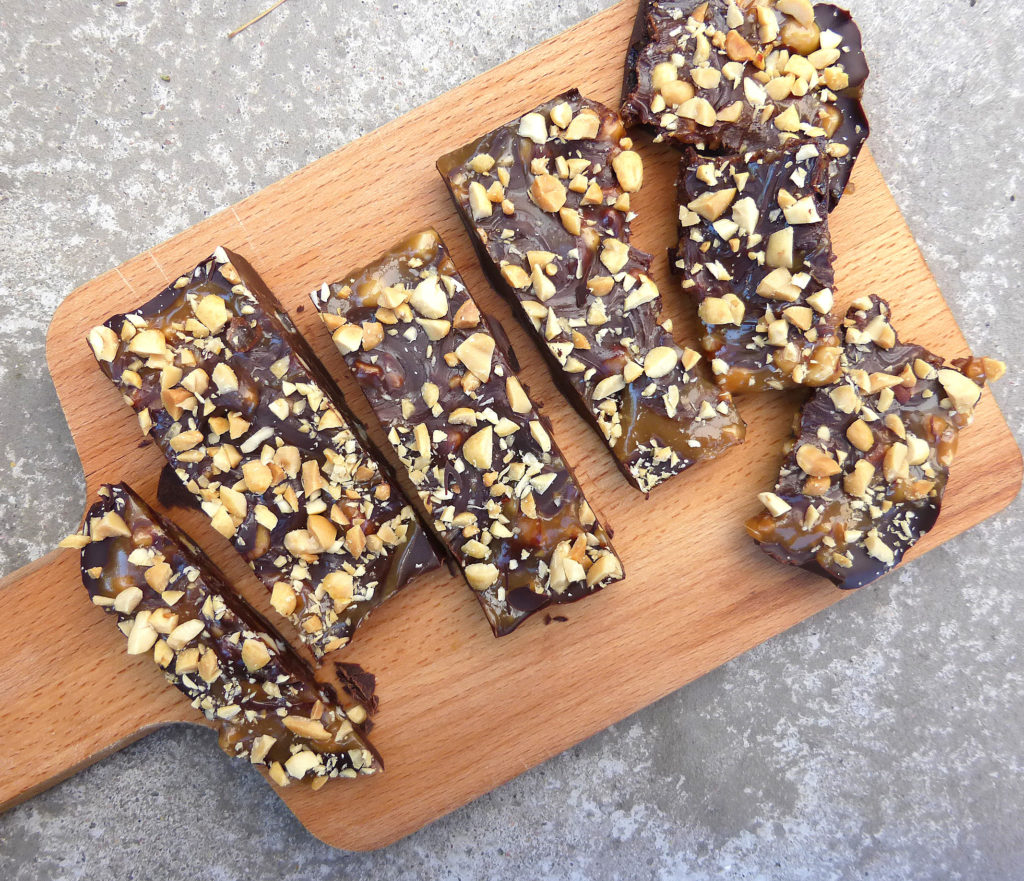 Dark Chocolate and Peanut Butter Caramel Bark
---
Ingredients
100g (3/4 cup) good quality dark chocolate
2 tablespoons peanut butter
20g (1 tablespoon + 1 teaspoon) brown cane sugar
1 tablespoon milk
Chopped salted peanuts (optional)
Directions
~ Melt the dark chocolate (I do mine in a Bain Marie or double boiler).
~ Place foil or baking paper in a small loaf tin. Pour the chocolate in and spread until it is fairly even.
~ In a pan, gently heat the peanut butter, sugar and milk. Allow to bubble for a couple of minutes until it thickens.
~ Swirl the peanut butter mixture into the chocolate and sprinkle with nuts (if using). Pop in the fridge and allow to set completely (one or two hours should be sufficient).
~ When ready to serve, slice the bark into strips, using a sharp knife run under hot water for a minute or two (most of my barks are snapped apart, but this one is a little thicker making it harder to do this). Try not to eat too much and enjoy!
7.8.1.2
265
https://www.theculinaryjumble.com/dark-chocolate-and-peanut-butter-caramel-bark-plus-a-little-info-about-the-blog/