These heart-shaped gluten free cornflake cookie cups are perfect for your Valentine.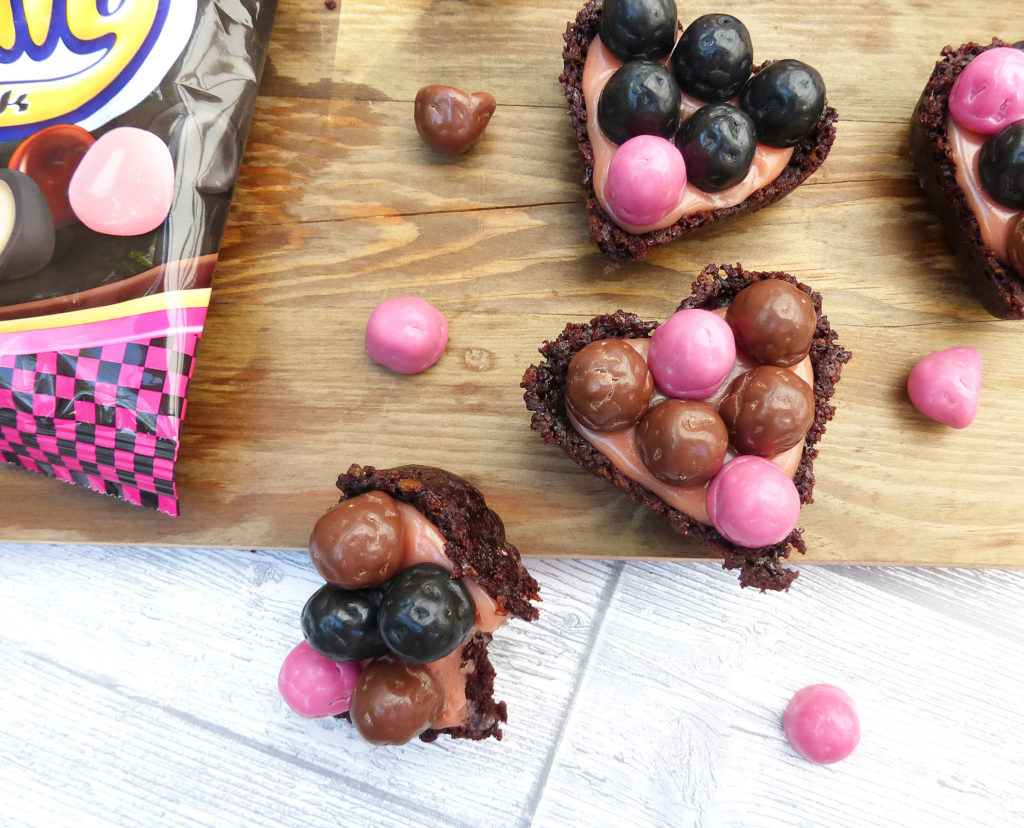 Receptet finns även på svenska här
Who doesn't like sweets? And who doesn't like pink sweets? And what about pretty pink sweets made into a gooey, decadent ganache? Thought so!
Polly are one of Sweden's favourite sweets with a chewy centre and smothered in chocolate. The ones I've used for this recipe are raspberry and liquorice flavoured.
I made these as my second entry into a Swedish baking competition for a sweet (candy) manufacturer. My first was this super simple Chocolate Salami.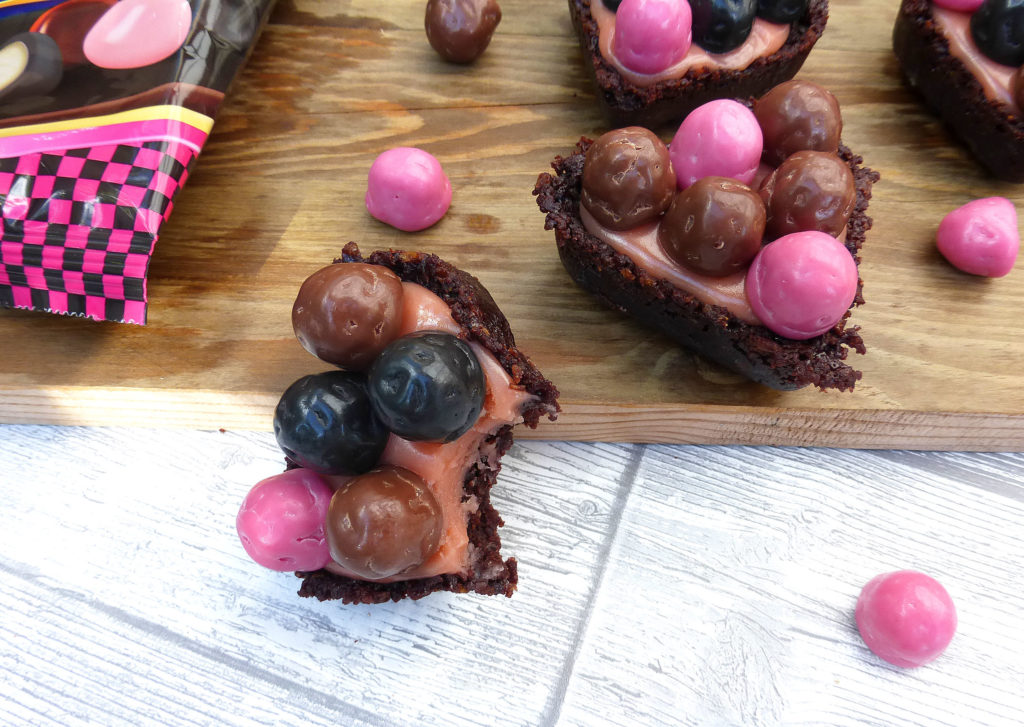 But first, a heart-felt apology: You probably won't be able to get hold of these pretty chocolates so easily. See, as far as I am aware, they are only sold in Scandinavia. I know. I know. That's neither fair, nor right, and something should be done about it.
However, if you would like to try to get hold of some, all is not lost. You can buy them from The Swedish Food Shop or Made in Scandinavia.
Joking aside, you could use any pink sweets you have to make the ganache, add a touch of food colouring if you have some at home, or just go for a plain white chocolate ganache instead.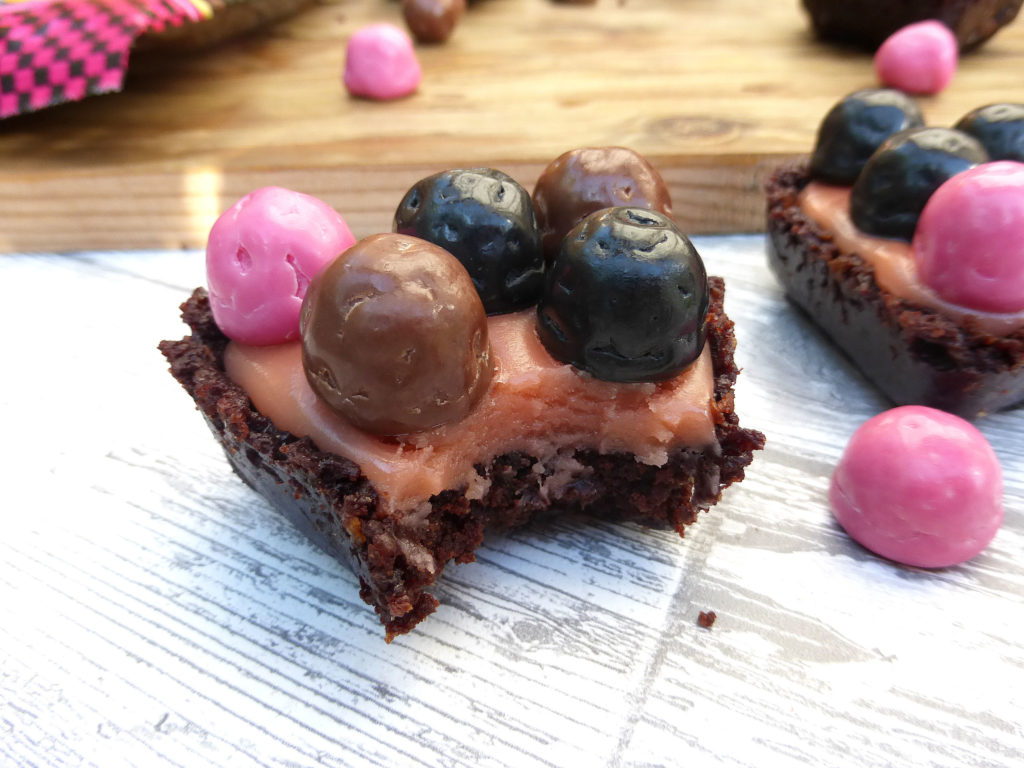 The cookie cups are made from scratch with cornflakes and are gluten free. However, that's where the healthiness ends, I am afraid.
These are most definitely for a special occasion, and would do brilliantly well at a kid's birthday party. Or, for hiding yourself away with and scoffing the lot. Your choice.
The measurements below made six cookie cups. You could easily amend the ingredients to make more.
Glutenfria Cornflake Cookie Cups (med Polly Kick Ganache)
Ingredients
Cookie Cups:
60g

smör (smält)

80g

brun socker

35g

cornflakes (krossas is smulor)

15g

kakao

50g

glutenfritt mjöl

2

matsked

ljus sirap
Ganache:
50g

vit chocklad

50g

smör

50g

Polly Kick (bara de rosa)
Instructions
Smält smöret och ställ åt sidan. Sätta ugnen på 150ºC och smörja en muffinsform med 6 hål (jag använde en med hjärtan men det spelar inte så stort roll om du bara har en vanlig muffinsform).


Blanda de torra ingredienserna tillsammans i en stor skål. Tillsätt sirap till smöret och sedan häll i de torra ingredienserna. Rör om tills allting är väl blandat. Delar mellan de 6 formar och fyll varje till toppen.

Baka i 14 minuter och ta ut från ugnen. De kommer att bubbla och se ut underbakad men de är färdiga. Ta en liten tesked och tryck när så att cookie degen kommer upp på sidorna och du är lämnat med en hål i mitten.

Låt de cookie cups svalna i 10 minuter. Sedan, tryck när en gång till så att hålarna blir ännu stora. Låt svalna helt innan du tar bort från muffinsformen. Det borde kommer ut ganska lätta men vara lite försiktigt!


Ganache: i en kastrull, smälta långsamt smöret, chokladen och rosa Polly Klick tillsammans. Den Polly kommer att vara den sista att smälta men när det är klar, vispa snabbt tills blandningen är fluffig. Häll i de cookie cups (du behöver att vara snabbt för ganachen stelna sig snabbt).


Ställa dem i kylskapet en stund (den varma ganachen kan göra dem lite mjuka) och sedan, garnera med Polly Kick.