Apples and toffee are a classic autumn combo but this coconut sugar caramel apple gingerbread loaf takes it to a whole new level.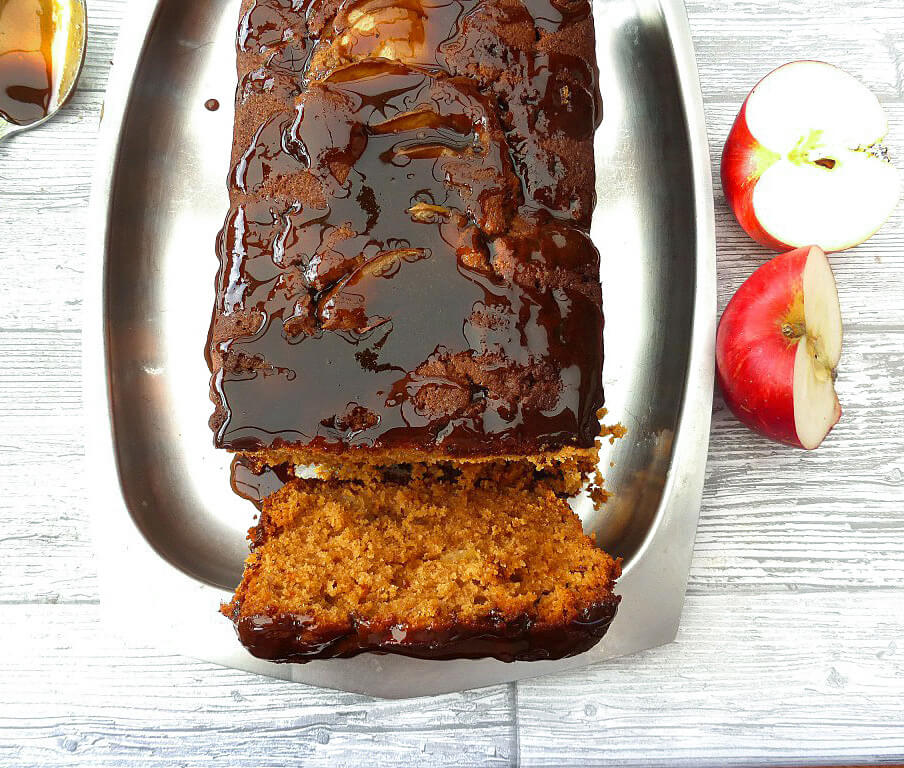 While researching for my 12 Inspiring Apple Recipes compilation a while back, one recipe particularly grabbed me. It was so pretty, sounded delicious, and seemed simple to recreate.
I said in the post's write up that it would be making an appearance on my blog sometime soon. Here it is, my version of the gorgeous Toffee Apple Gingerbread by one of my favourite bloggers, Domestic Gothess.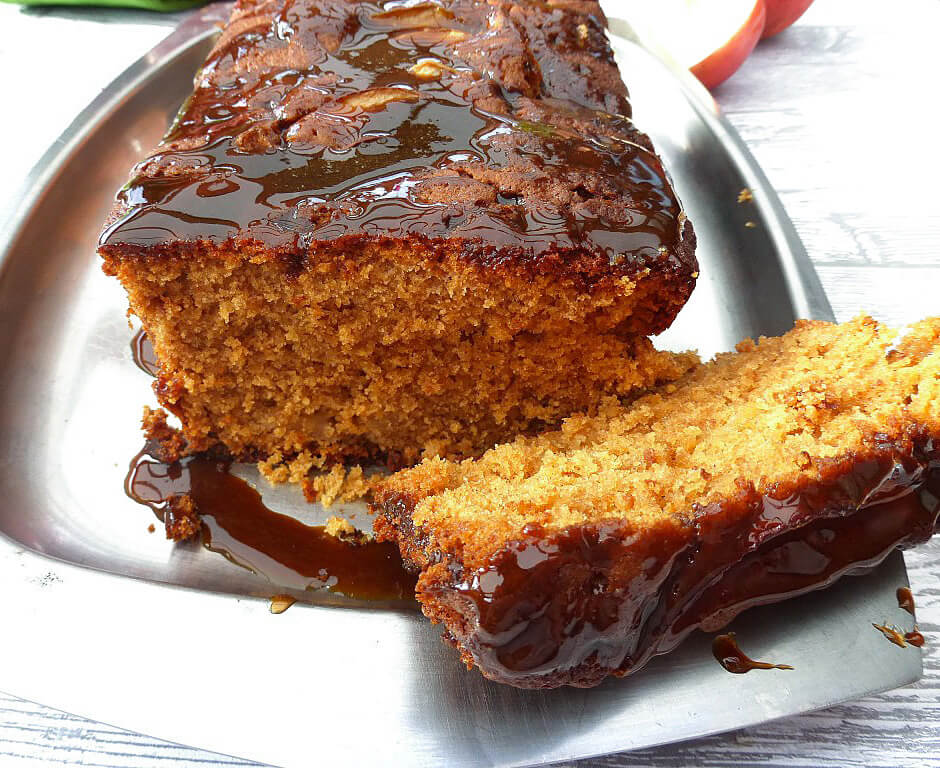 I did change the gingerbread loaf up a little – some of the ingredients are tricky to get hold of here such as treacle and Golden Syrup.
I also decided to make it gluten free. If you are in the UK and don't need it to be gluten free, then just follow Domestic Gothess' recipe and instructions.
The last change I made was the caramel drizzle on top. The original was melted toffee (which sounds amazing) but I had coconut sugar caramel in my head after making my Baked Figs; I thought the contrast of dark brown against the gingery sponge would look gorgeous. And it did.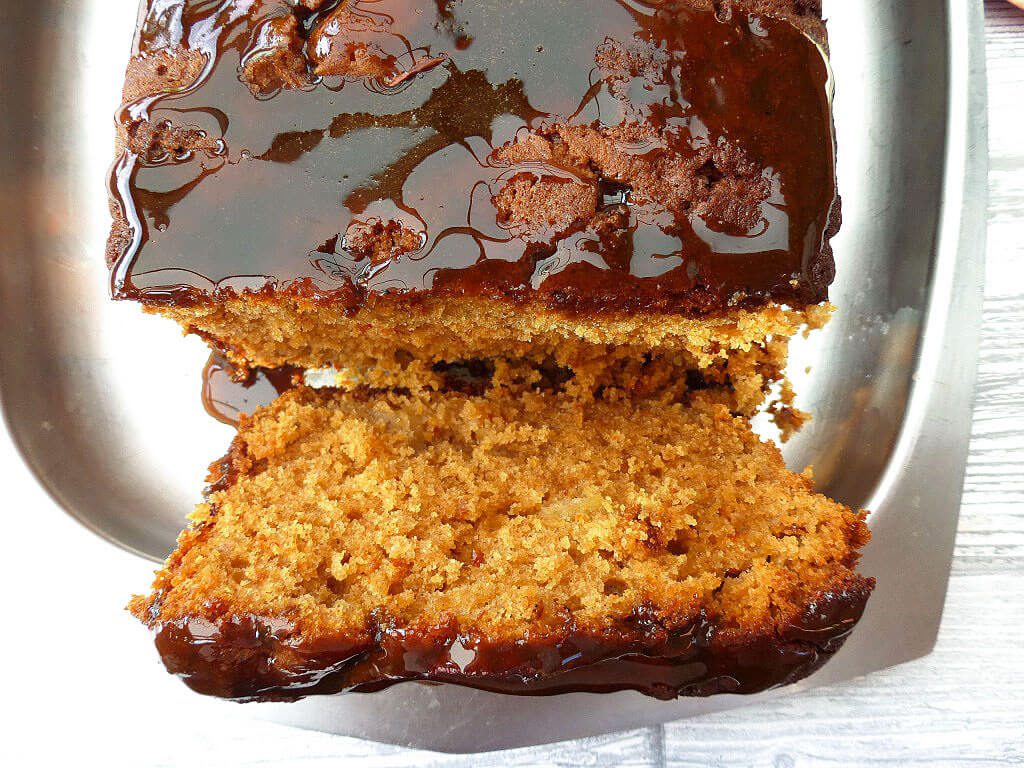 As the weather has cooled, I have been inspired by all things spiced, so this cake was just what I was craving. I also got to use up a little of the pile of apples sitting on my front step as I write.
This gingerbread loaf was divine. I mean, really. It reminded me of the Jamaica Ginger Cake I used to eat when I was a kid and the sponge was to die for.
I know I moan a lot bit about gluten free bread, but I tell you, in a cake, you often can't distinguish between gluten free and regular versions.  The only difference I did note was that the cake was a touch crumblier, especially one or two days after baking, but if being crumbly is its only fault, then I think I can live with that.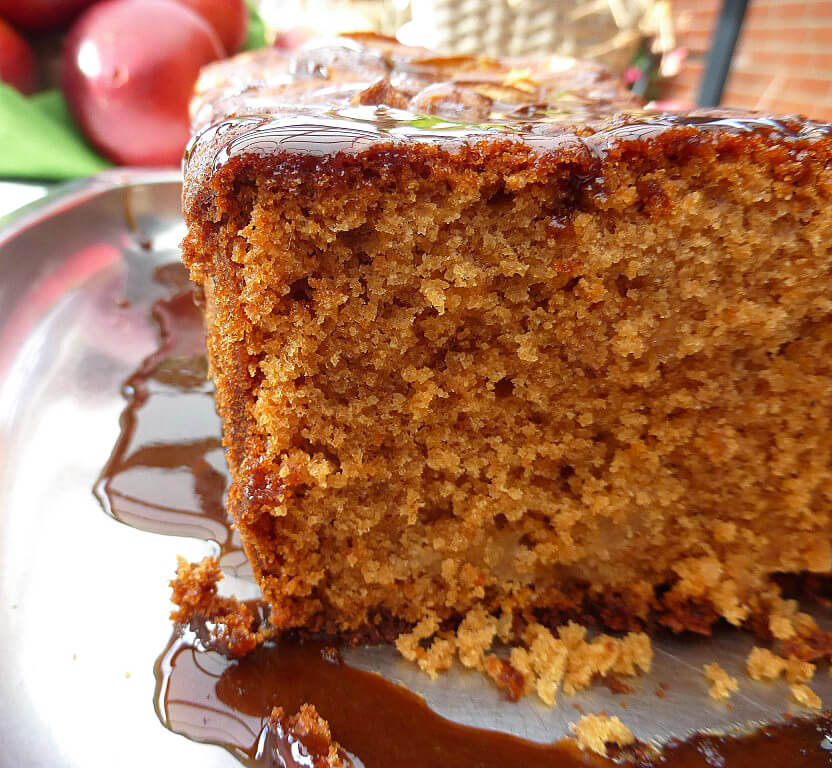 It was a good sized cake and carved into about 10 slices (some were rather larger than others. Ahem). The ton of syrup in it also makes it very sweet, so you don't need a chunk the size of Big Ben to satisfy you!
If you've never stopped by to drool over the wonderful recipes from Domestic Goddess, go now! She's amazing, and British to boot. Never a bad thing.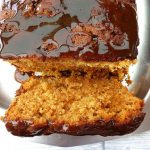 Coconut Sugar Caramel Apple Gingerbread Loaf (gluten free)
Ingredients
Cake:
1

large apple

half sliced finely, the other chopped into small pieces

100g

(7 tablespoons) butter (softened)

60g

(1/3 cup + 1 tablespoon) coconut sugar

40g

(1/4 cup) raw brown sugar

130g

(½ cup) light syrup (golden)

40g

(1/6 cup) dark syrup (or treacle)

175g

(1 + 1/4 cups) gluten free flour

1

teaspoon

baking powder

3

teaspoons

ground ginger

1

teaspoon

cinnamon

1

tablespoon

milk

pinch

of salt
Caramel Sauce:
60g

(1/3 cup + 1 tablespoon) coconut sugar

1

tablespoon

honey

1½

tablespoons

milk
Instructions
Pre-heat the oven to 170ºC (325ºF) and line or grease a fairly small loaf tin (mine was 9 x 5 inches). I use ready made tin liners (if you are in the UK, the Jane Asher ones from Poundland are fabulous).

Beat the butter together with the sugars and syrups (I found it easier to use my food processor). Work until the mixture is light and fluffy.

In a separate bowl, sift the flour, baking powder, ginger and cinnamon and gradually add to the wet ingredients. Finally, add the milk.

Add the chopped apples and just quickly work through the mixture. Pour into the prepared pan and level off. Take the remaining sliced apples and gently place in a line down the middle.

Bake for around 75 minutes, until an inserted skewer comes out clean (you may need to cover the top with foil if it is browning too much). Remove from the oven and allow to cool for a while before turning out of the tin. Leave on a wire rack to cool further.

For the caramel: heat the three ingredients together in a small pan. Wait until it reaches a rolling boil, then turn down the heat a little and stir continuously for 2-3 minutes. You just want to melt the sugar - if you cook it too long, it will go very hard, very quickly (think stringy hard candy). Remove from the heat and allow to cool for ten minutes.

Pour over the cake, smoothing some down over the sides. Cut into slices and serve with a nice cup of coffee or tea! Enjoy!