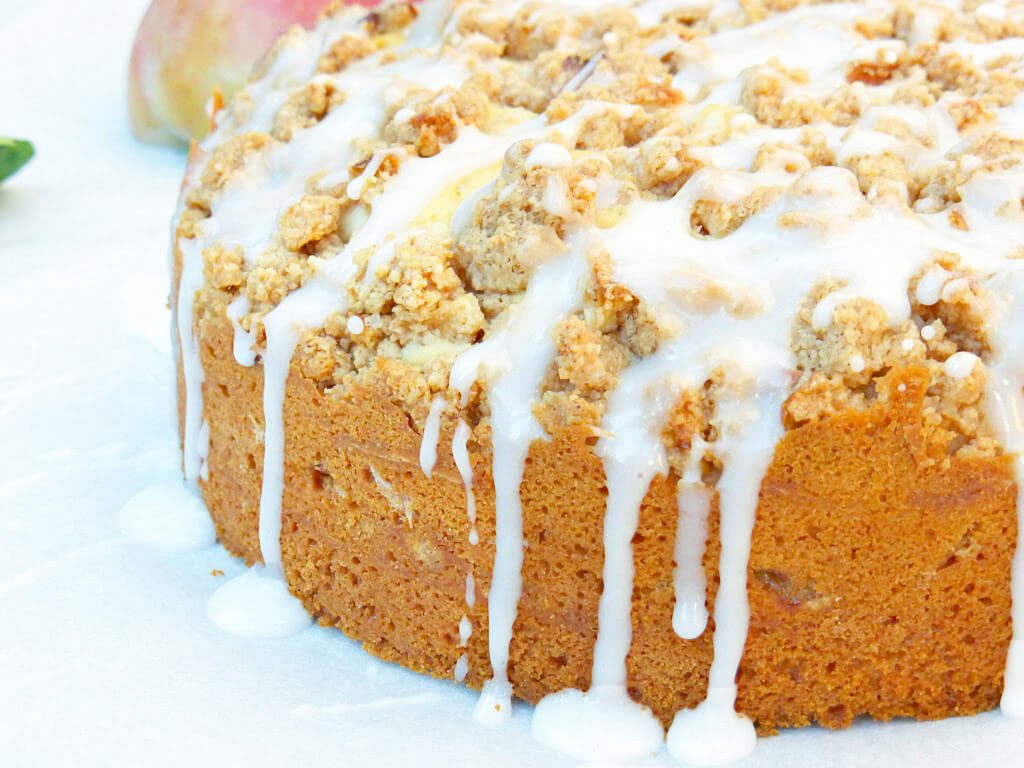 Although autumn is undoubtedly one of the prettiest seasons, it is one of my least favourite. That's why I needed this cinnamon apple streusel cake. Like really needed it.
I don't like autumn (she says, sticking out her bottom lip petulantly) because I love summer and its light nights. When darkness closes in early and the weather cools, it always feels like the end of something.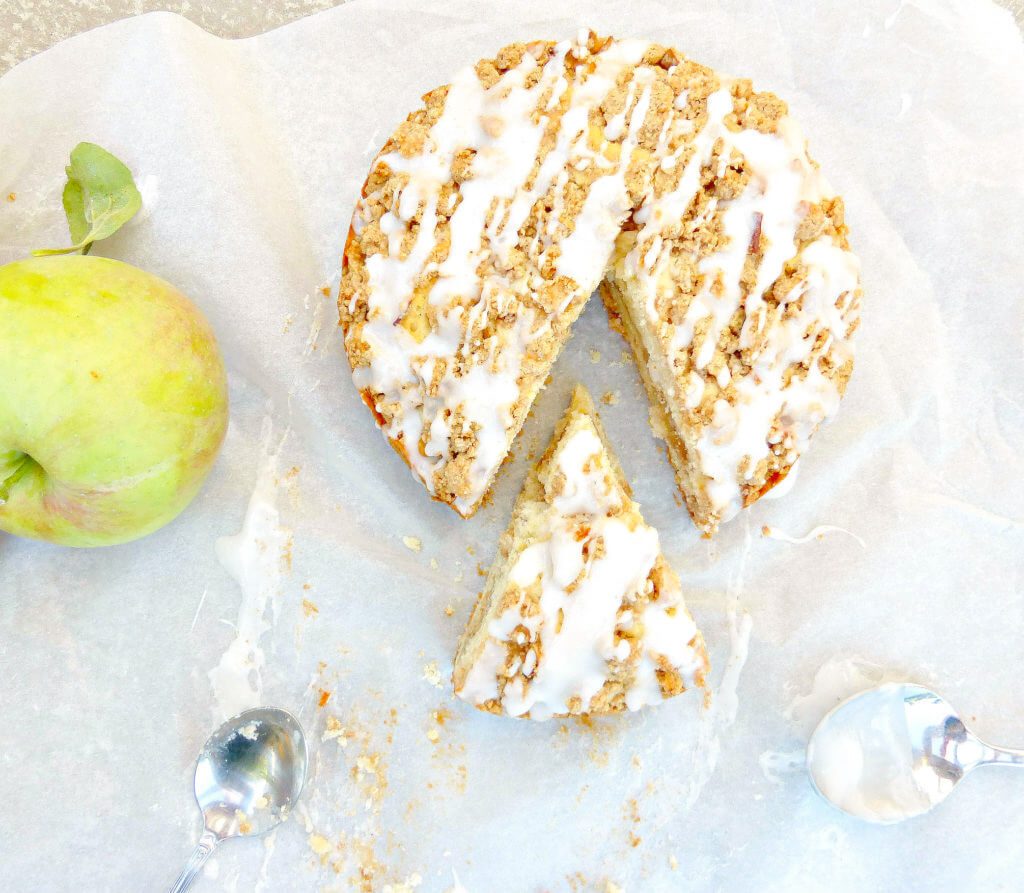 For some reason, it has been even harder to let go of the summer this year. The weather was amazingly good, and I was lucky enough to be able to spend the ten week-long summer holiday with my kids – I loved just hanging out with them, and the relaxed laziness of it all.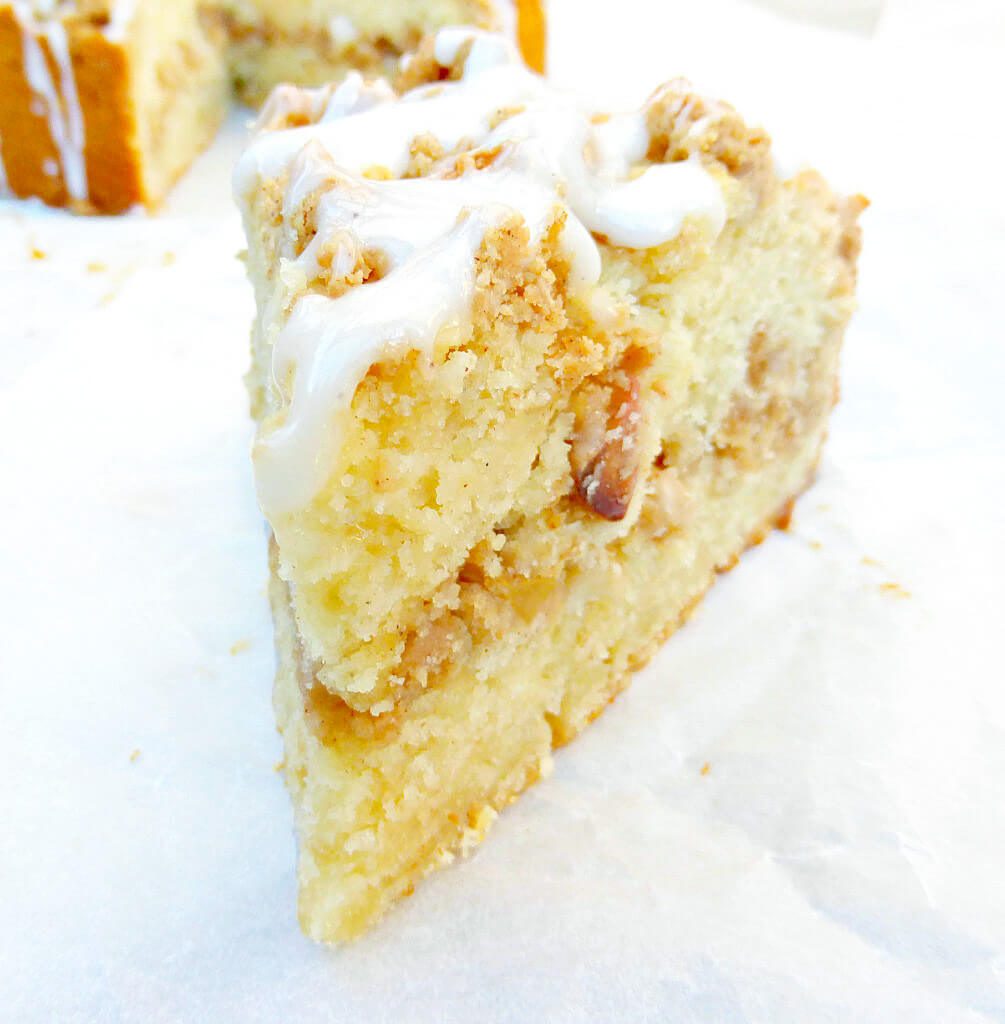 However, one thing I do enjoy when autumn arrives is how the food turns all comfort-like, when we use spices like cinnamon and nutmeg, and make the most of the abundance of apples.
We have an apple tree which has produced a tremendous amount of fruit this year, so I am always looking for ways to make the most of it like baked apples with homemade caramel, baked apples with homemade caramel and caramel sugar ginger apple cake.
Enter this gorgeous apple streusel cake which is gluten free, has reduced sugar (only raw brown sugar) and less fat. The cake is dense but moist and the crunchy streusel makes a delicious contrast to the Greek yoghurt drizzle.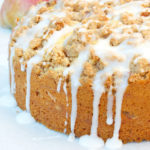 Cinnamon Apple Streusel Cake with a Greek Yoghurt Drizzle (Gluten Free)
Ingredients
Streusel Topping:
90g

(2/3 cup) oat flour

45g

(1/4 cup) brown sugar

1

teaspoon

cinnamon

1/4

teaspoon

nutmeg

1/2

teaspoon

vanilla sugar

50g

(1/4 cup) butter

1

small apple
Cake:
60g

(1/4 cup) butter

25g

(2 tablespoons) brown sugar

1

egg

130ml

(1/2 cup) crème fraiche (or sour cream)

170g

(1½ cups) gluten free self-raising flour (I used Doves Farm)

1

teaspoon

vanilla sugar

2

tablespoons

milk
Drizzle:
1

tablespoon

Greek yoghurt

50-150g

(1/2 to 1½ cups) icing sugar
Instructions
Prepare the streusel: chop the apple finely and melt the butter. Mix the brown sugar, oat flour, cinnamon, nutmeg, apple, and vanilla sugar in a bowl, then add in the butter. Stir until well combined then set to one side.

For the cake: pre-heat the oven to 175°C (350°F) and prepare a small springform pan (mine was 18cm/6 inch). In a processor, cream the butter and sugar together and then add in the egg and continue to mix just until the egg is well incorporated. Add the crème fraiche, mix, and then lastly, add the flour and vanilla sugar. Process until everything is nice and smooth. Lastly, add in the milk one tablespoon at a time.

Pour half of the batter into the prepared tin and sprinkle half of the streusel mixture over the top. Top with the remaining batter and then the remaining streusel.

Bake for around 40-45 minutes, until an inserted skewer comes out clean. Remove from the oven and allow to cool completely.

For the drizzle: combine the Greek yoghurt with as much icing sugar needed to make a runny, but thick, drizzle. Remove the sides of the springform and then drizzle icing over the cake. Cut into slices and enjoy!