Although this chocolate overload layer cake might look pretty, it caused me a more than a few hair-raising moments along the way.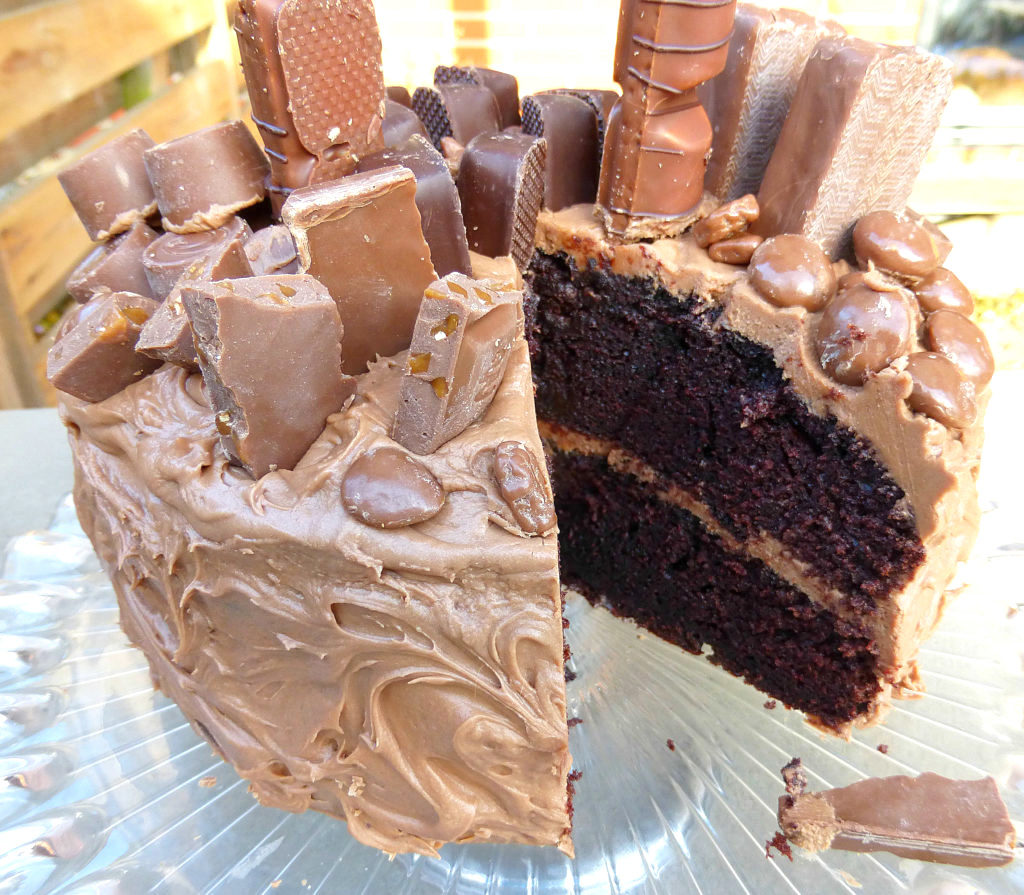 And this one had to be good because it was my 12 year old son's birthday cake. Why is it that when something is important, everything goes wrong, especially when you're baking for guests – no wonder my hair is rapidly turning grey.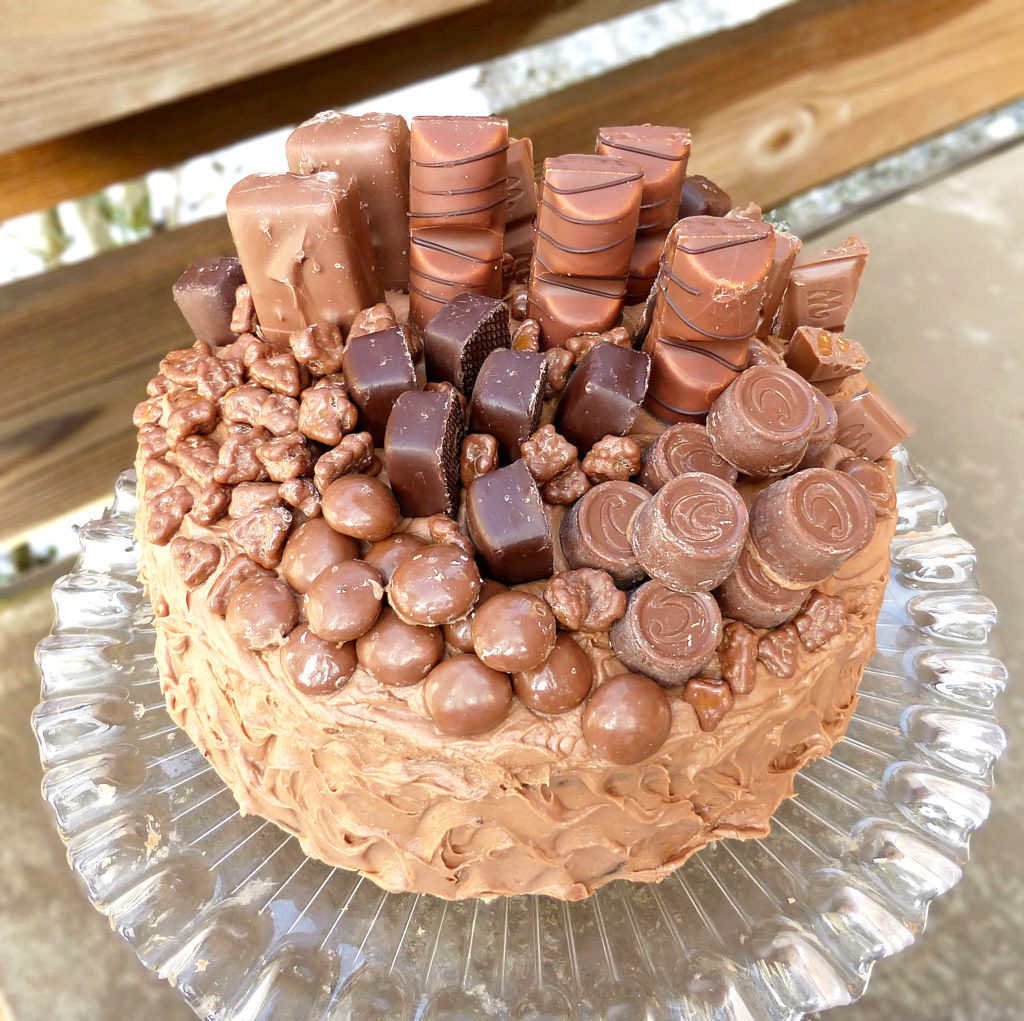 So, what was all the fuss about, I hear you ask? Well, firstly, the cake itself. Remember I mentioned about being eternally on the hunt for the perfect chocolate cake when I made my fudge cake? Well, as good as that cake was, I don't think I will ever stop experimenting with other people's chocolate cakes.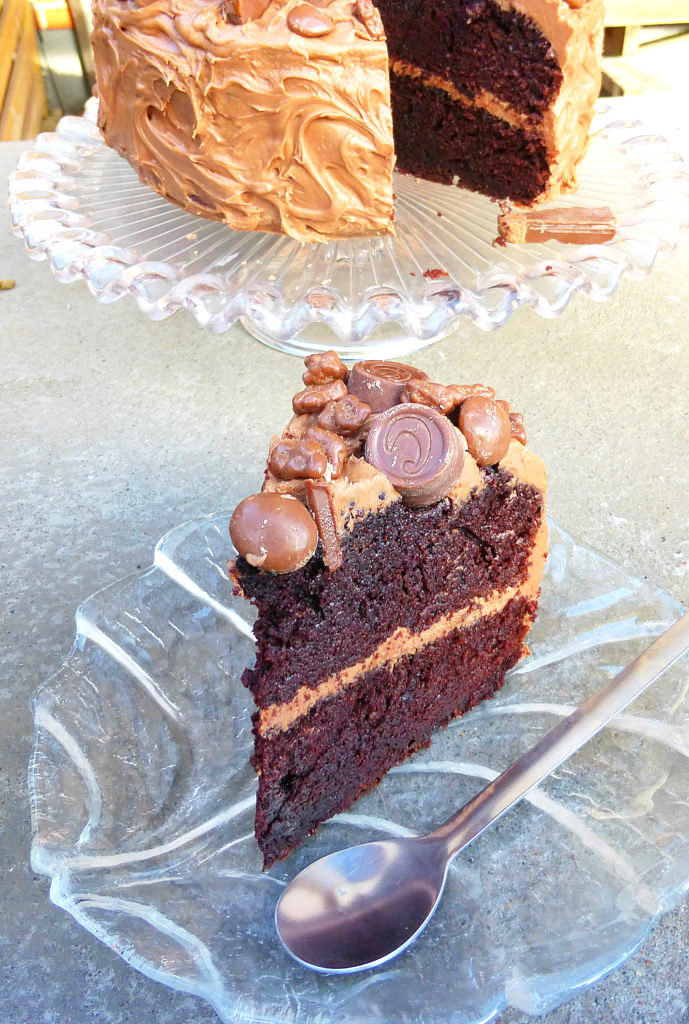 So, with my boy's big day looming, I was poring over Pinterest and came across a mint chocolate cake from Sweetest Menu with a really dark sponge you could almost taste just by looking at it. The recipe intrigued me, too – oil instead of butter and hot water added right at the end just before baking.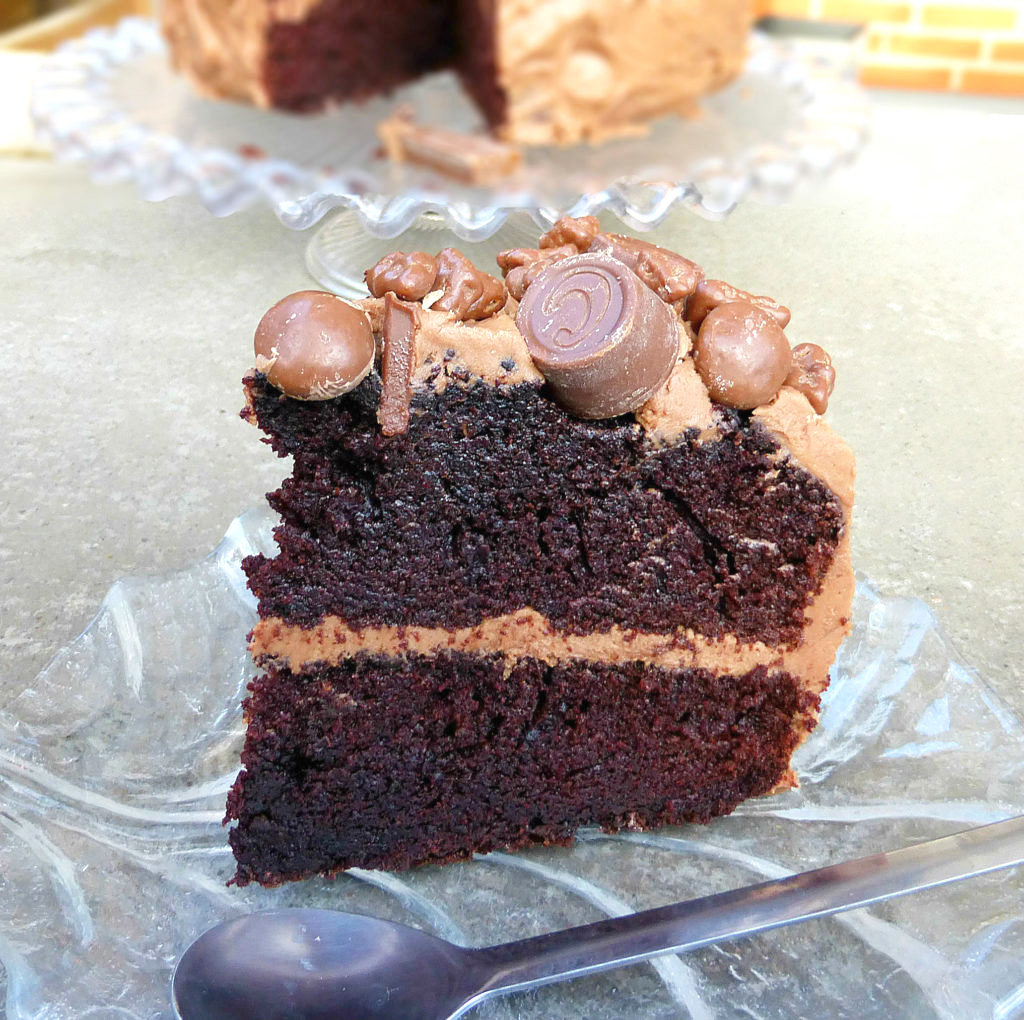 Up for a challenge, I set to work with my eight year old (who all of a sudden wants to help me bake – how cool is that?). All fine and dandy until adding the water, when it looked so wrong that I seriously doubted it was going to work.
I also realised at the last minute that I hadn't added the coffee (I always use coffee in chocolate cakes, and was going to add it into the hot water). So, with a heavy heart, I shoved the pans into the oven not expecting a great deal.
How wrong can a girl be? The sponge has to be one of the best I've ever had – it was a beautiful rich, dark colour, was incredibly moist, and tasted amazing.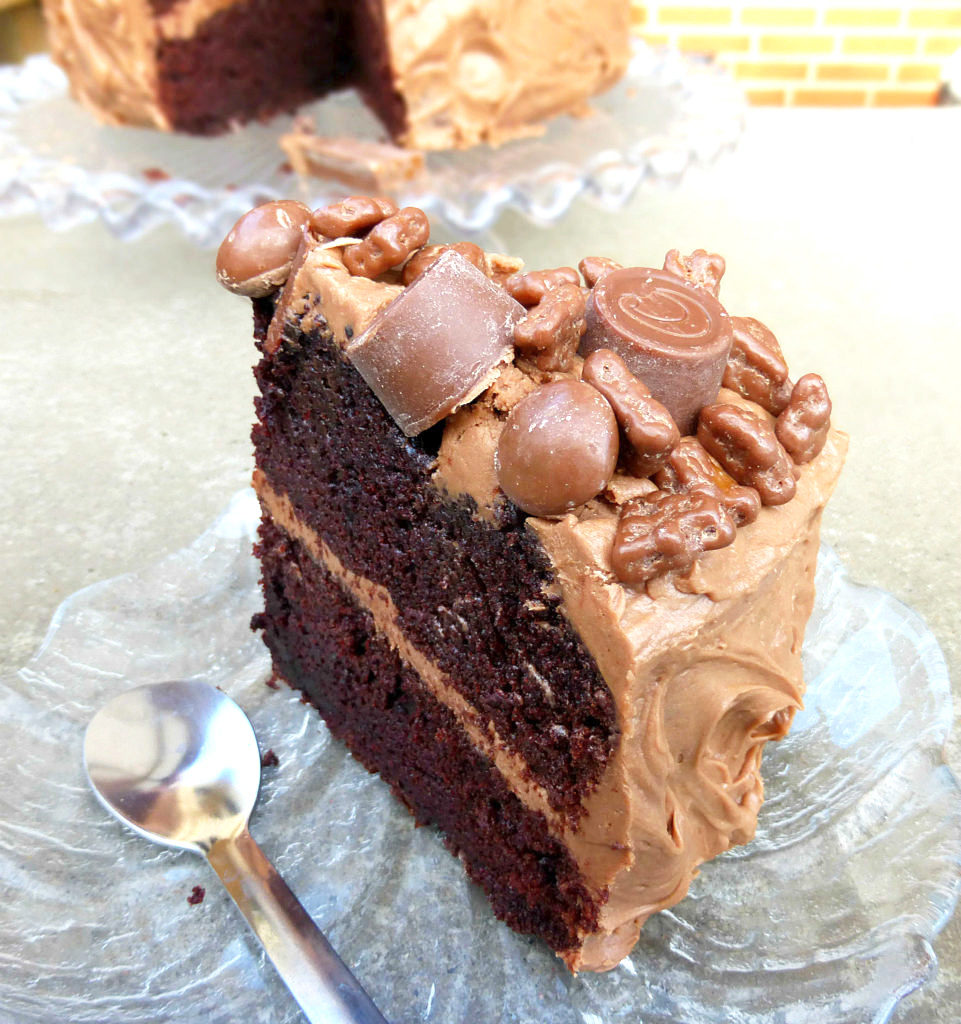 Then, there was the frosting. First the good news: I decided on a Nutella cream cheese frosting, and I tell you something, I don't think I ever want to go back to fudge! Dee-vine! The bad news:  I wanted to make a "naked" cake, where there is just a hint of frosting, topped with a drip ganache.
Well, the drip idea went out of the window when I couldn't make the top part of the cake anywhere near flat (I know you are supposed to cut the whole top bit off but who in their right mind wastes cake. Come on). The end result would have been more torrential downpour than drip.
So, I settled for just the naked look, only I just couldn't get it to look right at all. Absolutely dejected, I ended up going for a thick coating of frosting with a swirly pattern instead. After spending hours decorating the cake and still not satisfied, I finally left it alone and slunk off up to bed.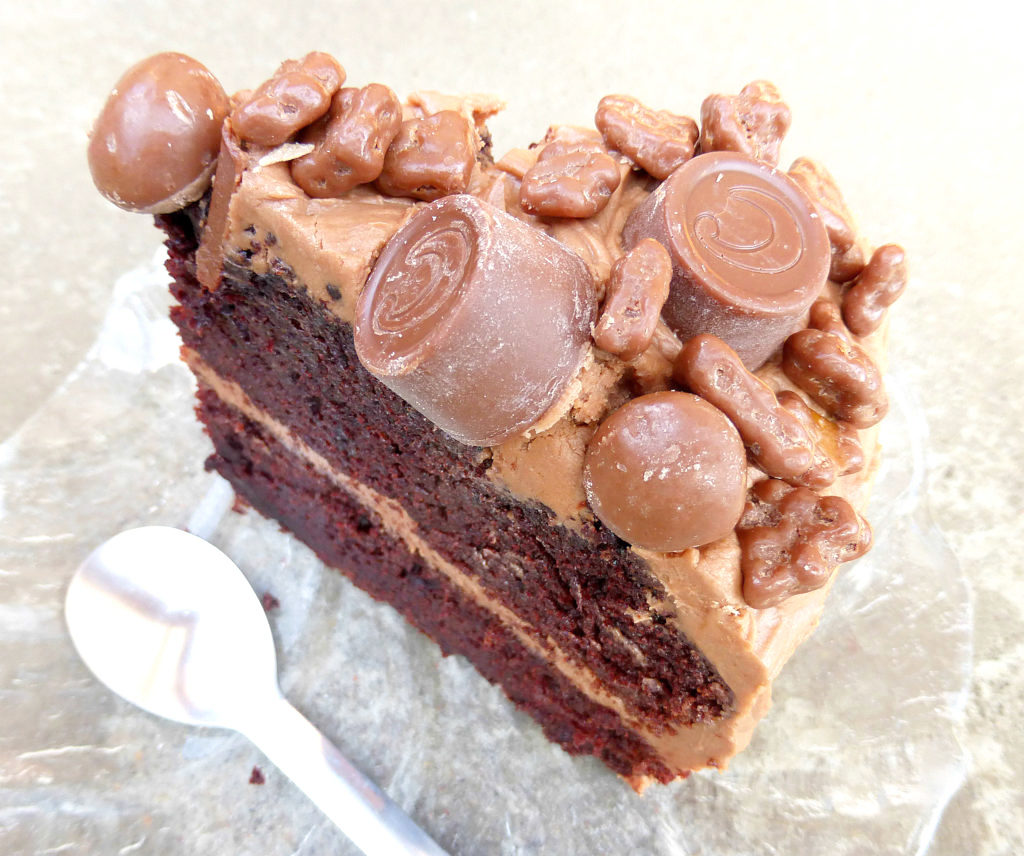 However, on looking at the cake the following morning with fresh eyes, I was actually pleasantly surprised.
I am sure you don't need me to tell you that this is not a healthy cake. The amount of chocolate precariously balanced on top of it is frankly obscene, let's be real here. But you know what? That's how my newly 12 year old wanted it to be, and so I have no regrets. And if you make this for someone you love – you won't either!
This is a huge cake and will provide 10-14 slices, depending on how large they are.
Chocolate Overload Cake with a Nutella Cream Cheese Frosting
---
Ingredients
Cake:

2 cups (280g) plain (all-purpose) flour
2 teaspoons vanilla sugar (see notes)
1 cup (80g) cocoa powder
1 teaspoon baking powder
1½ teaspoons baking soda
1½ cups (300g) white sugar
1/2 cup (90g) brown sugar
1 cup (250ml) milk (see notes)
3/4 cup (180ml) vegetable oil
3 large eggs
1 cup (250ml) hot water (see notes)

Frosting:

2/3 cup (150g) butter
Just under 1 cup (200g) cream cheese
2/3 cup (200g) Nutella or equivalent
2 cups (250g) icing sugar

NOTES

The original recipe called for buttermilk but I only had 2% milk.
I use vanilla sugar - please see this helpful advice for converting to essence or extract.
The original recipe calls for hot water, but I'd planned to add one tablespoon of instant coffee - I would recommend adding it as it intensifies the chocolate flavour.
Directions
~ Pre-heat the oven to 180°C (230°F) and line or grease two 8 inch pans.
~ In a large bowl, sift the flour, vanilla sugar, cocoa, baking powder and baking soda. Stir in the white and brown sugar.
~ In a separate bowl, whisk the milk, oil and eggs until well combined.
~ Add the wet ingredients to the dry and fold together. Slowly add the hot water (it should be recently boiled) and stir until everything comes together. Don't overmix, there will still be a few lumps left in the batter (also note that the batter is supposed to be runny, so don't panic!).
~ Divide between the two prepared pans as equally as you can and then bake side by side for around 30-35 minutes. The cakes are ready when they bounce back when gently pushed on the top, and an inserted skewer comes out clean.
~ Remove from the oven and leave the cakes in the pans for around 15 minutes before turning out onto a wire rack to cool completely.
~ In the meantime, prepare the frosting: Beat the butter and cream cheese together until light and smooth, then add the Nutella. Finally add as much icing sugar as is needed to achieve a thick frosting consistency.
~ To assemble the cake: Carefully slice off the tops of both cakes (if they are uneven). On the flat side of one of the cakes, smooth over some of the frosting (enough to give a nice coverage). Place the other cake on top and gently push down.
~ Crumb coat the cake (I am not an expert, so if you are unsure what this involves, here is a handy tutorial).
~ Leave the crumb coat to harden (about 20 minutes in the fridge) and then add a second thin layer of frosting, using it to cover any imperfections or holes, especially between the two cakes. Again, leave it to set a while. Finally, add the last, thick layer of frosting all over the cake, and finish off by using a small palette knife to make swirly shapes.
~ Pile any chocolate or candy you like on top. Add this while the frosting is still soft and not set. Leave in the fridge for a while for the frosting to harden completely (I left mine overnight). Cut into slices and serve. Enjoy!
7.8.1.2
26
https://www.theculinaryjumble.com/chocolate-overload-layer-cake-with-nutella-cream-cheese-frosting/