As darkness descends on Saturday (5th November), you will find most Brits standing outside in the freezing cold, staring at a burning fire, waving a sparkler intermittently, and perhaps even letting off a few crazily expensive fireworks. Bonfire night, it's called, and it is a popular celebration in the UK.
Cinder toffee is something we traditionally eat on Bonfire Night (sometimes referred to as Guy Fawkes night) but you can eat it all year round. I've made versions of it before, but never included a slathering of chocolate, so when I spied this recipe from one of my favourite blogging friends, Gemma from Life is Knutts, I knew some of these babies had to be mine.
One of my favourite sweets (candy) is Cadbury's Crunchie, but we can't get it here in Sweden. No longer will I lament over this, because I tell you something, I don't think you could come any closer to the real thing than this recipe. What's more, you can make it for a fraction of the cost and know exactly what's gone in to it.
What's even better is that it takes only a few minutes to make using just a handful of household staples. It also looks so pretty. Almost too pretty to eat. Yeah, almost. No prizes for guessing that this didn't hang around for long – it was absolutely divine, and as a team effort, we managed to gobble it up in a matter of hours. Addictive is not the word – you have been warned!
So back to my lovely pal, Gemma. If you're like me and love reading about mums who don't take themselves too seriously and readily 'fess up their parental failings, then you'll love Life is Knutts. Oh, and don't forget the gin.
Vill du ha receptet på svenska?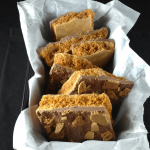 Gingerbread Chocolate Honeycomb
Ingredients
1

cup

(200g) white sugar

4

tablespoons

golden syrup

(see notes)

1/4

teaspoon

cardamom

½

teaspoon

ginger powder

pinch

ground cloves

1

teaspoon

cinnamon

1

tablespoon

bicarbonate (baking) soda

1

cup

(200g) milk chocolate
Instructions
Line an 8 x 8 tin with grease-proof/baking paper.

In a heavy bottomed pan, add the sugar and syrup and heat on a medium temperature until the sugar starts to melt.

Stir often, making sure the mixture doesn't stick, and continue to cook until it changes to a darker brown colour (this should take around 6-8 minutes but watch it carefully because it is very easy to burn). Add the spices and cook for another minute.

Remove from the heat and then quickly add the baking soda, whisking it in to the hot mixture, then pour into the prepared tin. Move fast because the sugar mixture starts to harden almost immediately.

Set to one side until it has hardened completely (about 30 minutes).

In the meantime, melt the chocolate and then pour over the hardened honeycomb. Break, crush or cut up the gingerbread and sprinkle over. Allow the chocolate to set (it doesn't need to be in the fridge unless you are in a hurry).

When ready, break or cut into shards. The pictures in this post show very large pieces for photographic purposes which were broken into smaller pieces before eating.
Recipe Notes
Golden syrup is something commonly used in the UK. Sources tell me that it is available in the US and Canada and can be found in the International aisles (Lyles is the brand). That said, any golden-coloured syrup should work in this recipe.
If you like easy to make sweet treats, check out these recipes:
Dark Chocolate Hazelnut Avocado Truffles