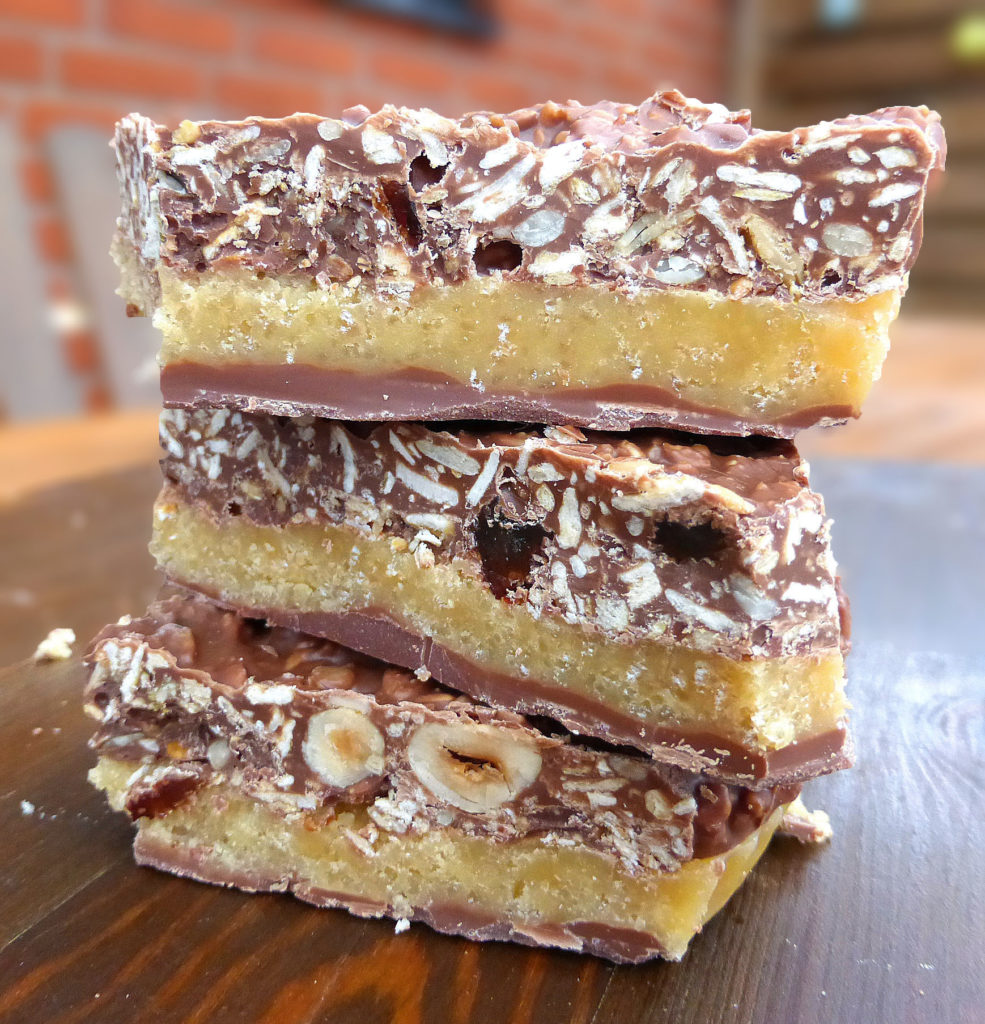 Never has naming a recipe caused me so much deliberation. Usually, the name is pretty apparent. This time though, it was hard to pinpoint exactly what this was. It's got chocolate, and is full of granola and homemade toffee. Is it a slice? A bark? A bar?
Although I consider bark something fairly thin like this fruit and nut dark chocolate version (I think the theory is it should snap like bark), I have made some pretty chunky ones in my time – there's not a lot of snapping going on with my caramel and shortbread creation, that's for sure.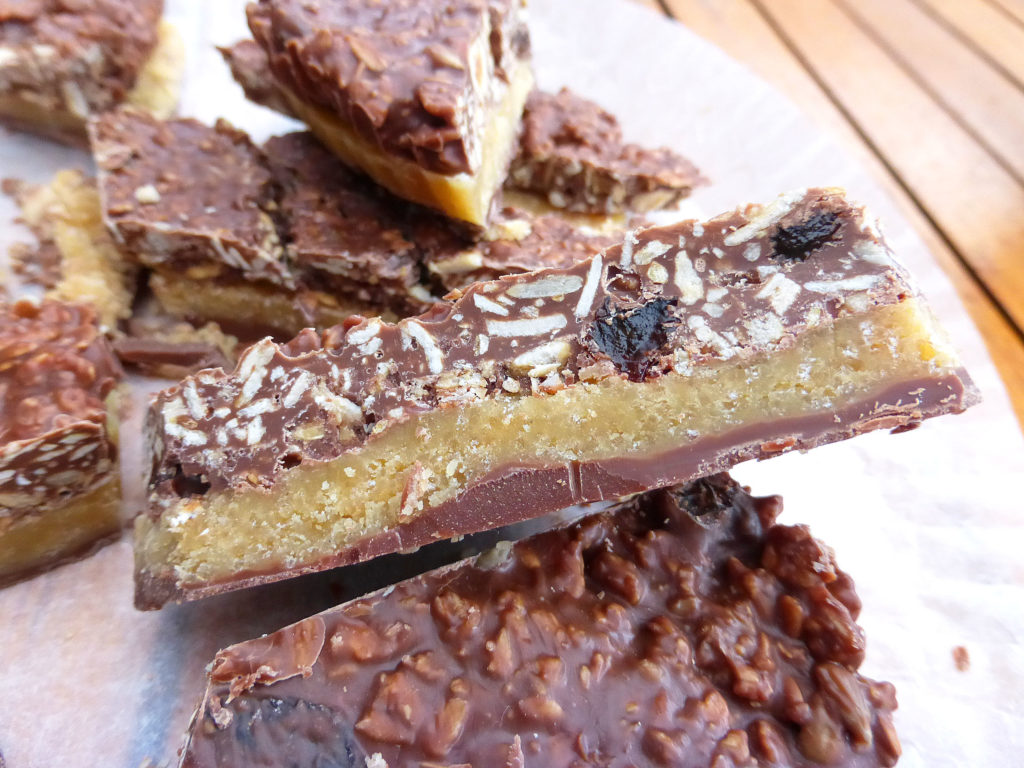 But this? This is just too chunky to be a bark. A slice? Nope, not really.
My creation had no name and no category to fit into, and so decided it was a whatchamacallit.  I was thrilled with myself for coming up with a name that fit perfectly, that is until a Google search revealed that the Americans had beaten me to it. Sigh. What about thingamajig? Perfect? Wrong! Hersheys got there first, again.
In the end, when toying with just calling it a slice and be done with it, slab came to mind. Yes, it's a slab!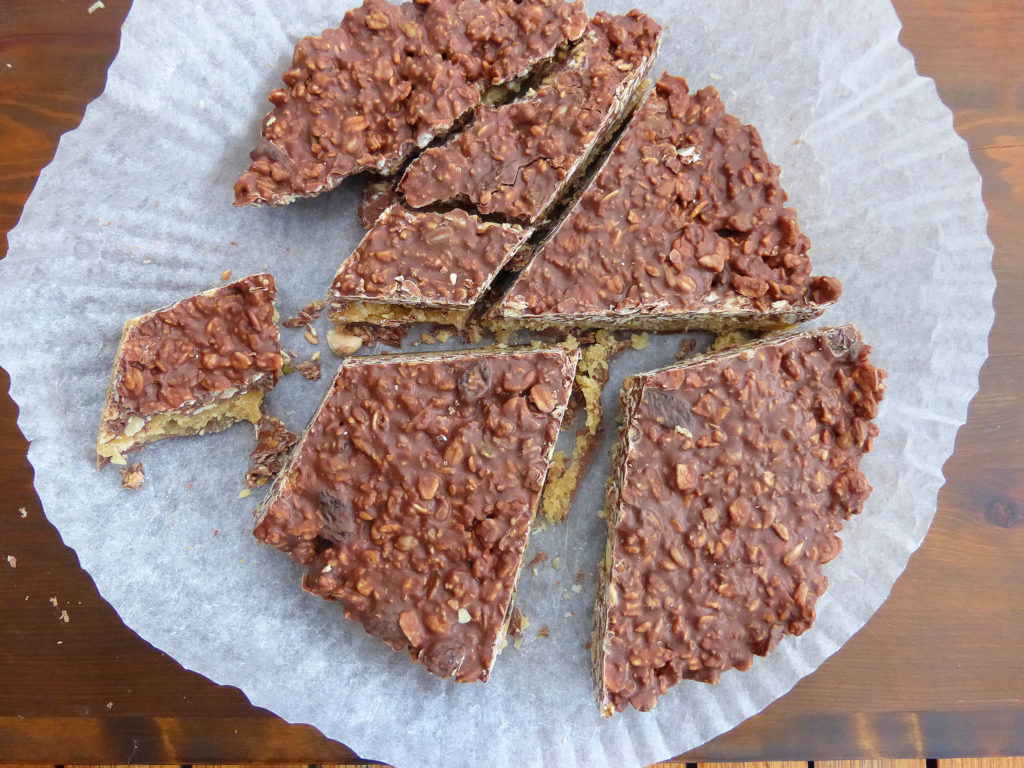 So, what's this slab all about? Well, the toffee is homemade and is melt-in-your-mouth soft. Certainly no teeth breaking, jaw aching going on here.
It has a texture that is somewhere between fudge and soft toffee and I thought this would make an amazing contrast against the chocolate and crunchy granola. But you know what? Any kind of toffee would go well, or you could even use tinned caramel if you fancy making the recipe even easier.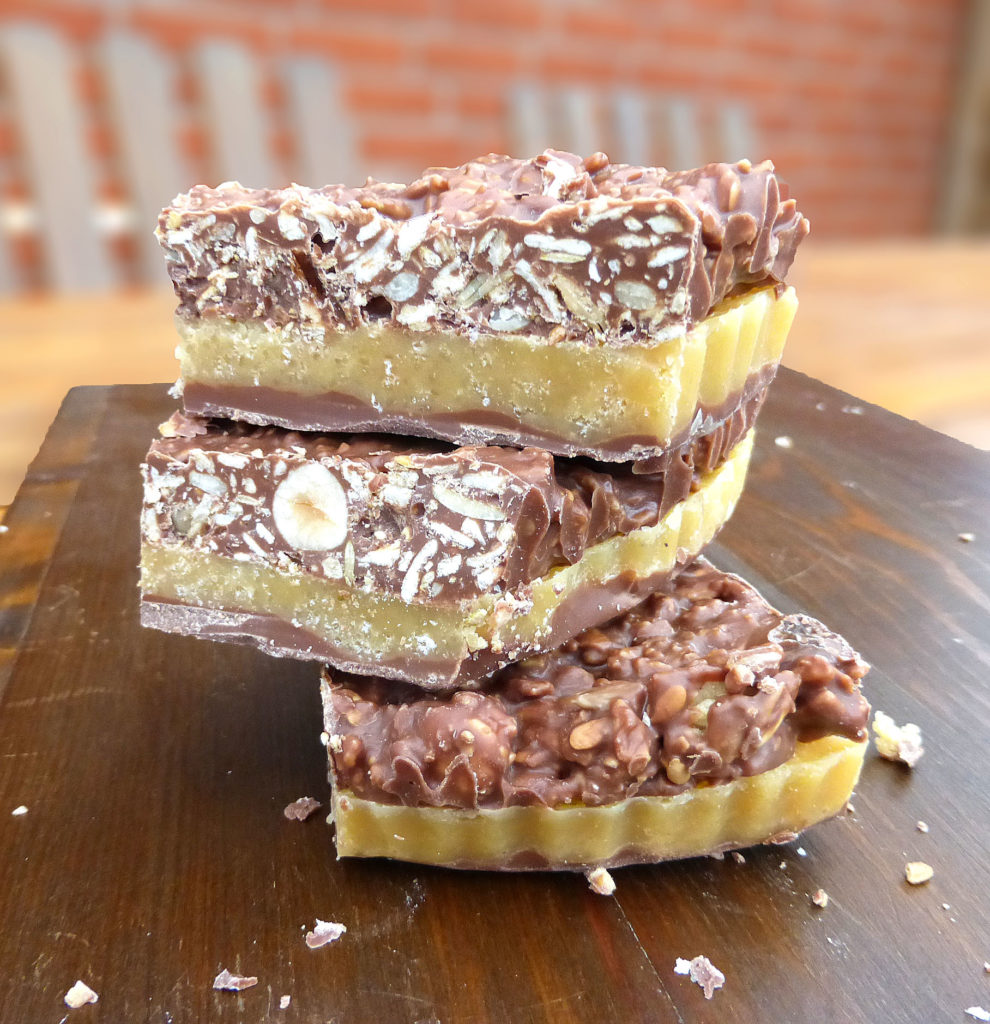 I guess some people would argue that toffee can't (or shouldn't) be very soft. But it isn't runny caramel and it isn't fudge.
I was curious as to how fudge, toffee and caramel differentiated, as the basic ingredients are the same. Toffee is usually just sugar and butter, whereas caramel and fudge often have milk or cream.
Reading up on it, the difference in texture apparently comes about due to the length of time the ingredients are cooked for, and what temperatures they reach. For hard toffee you need to really bump up the temperature, and conversely, not let it get so hot for softer toffee and fudge. Anyway, I found some really useful information about the science behind it which can explain it a lot better than I can.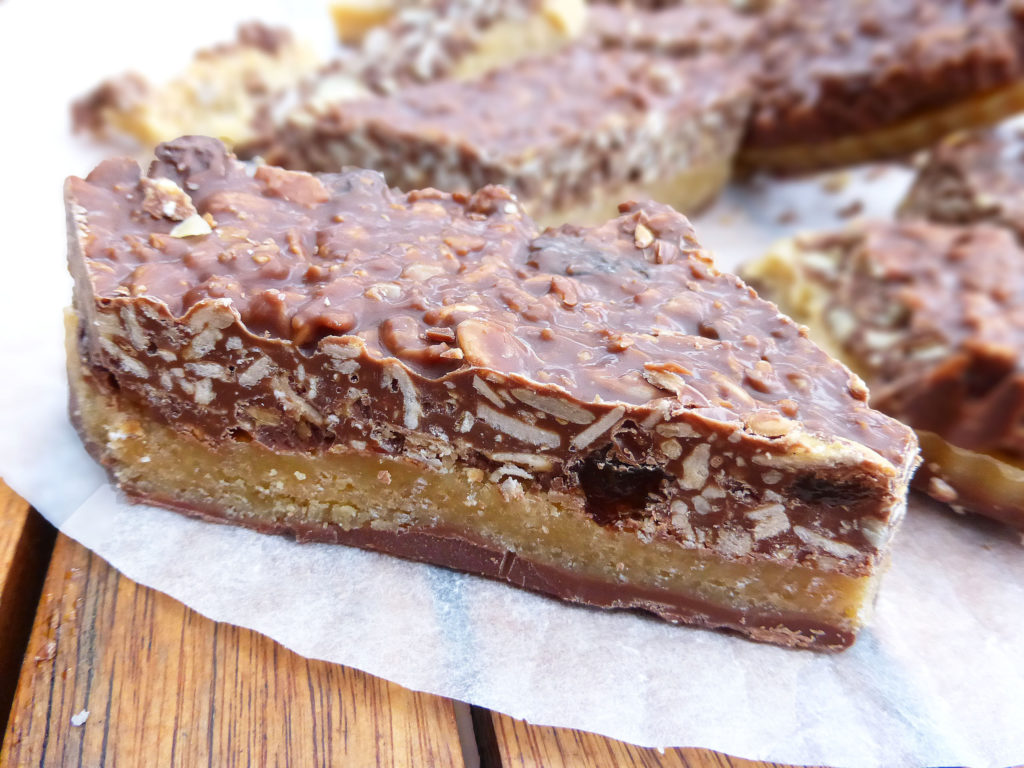 Chocolate Granola and Soft Toffee Slab
---
Ingredients
Base:

120g (1 cup) chocolate (I used milk)

Toffee:

110g (1/2 cup) butter
130g (1/2 cup) brown sugar
1/2 teaspoon vanilla sugar

Topping:

1 cup (300g) Granola - I used one with nuts and raisins
240g (2 cups) chocolate (I used milk)
Directions
~ Melt the first amount of chocolate and either spread over baking paper or in a large cake case (I used a round cake case that was 8 inches). Pop in the fridge to set.
~ In the meantime, make your toffee: in a fairly large, heavy-based pan, heat the sugar, vanilla sugar and butter together slowly and stir continuously until it starts to bubble.
~ Leave the toffee to work its magic (without stirring) until it is thick, light caramel in colour, and reaches the temperature of 235-240°F on a candy thermometer. Alternatively, use ready made caramel (dulce de leche) if you prefer.
~ When ready, pour the caramel over the hardened chocolate base and leave to firm up (it doesn't need to be completely set, just hard enough to hold the granola chocolate topping).
~ For the topping: melt the second amount of chocolate and then stir in the granola. Before spreading over the cooled toffee, dab the toffee with a paper towel, just to remove any excess oil from the butter - this helps the granola chocolate topping to adhere properly.
~ Evenly spread over the toffee and allow to set completely (I left mine overnight).
~ When ready, use a sharp knife and cut into slabs. Enjoy!
7.8.1.2
150
https://www.theculinaryjumble.com/chocolate-granola-and-soft-toffee-slab/