We all need a chocolate fudge cake in our lives. Like this simple, no fail beauty of a cake.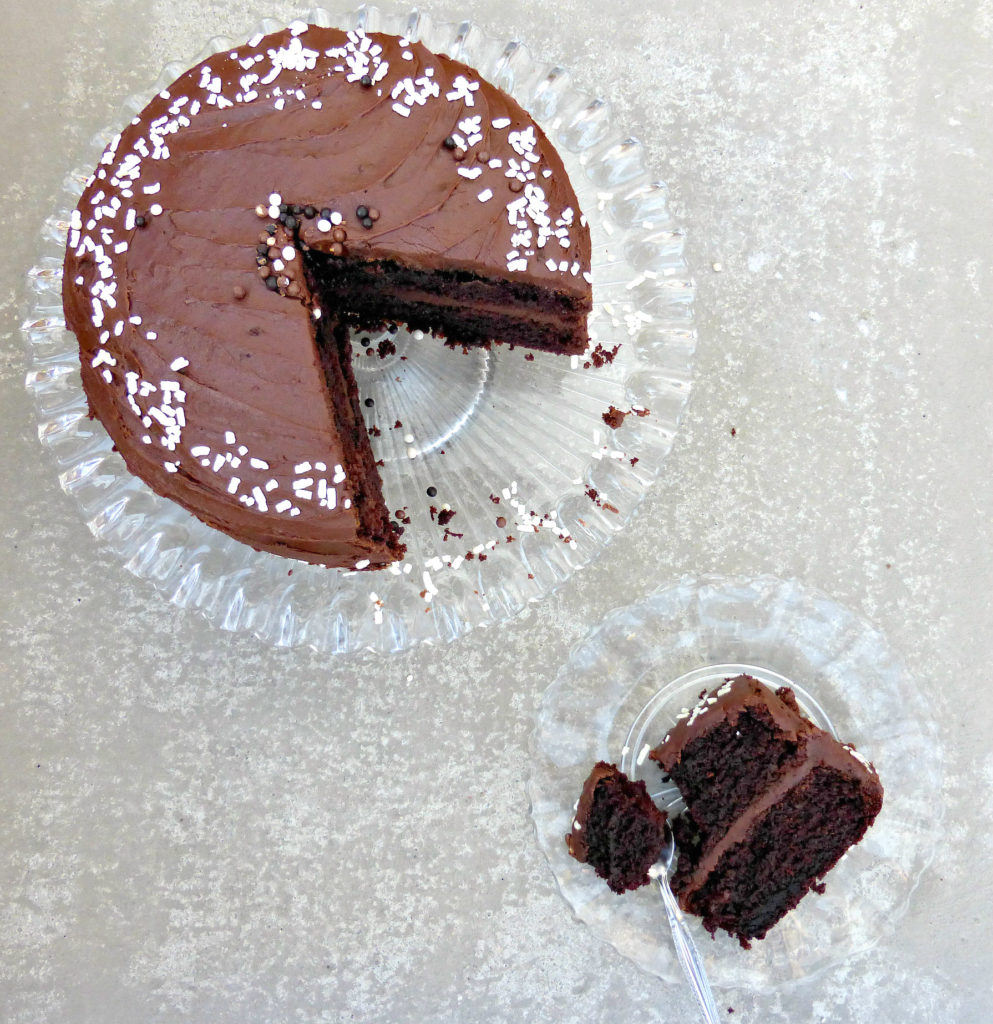 I am fully aware the titles of my recipes are rather on the long side (like this one). But you know what? I make no apologies for it. I like words, and love flowering things up a little – why use two words when you can use ten instead?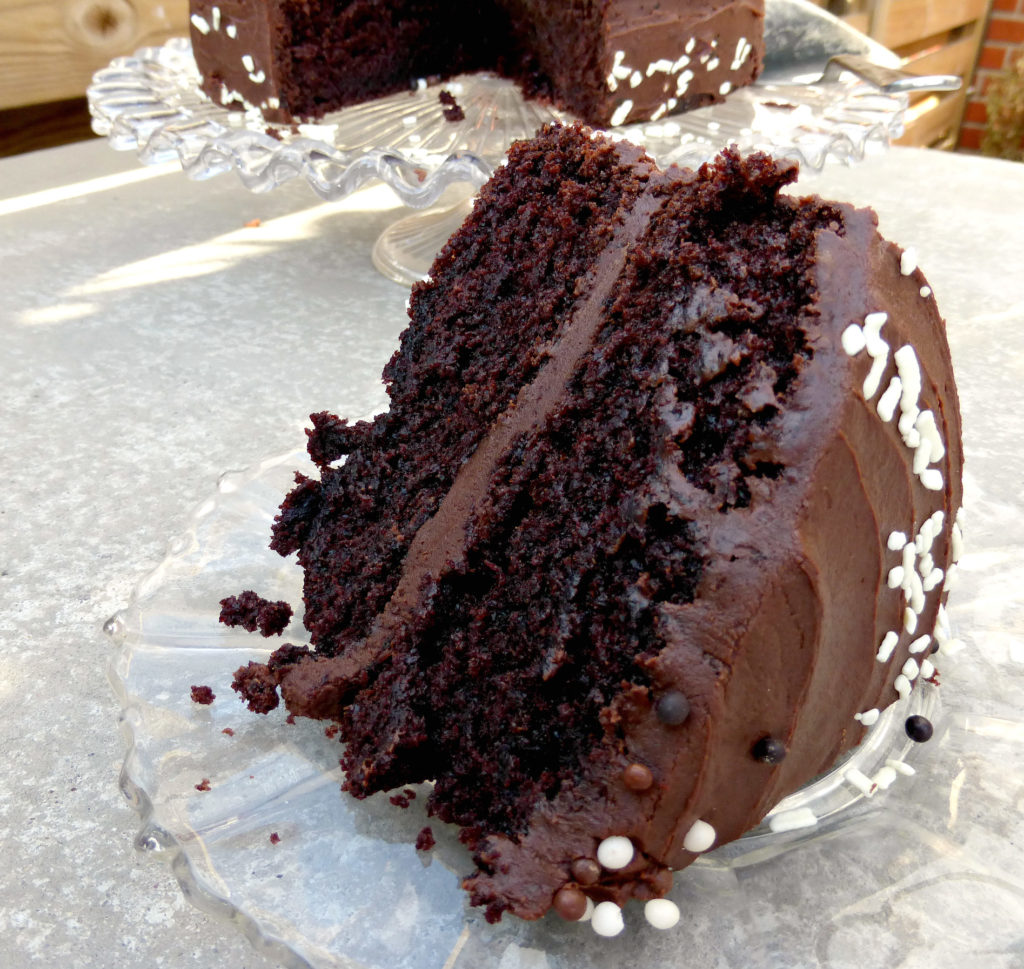 Then there is this recipe. This recipe doesn't need pages of description. Three little words are all that suffice: chocolate fudge cake. The same three words that have the power to send my nine year old into a rapturous state of excitement (and let's face it, me along with him).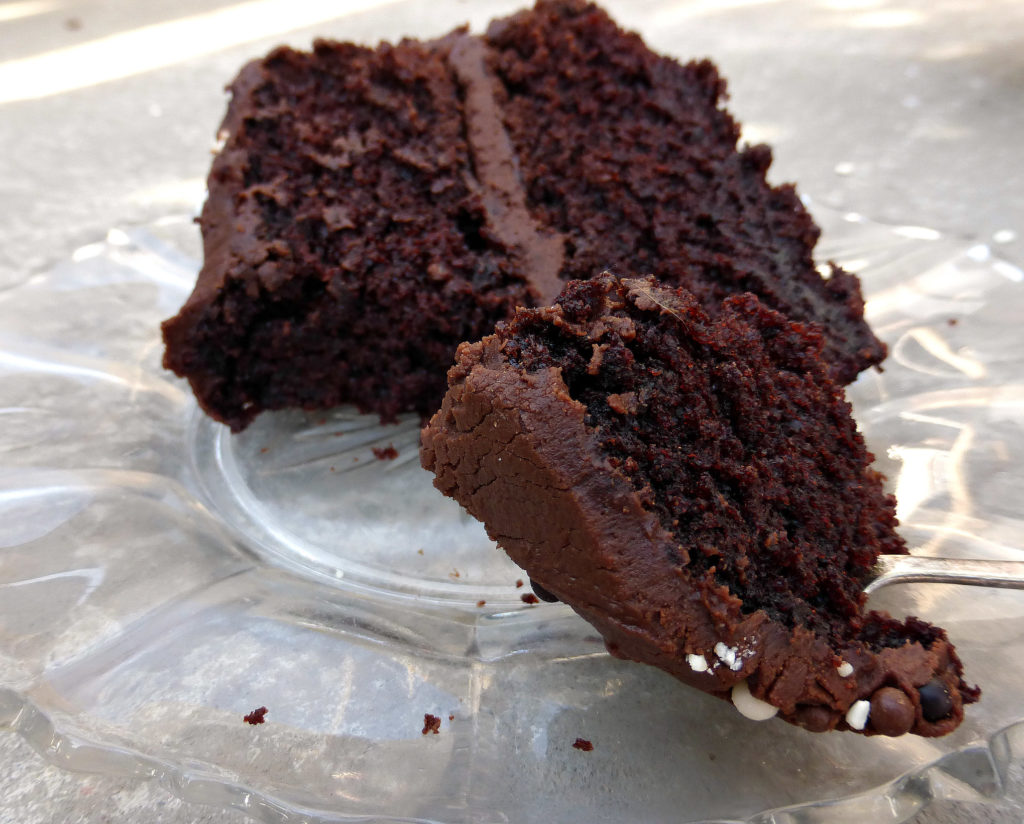 I often seek out my kids for inspiration and ask them what they'd like me to bake. When I do, baby boy (I know he's nine, but he will always be my baby) predictably shouts out "chocolate fudge cake" every time.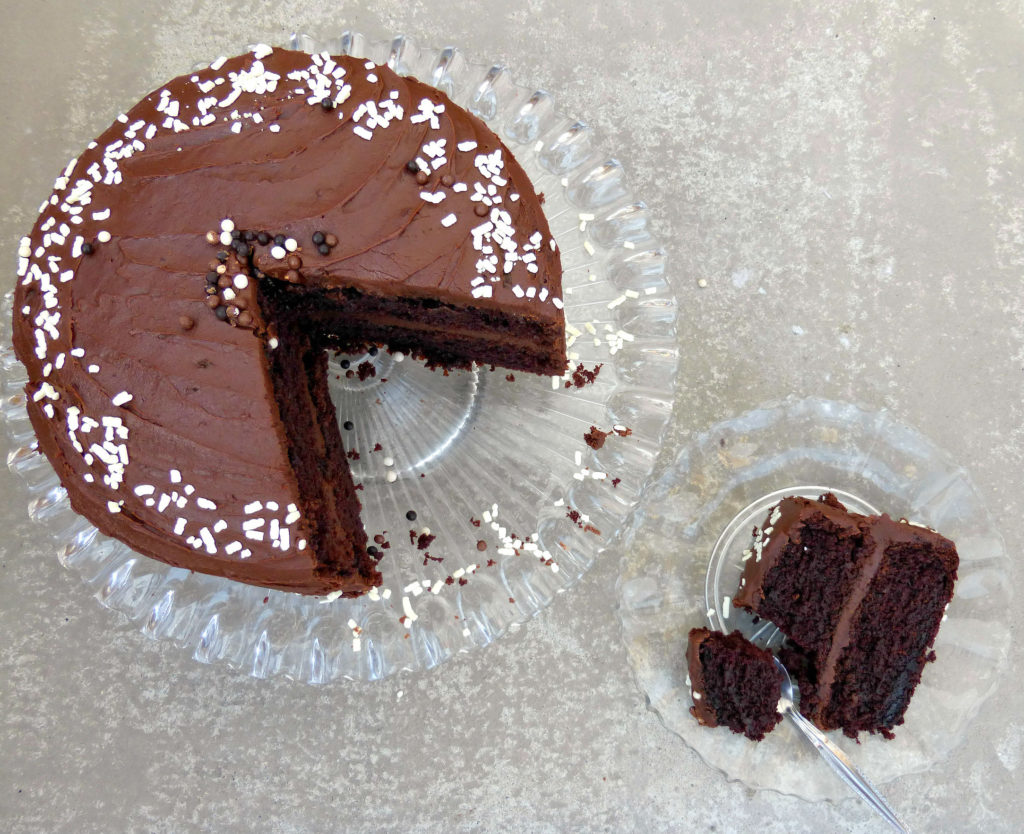 Because of our love for the sacred fudge cake, I've made innumerous different versions over the years, but never been totally satisfied with the frosting or the cake, or both.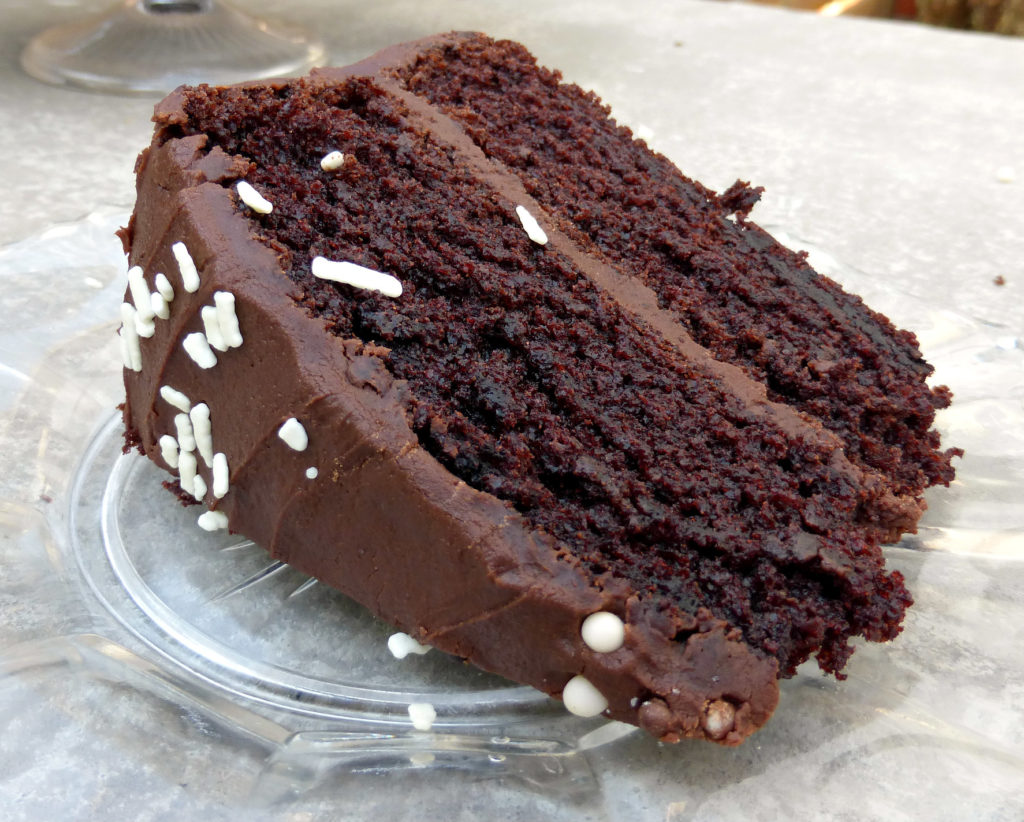 The hunt for the perfect specimen lead me to this beautiful version by Simply Delicious. I usually prefer to come up with my own ideas, or tweak recipes beyond all recognition making them my own, but this one I followed pretty closely (although I did make some amendments).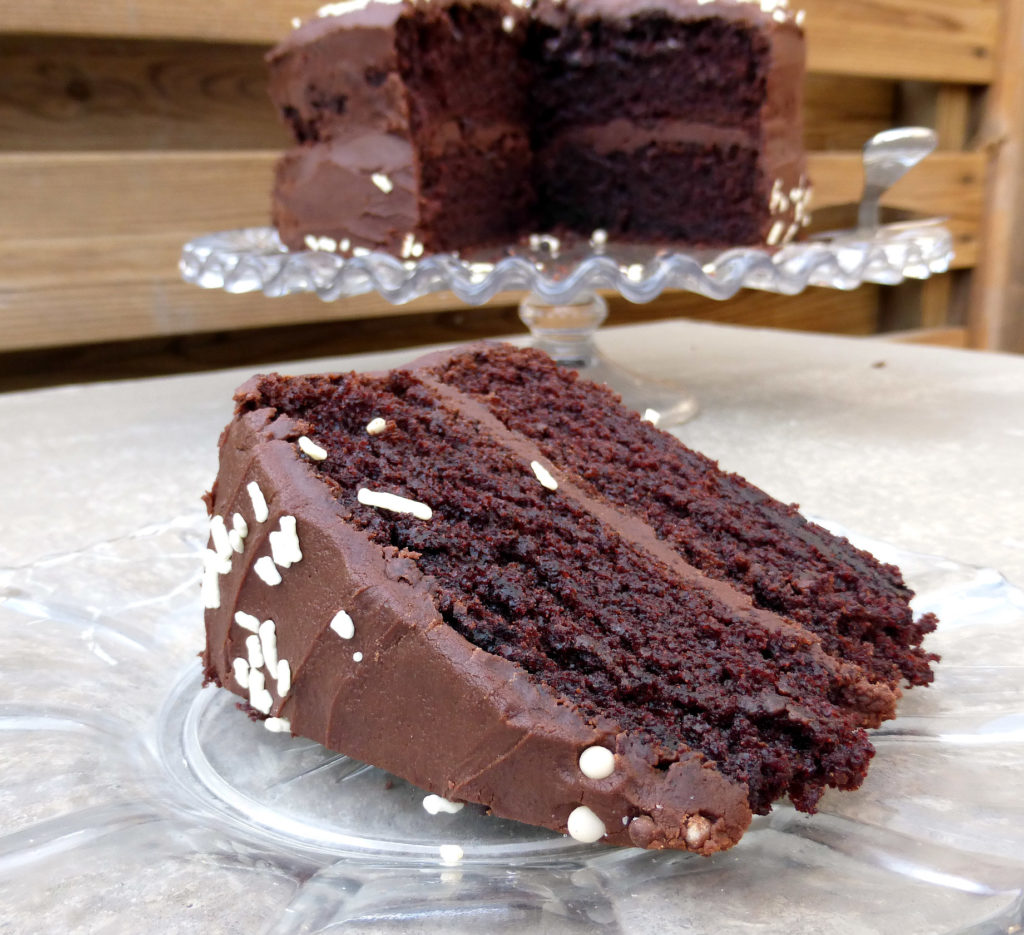 This cake is fudgy and delicious. It is very sweet, with a ton of sugar, so definitely a special occasion cake. I was worried about altering the sugar, so left it as it was, but would definitely consider reducing the amount next time.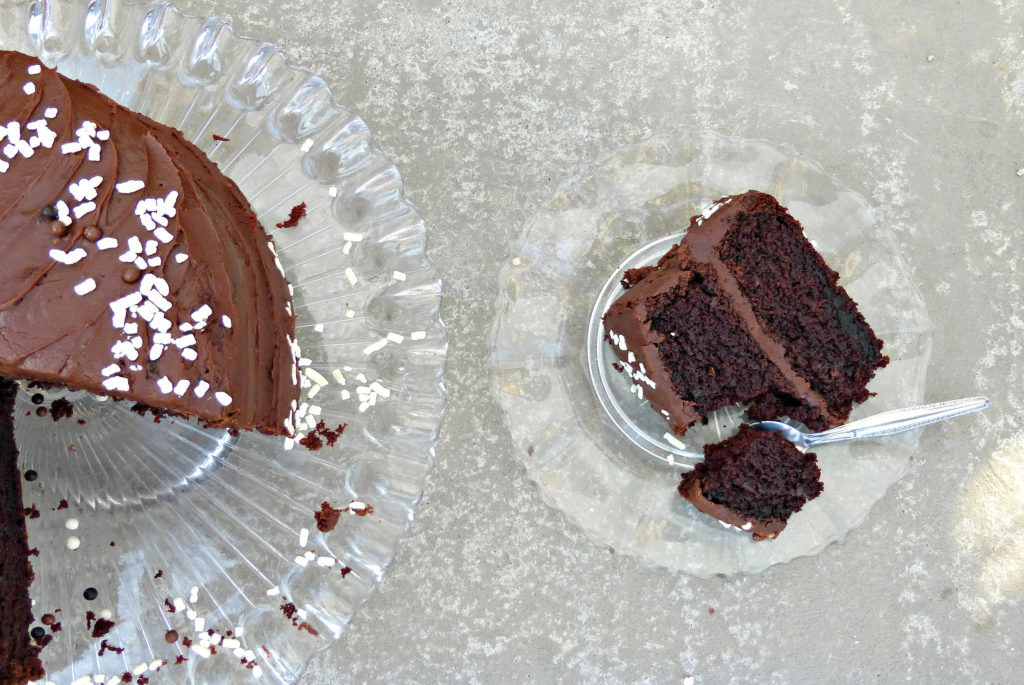 The cake is subtly flavoured with coffee. So many people turn their nose up at using coffee in baking, but it magically enhances the flavour of chocolate.
Don't take my word for it – next time you make a chocolate cake, just add a touch of coffee, and see for yourself!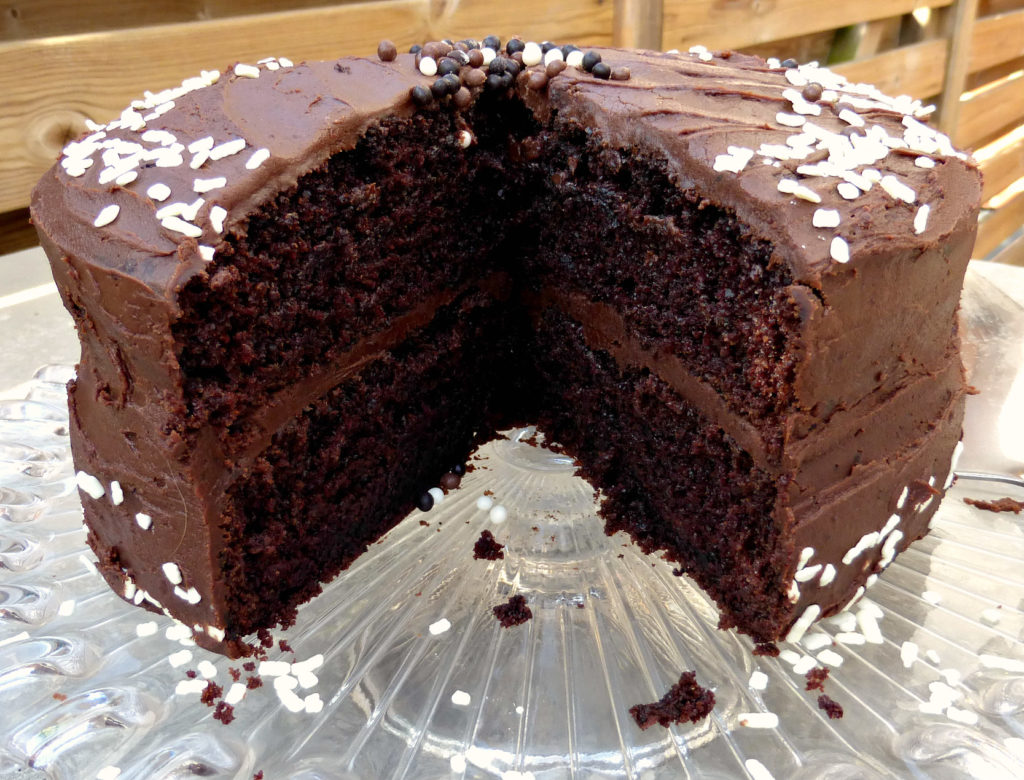 So, have I finally found the perfect fudge cake? Well, the jury (my kids) was unanimous – they loved it. So, maybe my search is over?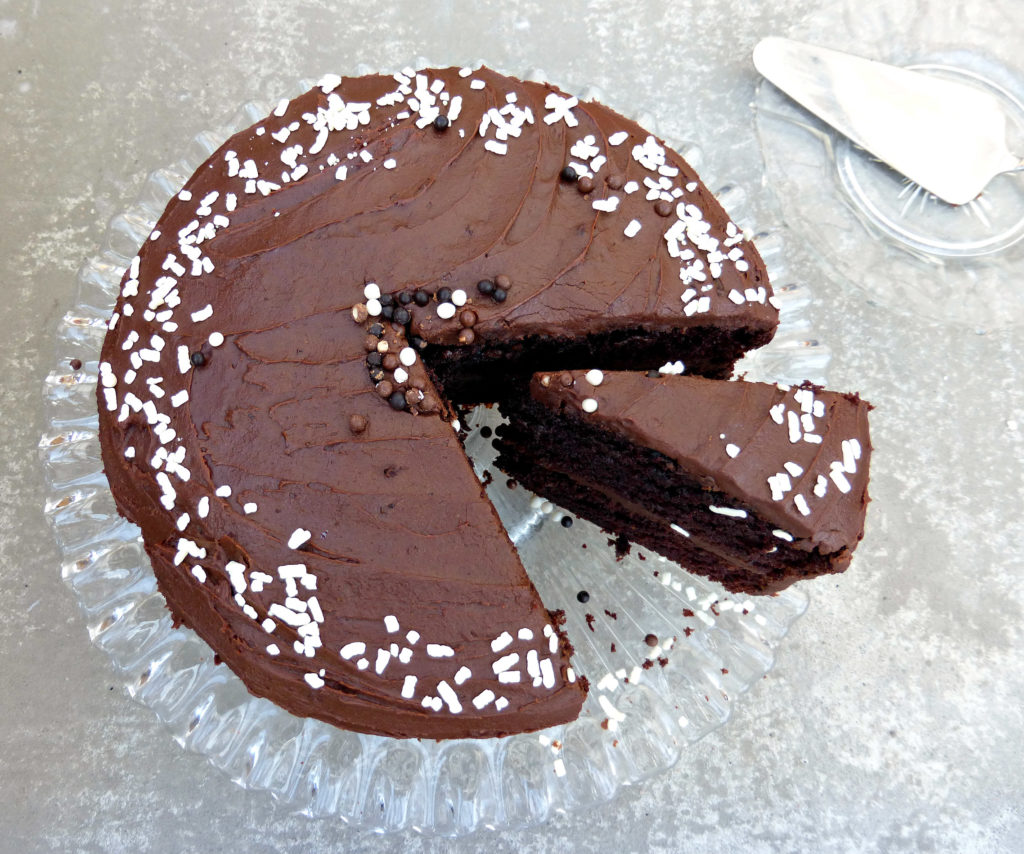 Ingredients
Cake:

100g butter
2 eggs
125ml (1/2 cup) whipping cream
125ml (1/2 cup) milk
250ml (1 cup) strong brewed coffee
400g (1 + 3/4 cups) sugar
275g (2 + 1/2 cups) plain (all-purpose) flour
50g (3/8 cup) cocoa powder
1.5 teaspoons baking powder
1.5 teaspoons bicarbonate of soda (baking soda)
1 teaspoon salt (if your butter is unsalted)

Frosting:

50g (1/3 cup) dark chocolate
100g butter (softened)
300g (3 cups) icing (powdered) sugar
25g (2 tablespoons) cocoa powder
Up to 3 tablespoons brewed coffee
Decoration (optional)
Directions
~ Pre-heat the oven to 180°C and grease/line two x 20cm cake pans. Melt the butter and allow to cool for a couple of minutes.
~ Using a food processor (or electric whisk), mix the butter, eggs, milk, cream and coffee until well combined.
~ In a separate bowl, combine the sugar, flour, cocoa powder, baking powder, baking soda and salt (if using). Add to the wet ingredients and mix until everything is combined.
~ Divide the batter into the two prepared tins and bake side by side for around 25-30 minutes, until the edges start to pull away from the pan and an inserted skewer comes out clean. Remove from the oven and allow the cakes to cool for a while in their pans before turning out onto a wire rack. Allow them to cool completely.
~ For the frosting: melt the dark chocolate in a Bain Marie (double boiler) and leave to cool for a while.
~ In the meantime, again using a processor (or whisk) beat the butter until light and fluffy. Sift the icing sugar and cocoa together, then add them to the butter, continuing to mix until everything is nicely combined. With the mixer still running, slowly pour in the chocolate. Finally, gradually add the brewed coffee a little at a time, just until you reach a spreadable consistency.
~ Place one of the cakes upside and down and spread around a third of the frosting over the flat part. Place the second cake on top (flat part down) and then use the remaining frosting to cover the whole cake. Decorate with anything you fancy (I used tiny brown balls and cream-coloured sprinkles) and then leave the frosting to set before slicing the cake. Enjoy!
7.8.1.2
34
https://www.theculinaryjumble.com/chocolate-fudge-cake/