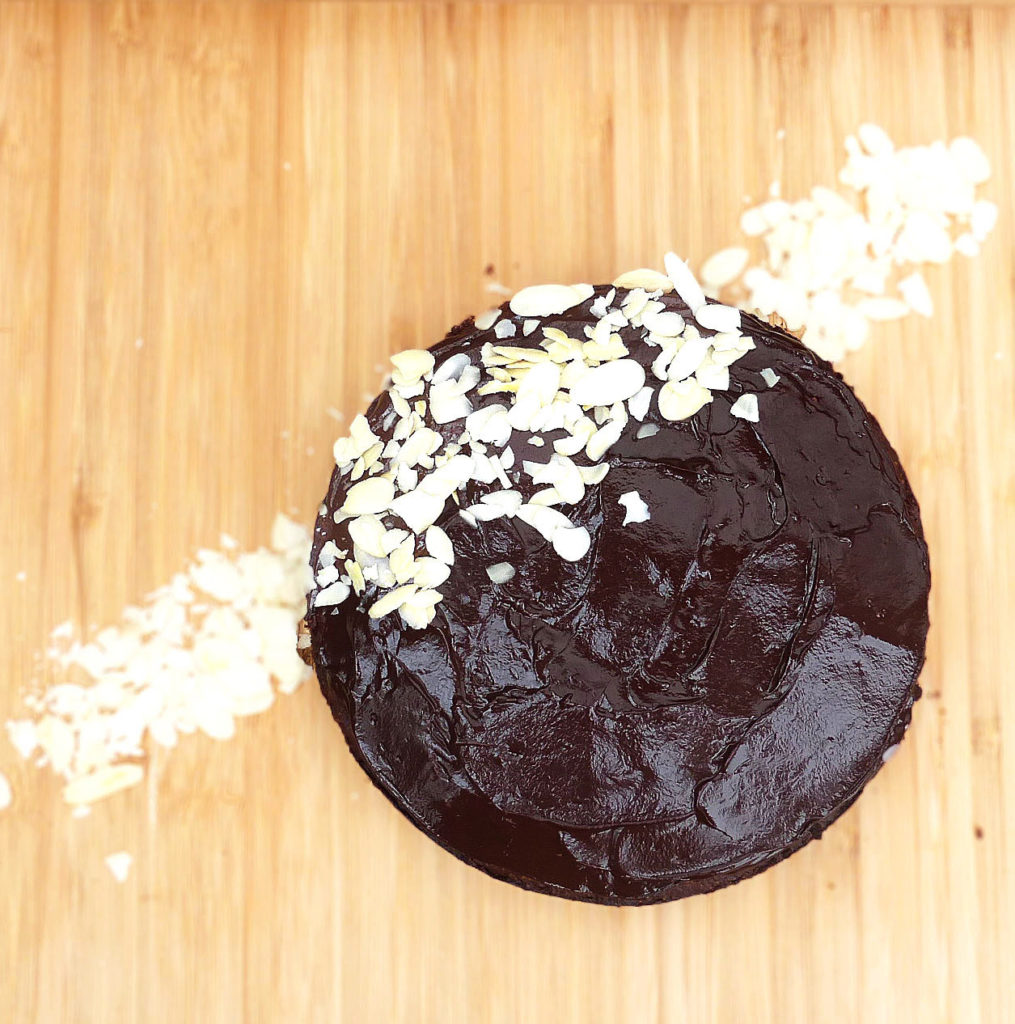 One problem I have with healthier baking is, if I am honest, the taste (and sometimes texture). Had I never tried sugar or pigged myself silly on white bread, I am sure I wouldn't even be writing this now.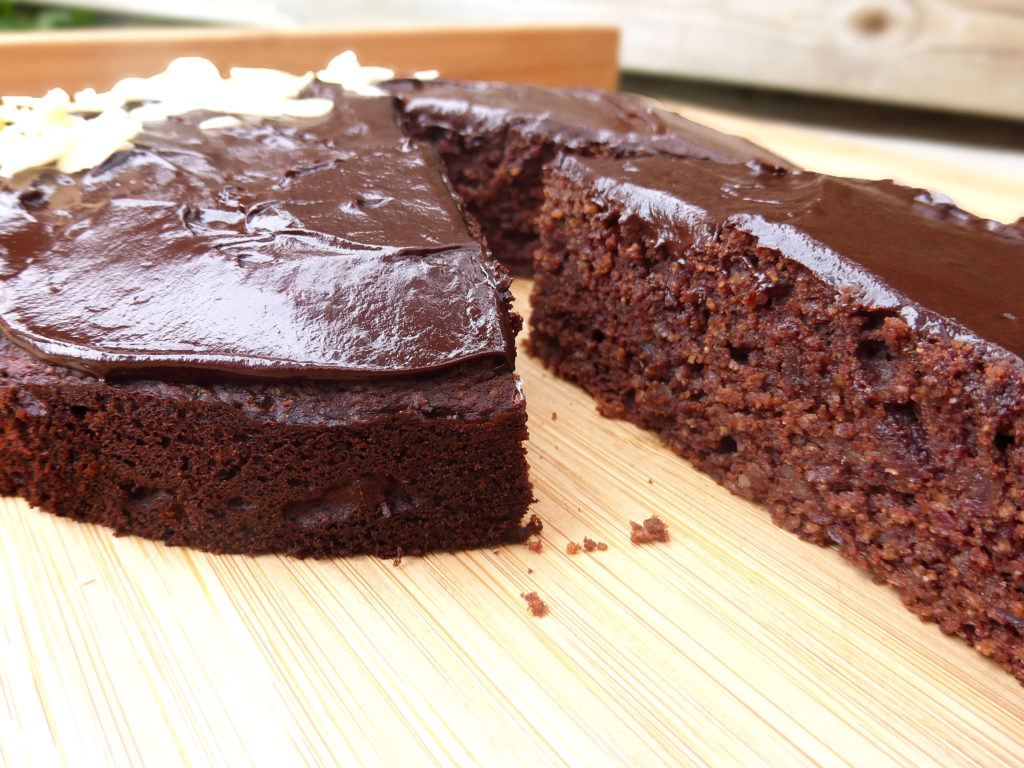 The problem is, I have, and as a self-confessed cake-aholic, a reduced amount of sugar can sometimes leave me feeling dissatisfied. Sucky, eh?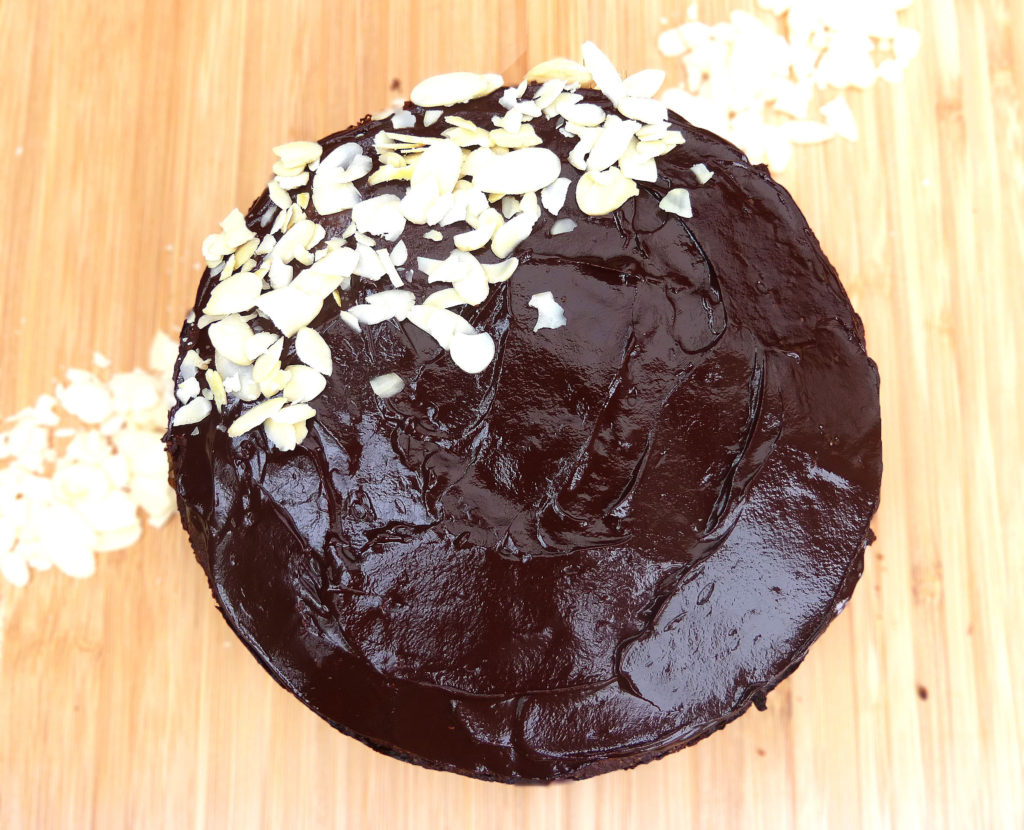 That said,  my health and more importantly, the well-being of my children, is paramount. I already know that my oldest son, who has high functioning autism, does so much better on an almost gluten free diet with no processed food. So do I. Fact.
So I search very hard for recipes I can adapt, and cakes that still taste like cake, just with less fat and sugar and where possible, no gluten.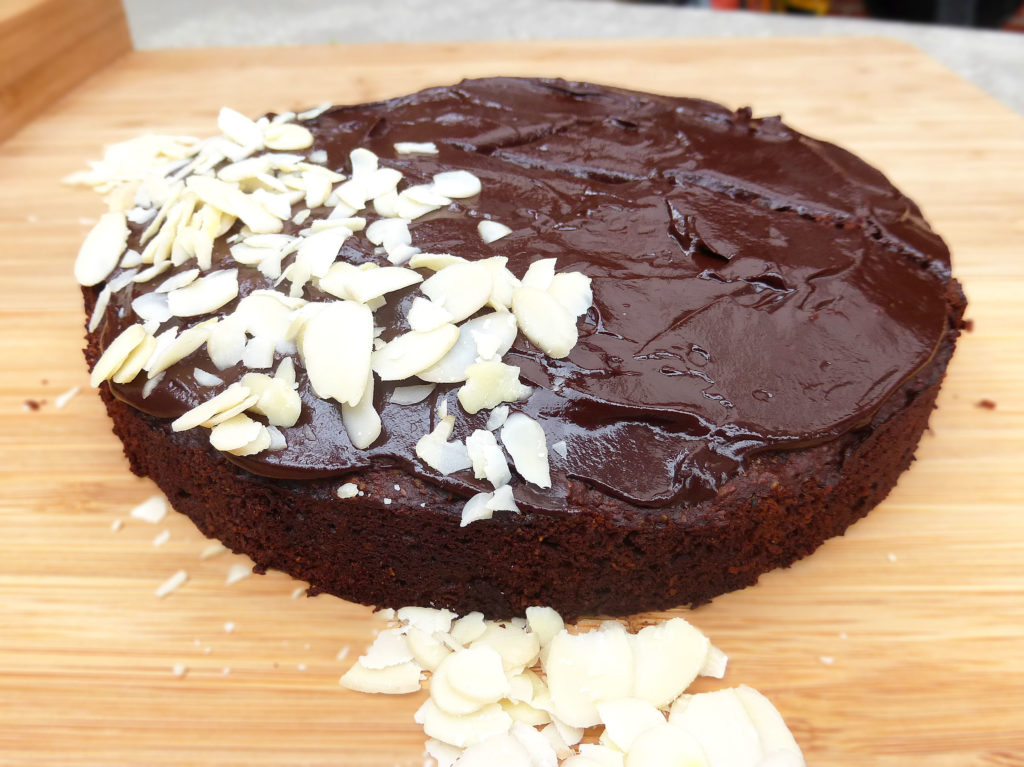 Like this cake. Sometimes you come across something so fabulous, that ticks all your health concern boxes and looks amazing.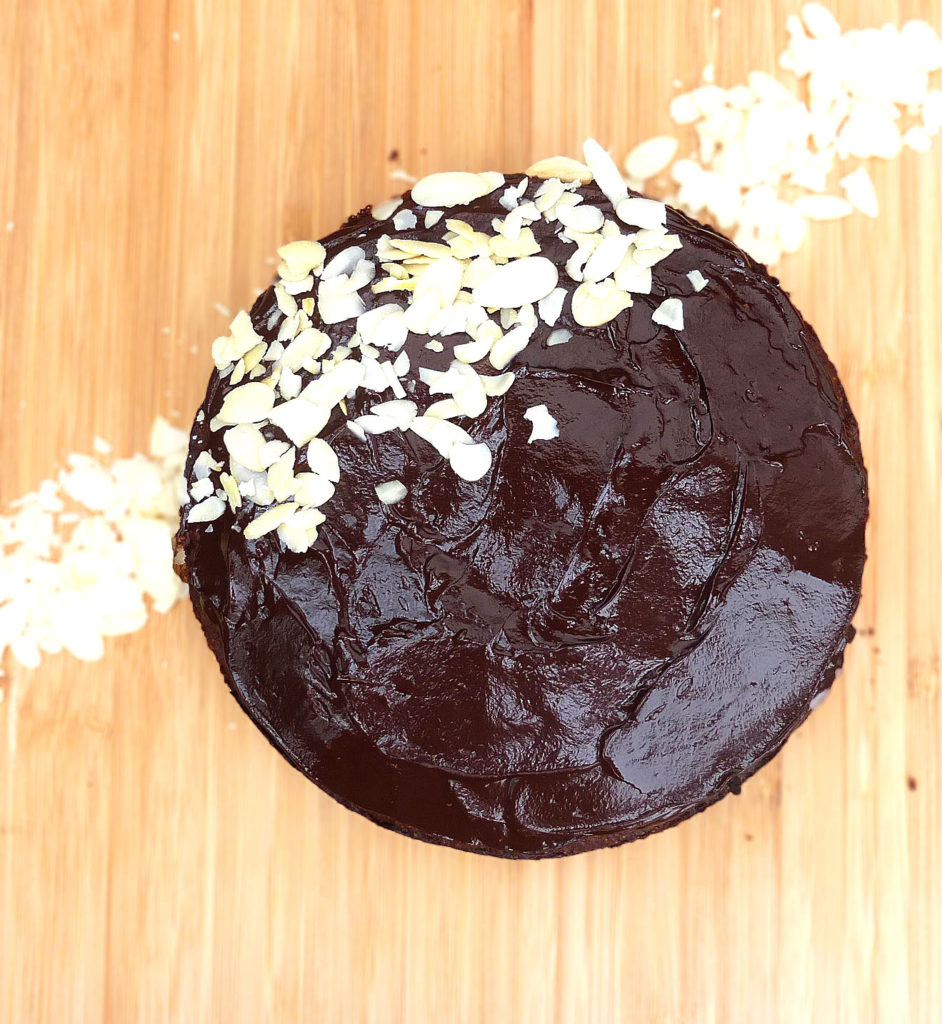 I have to say that this cake tasted as pretty as it looked. I mean, that looks like a real cake, don't you think?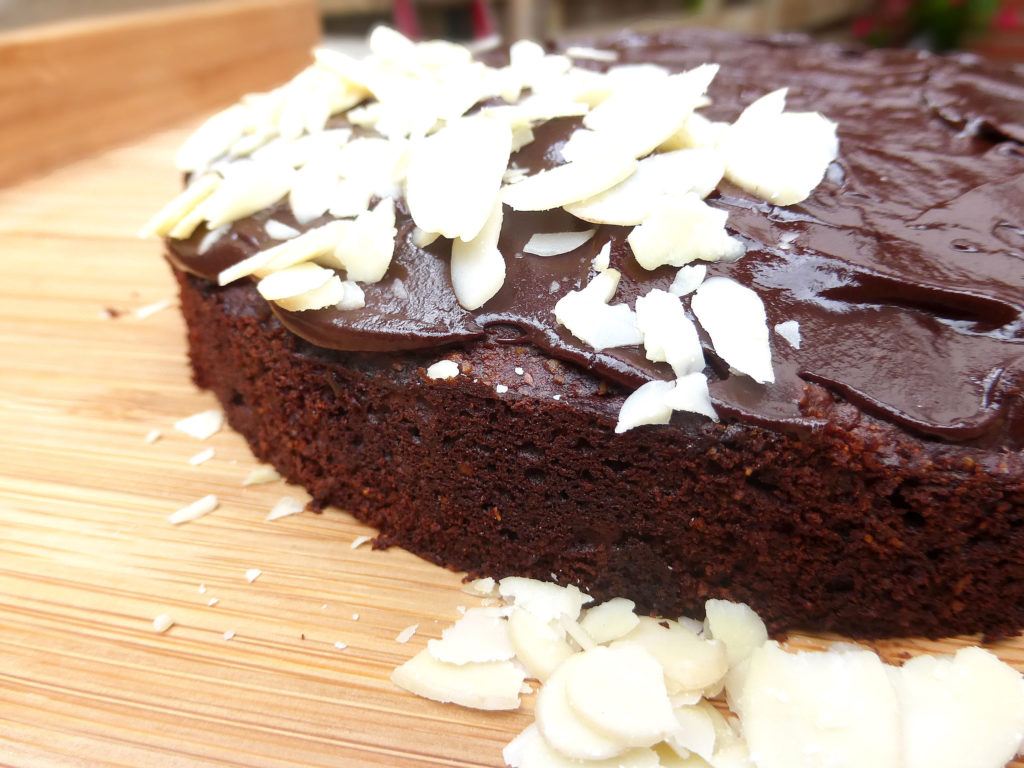 The measurements below made a small cake that was cut into 8 slices good-sized slices.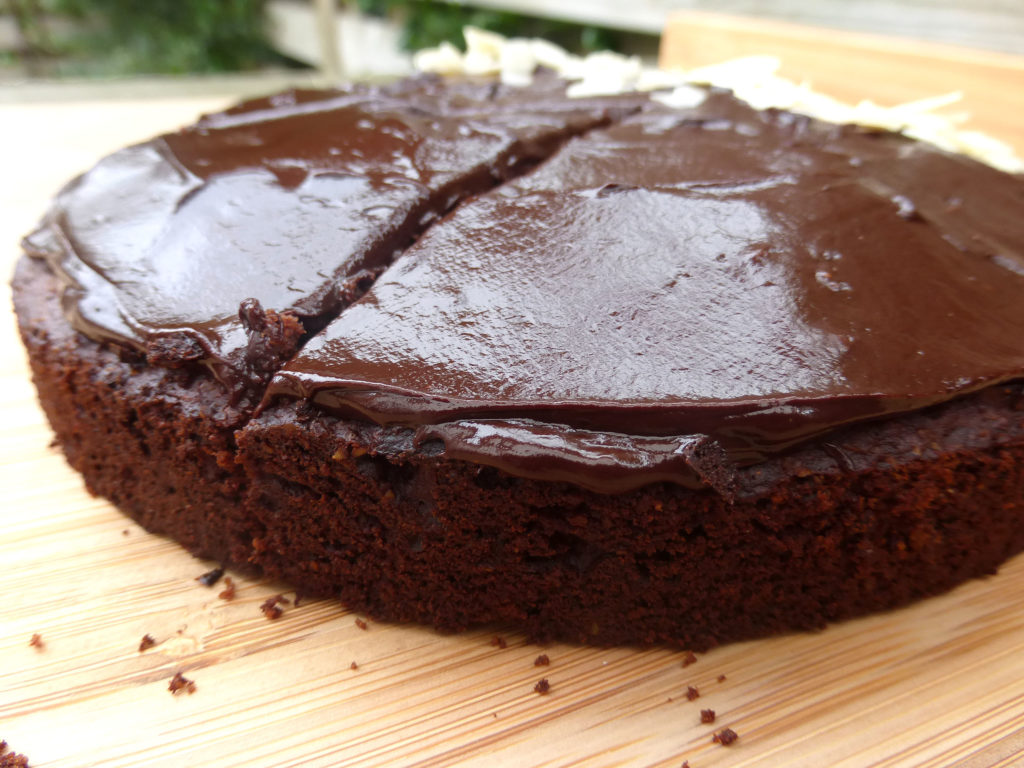 Chocolate Almond Cake with a Dark Chocolate Ganache (no refined sugar & GF)
---
Ingredients
Cake:

50ml (3 tablespoons + 1 teaspoon) coconut oil
105g (3/4 cup) dates
1 egg
70ml (1/4 cup + 2 teaspoons) milk
25g (1/4 cup) cocoa powder
1/4 teaspoon salt
1/4 teaspoon baking powder
40g (1/4 cup) self raising gluten-free flour - see notes
25g (1/4 cup) ground almonds
40g (1/4 cup) polenta

Topping:

30g (1/3 cup) good quality dark chocolate
1 tablespoon honey
Sliced almonds (optional)

NOTES:

You can use all purpose (plain) gluten free flour. If you do, add an additional ½ teaspoon of baking powder to the dry ingredients.
Directions
~ Pre-heat an oven to 180°C (350ºF) and grease a 6" cake tin.
~ Melt the coconut oil and set to one side.
~ In a food processor, blitz the dates and one tablespoon of milk together until a paste forms. Add the egg and beat in, followed by the remaining milk and cooled coconut oil.
~ In a separate bowl, combine the dry ingredients and slowly add to the wet ingredients until a batter forms.
~ Pour into the prepared tin, smooth the top over, and bake for around 20 minutes (an inserted skewer will come out clean). Allow to cool.
~ For the topping: melt the chocolate and honey together in a Bain Marie (double boiler). Pour over the cake and allow to set a little before sprinkling with sliced almonds (if using). Slice and enjoy!
7.8.1.2
214
https://www.theculinaryjumble.com/chocolate-almond-cake-with-a-dark-chocolate-ganache-no-refined-sugar-gf/
This recipe was adapted from Vegan Gluten Free Chocolate Orange Cake  by Nadia's Healthy Kitchen.