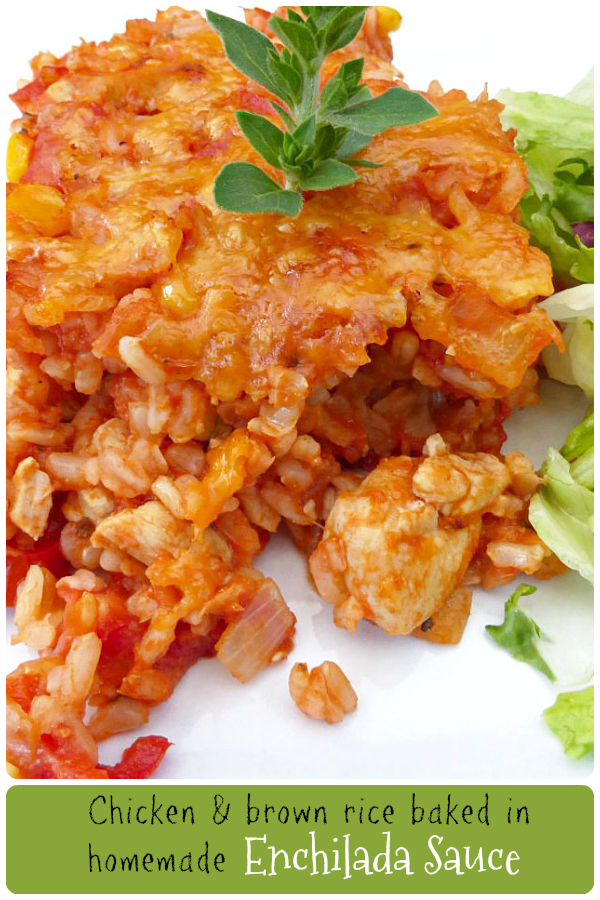 As a busy mum, I am always looking for inspiration for healthy, simple meals. Like this chicken and brown rice baked in homemade enchilada sauce. The dish's name is somewhat of a mouthful and goodness, so is the food itself.
Not only do I want to whip up healthy meals that don't require a PhD in science, I want to use cupboard staples, too. Like chicken and brown rice. I also get an added thrill when I can throw in rapidly decaying veggies from the fridge, too. Even better when you can put your own spin on things and add whatever you personally like or have at home.
This chicken and brown rice baked in homemade enchilada dish makes ticks all the boxes and makes excellent midweek meal. Your kids will love it too; always a bonus.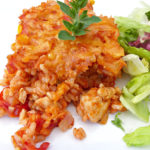 Chicken and Brown Rice Baked in Homemade Enchilada Sauce
Ingredients
2-3

cups

of cooked brown rice

1

tablespoons

olive oil

1

onion

(chopped)

1

red pepper

3

cloves

garlic

(crushed)

2

chicken breasts

(sliced)

1

teaspoon

chili powder

1/2

teaspoon

cayenne

1/2

teaspoons

cumin

1/2

tablespoon

fresh oregano

(chopped)

1/2

teaspoon

fresh rosemary

(chopped)

2

x 400g

tinned tomatoes

1

tablespoon

ketchup

2

teaspoons

lemon juice

Salt and pepper to taste

1

small tin of sweetcorn

Grated cheese

(use as little or as much as you want)
Instructions
Pre-cook the rice and allow to cool completely.

Pre-heat the oven to 180°C.

Fry the onion in a large pan until it softens, then add the pepper and garlic and cook for several minutes. Add the chicken and cook until the outsides are just starting to brown. Add the herbs and spices and cook for two minutes.

Add the ketchup, lemon, sweetcorn and tinned tomatoes and cook for around ten minutes.

Stir the rice into the pan to combine with the sauce and then pour the mixture into an oven dish. Sprinkle cheese on top and bake for around 30-40 minutes.

Serve immediately on its own or with a nice, fresh salad. Enjoy!
If you love this easy chicken and brown rice baked in homemade enchilada sauce, check these out!
Nice and Spicy Tomato and Prawn Rice (made in the Crockpot)
Sweet Potato, Leek and Garlic Soup
<
p class="ingredient">