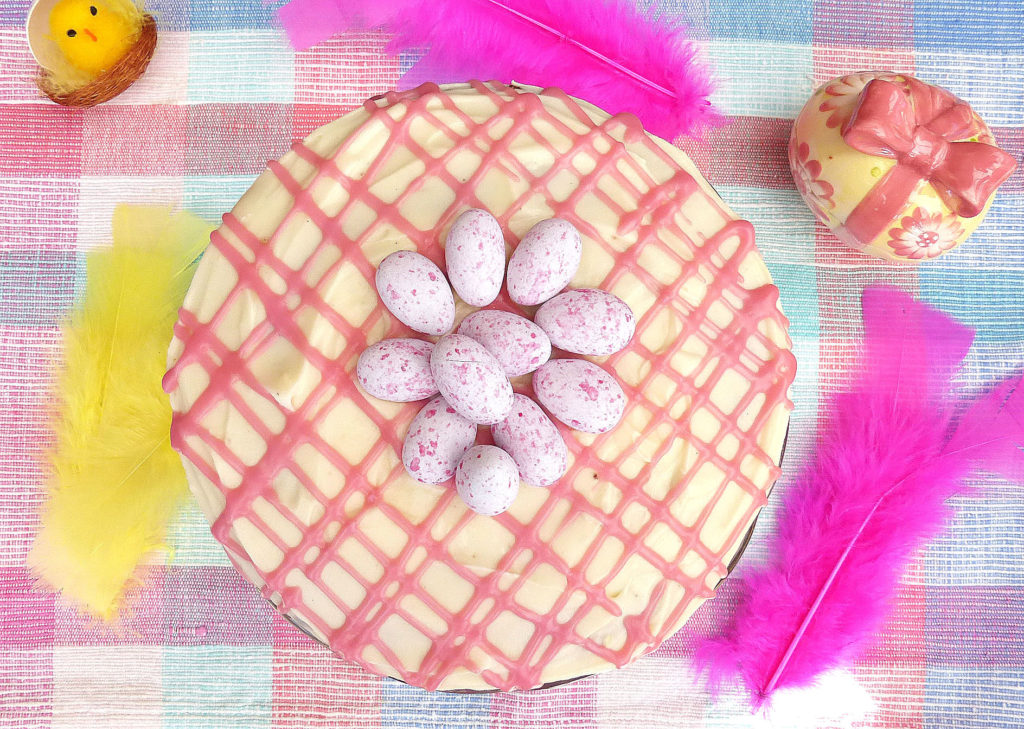 I love carrot cake, but this is the first time I've made one for the blog (in fact, it is actually years since I've made one at all).
I think this is probably mainly due to my kids not being able to get their heads around both the fact that carrots make superb cakes, and that there is the obligatory cream cheese in the frosting. I know. Who are these kids?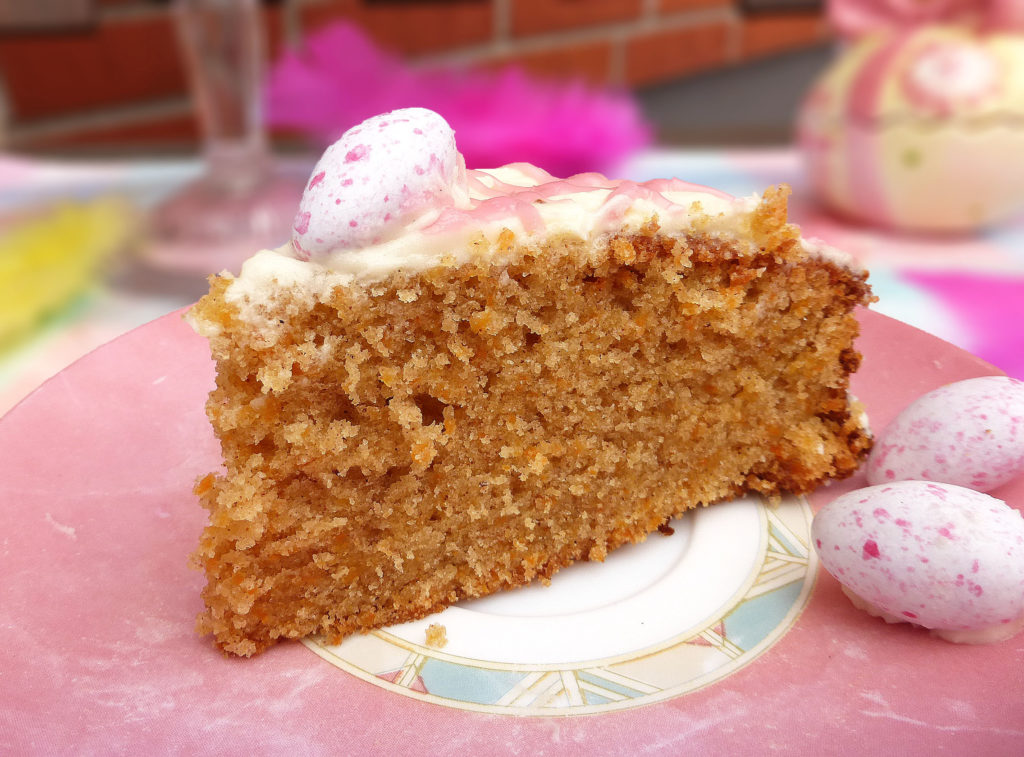 This carrot cake is one I've made so many times, from being a three-layered first birthday cake for my son (nearly 12 years ago), to this more modest affair, which is a small 6″ (18cm) single layer.
The recipe originates from a supermarket leaflet, but I have absolutely no recollection of which shop (and a google search proves fruitless), so no credit can be given, unfortunately. That said, it is a very classic carrot cake recipe, with no twists or additional extras.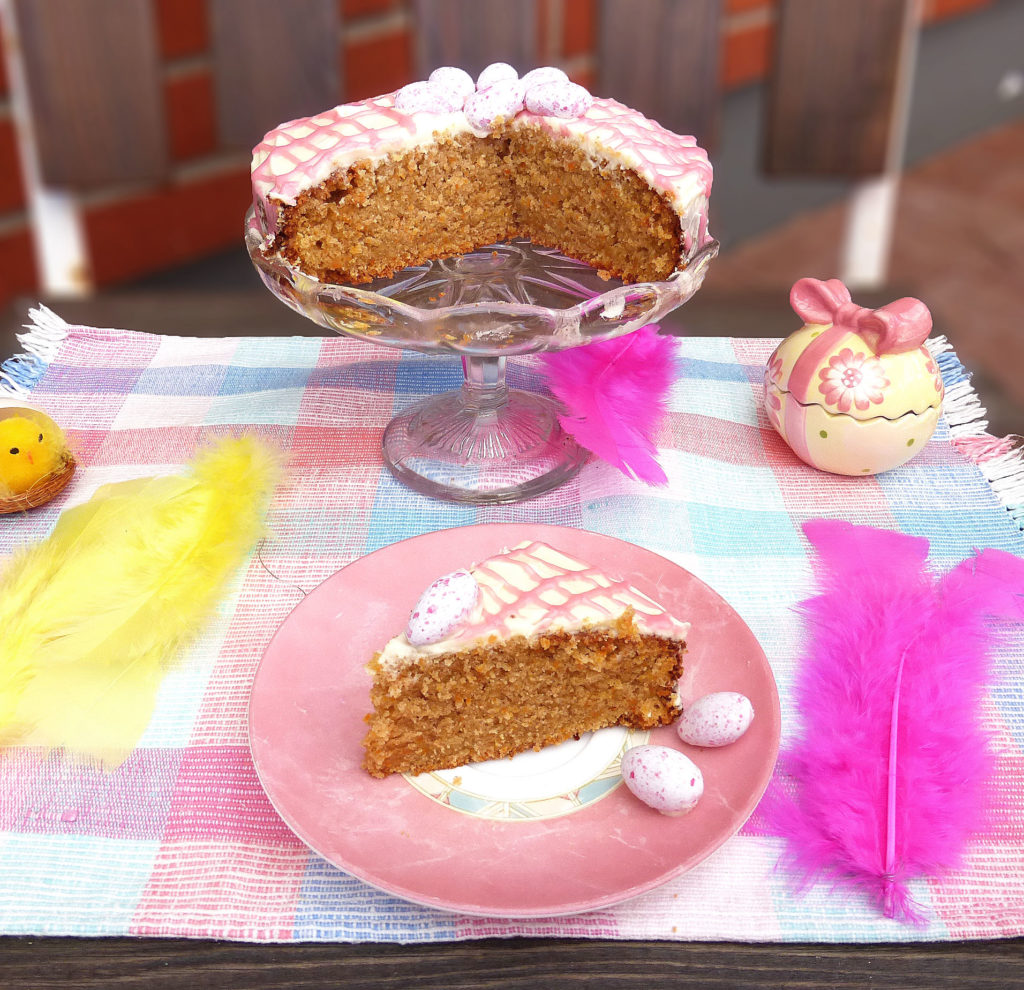 The cake is moist, soft and the hint of spices is amazing; feel free to add walnuts or raisins, both of which I've used in the past.
I went with a traditional cream cheese buttercream but added a touch of lemon, which tasted delicious. I thought a carrot cake would be perfect for Easter, so I also drizzled over a little pink frosting and nestled a few candy eggs on top to finish off.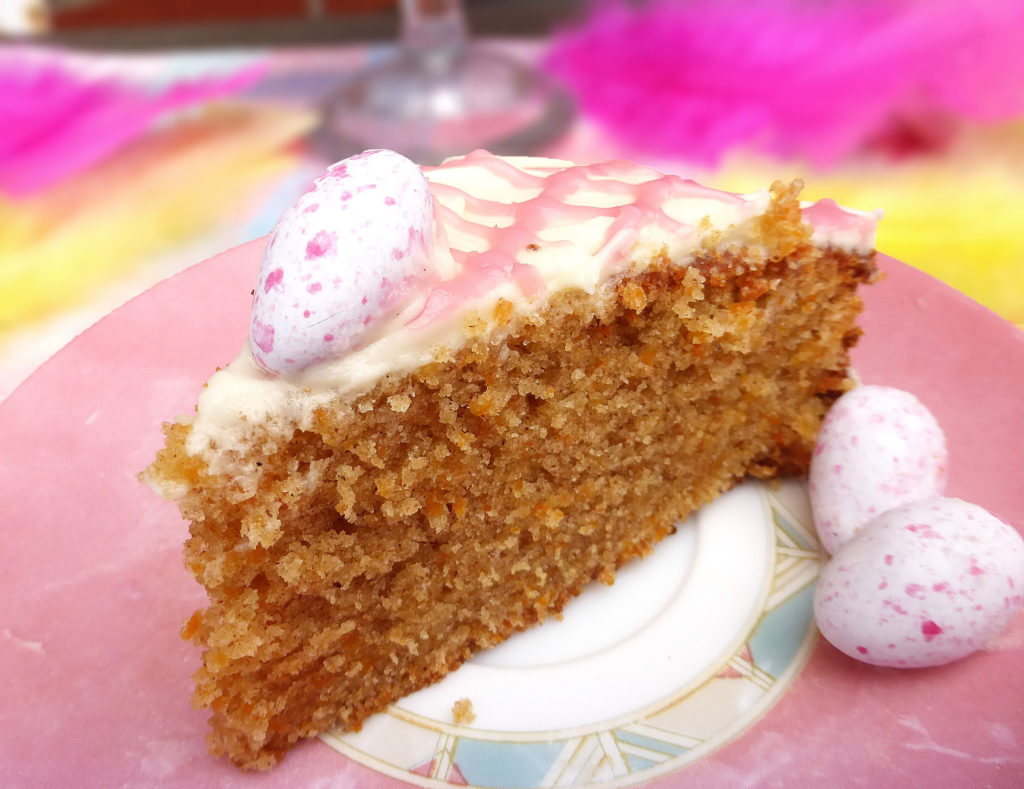 As mentioned, the cake is small, but is perfectly sized for an afternoon tea for the family (unless your kids are like mine, that is).
The cake lasts really well and stays nice and soft for several days if kept in an airtight container.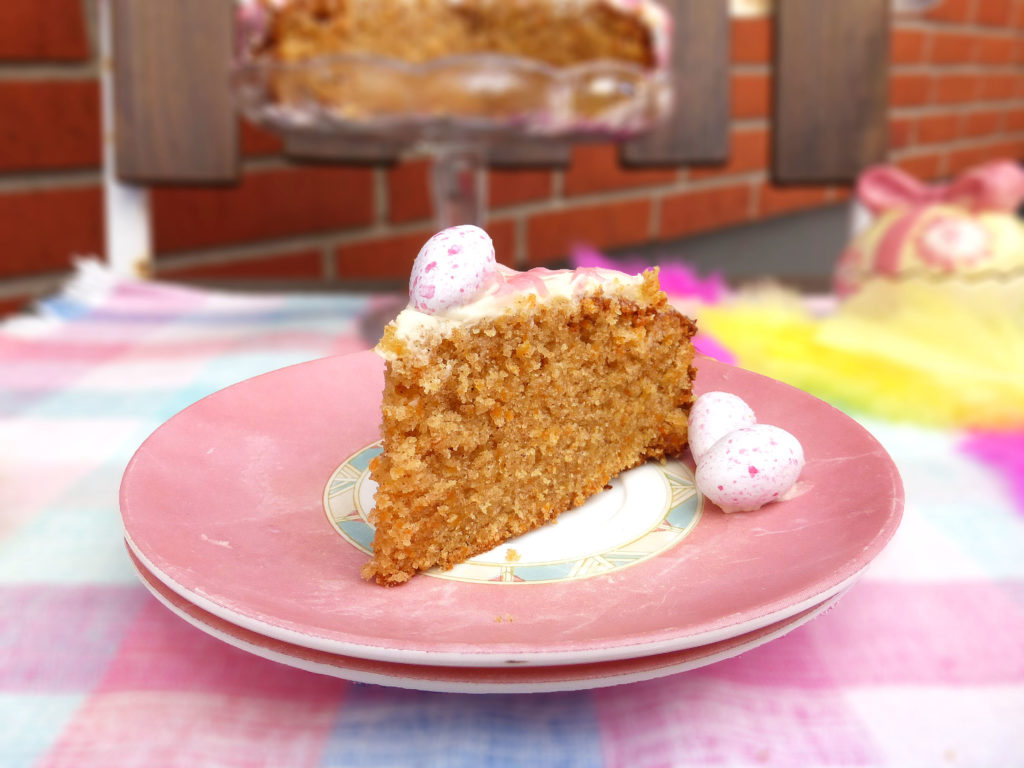 Carrot Cake with a Lemon Cream Cheese Frosting
---
Ingredients
Cake:

125ml (1/2 cup) vegetable oil
160g (3/4 cup) sugar
100g (1 cup) grated carrots
2 eggs
130g (1 cup) all-purpose (plain) flour
1 teaspoon baking powder
1/2 teaspoon nutmeg
1 teaspoon cinnamon

Frosting:

55g (1/4 cup) cream cheese
55g (1/4 cup) butter
2 tablespoons fresh lemon juice
1 teaspoon vanilla sugar
100g-200g (1-2 cups) icing sugar

Drizzle:

Around 50g (1/2 cup) icing sugar
Couple of drops of food colouring
Water, a little at a time
Directions
~ Pre-heat oven to 190°C (375°F) and grease/line a small springform tin (mine is 6 inch / 18cm).
~ Beat the oil and sugar until airy and light and then add the grated carrots. Beat in the eggs one at a time until well incorporated.
~ Combine the flour, baking powder, nutmeg and cinnamon and then add to the wet ingredients, mixing just until everything is well distributed.
~ Pour into the prepared pan and bake for around 35-45 minutes, just until an inserted skewer comes out clean. Remove from the oven and cool for a while before turning out onto a wire rack to cool completely.
~ For the frosting: beat the cream cheese, butter and lemon together until nice and fluffy. Add the vanilla sugar and just enough icing sugar to achieve a thick, spreadable frosting.
~ Slather the frosting all over the cake. I went for a "semi-naked" look (if you can call it that when there's only one layer!). If you are adding further decoration, pop the cake in the fridge for 15 minutes or so.
~ For the finishing touches: mix the icing sugar and food colouring and gradually add a touch of water a little at a time, until a drizzle consistency is reached. Drizzle over the top of the cake and decorate however you like. Enjoy!
7.8.1.2
104
https://www.theculinaryjumble.com/carrot-cake-with-a-lemon-cream-cheese-frosting/