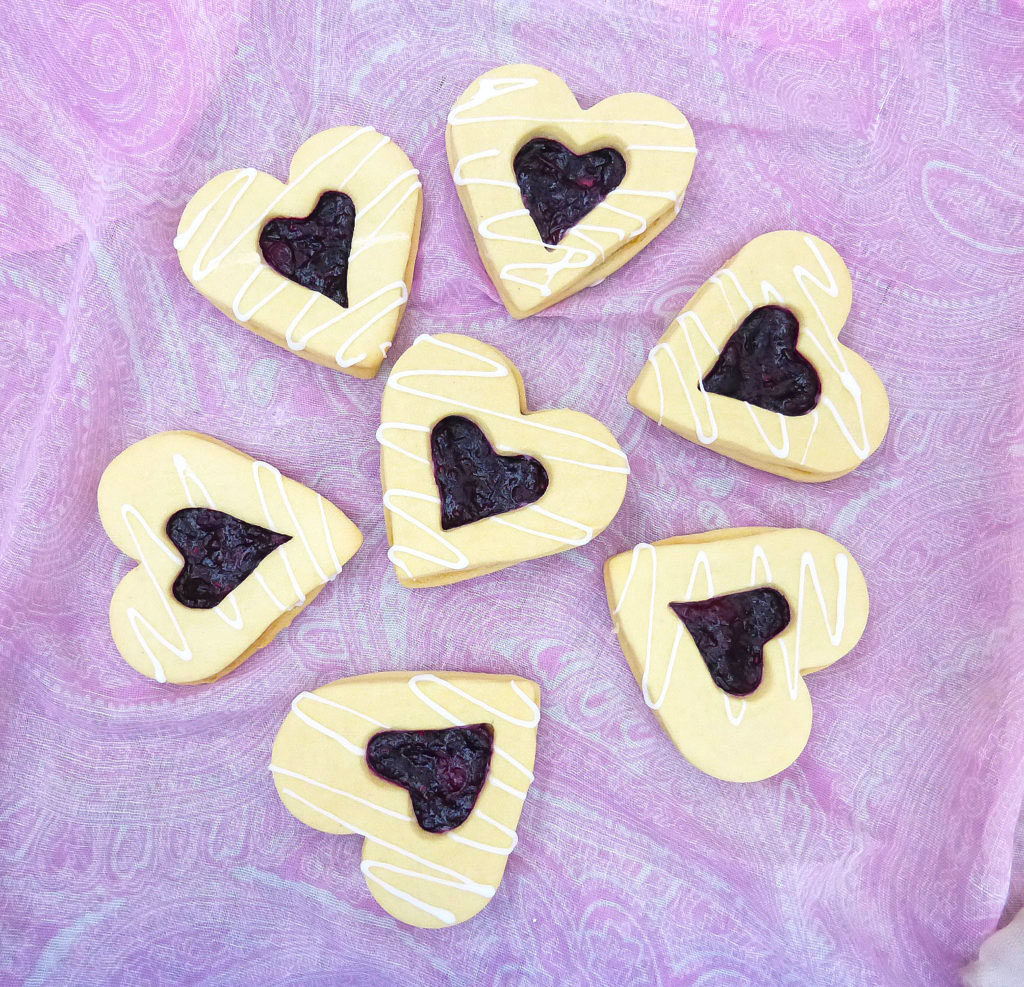 Where I come from, the concept of sticking two butter shortbread cookies together with jam (jelly) is referred to as a  Jammy Dodger. They are a national institution in the UK, with the main concern not whether you like them (because that's a given), but whether it is sacrilegious or not to dunk them in your cup of tea.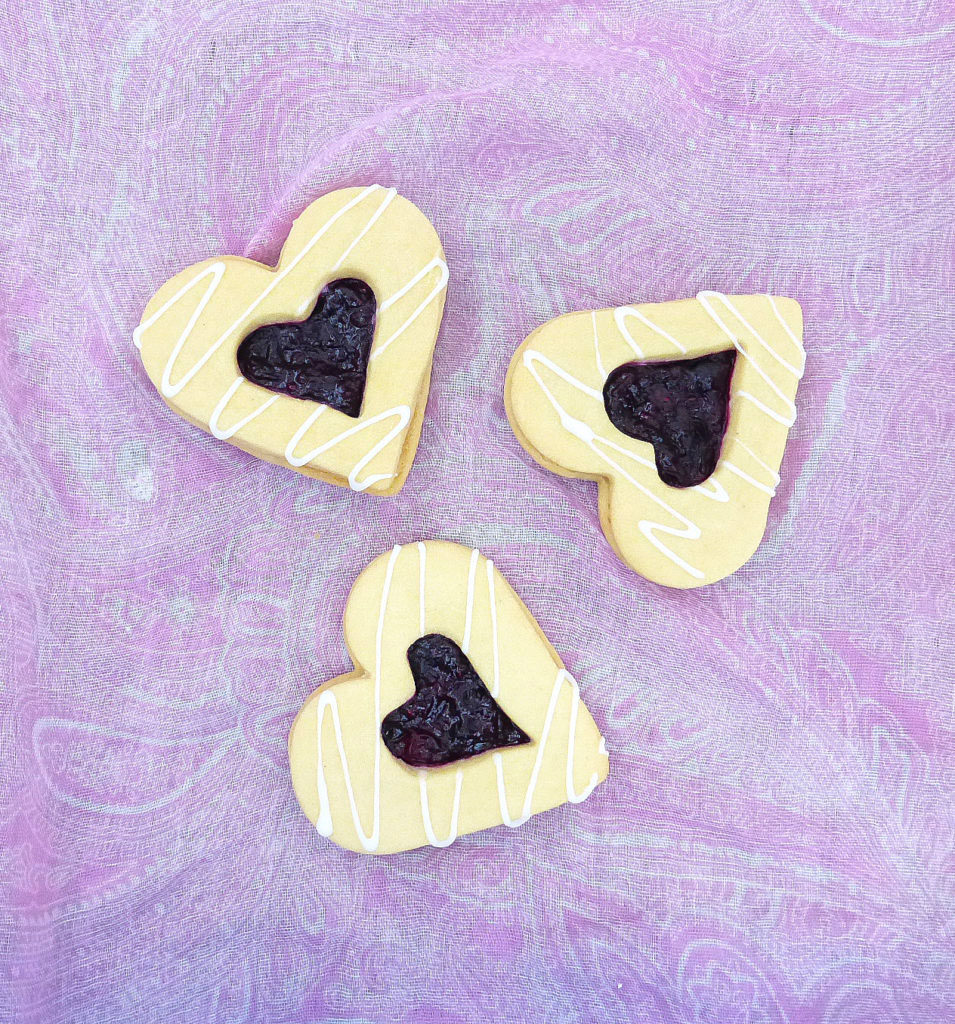 I have no idea whether the rest of the world dips their cookies in their (cup of) tea, but we sure do. In fact, how well a cookie stands up to being dunked is of great importance. I personally love a dunked Jammy Dodger, but I know that not everyone feels the same. Yeah, us Brits are an odd bunch, no question.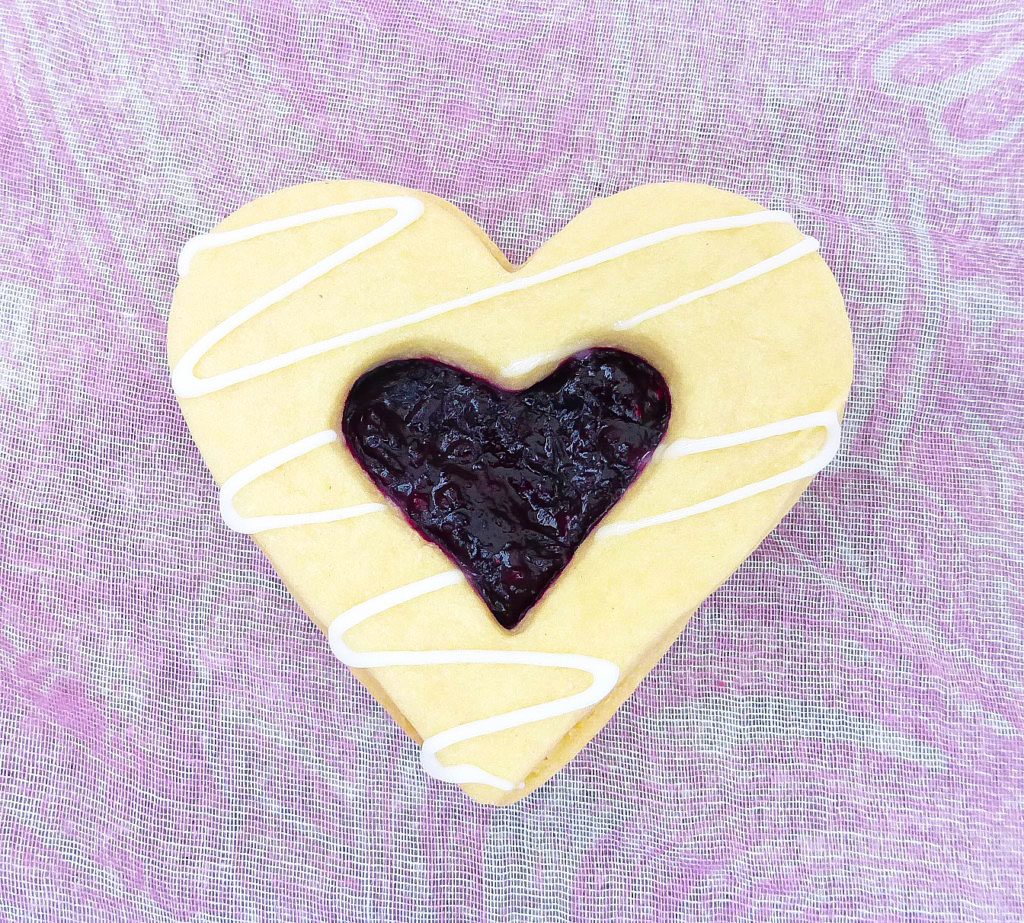 I've seen a similar version of a Jammy Dodger doing the rounds, known as a Linzer cookie. As far as appearances go, they look alike, but Googling them, it appears that they have an almond taste, which Jammy Dodgers don't. Traditionally, 'Dodgers have a filling of raspberry or strawberry jam, but I wanted a nice, rich colour in the middle and went for mixed berries.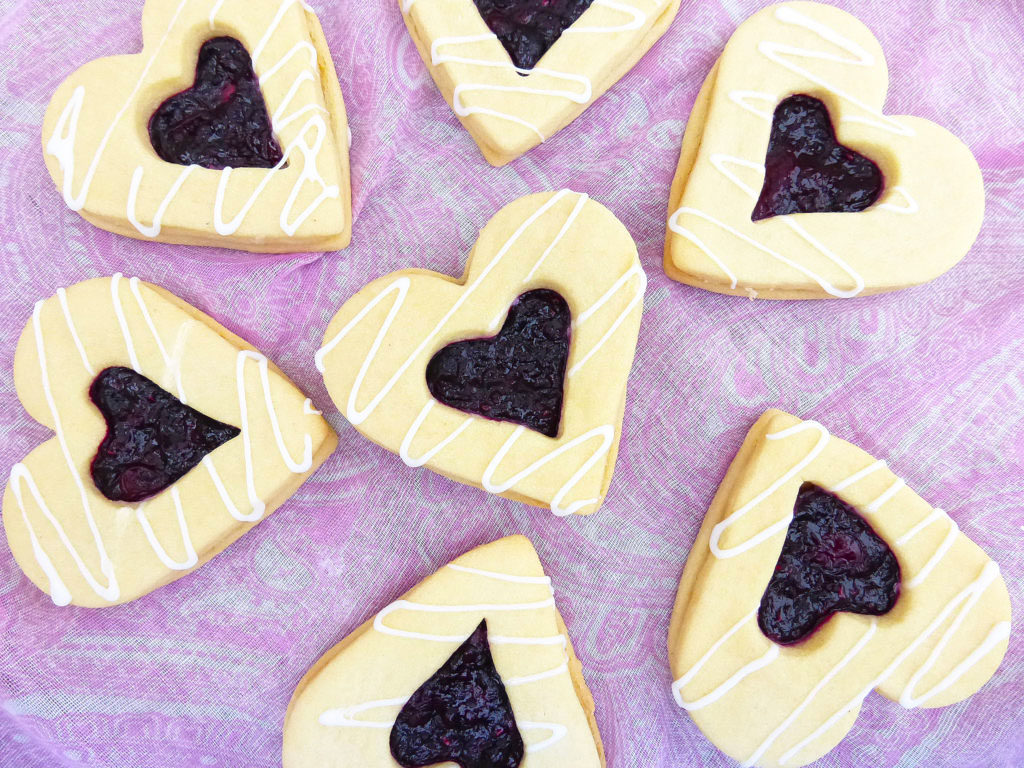 These cookies are made from my go-to cutter recipe, and was also used for my Chocolate Dipped Spice Cookies. They are buttery with a hint of vanilla, and the slightly tart flavour of the jam complements the sweetness perfectly. The homemade jam is optional, but if you want to go that extra mile, make your own either by following the quick directions for this recipe, or use my Berry, Lemon and Chia version.
As always, I go the simple route wherever I can, and I love the fact that you don't need to refrigerate this dough and it is so easy to work with. Because they are a sandwich cookie, each half needs to be fairly thin, and so you need a dough that can be rolled out a fair bit without cracking under the strain, and this one is perfect for any thickness.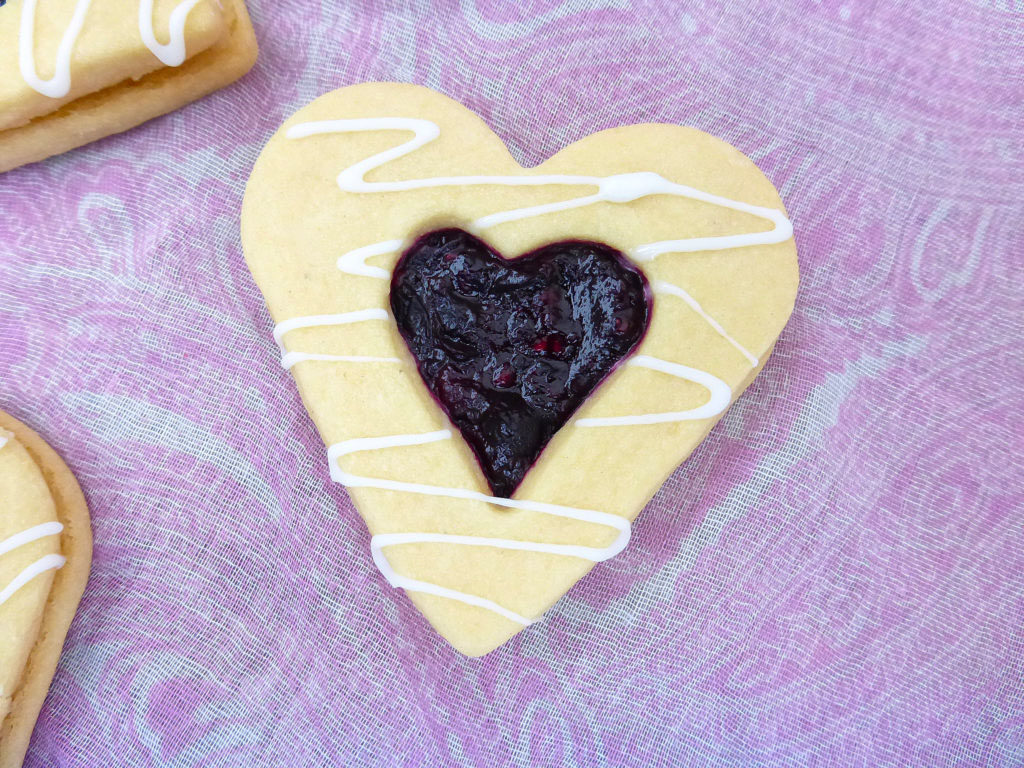 I wanted to make something to celebrate the most romantic day of the year, Valentine's day. If you have someone special in your life, why not make them their gift this year? I don't know many people who wouldn't be chuffed to bits with these beauties, I can tell you! That said, they don't have to be heart-shaped; any shape or size of cutter will work, but you will need a smaller one to cut out the hole in the middle.
The measurements below made around 18 large sandwich cookies. Store them in an airtight container and they will last several days. Please note that the jam does make them softer (which in my book is a bonus), which means they lose their straight out of the oven crunch.
Buttery Shortbread Cookies filled with Homemade Berry Jam
---
Ingredients
Cookies:

1 cup (100g) icing sugar
1 cup (230g) butter (softened)
2 & 3/4 cups (280g) plain (all-purpose) flour
1 teaspoon vanilla sugar (see notes)

Jam (see notes):

100g (1 cup) frozen berries
1 tablespoon water
2 tablespoons icing sugar

Decoration

Drizzled frosting or icing sugar

NOTES:

I use vanilla sugar in my recipes. If this is not available where you are, here's some handy advice for converting to vanilla extract.
You don't need to make your own jam - just use anything you have at home if you prefer.
Directions
~ Pre-heat the oven to 175°C (350°F). Prepare a large baking tray (you may need two) with grease-proof paper.
~ Beat the sugar and butter together until light and fluffy.
~ Sift the flour and vanilla sugar together, then mix into the butter/sugar until a dough forms.
~ Using your hands, quickly work the dough into a ball, then divide it into two pieces (it's easier to work with in two smaller bits rather than one large).
~ Flour a surface and then take one piece of dough and roll out until it is fairly thin. You will need an equal amount of tops and bottoms, and for the bottoms you simply cut out the dough with your preferred cookie cutter shape. For the tops, use the same cutter, but this time, also cut out a hole in the middle (either using a smaller version of the same shaped cutter, or something to contrast). Repeat with the remaining dough.
~ Using a palette knife, gently transfer the cookies on to a baking tray (I use a little flour on the end of the palette to help scoop up the cookies). Keep them well spaced apart as they do spread a little.
~ Bake for around 8-10 minutes, just until the edges are only slightly browning. The rest of the cookie will look pale and very soft, but they will harden as they cool (keep an eye on them because one minute can make the difference between perfect and overbaked cookies).
~ Leave the cookies on the baking tray for ten minutes or so, then transfer to a wire rack to cool completely.
~ For the homemade jam - heat the berries in a pan with the water and icing sugar until they start to bubble. Reduce the heat and let them cook for about 20 minutes, leaving you with a lovely thick mixture. Remove from the heat and allow to cool completely.
~ For the assembly - turn the cookies without a hole over so they are face down. Put around 1 teaspoon of jam in the middle of each one and smooth it out so it is fairly level but not quite reaching the edges.
~ Decorate the top of the cookies with either icing sugar or drizzle frosting BEFORE you place on top of the bottom cookie. Press down VERY gently to attach the top cookie (they are still very fragile at this stage and I broke several of my first attempts because the jam was in more of a heap and I used a little too much force). Enjoy!
7.8.1.2
69
https://www.theculinaryjumble.com/butter-shortbread-sandwich-cookies-with-homemade-berry-jam/