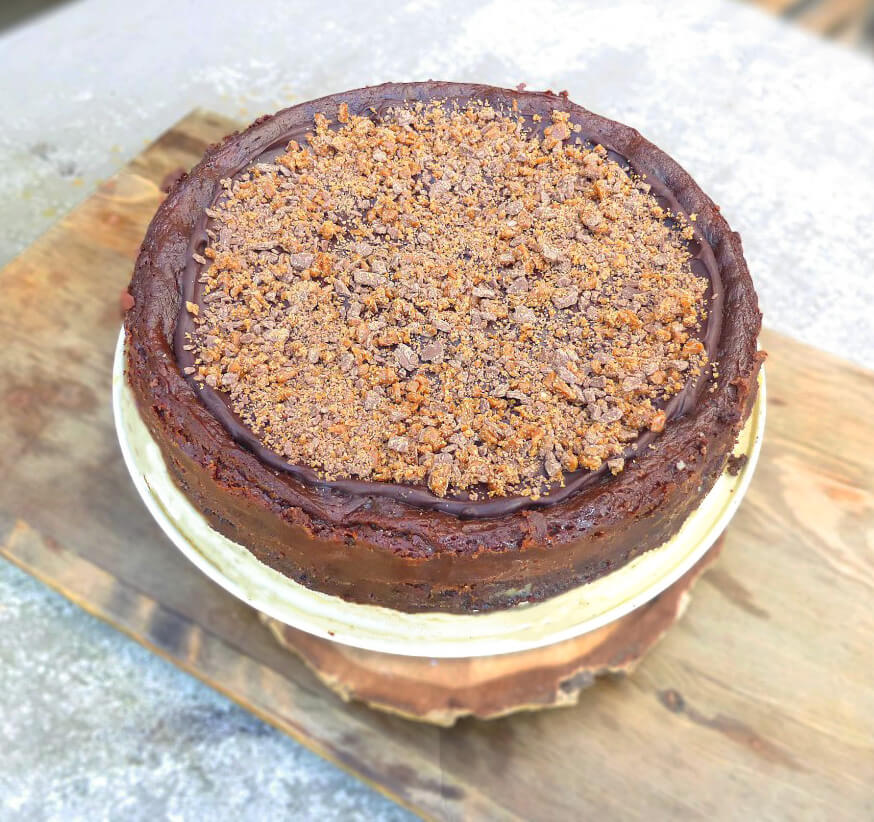 Eagle-eyed readers will have noticed that my recipes of late have included a big old slice of healthy. While I am always looking for ways to lighten up the food I make, we all need a treat now and then. In this case, a really huge treat.
But you know what, if you are going to do something, you might as well go all out, don't you think? Like this over the top, calorific, extravaganza of baked mascarpone chocolate cheesecake.  Nice.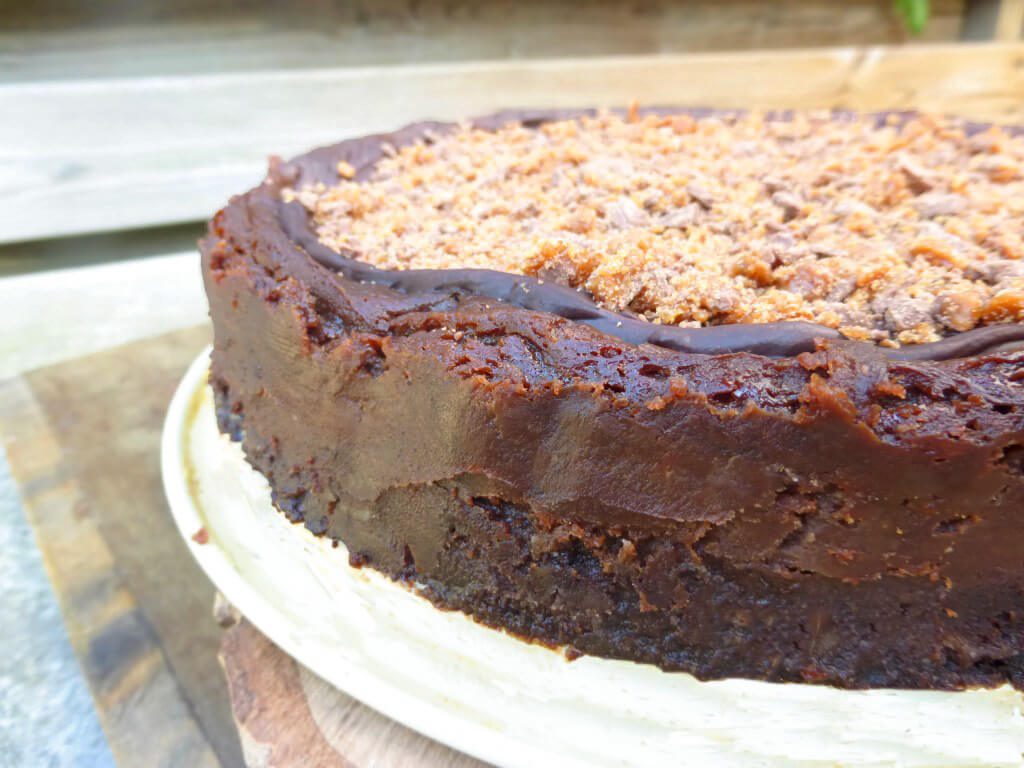 The base is a gluten free brownie that is baked first before adding the cheesecake filling. The double baking leaves the brownie fudgy, almost gooey-like, and it is a fantastic contrast to a more traditional crunchy biscuit base.
The filling is creamy and smooth made with mascarpone, cream cheese and chocolate. The topping is a rich dark chocolate ganache covered with Daim, Sweden's finest confectionary!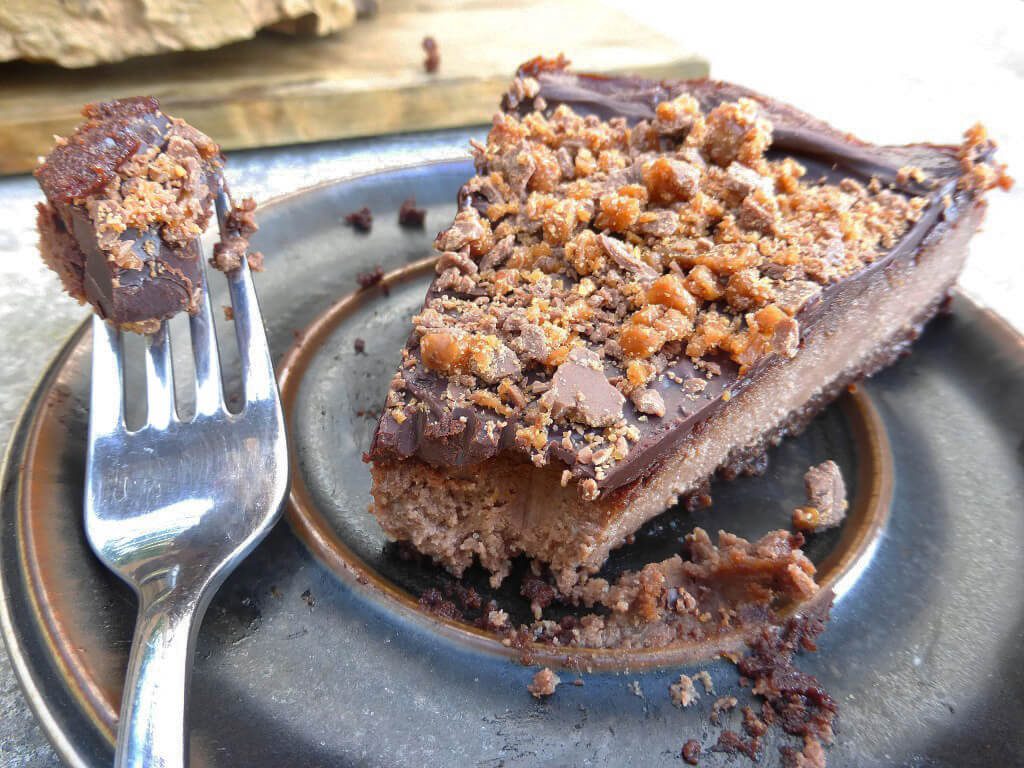 I am no stranger to using Daim in my desserts. It topped my deliriously light and creamy caramel no bake cheesecake a while back, played the main role in my 5 minute Daim & almond bark and the ridiculously decadent three layer butterscotch and Daim cake.
As with my blueberry cheesecake, I didn't bake this in a water bath. The end result is probably less smooth and refined in appearance because of this. But, you know what, I don't think I care. And anyway, the taste of this beauty will make you forget any imperfections, for sure.
I will be honest and say that this mascarpone chocolate cheesecake is a fiddly recipe. It it is little long-winded with various different steps including overnight refrigeration. But the effort is worth it. Big time.
The cheesecake is large and will easily feed 12-15 people. Plus, you only need a teeny bit, which makes it go further.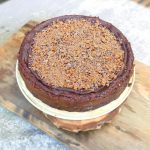 Brownie Crust Mascarpone Chocolate Cheesecake with Daim (Gluten Free)
Ingredients
Brownie:
100

g

(3/4 cup) dark chocolate

150

g

(2/3 cup) butter

30

ml

(2 tablespoons) brewed coffee (or just use water)

30

ml

(2 tablespoons) milk

60

g

(1/3 cup) brown sugar

65

g

(1/3 cup) white sugar

1

egg

1

teaspoon

vanilla sugar

15

g

(1 tablespoon) cocoa

30

g

(1/4 cup) sorghum flour

10

g

(1 tablespoon) rice flour
Cheesecake:
200

g

(1½ cups) milk chocolate

500

g

(2 cups) mascarpone

300

g

(1 + 1/3 cups) cream cheese (I used Philadelphia)

160

g

(3/4 cup) white sugar

1/4

cup

cocoa

3

eggs

around 100g Daim bars

crushed/chopped
Ganache:
100

g

(3/4 cup) dark chocolate

5

tablespoons

cream

1

tablespoon

sugar
Instructions
Pre-heat the oven to 170°C (325°F) and grease (or line) a large rectangle or square springform pan (mine was 27cm x 17cm / 10in x 7in).

Slowly heat the chocolate and butter in a pan until just melted, then add the coffee/water and milk. Leave the mixture to cool for about 10 minutes.

In a large bowl, whisk the sugar with the egg, then quickly beat in the cooled chocolate mixture.

Sift the vanilla sugar, flours and cocoa together and stir into the wet ingredients until well combined.

Pour into the prepared tin and bake for around 20 minutes (until an inserted skewer comes out clean). Remove from the oven and allow to cool (leave the oven on).

For the cheesecake: melt the chocolate in a Bain Marie then allow to cool for a while. Whisk the cream cheese, mascarpone, sugar and cocoa together then then beat in the eggs. Gently stir in the melted chocolate just until everything is evenly combined. Lastly, fold in the half of the crushed/chopped Daim bars (retaining the remainder to sprinkle on top of the ganache). Pour over the cooled brownie.

Bake for one hour, or just until it has an overall appearance of being set but the middle is still slightly jiggly. Turn the oven off but keep the cheesecake inside until it is cool to the touch. Remove from the oven and allow to cool completely.

For the ganache: heat the cream and sugar together until a rolling boil is achieved. Break the chocolate into small pieces and place in a bowl. Pour over the hot cream mixture and leave without touching for five minutes, then stir quickly until a thick ganache forms. Pour over the cooled cheesecake, sprinkle with the remaining Daim pieces and then refrigerate overnight. Slice and serve. Enjoy!
Recipe Notes
Disclaimer: I use grams in my recipes but to help my American readers, I've converted them to cups using online sources. However, as these measurements have not been personally verified by me, I cannot confirm they are 100% accurate.