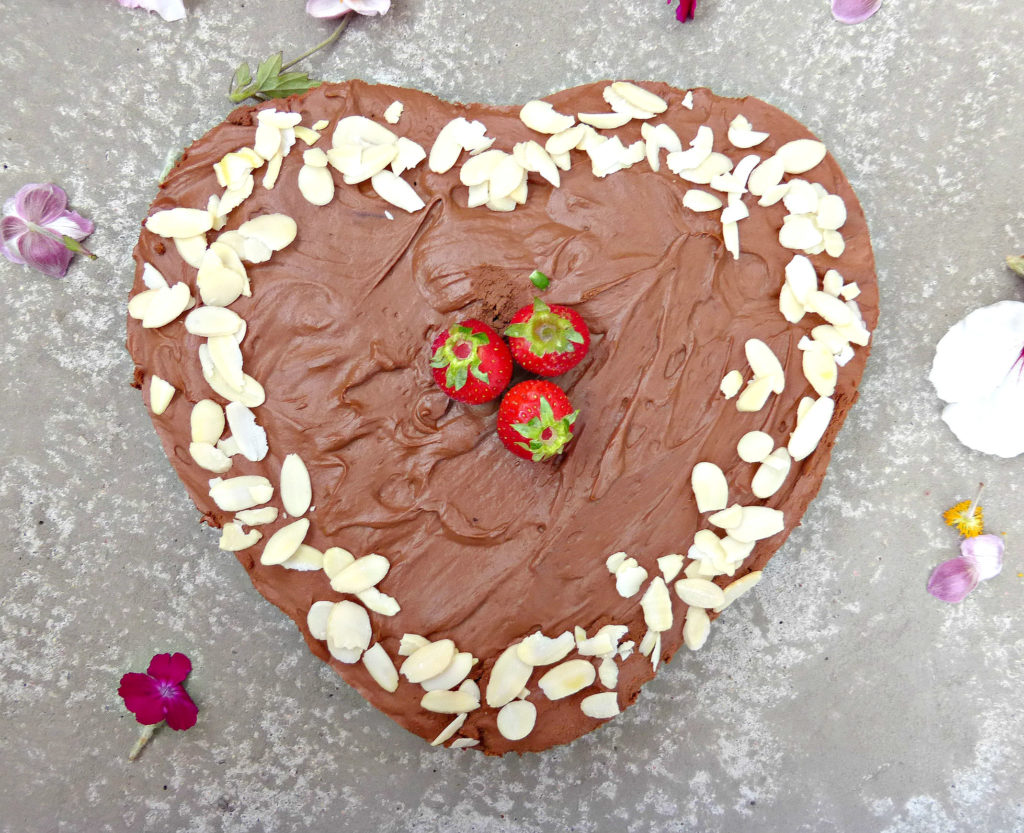 This is a very decadent mousse cake dessert. Very. 
And its more than generous helping of chocolate, sugar and butter mean that it should be saved for a special occasion. Yeah, right. Let me tell you – it would be extremely foolish to save this for a special occasion because you would need to share it. And you really don't want to do that.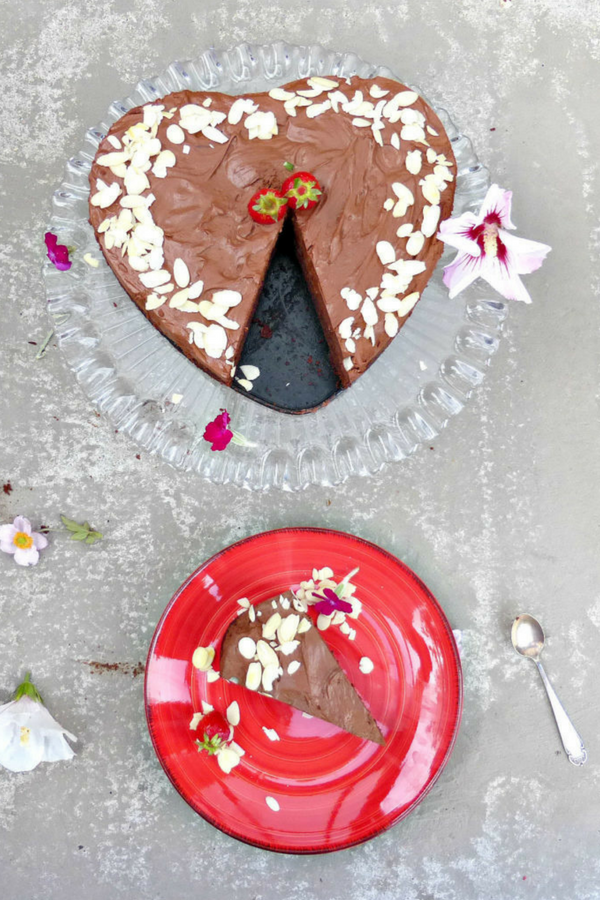 This dessert is rich. The brownie is very sweet, while the mousse topping has the bitter-sweet flavour any good dark chocolate has. When the two flavours combine, it is an taste explosion made in heaven.
However, if you prefer your chocolate a little sweeter, you might prefer to add a touch of honey to the chocolate.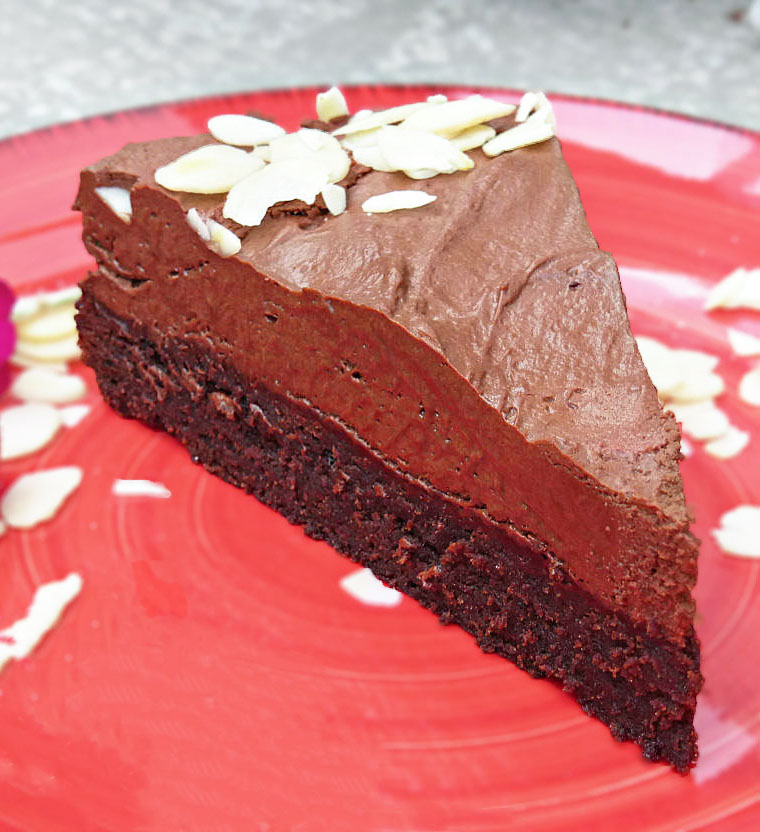 It really is a simple, no-nonsense cake to make. The brownie part is my go-to recipe and I've used it loads of times, slathered with caramel and chocolate or topped with marshmallow.
The mousse is only two ingredients (three with the honey); pile it on top of the brownie, and there you have it.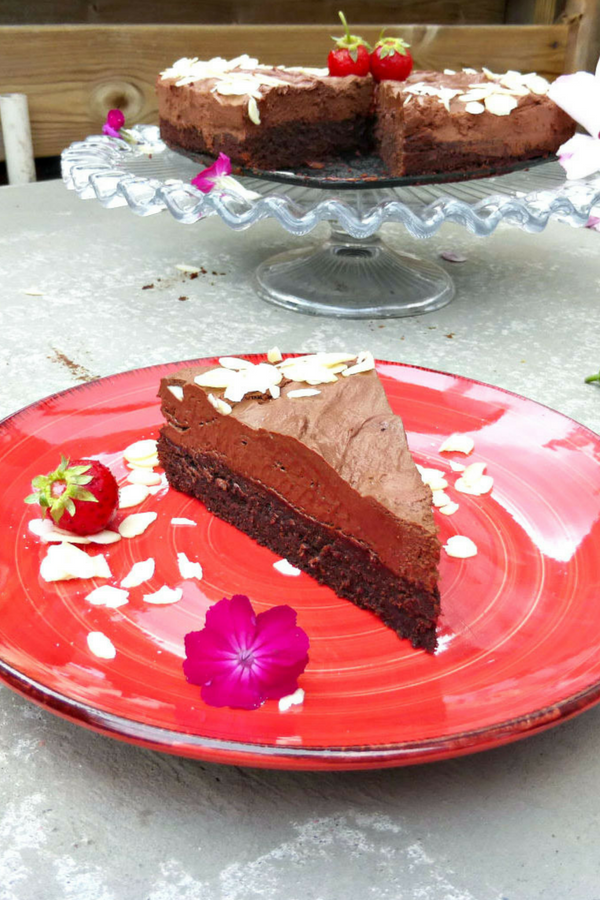 You can decorate the cake in any way you like. I fancied a few nuts and thought that the sliced almonds looked really pretty around the edges. I also had a couple of strawberries that I perched on top.
Brownie and Dark Chocolate Mousse Cake
---
Ingredients
Cake:

1/3 cup (50g) dark (plain) chocolate
1/3 cup (50g) milk chocolate
7 tablespoons (100g) butter
2 tablespoons (30ml) strong brewed coffee
5/8 cup (125g) brown sugar
2 small eggs
1 teaspoon vanilla sugar
1/3 cup (40g) flour
1 tablespoon (15g) cocoa

Mousse:

1 cup (150g) dark chocolate
1 cup (250ml) whipping cream

NOTES

Please note that all conversions to cups are based on the information I found online and may not be entirely accurate. If you are unsure, I would advise you do to your own conversions!
Directions
~ Pre-heat the oven to 325°F (170°C) and grease a medium-sized baking tin (I used a heart-shaped one).
~ For the cake: heat the butter and chocolate in a pan until just melted. Remove from the heat and add the brewed coffee. Set to one side to cool.
~ In a food processor (or using a whisk) beat the eggs and brown sugar together for about 30 seconds. When cooled, add the chocolate mixture and mix together, just until everything is well combined.
~ Add the flour, cocoa and vanilla sugar and once again, just stir until everything is well mixed. Pour the batter into the tin and then bake for around 18-20 minutes, just until the middle is firm. Remove from the oven and allow to cool completely.
~ For the mousse: melt the chocolate in a Bain Marie (double-boiler) and then set to one side to cool a little.
~ In a bowl, whip the cream until it starts to form peaks. Carefully fold in the chocolate, making sure there are no steaks. Pour over the cold cake and then level of the top. Cover with cling-film and place in the fridge for at least four hours to firm up.
~ When ready to serve, decorate with almonds and strawberries. Enjoy!
7.8.1.2
15
https://www.theculinaryjumble.com/brownie-and-dark-chocolate-mousse-cake/
If you like decadent desserts, you'll be drooling over these:
Nutella Brownie & Malteser Cake
Meringue Sandwich filled with Raspberry Whipped Cream