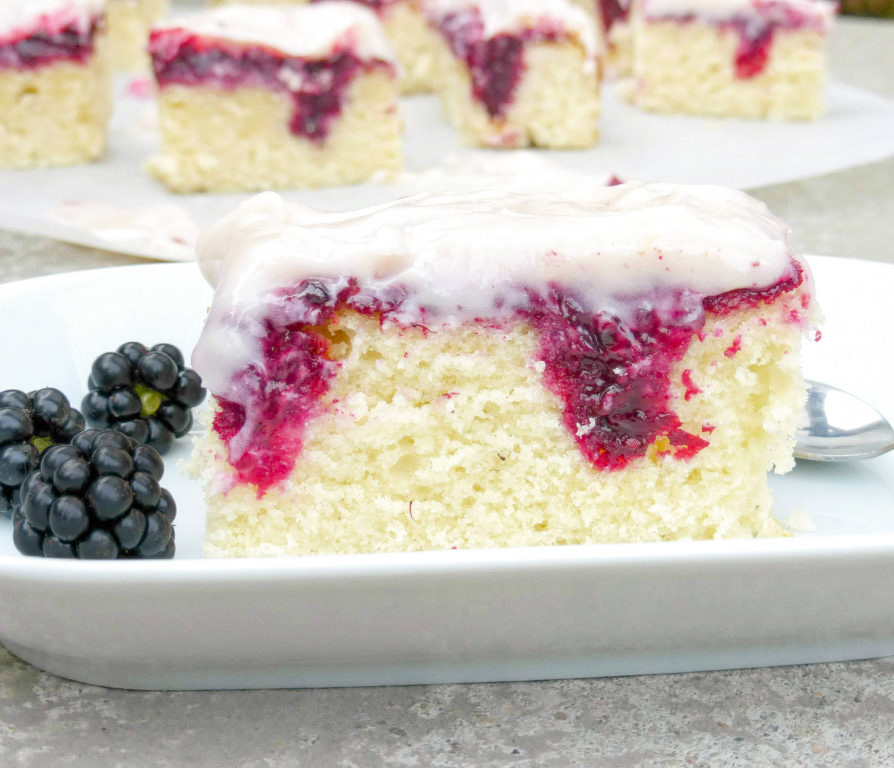 The second of three recipes with fresh, wild blackberries, this one is a white chocolate poke cake.
Perhaps you haven't come across the term "poke cake" before, but if you check out Pinterest, their feed is heaving with every kind of poke cake imaginable. Apparently, it's a classic from the 70s. Who knew?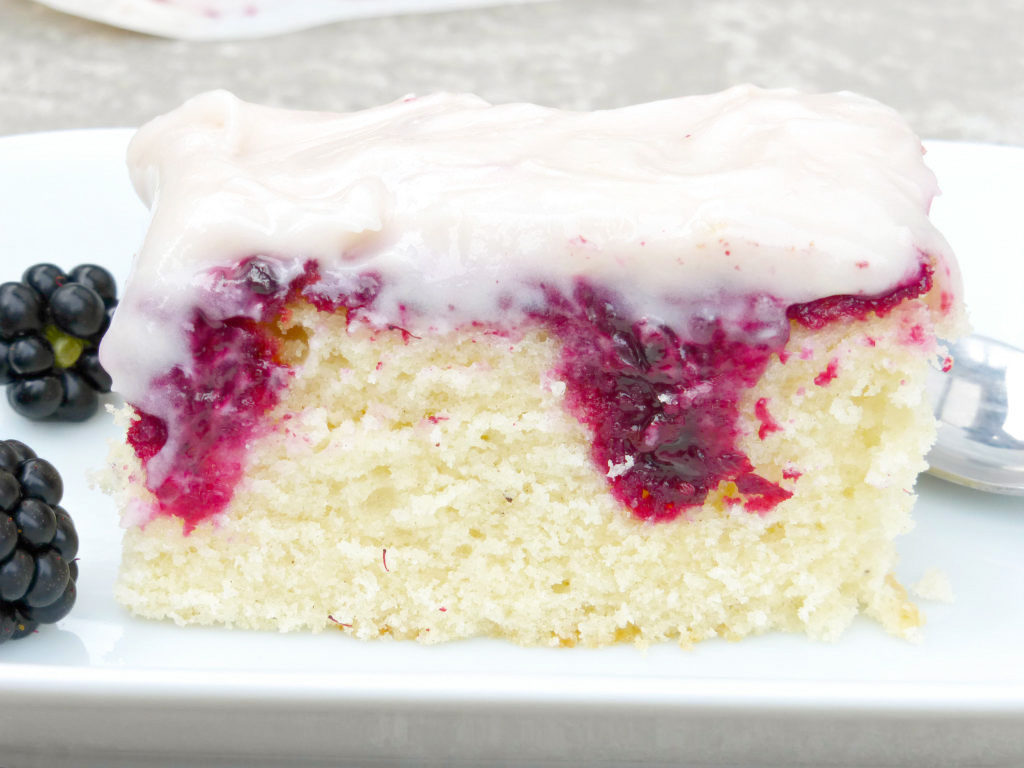 The dessert gets its name because you literally poke holes in it and fill them with whatever you fancy.
This one is packed with blackberry syrup and topped with a rich cream cheese and blackberry frosting. I think you could use any kind of cake to make this as long as it wasn't really crumbly – I used the same recipe as my White Chocolate Cake.
Blackberry and White Chocolate Poke Cake
---
Ingredients
Cake:

70g (1/2 cup) white chocolate
85g (1/3 cup) butter (softened)
150g (3/4 cup) sugar
2 eggs
1 teaspoon vanilla sugar
220g (1 + 3/4 cups) plain (all-purpose) flour
2 teaspoons baking powder
Pinch of salt (omit if your butter is salted)
150ml (1/2 cup + two tablespoons) milk
Blackberry Sauce:
250g (1½ cups) blackberries (fresh or frozen)
2½ tablespoons sugar
1 tablespoon water
Frosting:
30g (1/4 cup) white chocolate (melted)
200g (7/8 cup) cream cheese
1 teaspoon blackberry sauce (see instructions)
200g (2 cups) icing (confectioners' sugar)
Directions

~ For the cake: Pre-heat the oven to 180°C (350°F) and prepare a cake tin (I used a rectangle one, slightly larger than 8? x 8?).

~ Melt the chocolate and then set to one side. Using a mixer or electric whisk, beat the sugar and butter until light and fluffy. Add in the eggs one at a time followed by the melted chocolate.

~ In a separate bowl, mix the dry ingredients together. Then, alternating the dry ingredients with the milk, add to the wet ingredients until the batter is nice and smooth.

~ Bake for around 25-30 minutes until an inserted skewer or toothpick comes out clean. Leave to cool in the pan.

~ For the blackberry sauce: Heat the blackberries, sugar and water until it reduces down and becomes nice and thick (around 15-20 minutes). Retain one teaspoon and allow to cool.

~ For the frosting: Beat the cream cheese with the icing sugar and retained blackberry sauce, until nice and smooth.

~ To assemble: poke the cake all over to make holes - I used a small piping nozzle, but you could use a knife or tooth-pick. Don't go too deep and be careful not to crack the inside of the cake.

~ Keeping the cake in the pan, pour over the blackberry sauce, poking some down into the holes, and then spread evenly over the cake. Leave in the fridge for around 30 minutes.

~ Slather over the frosting and return to the fridge to set for a while. Cut into squares and serve. Enjoy!

7.8.1.2

122

https://www.theculinaryjumble.com/blackberry-and-white-chocolate-poke-cake/

The Culinary Jumble