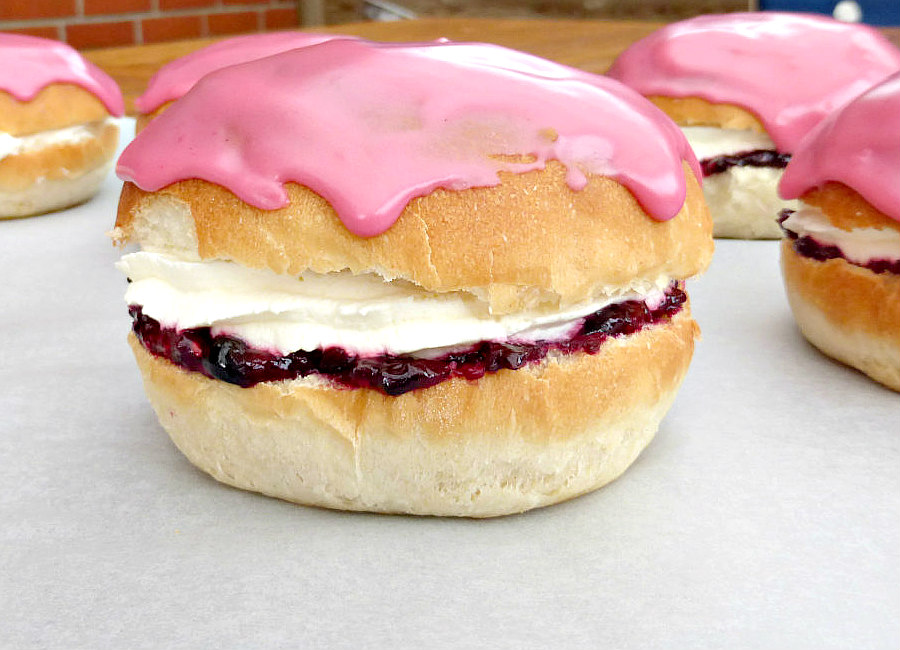 I love a good cream bun and it is hard to walk down any British high street and not see bakeries packed to the rafters with them. However, apart from the very traditional run-up-to-Easter treat of Semlor, they aren't very common here in Sweden.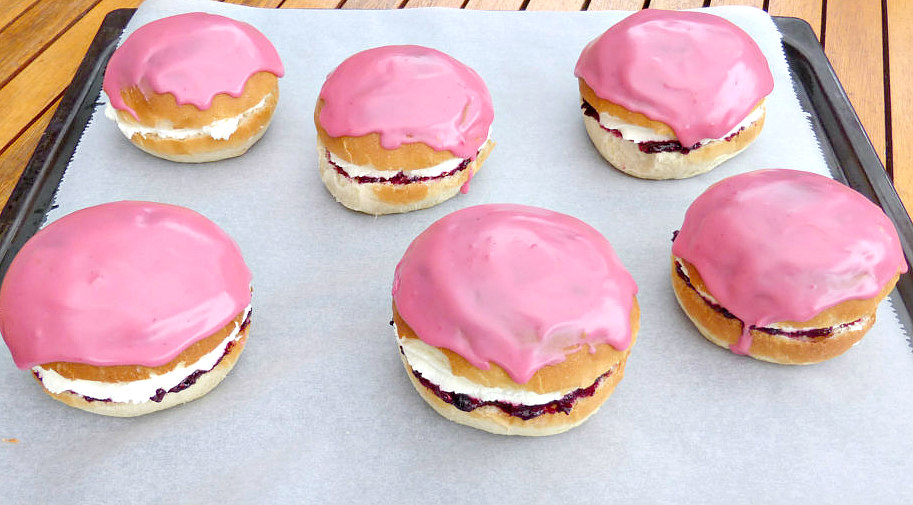 These pretty little things are a combination of iced fingers and traditional cream buns and I have to say tasted phenomenal – my youngest son said they were "too good to be true" and the best thing he'd ever eaten. So, I guess he liked them?
The sweet dough is filled with homemade berry jam and whipped cream. The icing is made from the sauce of the berries, which gives them that stunning, natural colour.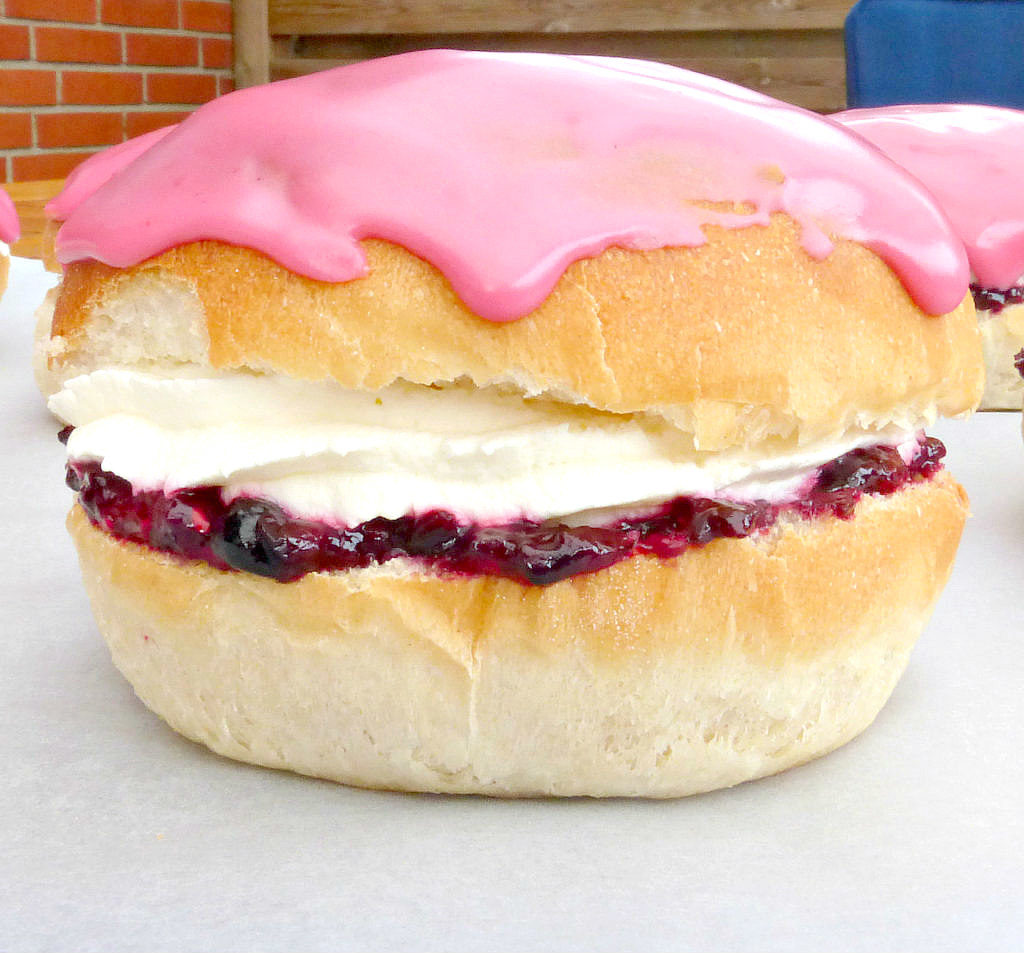 You can follow my bread making tips when making these, because although they are sweet, the same principals of bread making apply.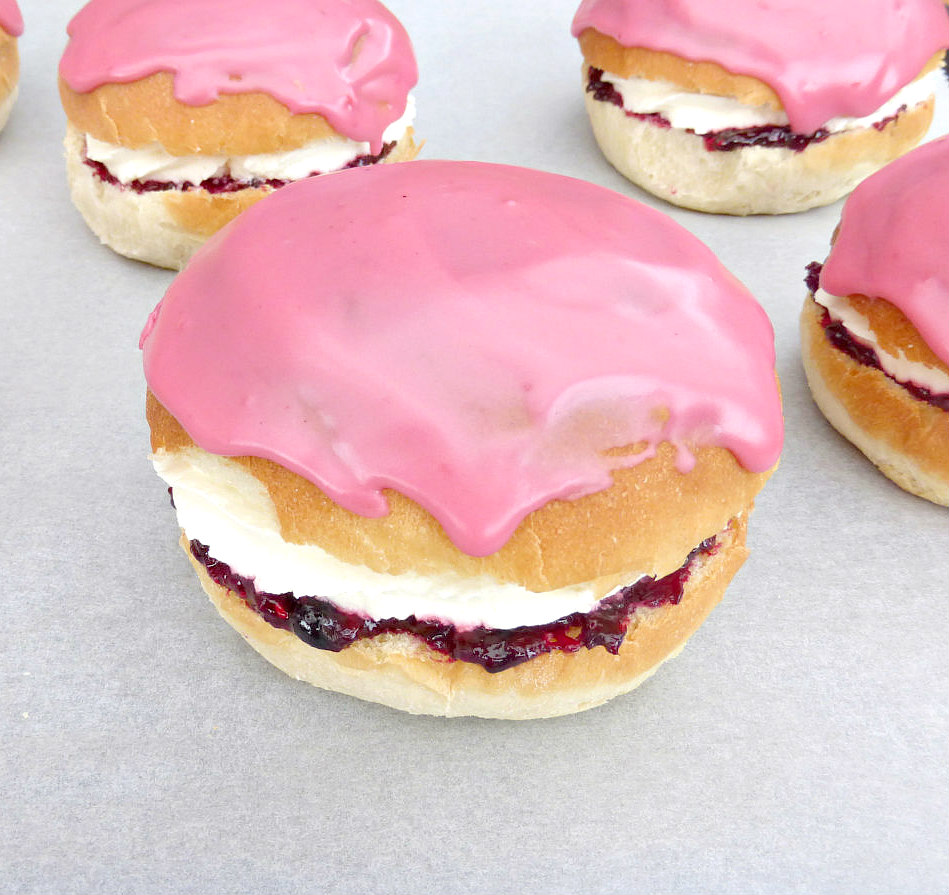 The measurements below made 7 pretty big cream buns (you certainly wouldn't be able to eat two!). Kristin, an American friend of mine, tipped me off to the fact that my recipes are perhaps not that user friendly to those of you across the Atlantic, due to me using metric measurements. I hold up my hands and admit laziness on my part, and from now on, I will try to include cups in all my recipes!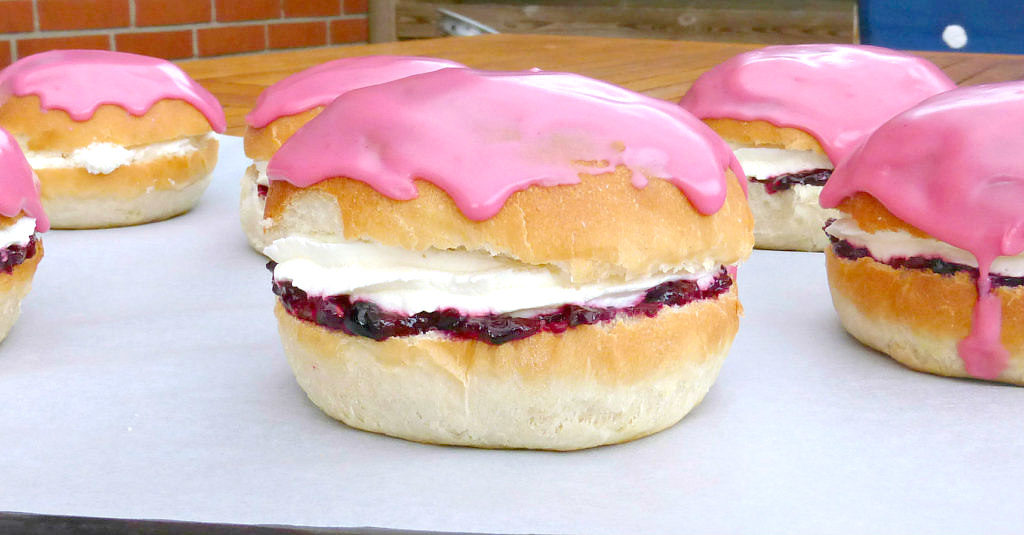 Berry Iced Buns with Cream and Homemade Jam
---
Ingredients
Dough:

25g fresh yeast - see note 1
75ml (5 tablespoons) warm milk
75ml (5 tablespoons) warm water
30g (2 tablespoons) sugar
20g (1 tablespoon + 1 teaspoon) butter
1 egg (beaten)
250g-350g (2-2½ cups) white bread flour
1 teaspoon vanilla sugar - see note 2

Filling:

200g (2 cups) frozen mixed berries
2 tablespoons honey
1 tablespoon water
250ml (around 1 cup) whipping cream

Icing:

150g (1½ cups) icing/confectioners' sugar
2 tablespoons berry sauce (retained from the berries)
Water (as needed)

NOTES:

1 - I use fresh yeast in my bread. If this is not available to you, check out these handy conversions.
2 - If you don't have access to vanilla sugar, have a look at this converter to essence/extract.
Directions

~ Melt the butter and set to one side. Add the water and milk to a jug and crumble in the yeast. Leave for 5-10 minutes to allow the yeast to activate and then add in the sugar and beaten egg.

~ Mix the vanilla sugar with 250g (one cup) of flour, then pour in the liquid ingredients. Stir vigorously until well combined and then gradually add more flour until a workable dough consistency is reached (remember the dough should be sticky when turned out onto a floured work surface). Knead the dough for around 8-10 minutes until it is elastic and smooth. Place back in the bowl, cover and leave in a warm place for around an hour.

~ In the meantime, prepare the homemade berry jam: mix the berries, honey and water in a pan and cook until they have reduced down and are nice and thick (about 20 minutes), and then take off the heat and allow to cool completely. Half way through cooking the berries, pour off around two tablespoons of the juice for the icing (you will need to strain it to get rid of any fruit lumps), and then put it to one side.

~ Pre-heat the oven to 220°C (425°F). Knock the dough back and knead for another minute or two until smooth and then shape into 7 or 8 balls. Place on a grease-proof lined baking tray, cover and leave on top of the oven for another 45-60 minutes.

~ Bake for around 10 minutes (keep an eye on them because they brown very quickly) and then remove from the oven and allow to cool completely.

~ For the icing: add the icing sugar to a bowl and pour in the two tablespoons of berry sauce and stir until combined. Gradually add half a tablespoon at a time of cold water until a thick icing is achieved (you don't want it so runny that it rolls off the buns, but at the same time, you need to be able to work with it). Whip the cream and spoon into a piping bag.

~ To assemble the buns: cut them in half and spread some berry jam on the bottom halves. Pipe over some cream and then either take the top and dip it in the icing or carefully spread it over the tops using a knife. Place the tops back on, and you're ready for action! Store in the fridge until ready to eat. Enjoy!

7.8.1.2

126

https://www.theculinaryjumble.com/berry-iced-buns-with-cream-and-homemade-jam/

The Culinary Jumble