This Greek yoghurt Eton Mess with homemade meringue and berry jam is completely made from scratch. Yes, even the meringue.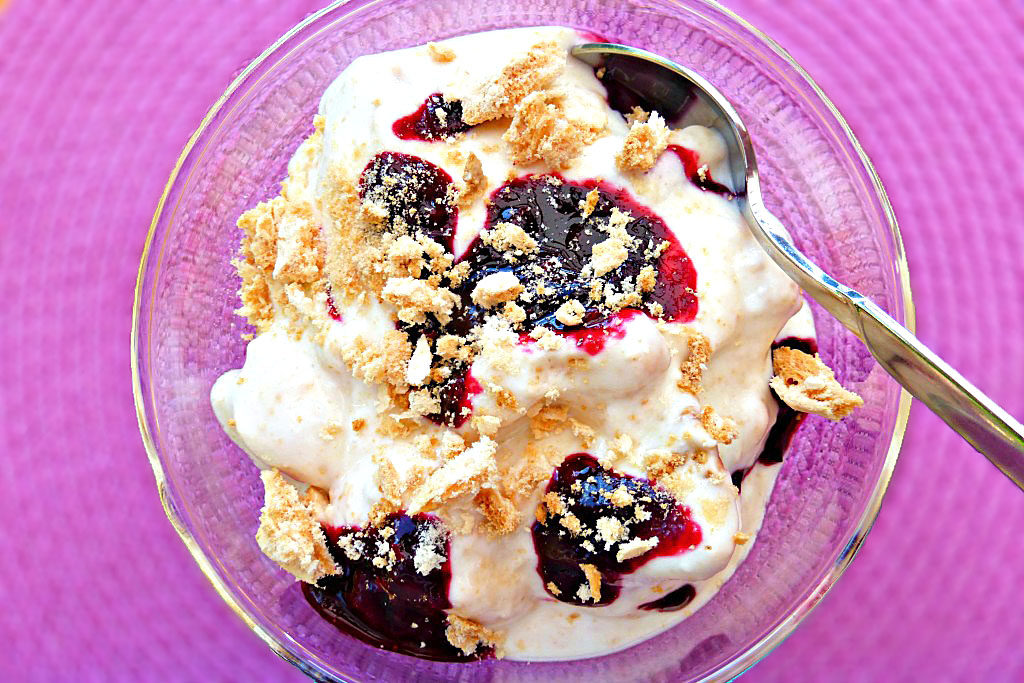 Eton Mess is one of those fabulous desserts that fits pretty much most scenarios. It will impress your guests at a fancy dinner party, but is so simple that it can be whipped up in no time for a casual midweek treat for the family. If you want to make it even simpler, omit making your own meringue and buy some instead.
Although there is some sugar in the meringue, you can reduce this if you prefer. The dish is easy to prepare, low in fat and completely made from scratch (even the meringues).
The ingredients below made four nice-sized desserts, but the recipe could be easily adapted to make more (just to mention that although the measurements below make six meringues, the Eton Mess recipe only calls for four).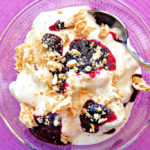 Greek Yoghurt Eton Mess with Homemade Meringue and Berry Jam
Ingredients
Meringue:
2

medium eggs

125

g

(2/3 cup) white sugar

pinch

of salt
Jam:
200

g

(2 cups) berries (frozen or fresh)

20

g

(2 tablespoons) brown cane sugar

1

teaspoon

vanilla sugar
The "mess":
250

g

(1 cup) Turkish/Greek yogurt

125

g

(1/2 cup) vanilla (or plain) yoghurt

2

tablespoons

honey
Instructions
Pre-heat the oven to 180°C (350°F) and line a large baking tray with baking/grease-proof paper.

Separate the egg whites and yolks. Whisk the whites with a pinch of salt until they start to form peaks. Slowly add the sugar and continue to whisk until the mixture is smooth and glossy.

Drop six equal sized dollops of meringue onto the baking tray, smoothing with a knife until each is a rough round shape of level thickness (don't spend too much time on this - they are going to be crushed!).

Turn the heat down to 150°C (300°F) and bake the meringues for 30 minutes. Turn the heat off completely but leave the meringues inside the oven for a further 30 minutes. Remove and allow to cool completely.

While the meringues are baking, place the berries, brown sugar and vanilla sugar in a pan and heat for about ten minutes - the mixture should become thick and have an almost a jam-like consistency. Take off the heat and allow to cool completely.

Mix the yogurts and honey together in a large bowl and leave in the fridge until it is needed.

Right before serving, break up three meringues into small pieces and gently stir into the yoghurt (don't do it a long time before because the meringues will go soggy!). Pour around two tablespoons of yoghurt mixture in each individual serving bowl and top with one tablespoon of the berry mixture. Cover with a little more of the yoghurt mixture followed by more berry sauce on top.

Crumble the fourth meringue on top of the dessert and serve immediately. Enjoy!
If you love Eton Mess, check out the dessert in cake form, in my show-stopping Victoria sponge.