What is nicer than a good cheesecake? A baked Greek yoghurt cheesecake, topped with fresh berries bursting with flavour? Not a lot, for sure.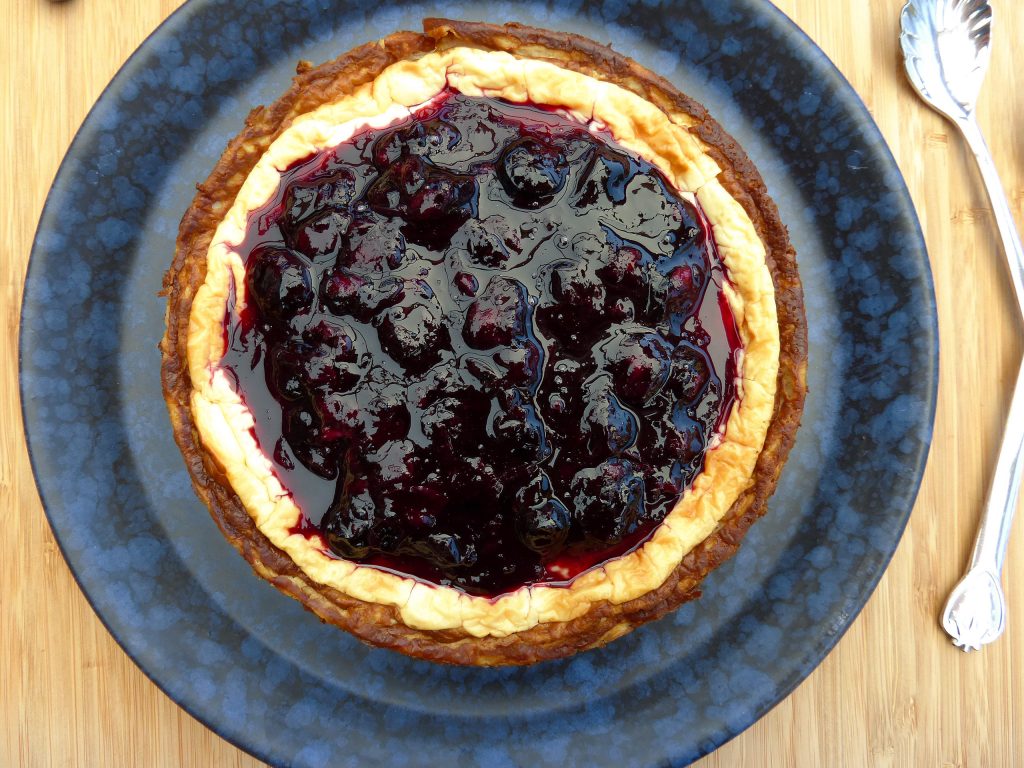 But, here's a little secret: this recipe is not a cheesecake at all, technically speaking. Not one tiny little teaspoon of cheese to be found anywhere. Which leads to a quandary: what happens when it looks like a cheesecake and tastes like one but isn't?
Seriously, I wish I had the time to worry about this kind of thing. Who cares what it's called? All you need to know is that it is dee-lish-ahs!
I love a gloriously rich, creamy, sugary, decadent cheesecake as much as the next person, as my Snickers and Triple Chocolate Caramel cheesecakes will attest. But this isn't it.
Don't get me wrong, it is absolutely gorge, but don't go making it with the thought that it is going to taste like a regular cheesecake. It doesn't. It is made with Greek yoghurt and while it is creamy, the yoghurt gives it a slightly denser texture.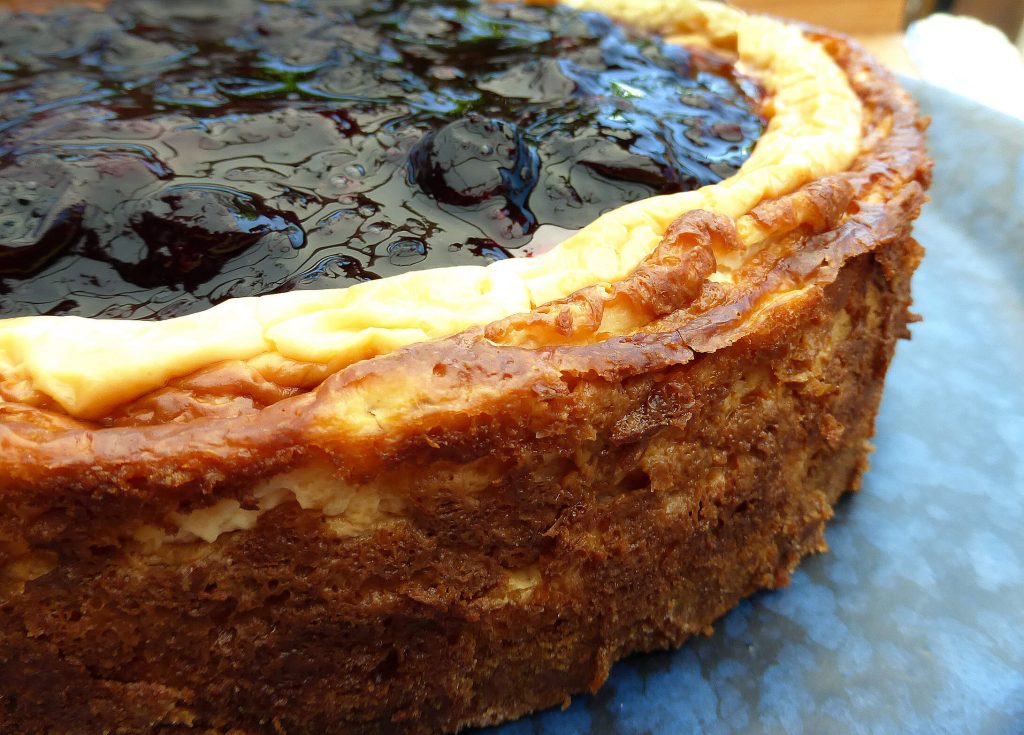 The crust is gluten free with no refined sugar and it doesn't have a traditional cookie crumb type consistency.
But again, it tastes amazing. So let's not preoccupy ourselves with what a cheesecake should taste like, eh? Different should never mean bad. It's just different.
The topping is beautiful, fresh from my garden, blueberries with a touch of honey to sweeten them. That's it.
Like the majority of my recipes, there is no fannying about in the kitchen with horrendously difficult instructions or weird ingredients.
Most experts will tell you that to make a good cheesecake, it needs to placed in a water bath (which always makes me giggle because I imagine desserts lazing around in a bath-tub), which is fine, if you want a silky smooth, perfect cheesecake.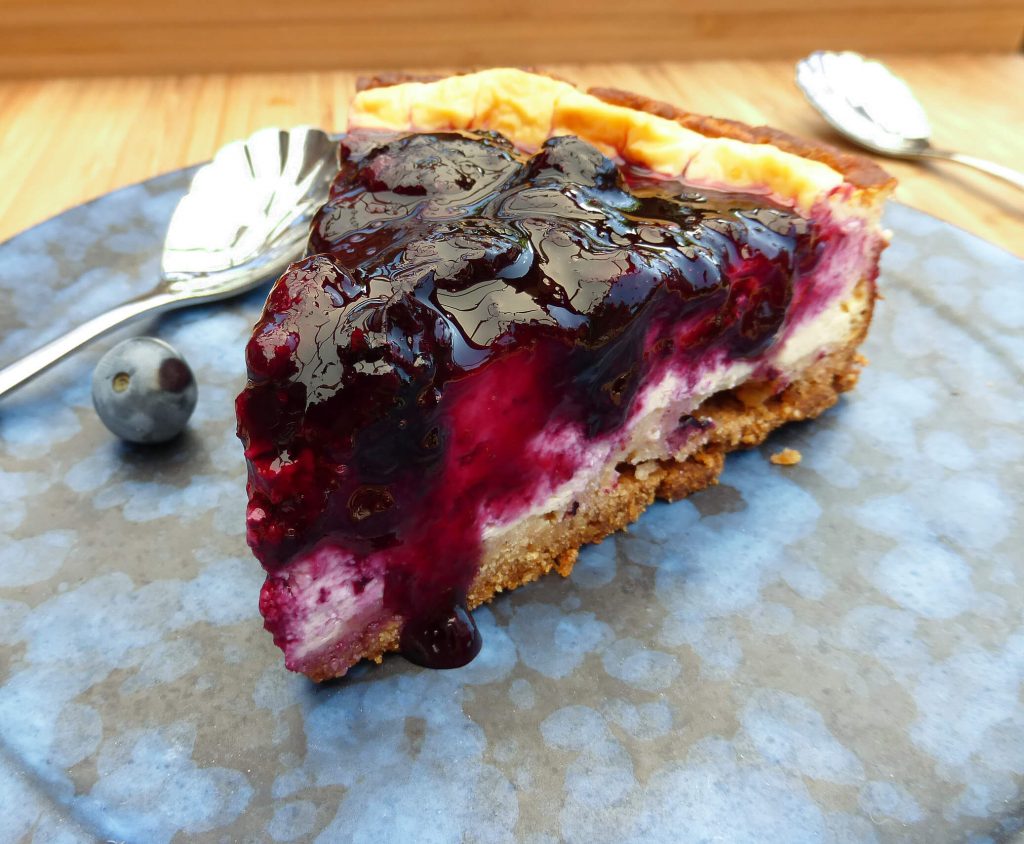 But life's not perfect, and as this is me (and more importantly my recipe), I've never done it. Just saying.
If this has you writhing in your seat, wringing your hands in frustration at my culinary anarchy, I'm not telling you not to do it, just what I do; so please, whatever makes you happy (also makes me happy). If  you are all for an easier life like me (aka a lazy bugger), follow my method.
I've got amazing blueberries growing in my garden right now, but you could seriously top this with anything you liked. Or even leave it entirely naked, if you wished.
The cheesecake is fairly small, baked in a 18cm (6″) tin and serves 6-8 people.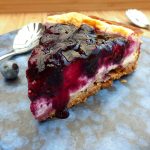 Baked Greek Yoghurt Cheesecake with Blueberry Compote
Ingredients
Crust/Base:
55

g

(1/4 cup) sorghum flour

40

g

(1/4 cup) ground almonds/meal

2

tablespoons

coconut sugar

1/2

teaspoon

cinnamon

30

g

(2 tablespoons) butter (melted)
Filling:
2

cups

plain Greek yoghurt

1

teaspoon

vanilla sugar

2

tablespoons

honey or maple syrup

juice of ½ lime (around 1 tablespoon)

2

eggs

1

tablespoon

corn starch
Topping:
75

g

(3/4 cup) blueberries

2

tablespoons

honey

3

tablespoons

water
Instructions
Pre-heat the oven to 350ºF (175ºC) and grease a small spring-form pan (mine is 18cm/6 inches).

For the crust: melt the butter and set to one side. Mix the other crust ingredients together in a bowl and add in the butter. Stir until it is combined and then pour out into the prepared tin. Press down with a back of a spoon until it is even (there isn't enough to go up the sides, this is just a base). Bake for ten minutes, remove from the oven (don't switch it off) and then allow to cool for a while.

In the meantime, prepare the filling: whisk all filling ingredients together until light and smooth. Pour over base. Cook for 45 minutes (the top should still be jiggly but have an overall appearance of being set). Turn off the oven and leave the cheesecake inside until it has cooled (it will still be a little warm to the touch but you should be able to remove it from the oven without a cloth/oven-mitten. If you miss this step and remove the cheesecake immediately, it is more likely it will develop huge cracks due to the sharp switch in temperature. Leave to cool completely, cover and then place in the fridge overnight.

For the fruit compote: heat the topping ingredients together in a pan for around 10 minutes, just until the juice thickens - don't mush the berries, try to keep them whole (albeit mushy). Remove the outside of the spring-form and pour compote over the cheesecake. Serve immediately. Any leftovers should be covered and kept in the fridge. Enjoy!
Recipe Notes
Disclaimer: I use grams to measure my ingredients. To help out my American readers, I've used online sources to convert to cups. As these have not been verified by myself, I cannot guarantee that they are accurate. My recommendation would be to always use scales!
If you like healthier cheesecakes, check out these 11 most exquisite cheesecakes (you will never believe are healthier).