This After Eight Mint Fondant chocolate brownie needs to be on your Christmas table this year.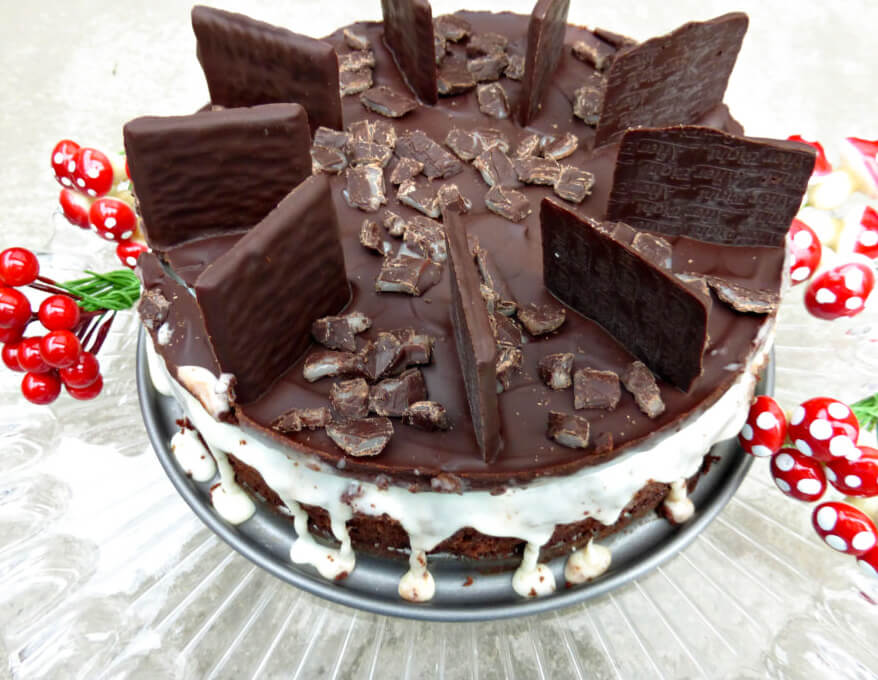 Honesty is something that I take seriously; I often say to my kids that if they tell me the truth, I would pretty much overlook any wrong doings they have been getting up to.
So, with that in mind, I have to confess that this dessert was not meant to have runny fondant. Instead, it was supposed to set firm, and sit prettily between the brownie and ganache, and after spending a whole night in the fridge, you would imagine that would happen, wouldn't you?
Nope, this little gem had other ideas. After howling loudly as I watched the fondant rapidly escape as soon as I released the spring-form cover, I wiped my eyes, gathered myself, and quickly realised how pretty it looked. And then I tasted it, and there was no way I was going to deny you good people the chance to try it yourself.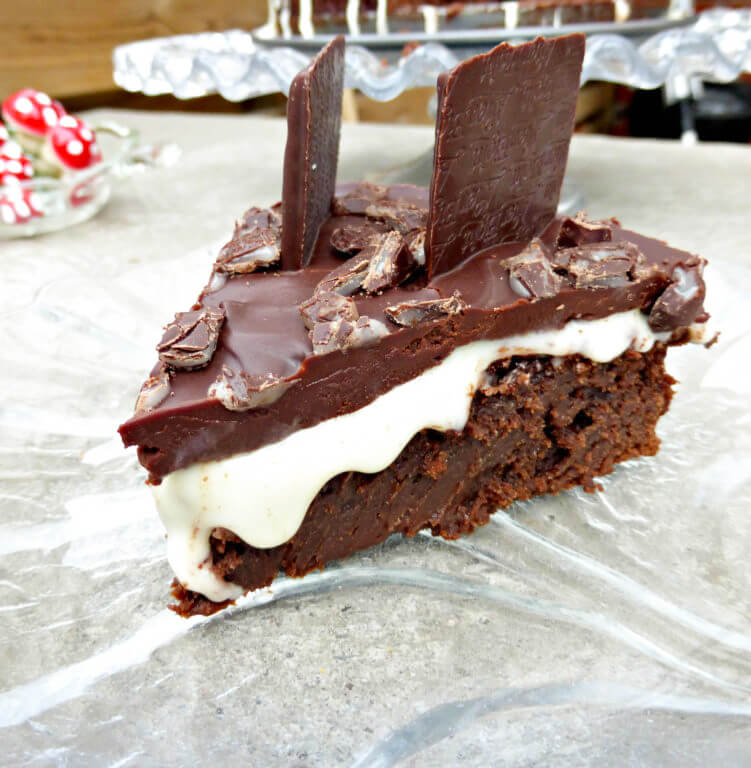 In hindsight, seeing as my aim was to recreate After Eight Mints in cake form, the fondant should be on the runny side, and this is exactly how it should look.
That said, the fondant does make it a little sticky, so if I tried this again, I would definitely make it more of a paste and spread it on (which you could easily do by adding more icing sugar).
The cake is very rich. Very. So you only need a nice little slither to satisfy you. Although this is a small cake, it will feed tons of people (at least 10). The brownie is deliriously fudgy (I used my go-to brownie recipe but made it in a smaller pan which resulted in a thicker, softer version), the fondant is sweet, and the ganache is chocolate heaven. Perfection on a cake plate.
Christmas just isn't Christmas without a couple of After Eights, so why not scrap the boring Crimbo pudding and go for this dessert instead?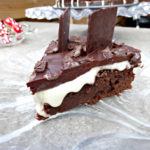 After Eight Mint Fondant Chocolate Brownie
Ingredients
Brownie:
100

g

(3/4 cup) dark chocolate

100

g

(just under 1/2 cup) butter

50

ml

(3 tablespoons) strong brewed coffee

60

g

(4 tablespoons) brown sugar

65

g

(4½ tablespoons) white sugar

2

eggs

1

teaspoon

vanilla sugar

40

g

(1/4 cup) plain (all-purpose) flour

15

g

(1 tablespoon) cocoa
Fondant:
100

g

(1/3 cup) condensed milk

1

teaspoon

mint essence/extract

100-200g

(1-2 cups) icing sugar
Ganache:
60

g

(1/2 cup) good quality dark chocolate

75

ml

(5 tablespoons) whipping cream

1

tablespoon

butter

1

tablespoon

syrup

After Eights (or Andes mints) for decoration
Instructions
For the brownie: Pre-heat the oven to 170°C and grease a small round spring-form (mine was 6 inches/ 18cm).

Slowly heat the chocolate and butter in a pan until just melted, then add the coffee. Leave the mixture to cool for about 10 minutes.

In a large bowl, whisk the sugars with the eggs, then add in the cooled chocolate mixture.

Sift the vanilla sugar, flour and cocoa and stir into the wet ingredients, then mix until well combined.

Pour into the prepared tin and bake for around 20-25 minutes (until an inserted skewer comes out clean). Remove from the oven and allow to cool completely (leave the cake in the pan).

For the fondant: Beat the condensed milk and mint essence together until well combined. Gradually add icing sugar until the required consistency is reached - mine took just over 100g (1 cup) but if you want a firmer fondant, add more to make the mixture more of a paste you can spread.

Pour/spread the fondant evenly over the cold brownie and place in the fridge for a couple of hours to firm up.

For the ganache: Heat the butter, milk and syrup in a pan until just starting to boil. Break the chocolate into bits, and place the chocolate in a bowl. Pour the hot liquid over the top and then leave for five minutes, before beating it quickly until nice and smooth. Pour over the set fondant, then allow the ganache to firm up a little before adding the decoration.

Decoration: I used whole After Eights along with several cut into small pieces. I gently pushed the whole ones into the ganache then quickly popped the cake into the freezer so that the chocolates wouldn't topple over. When they were set in place, I sprinkled the remaining bits of After Eights all over the top. Place in the fridge for several hours (or overnight), remove the spring-form sides, and serve chilled. Enjoy!
Recipe Notes
Disclaimer: I measure my ingredients in grams. To help my American readers, I have converted grams to cups using online resources. However, these measurements have not been verified by me and might not be totally accurate.