This 30 minute simple meal: Thai spiced creamy fish curry is one of the nicest curries I have ever made. And I've managed a few!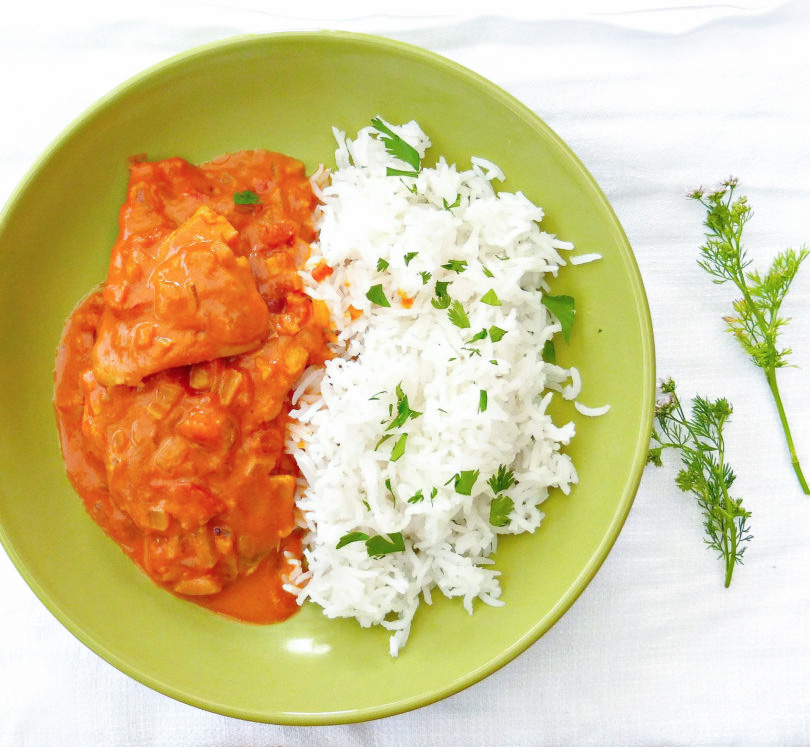 Coincidentally, this was also the first fish curry I had ever cooked.
I've made this several times and it is a firm favourite in our house! There's just enough spice to get your senses buzzing, but not too overpowering; this means the whole family can enjoy it (even my little heat-sensitive eight year old)!
Sometimes, all you need is a quick, balanced, delicious meal at the end of a long day. You don't want to faff about in the kitchen and this is where this 30 minute simple meal: Thai spiced creamy fish curry steps in. With no more work involved than peeling and chopping an onion, this dinner will be on the table in 30 minutes.
The recipe can be adapted, too. If you'd rather have a lighter version, use coconut milk instead.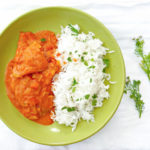 30 Minute Simple Meal: Thai Spiced Creamy Fish Curry
Ingredients
400-500g

fish

1

onion

(finely chopped)

3

cloves

garlic

(finely chopped)

½

teaspoon

fresh ginger

(very finely chopped)

½

small red chilli pepper

1

teaspoon

fresh coriander

½

teaspoon

cumin

½

teaspoon

paprika

½

teaspoon

turmeric

1/4

teaspoon

cayenne powder

1

teaspoon

Thai spices

(you could use red curry paste and adjust amount accordingly)

1

x 400g tin of tomatoes

50ml

water

200ml

milk

100ml

cream

(or coconut milk)
Instructions
Fry the onion until it softens, then add the ginger, garlic and chilli pepper. Cook for a couple of minutes. Add the coriander and dry spices and cook for an additional couple of minutes.

Add the cream, milk, tomatoes and water and cook for around 15 minutes. Reduce the heat and place the fish in the sauce. Continue to heat just long enough for the fish to be cooked, around 5-10 minutes depending on its size and thickness (don't overcook or you will end up with rubbery fish!). Serve immediately with rice and garnish with fresh coriander. Enjoy!
If you are looking for more, simple family meal ideas, check out these recipes:
 Spicy Homemade Carrot, Turmeric and Coriander Soup
Nice and Spicy Tomato and Prawn Rice (made in the Crockpot