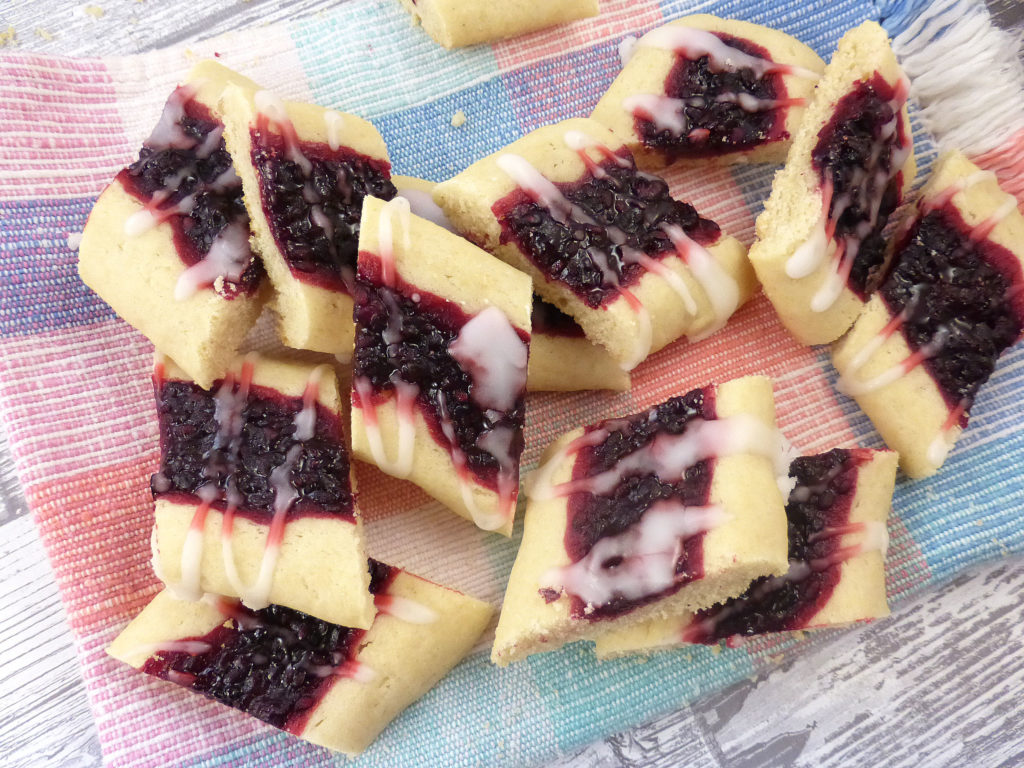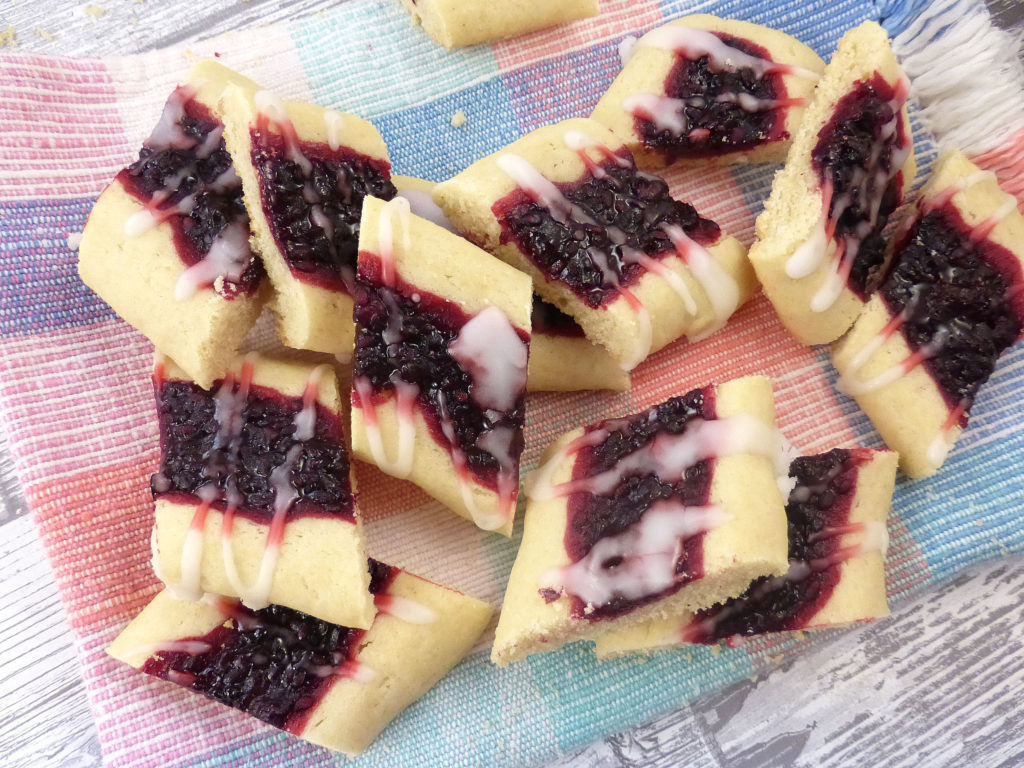 Snittar are popular Swedish cookies, cut on a diagonal slant, as first explained in my post for Kolasnittar, and then seen in my Martas Chokladkakor.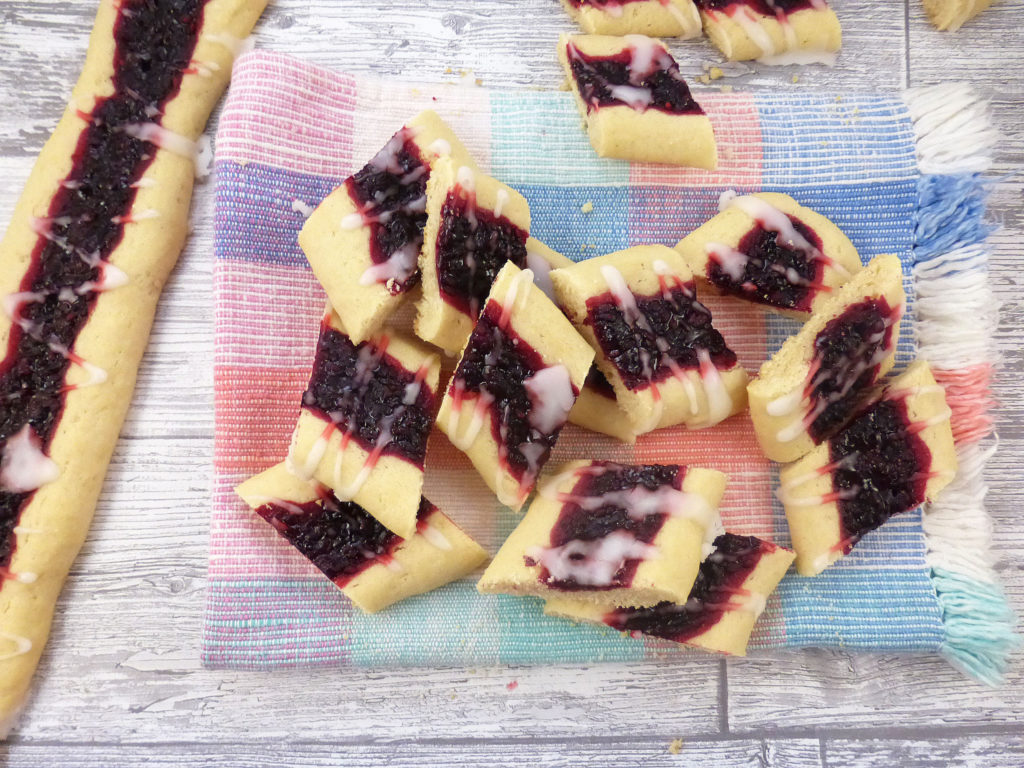 Snittar come in all kinds of varieties, and this one has a gorgeous homemade blackberry jam filling running along the middle.
I find them quite similar to shortbread; they have that same melt-in-the mouth deliciousness but are a little drier and softer in texture.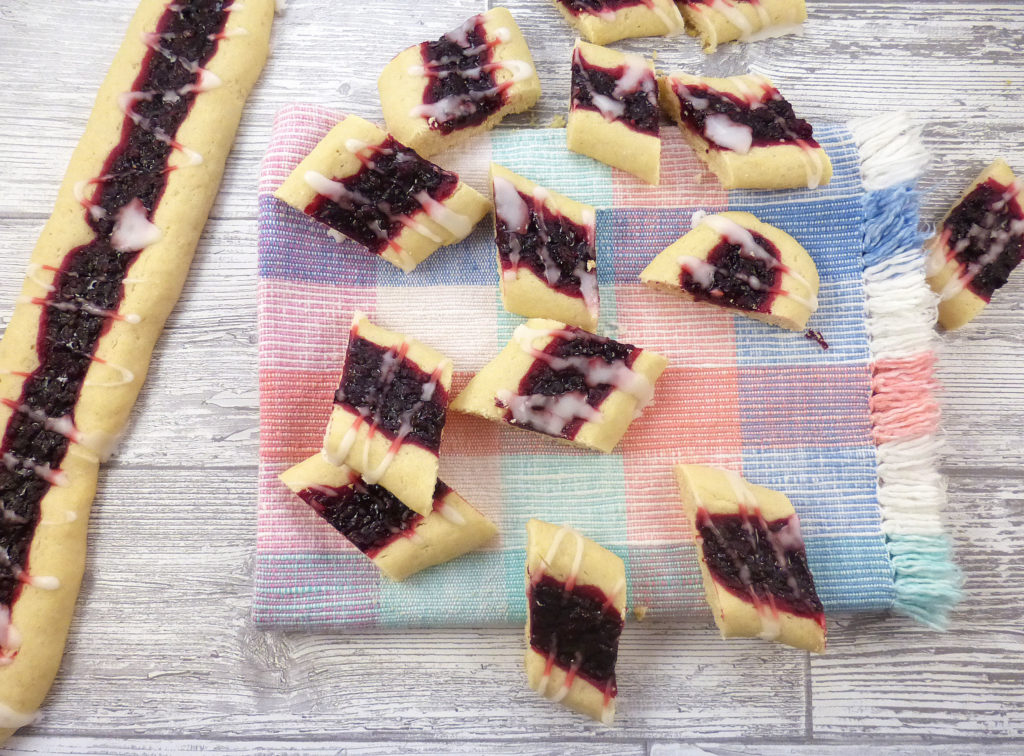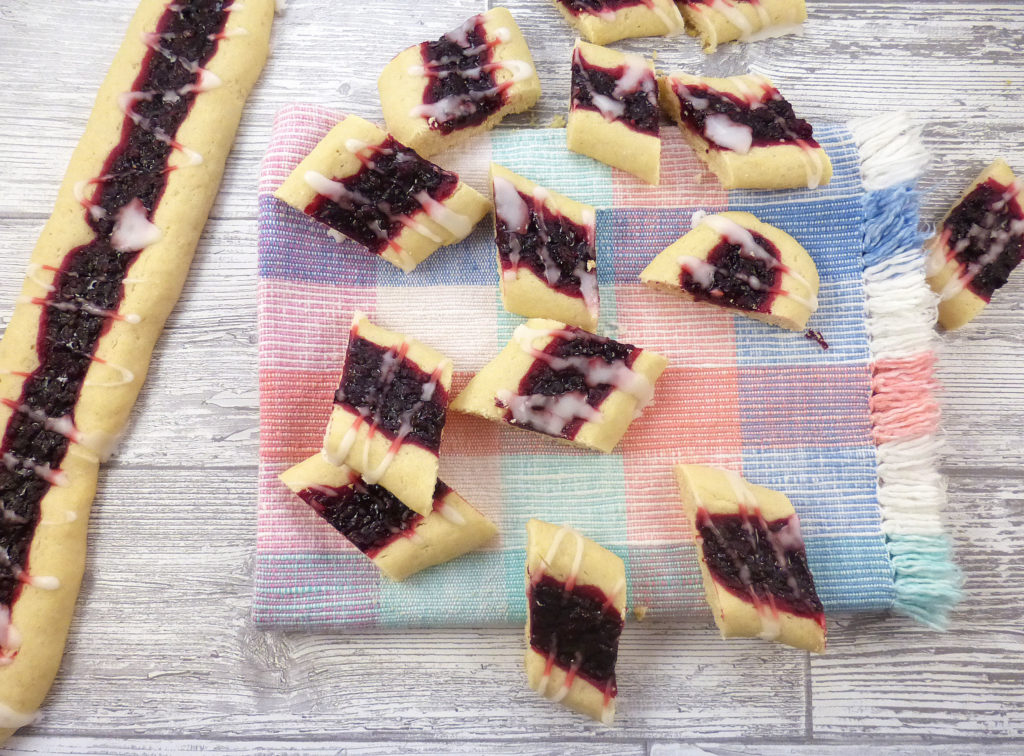 Unlike shortbread, these are not packed to the rafters with sugar. You don't miss it though – less sugar means the tartness and flavour of the berries seep through with every mouthful.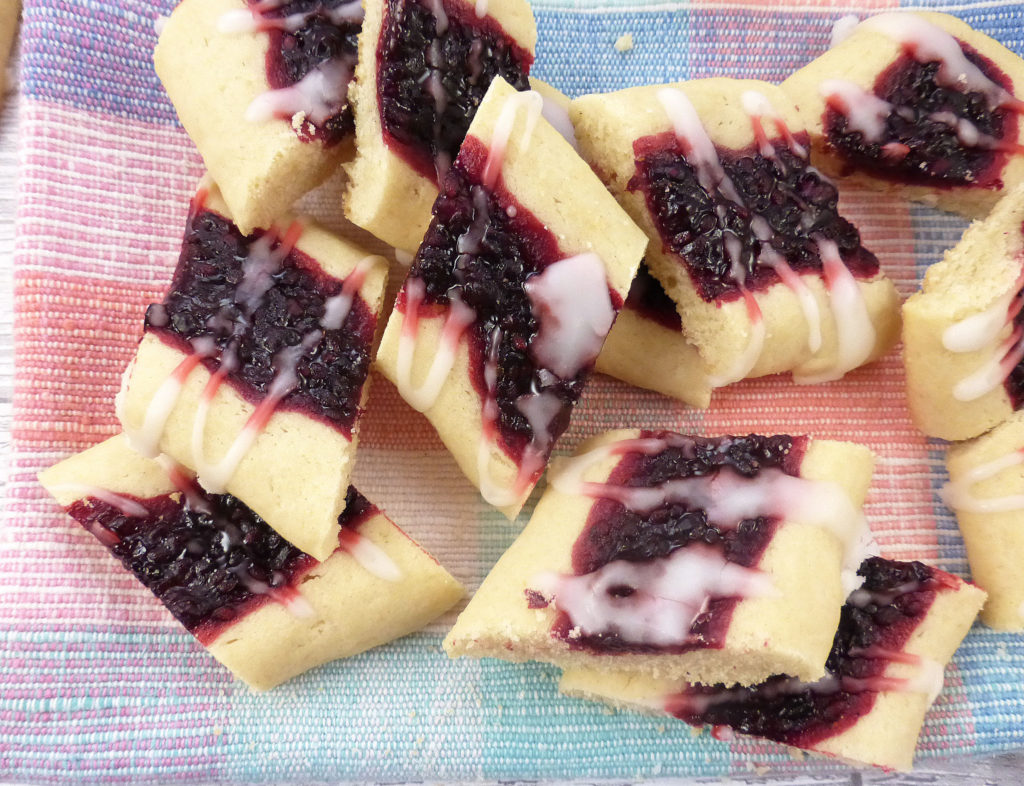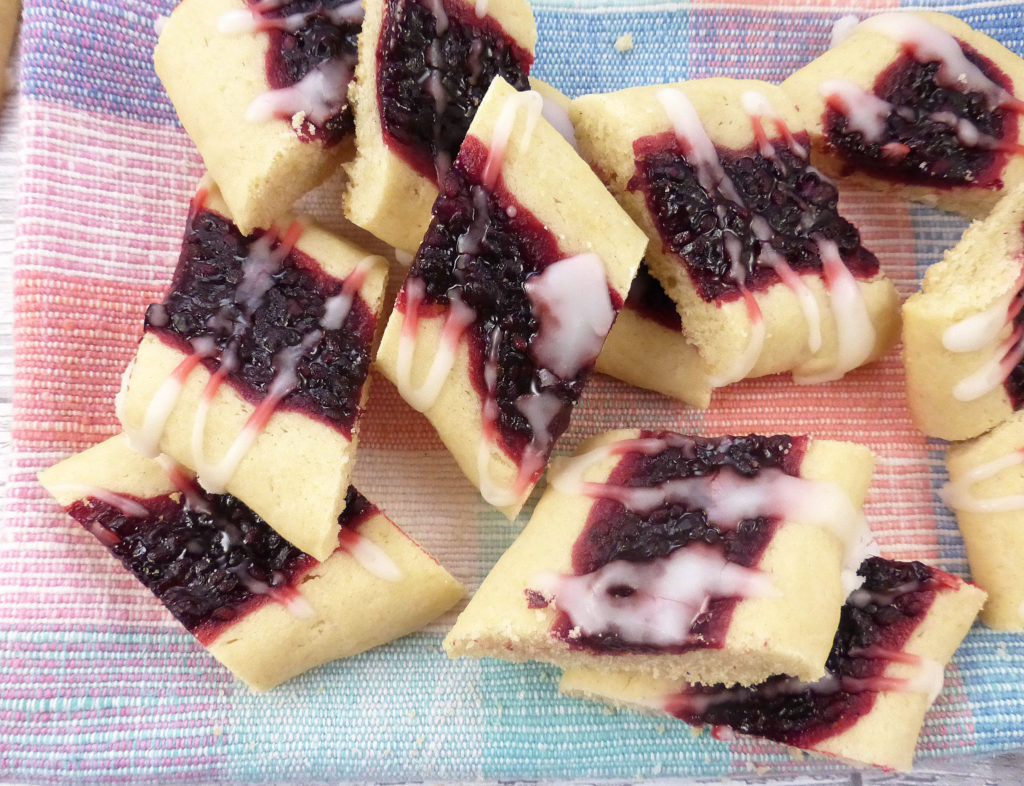 As with the majority of Swedish baking, these are dead simple. They are created with only a handful of kitchen cupboard staples, and to make it even easier, you could forego the homemade jam and use store bought instead.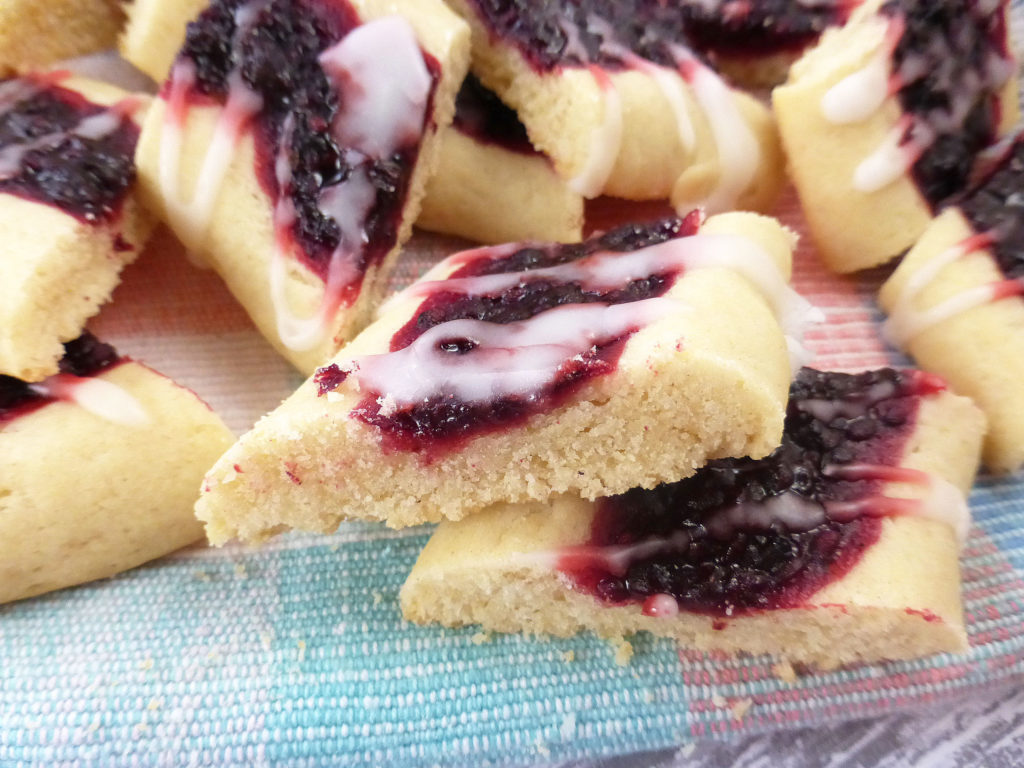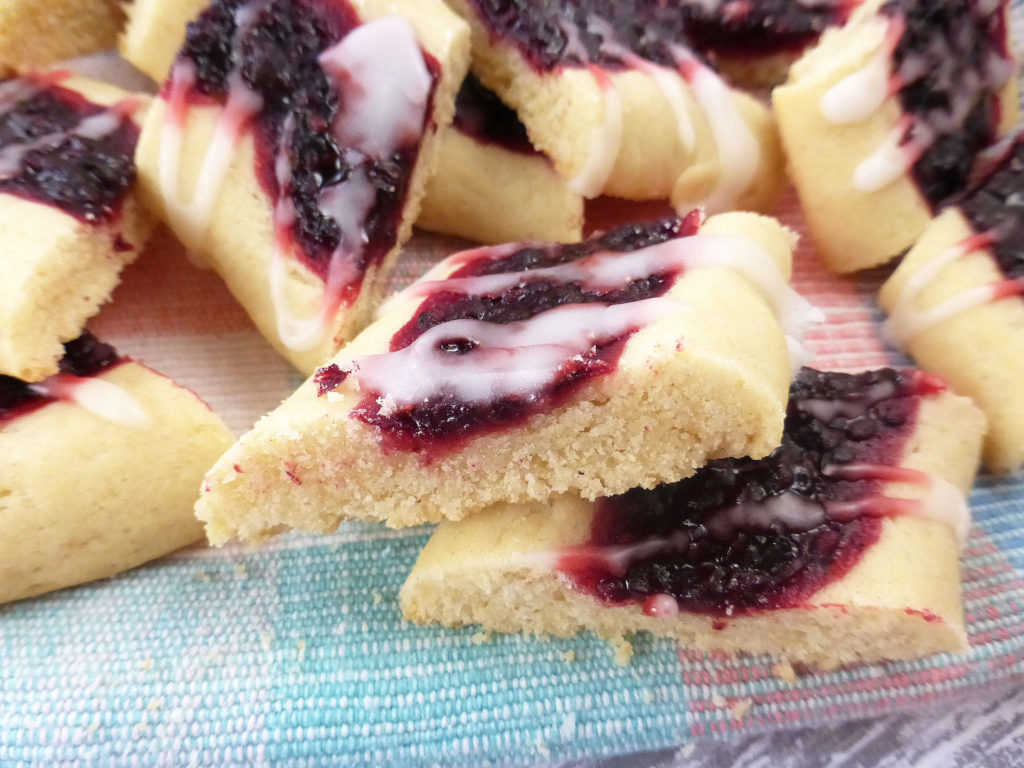 The measurements below made around 30 cookies, but blink, and they're gone (if your house is anything like mine, that is).
Homemade Blackberry Jam and Vanilla Snittar Cookies
---
Ingredients
Jam:

300g (3 cups) blackberries (fresh or frozen)
1 tablespoon water
2 tablespoons honey
1/2 tablespoon cornflour

Cookies:

125g (1/2 cup) butter (room temperature)
50g (1/4 cup) sugar
1 egg
200g (1 + 2/3 cups) plain (all-purpose) flour
1/2 teaspoon baking powder
1/2 teaspoon vanilla sugar

Glaze:

1 tablespoon water
Icing sugar
Directions
~ First, make the jam. Heat the berries, water and honey together until the mixture starts to boil. Cook for around five minutes, add the cornflour, and then cook for a further minute or two until it starts to thicken. Remove from the heat and set to one side.
~ Pre-heat the oven to 175ºC (350ºF). Line a large baking tray with grease-proof (baking) paper.
~ Beat the butter and sugar together until nice and fluffy. Add the egg (you may need a whisk to get it all nice and combined).
~ In a separate bowl, mix the flour, baking powder and vanilla sugar and add to the wet ingredients. Stir until a dough forms.
~ Split the dough into three fairly equal parts. Roll each one into a long, thick sausage and flatten down slightly (it should be about 35cm long). Take a small spoon or your thumb, and gently make an indentation all the way down the roll. Spoon the cooled jam along the indentation. Repeat with the other two bits of dough.
~ Bake for around 15 minutes. The cookies will have started to brown but will still be pale. Remove from the oven and allow to cool completely.
~ Mix one tablespoon of water with enough icing sugar to make a thick drizzle. Dribble over the baked cookies, slice diagonally and serve. Enjoy!
7.6.7
260
http://www.theculinaryjumble.com/2017/11/03/homemade-blackberry-jam-and-vanilla-snittar-cookies/