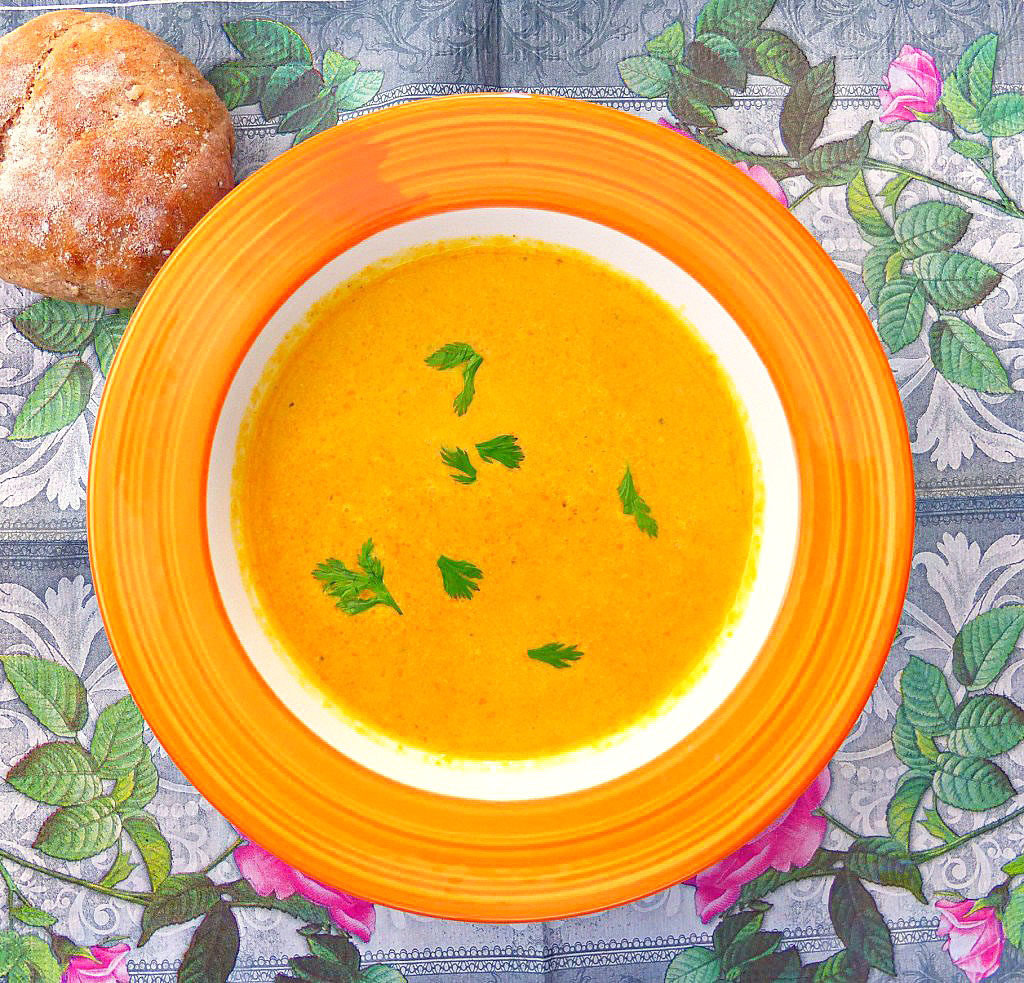 You can never go wrong with a lovely homemade soup, and this carrot and coriander one is no exception. Try it with my delicious oat bread rolls!
The soup is healthy and packed with fresh vegetables, herbs and spices. If you want to lighten it up a little, just swap the cream for Greek yoghurt or crème fraiche!
Carrot and Coriander Soup with a Spicy Kick
---
Ingredients
1 tablespoon olive oil
4-5 medium-sized carrots (peeled and chopped)
1 onion (chopped)
2 cloves garlic (finely chopped)
1 small red pepper (chopped)
1/2 teaspoon fresh ginger
1 teaspoon fresh coriander (with extra to garnish)
1/4 teaspoon turmeric
1/2 teaspoon chilli
Sea salt and pepper to taste
Around 2½ cups stock (I used homemade chicken)
1/2 cup milk
1/4 cup cream (or more milk, Greek yoghurt, or crème fraiche)
Directions
~ Fry the onions in the olive oil for a couple of minutes. Add the garlic, ginger, pepper and fry until softened.
~ Add the carrots, fresh coriander, turmeric, chilli, salt and pepper and cook for a further two minutes.
~ Add the stock and cook for about 30 minutes. Pour soup into a blender and process until smooth. Return it to the pan, rinsing the blender with about 1/2 cup of water along with the milk and cream and any additional seasoning required. Bring to the boil and serve immediately with soft bread rolls. Enjoy!
7.6.7
95
http://www.theculinaryjumble.com/2015/09/03/carrot-and-coriander-soup-with-a-spicy-kick/